Sometimes, karma can be oh-so sweet, and a couple in Texas learned this the hard way.
After getting a fee from their wedding photographer that they claimed to be "hidden," they decided to totally trash her business on social media. The only problem? The photographer claimed that the couple knew about the fee all along, and now they're paying dearly for it. A $125 fine suddenly turned into a $1.08 million-dollar lawsuit.
This story is crazy!
This is Andrew and Neely Moldovan.
via: Daily Mail
These Texas newlyweds were married in October of 2014. The couple hired Bella Boudoir by Andrea Polito to photograph their special day, and Neely had extensive communication with Polito in the weeks leading up to the wedding.
Neely works as a full-time beauty blogger, and Polito knew that she would have high expectations for the photos.
via: Daily Mail
"She's a blogger. Make sure everything looks perfect," she told her studio manager. But a few weeks after the wedding day, Neely began pestering Polito for the wedding photos.
The studio sent the Moldovans a few proofs from the big day, but held off on sending all of the high-resolution pics for one important reason.
via: Daily Mail
The couple still needed to submit their order form, choose a cover photo for their album and pay the $125 fee for the cover.
The new Moldovans were outraged and claimed that they were not notified ahead of time about this fee.
Polito claims that the fee was clearly included in the paperwork that they signed before their wedding.
After weeks of angry emails from the Moldovans, Polito dropped the fee as a courtesy to the couple. But this didn't stop them from slamming her business on every social media platform and even contacting news outlets. They did an interview with local news station KXAS-TV on January 15, right in the heart of Polito's booking season, to talk about how she was "holding their photos hostage."
Polito, who had been been running her business for 13 years, was devastated.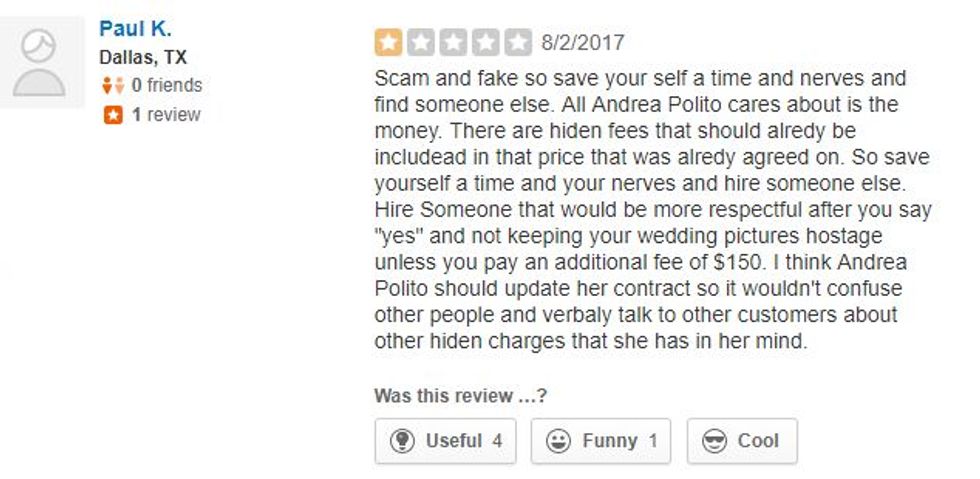 via: Yelp
Belle Boudoir by Andrea Polito was basically ruined overnight, as bad reviews came pouring in, mostly from people who had heard about the story expressing their outrage.
"I was proud of my accomplishments, what I have done. They took that away from me," said Polito. "All the name calling, all the bullying... I was humiliated."
After not booking a wedding in nearly two years because of it, Polito was forced to close her business.
But she wasn't about to let this toxic couple win.
via: People
Polito slapped them with a defamation lawsuit and won. After a jury found them guilty of defamation and malicious statements, the Maldovans were ruled liable for $1.08M in damages. "No one is saying you can't go and write a review," Polito's attorney Dave Wishnew said. "Freedom of speech is not freedom from consequence. Things you put on the Internet to attack a business have real-world consequences and that really resonated with the jury. You can't go and burn someone's house down and claim free speech."
Polito expressed her appreciation and relief on Facebook.
Polito has big plans to get Belle Boudoir back in business and hopes this story can help other businesses avoid defamation.
"No one is safe from this," she told Dallas News. "I wasn't a new business, I was an established business with a reputation that was well-respected in the Dallas community."
After the verdict, the Moldovans released a statement:
via: Daily Mail
"We are stunned. We did what consumer advocates say to do: When you are wronged, you fight back. We were unhappy with a situation, so we complained like anyone would. This court decision tells consumers not to speak up for fear of fat legal bills and painful judgments. If this is the cost of standing up for what's right, we should have given in to start with. But we hope to prevail in the end. We'd love nothing more than to put this behind us and focus on raising our 5-month-old child." There are also reports of the couple being bullied on social media after the truth about the incident came out. Sounds like this bride-and-groomzilla aren't crazy about the taste of their own medicine, huh?