A true Christmas miracle has taken place.
The RSPCA is a registered charity in the U.K. that takes in stray animals and looks after them. Last month, a branch in Halifax, North Yorkshire, received an early Christmas present.
Left on their doorstep was an adorable miniature dachshund, called Olive.
As it turned out, Olive had a surprise Christmas gift all of her own...
Getting a dog is a serious commitment.
aaron managed to surprise me with a puppy for christmas while i was gone for 7 hours yesterday. i can now say with… https://t.co/DL6wiPsLz0

— miss grimaldi (@miss grimaldi)1575844108.0
Which, as a statement, seems to have negative connotations, but if you are wanting to commit, getting a dog is probably the perfect way to show your partner.
They're so cute, I could just eat them...
A new best friend.
Giving your little ones the Christmas joy of a puppy dog is the ultimate surprise and will provide years and years of happiness and comfort... Granted you'll probably be the one that has to pick up all the poop.
If you're planning on wrapping up your Christmas pooch...
Make sure to leave air holes! Or you know, maybe don't wrap them up. It might be sort of traumatic.
All I want for Christmas...
Is for someone to pay me loads of attention and maybe give me a dog.
Why do people always want dogs at Christmas?
Maybe it's because it's cold and we want to stay inside with a big furry hot waterbottle animal? In reality though, if you did get a dog for Christmas you'd probably have to get out of bed every morning in the dark and take it for a walk before you go to work. Yikes.
But of course, they're totally worth it...
I mean, how can you say no to that face?
Meet Olive.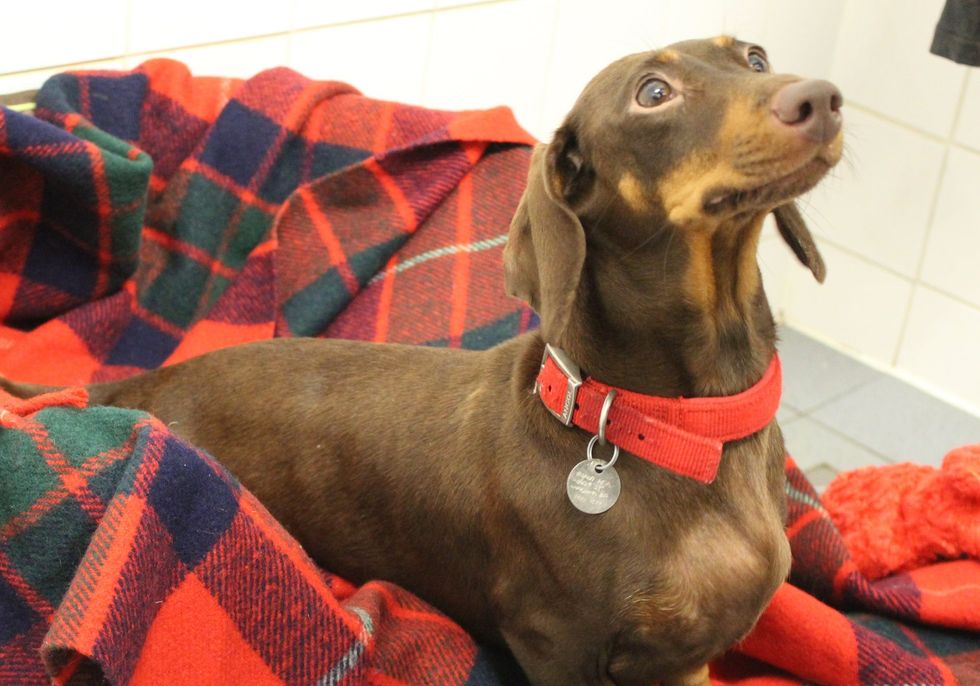 via: Facebook
Now, when Olive arrived at the RSPCA last month, she wasn't alone...
Hi there...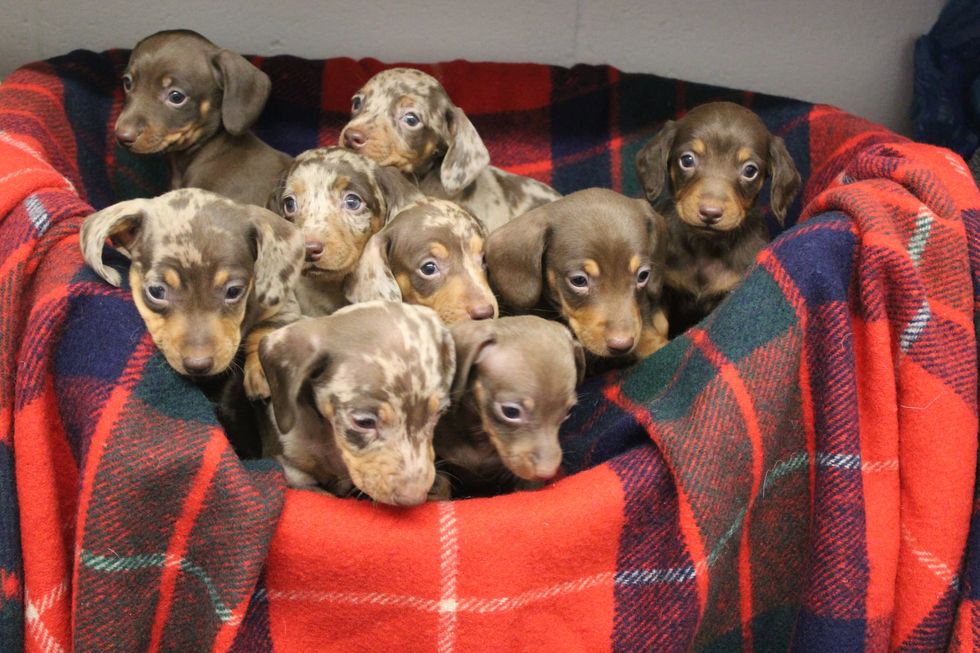 via: Facebook
Along with Olive, the RSPCA, Halifax branch welcomed her 7 newborn puppies.
Santas little helpers.
The staff at the RSPCA figured that the puppies were more than likely bred for Christmas presents.
A puppy isn't just for Christmas...
This christmas, please don't get people who won't be fully committed to an animal a pet. A cute puppy turns into a… https://t.co/GW68FtpQ0k

— Darihana Nova (@Darihana Nova)1575651978.0
Whoever bred these miniature dachshunds clearly didn't anticipate the commitment of looking after 7 newborn puppies. After 2 weeks, they decided to cut their losses and just give the puppies up- and of course, Olive the mama pup.
The staff decided to give the puppies Christmas themed names.
Inspired by Santa Claus and his many reindeers, the staff decided to name the miniature dachshund puppies Dasher, Dancer, Prancer, Vixen, Comet, Cupid, Donner, Blitzen and of course...Rudolf.
These puppies are certified Christmas present miracles.
perfect?
There has been a lot of interest in the puppy rescues.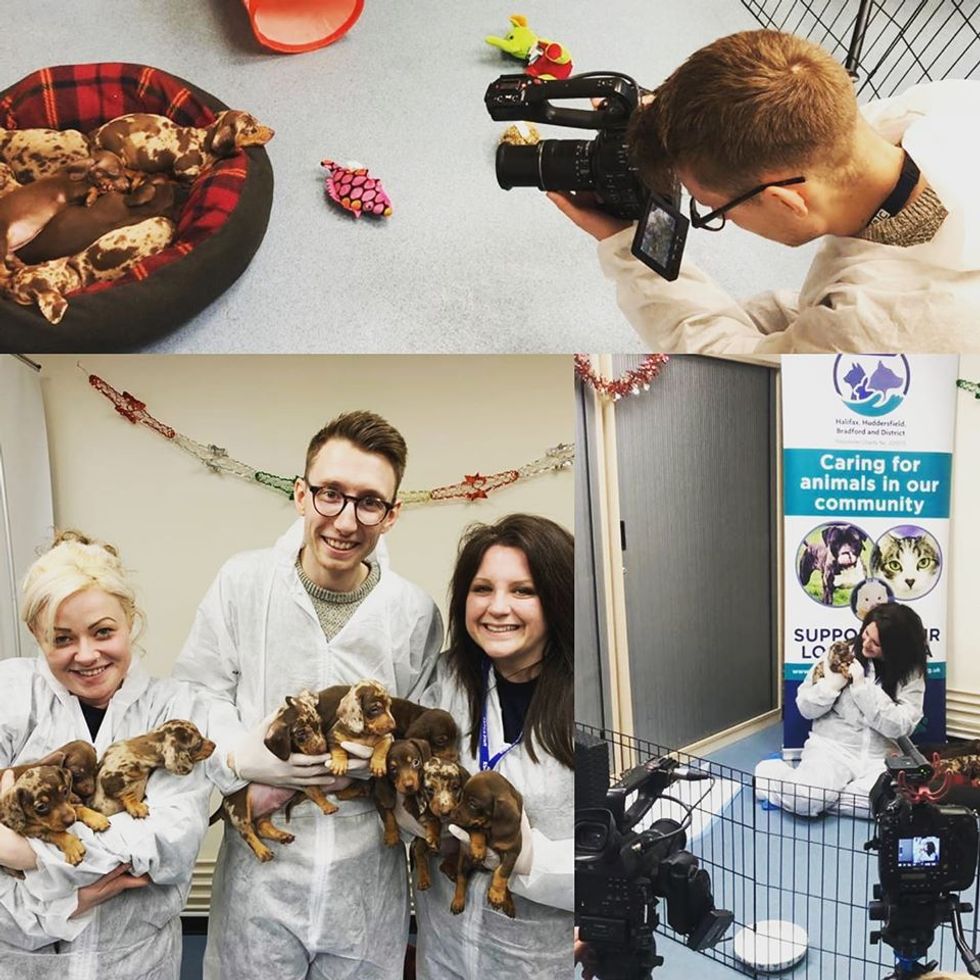 via: Facebook
The manager of the branch, Julie Cockroft explained on their
website:
"We are currently taking applications for these adorable little pups and we've been absolutely inundated with responses - with more than 500 coming into us in less than 24 hours, some from as far afield as Thailand!"
Watch how happy these kids were to discover they had gotten a puppy for Christmas:
A #puppy for Christmas! What more can a kid ask for this time of year! 🐶 🎁 🎄 https://t.co/oOUeIlHCrZ

— LightWorkers (@LightWorkers)1575732310.0
It's true if you're ready to commit, a puppy really can be a family Christmas miracle! ...well except for the cat, they probably won't be so thrilled about it. Not ready to get a pooch this year? Well, continue scrolling to read about thirty-seven other great gift ideas.