As the pandemic rages on, it's clear that we cannot ignore the repercussions it is having on frontline workers. They are risking their lives in order to help our countries heal and even then they are being criticized.
One nurse from Russia has been disciplined for wearing what is described to be "lingerie" underneath her transparent PPE gown.
Keep scrolling to see the photo that went viral.
Working on the frontlines of this pandemic doesn't just have physical health repercussions.
In fact, some have spoken out and said that we will soon be facing a PTSD crisis...
said
Stanford University Professor Debra Kaysen, head of the school's International Society for Traumatic Stress Studies.
But despite everything, in our hour of need...
So why are they being criticized while they are doing their jobs?
these people who are on the front line trying to protect us.
And more often than not...
enough of it to go around - i.e. proper masks.
We can get so wrapped up in ourselves, that we forget how much we rely on these people...
They themselves put their own health at stake.
Thank you -- To our doctors. To our nurses. To ALL our healthcare workers out there. You're on the front lin… https://t.co/0CARot6Nzv

— Gavin Newsom (@Gavin Newsom)1584631297.0
Not to mention the long hours and mental health repercussions that come along with this.
And of course, this is no different when it comes to the current outbreak.
I wanted to take a minute to send a special thank you to everybody working on the front lines to battle the COVID-1… https://t.co/oXpAiL9I6q

— danawhite (@danawhite)1584637661.0
As the situation gets more serious, we are leaning on the vital work of healthcare professionals more and more.
In fact, things have gotten so bad that retired healthcare professionals are being asked to return.
BBC
.
Being faced with seriously ill people day in day out will hugely take its toll.
It truly is a heartbreaking situation and criticism from others just makes it even harder to endure.
One nurse in Russia has been heavily disciplined for "breaking uniform codes" in an all-male section of a hospital as she opted to wear what has been described as "lingerie" under her transparent PPE gown.
The term "lingerie" should be used very lightly...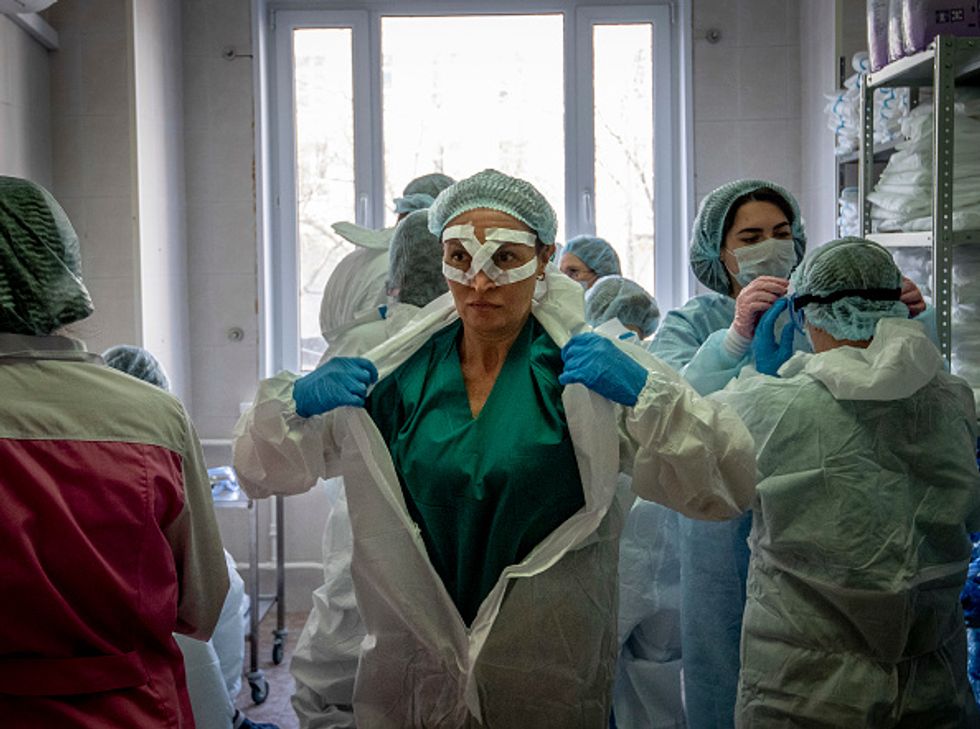 The "revealing" photograph snapped by a patient in the city of Tula quickly went viral as everyone wanted to weigh in on the issue. Keep scrolling to see the picture for yourselves.
This user suggested the problem was with the gown, not the nurse.
So we're allowed to have nudist beaches but we're going to police nurses who are doing us all a service? Why don't you try stuffing yourself into those uniforms for a twelve-hour shift?
Others were asking why she got disciplined when the patients had no complaints.
I'm sure they didn't...
But the people in charge of the hospital were not amused in the slightest.
@MailOnline The elderly patient in the background doesn't seem to be offended. Probably the best thing that happened to him all day.

— Twin Ravens (@Twin Ravens)1589976012.0
They punished the young nurse for "non-compliance with the requirements for medical clothing."
But the healthcare worker had her own reasons for her choices.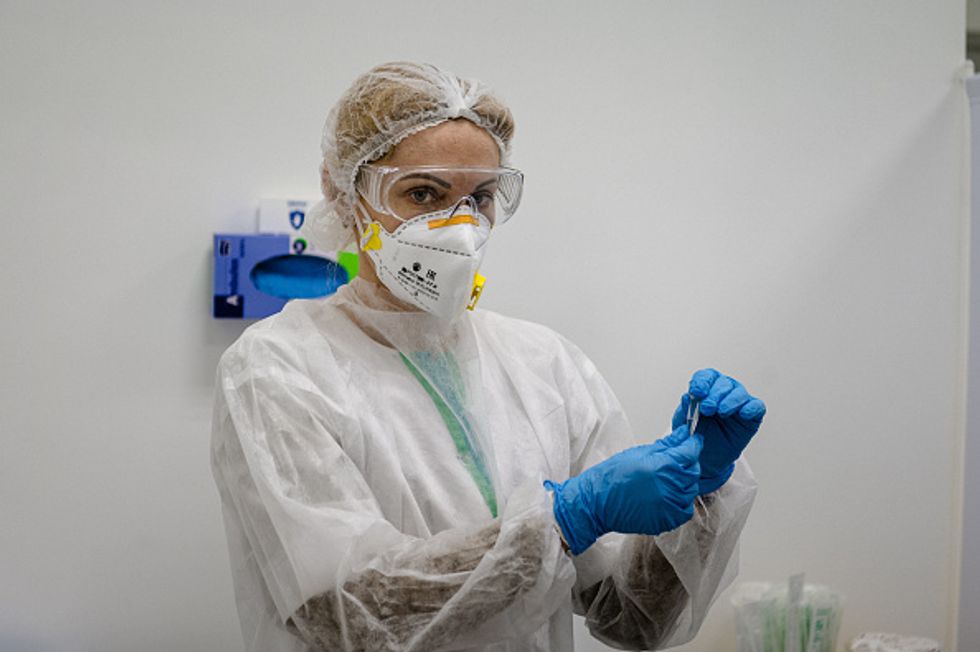 Apparently, she told her managers at Tula Regional Clinical Hospital that she did not realize just how transparent the gown was and because it was "too hot", she wore a "swimsuit" under it to combat the intense layering. It's a legitimate reason.
The patients on the ward had no problem with it!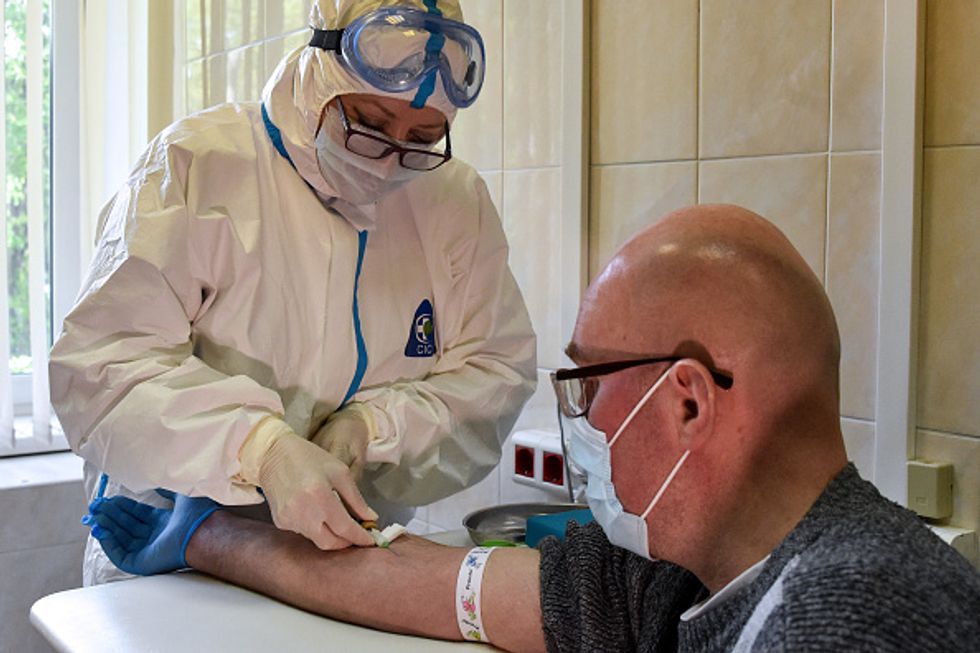 One man said there was "some embarrassment" but no one had a problem with it. She was still doing her job.
A local newspaper even went on to commend her saying this:
@MailOnline It's her decision and the old boys dont seem to mind 😷

— Les Kelso (@Les Kelso)1589969848.0
"At least someone has a sense of humor in this gloomy, gloomy reality."
Here's the photograph that caused all the stir:
Nurse disciplined for wearing lingerie beneath transparent PPE when she got too hot https://t.co/TnIYigCIZK https://t.co/NKrS1lOX7O

— Daily Mirror (@Daily Mirror)1589969333.0
It's hardly "lingerie" is it? Nurses are out here risking their lives and all you care about is what they are
wearing
? Get over it. If you want to read more about how facemasks can be dangerous to a person's health, then keep scrolling...