Too often, the Internet is the source for the day's most shocking and unpleasant news. It seems like almost every day, people are offended by something new (and ridiculous). Like coffee cups. Or the wrong man being chosen for the "Sexiest Man Alive" title. It's usually quite a jungle out there.
But not today, friend. Today, we have a story that is so delightful and pure and sure to make you smile.
It's all about America's favorite BFFs: Barack Obama and Joe Biden.
We're pretty sure Barack Obama and Joe Biden are the best friends to have ever stepped foot into the White House.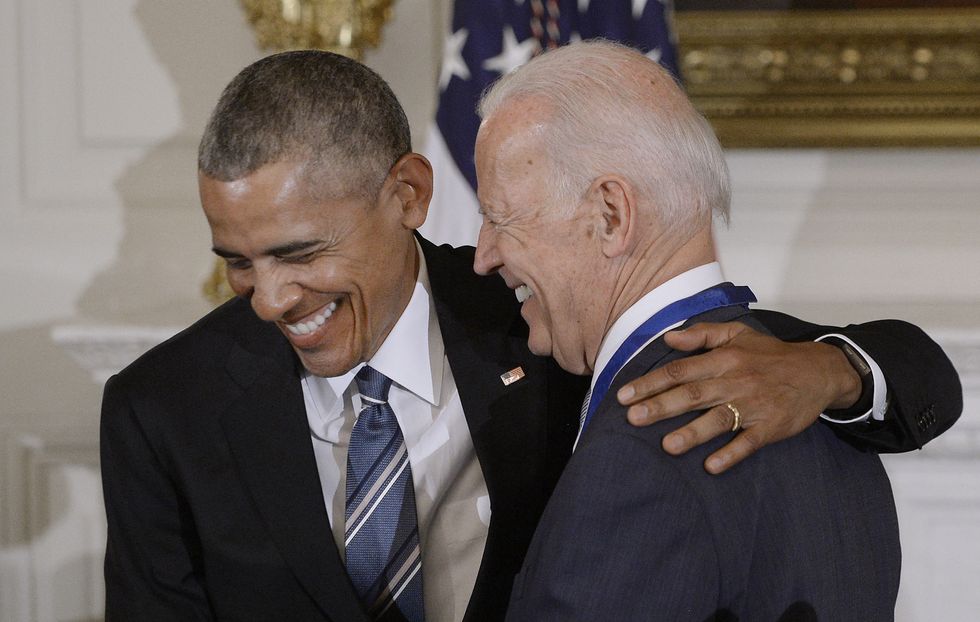 via: Getty
Just look at those smiles! They've clearly got this whole friendship thing 100 percent figured out. Take away the suits and they look like two regular guys enjoying a beer together before the big game.
They've even got friendship bracelets!
If you have bracelets, your friendship is guaranteed to last forever. It's a law of friendship that everyone learns at Summer camp.
During Obama's presidency, the bromance between these two guys inspired one of the best memes of all time. People imagined the banter between the two of them, often to hilarious result:
Obama: Wave at the people, Joe. Biden: IMMA POINT AT'EM Obama: Please just wave. Biden: http://t.co/5Y6nuvCzcu

— Reverend Scott (@Reverend Scott)1417286340.0
There is no way you can convince us that this isn't exactly what Biden was saying when this picture was taken. It's just too perfect.
While the Internet can often be a touch mean-spirited, the Obama-Biden memes are completely wholesome and lovely.
BIDEN: How come you've never shown ME the swamp? OBAMA: Drain the swamp is a metaphor, Joe. BIDEN: Where will Shrek… https://t.co/AcIPYoE15c

— Brendan Bergen (@Brendan Bergen)1478899446.0
In a time where there's plenty to be upset about, it's nice to have something to smile about, right? Maybe memes will save us all!
So when it came time to celebrate Joe Biden's birthday on November 20, Obama presented the former vice president with the perfect gift: a meme of his own creation!
ME: Joe, about halfway through the speech, I'm gonna wish you a happy birth-- BIDEN: IT'S MY BIRTHDAY! ME: Joe.… https://t.co/5qLUsDoaMi

— Barack Obama (@Barack Obama)1511204531.0
Obama's meme depicts Biden interrupting the president during a speech to make sure everyone knows it's his birthday. Obama also calls Biden "my brother and the best vice president anybody could have." Don't mind us; we're just crying over here. Since Obama posted it, the tweet has been like 1.4 million times. The Internet could 
not
handle it...
To put it simply:
@BarackObama @JoeBiden You just won the internet.

— Lindsey R. Loucks (@Lindsey R. Loucks)1511205022.0
If you were wondering how to win the Internet, the process is very simple. All you have to do is become the president, inspire the Internet to turn your bromance with your VP into a meme, and then make your own version of said meme. Easy peasy.
Some people are feeling like we didn't deserve a friendship as pure as Obama and Biden's.
If that's the case, the current administration is probably more along the lines of what we deserve. You know what they say: you don't know what you've got 'til it's gone.
Mostly, everyone wishes that they could find a friendship like the one our former president and vice president have found.
@_tomkinder @BarackObama @JoeBiden @EthPlumb BROMANCE GOALS

— William Kitson (@William Kitson)1511268770.0
If you ever find someone who looks at you the way Biden looks at Obama, hold onto that person and never let them go. And don't forget to make friendship bracelets to seal the deal!
And of course, there's one more thing people are wishing for:
@BarackObama @JoeBiden Come back... https://t.co/inE6ql1DqC

— c (@c)1511204660.0
Come back, Obama and Biden! We have so many more memes to make!
It's enough to really make you wish for the old days, huh?
@BarackObama @JoeBiden We miss the days when the most interpersonal drama the White House had was a President wishi… https://t.co/mOsBHcq1nB

— Eugene Gu, MD (@Eugene Gu, MD)1511205573.0
In today's political climate, there's something so refreshing about seeing a good-natured meme made by a former president to make his best bud smile. Something tells us the current president probably won't be making the same kind of birthday wish to his vice president, but who knows! Stranger things have certainly happened.