Octavia Spencer, Academy Award-winning actress and active proponent of diversity and equality in Hollywood (and beyond), is celebrating Black Panther's upcoming release with an amazing gesture. Octavia announced over Instagram on Wednesday that she was going to be in MS at the time of Black Panther's release — a movie that she, alongside masses of fans, has long been hyped for.
Not only will the actress be the first in line to see the highly anticipated superhero film, she'll be bringing a deserving audience with her. "I will be in MS when this movie opens," she wrote on Instagram. "I think I will buy out a theatre in an underserved community there to ensure that all our brown children can see themselves as a superhero."
Black Panther.
Thankfully, the outpouring of support from people who recognize how important representation is has been swift and massive.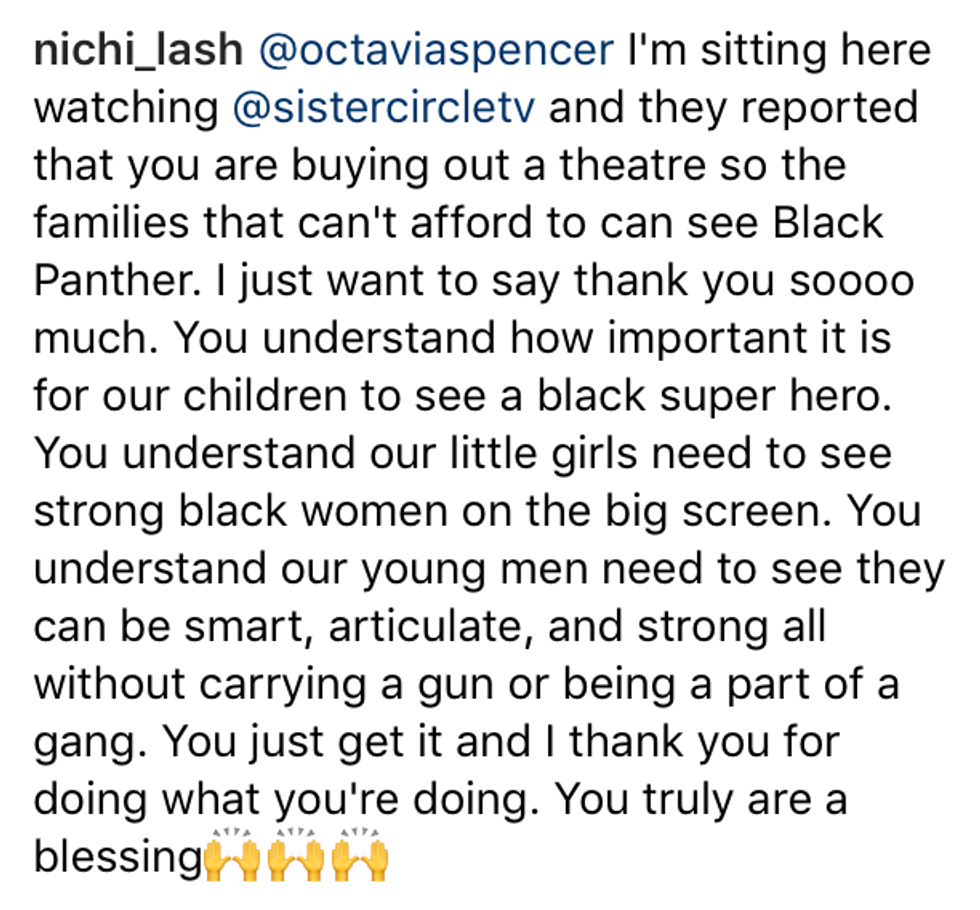 via: Instagram
Octavia's Instagram post has filled up on comments, both expressions of admiration and offers of help. Many recognize the specific value in a film like
Black Panther
, and the impact a positive, relatable hero can have on kids.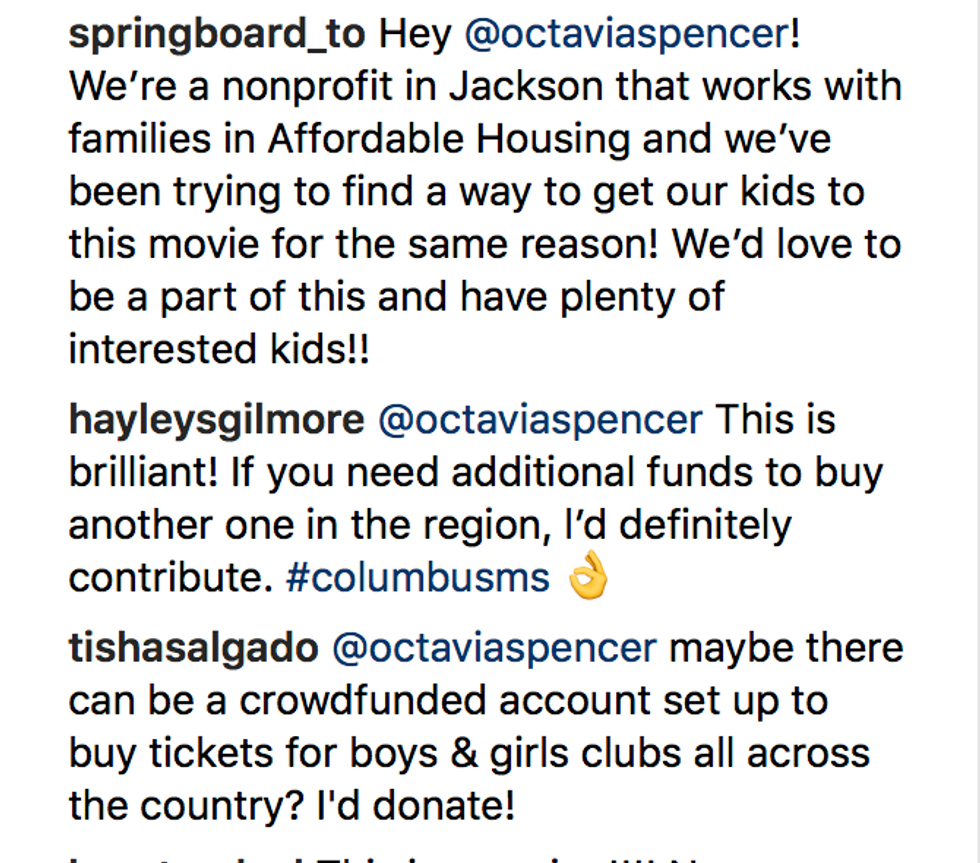 via: Instagram
A number of Mississippi residents suggested crowdfunding and organizing trips for kids in the area.

via: Instagram
Organizations, such as the National Institutes for Historically- Underserved Students, also chimed in to offer assistance. With this outpouring of solidarity,
Black Panther
's opening day is shaping up to be a truly memorable one.
Octavia Spencer is known both for her fierce acting chops and her commitment to activism.
She's always been the type of person who walks the walk, so her decision to help out an underserved community in this way isn't surprising.
Not to mention that this isn't her first time buying out a movie theater for a special showing.
Hidden Figures was released, buying out a theater in California for a screening dedicated to families who wouldn't have been able to afford tickets normally. "My mom would not have been able to afford to take me and my siblings. So, I'm honoring her and all single parents this #mlkweekend," she wrote.
Black Panther is Marvel's upcoming superhero movie starring Chadwick Boseman, Michael B. Jordan, Lupita Nyong'o, and Danai Gurira.
And it's so highly anticipated that, according to Fandango, it has outsold every other superhero movie in ticket pre-sales at this time.

The hype, and Octavia Spencer's grand gesture, is fitting for a film with such a powerful and diverse cast.
#KingsAndQueensWillRise
Black Panther featured the #KingsAndQueensWillRise hashtag. Long live the Queen.
So get ready for Black Panther and, if you live in Mississippi, keep an eye on Octavia Spencer's social media.
Mississippi residents should be sure to keep an eye on the actress's social media, as Spencer has promised more details soon. "I will let you know where and when Mississippi," she concluded. "Stay tuned."