Following the criminal sentencing of former Michigan State and USA Olympian physician, Dr. Larry Nassar, on Wednesday, two-time Olympian and Nassar sexual assault survivor, Aly Raisman, chose to focus her attention on her fellow sexual abuse survivors by thanking them in a full-page ad in The Detroit Free Press on Thursday. While Raisman has continued to express gratitude toward the community that supported her throughout Nassar's trial, she has also made it clear that she is not done fighting for justice.
Detroit Free Press.
Raisman Takes to Twitter to Thank Family and Community
Thank you. I appreciate you all so much. https://t.co/kysEo68g5c

— Alexandra Raisman (@Alexandra Raisman)1516846668.0
In addition to
reportedly placing the full-page ad
, which listed the names and the anonymous numbers of Raisman's "fellow survivors" above a large and resounding "Thank You," Raisman released a statement on Twitter in which she also thanked Judge Aquilina, the presiding judge in Nassar's case, the Prosecutors, her family and friends, and the entire gymnastics community, for all the support she received during this difficult time.
Olympic Gymnast Found Strength in Her "Army of Survivors"
"We really are an army of survivors, and this is just the beginning for us." -@Aly_Raisman https://t.co/Y3pH4MHYsZ

— TODAY (@TODAY)1516882438.0
Raisman told NBC's 
Today show
viewers on Thursday morning that she attempted to mentally prepare for seeing her accused abuser in court by looking at photos of Nassar online. 
army of survivors
." Raisman expressed feeling a profound bond with her fellow Nassar sexual assault survivors. "When I walked in there... I didn't know most of these girls or these women, but I felt an instant connection," she said.
Aly Raisman Isn't Done Seeking Justice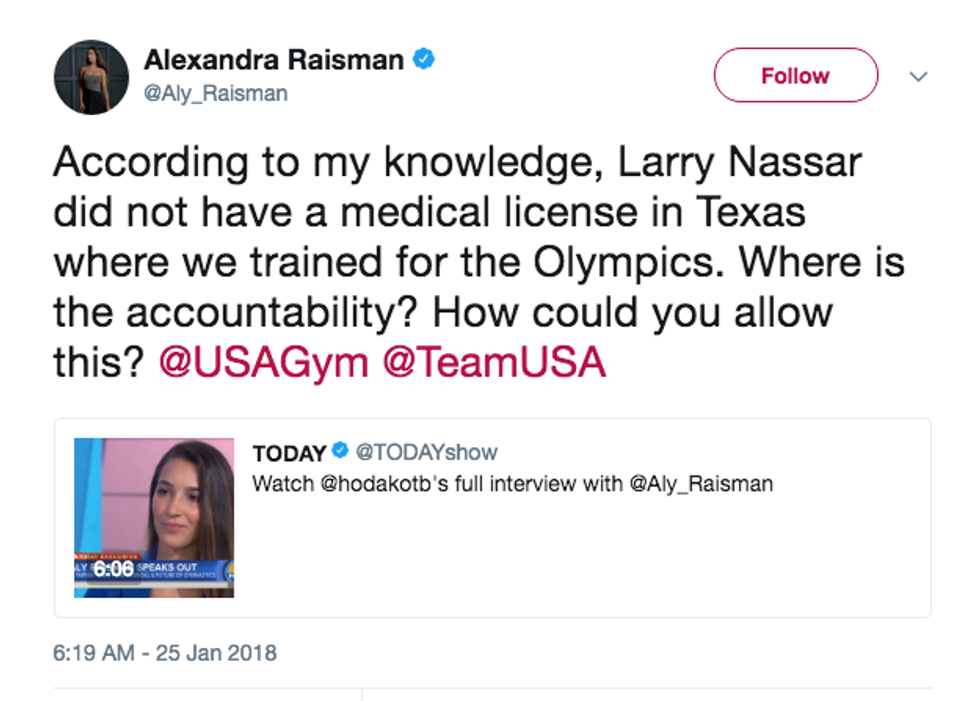 Moving forward, Raisman continues to seek accountability from the established Olympic community in which Dr. Nassar was able to abuse so many young girls and women for so many years. 
Raisman Says NEVER Again by Calling for Independent Investigation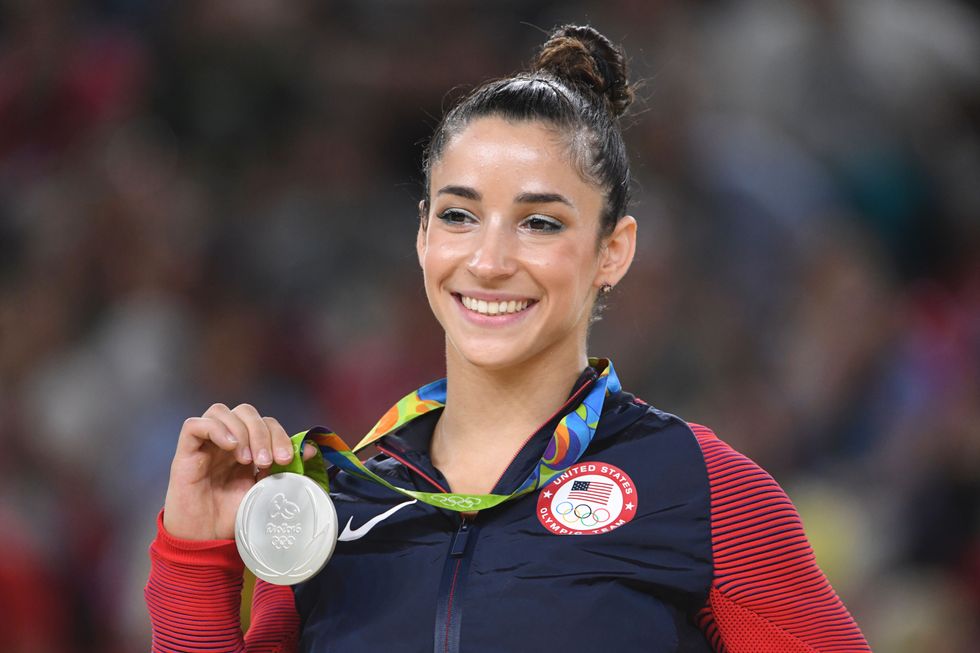 via: Getty
Raisman is continuing to carry the torch for future female generations by demanding accountability beyond the trial of Larry Nassar. She is calling for accountability from the Olympic establishment for allegedly creating a culture that enabled these heinous crimes.
... in order to move forward and be confident that this will NEVER happen again we need an independent investigation to figure out exactly how this disaster happened. Thinking otherwise is dangerous to the future generation. Today was an important victory but there is still work to be done.
Today
show on Thursday, "We really are an army of survivors, and this is just the beginning for us."