Casualties continue to increase as wildfires rage through California and Oregon...
And now tragic news has been reported of a grandmother and young boy losing their lives after one of the multiple fires swept through their home.
Millions of people from California and Oregon woke up on Sept. 9 to scenes straight out of a movie...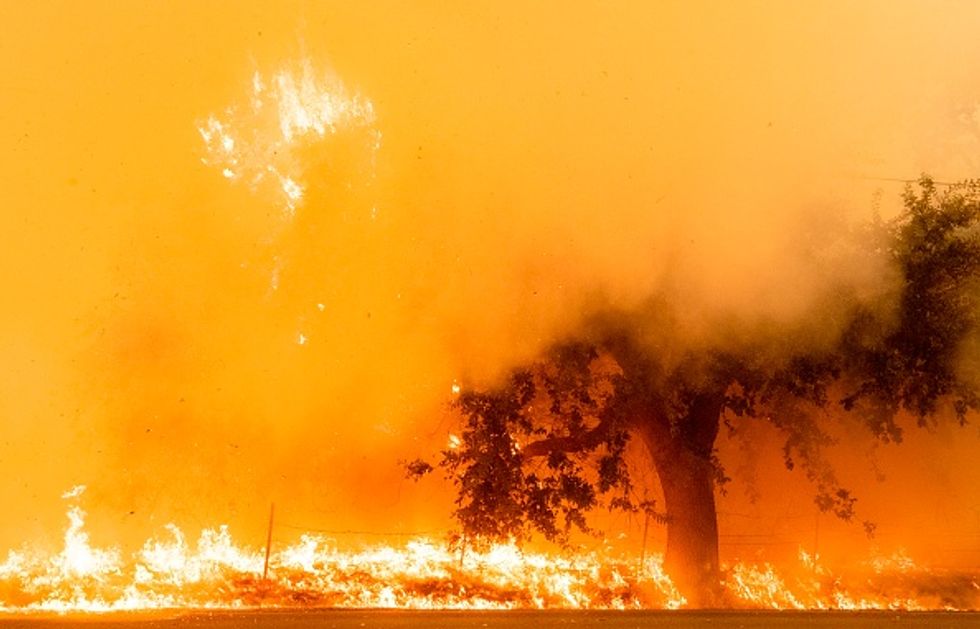 Wildfires have been spreading rapidly, destroying anything in its path including people's homes.
Smoke from the wildfires has enveloped the skies in a sinister glow...
In case you were wondering what the apocalypse looks like, here are some mid-morning images from my brother's girl… https://t.co/DP0dy8FBcS

— Emma Arnold (@Emma Arnold)1599675978.0
Wiping out our well-loved landmarks, with others now covered in an orange-yellow light.
And now more tragedy has struck...

After a grandmother and young boy have lost their lives due to the wildfires.
There have been 560 fires so far, with some of them being the biggest on record.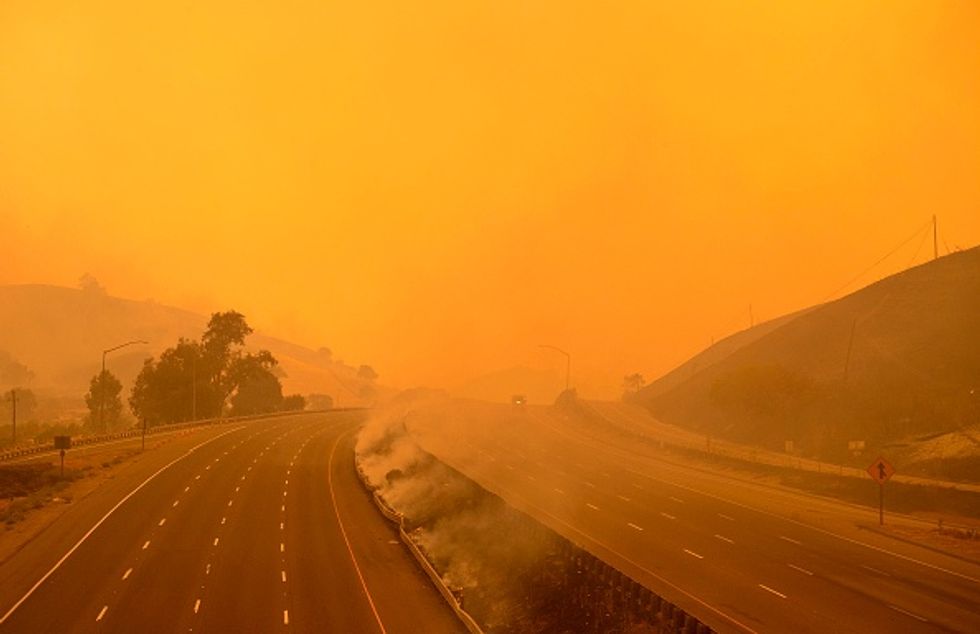 By the end of last week, officials claimed that the fires had doubled in size, the worst being in the mountains to the south and east of San Francisco.
A lot of the other fires are in hard-to-reach areas.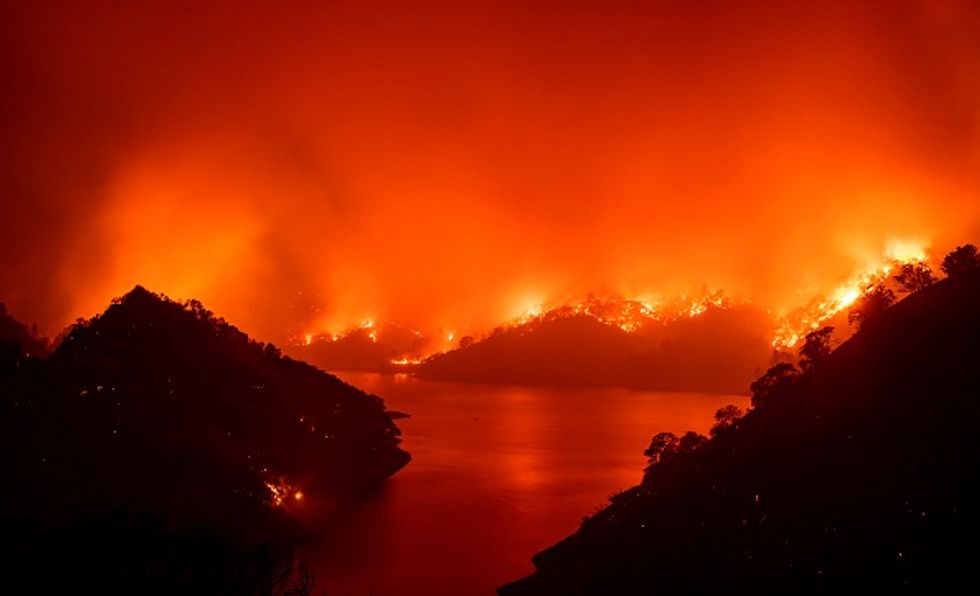 This includes rocky terrain and non-accessible woodland areas that have been burning for days.
Reuters also recently reported that the flames are now reaching larger areas such as Santa Cruz.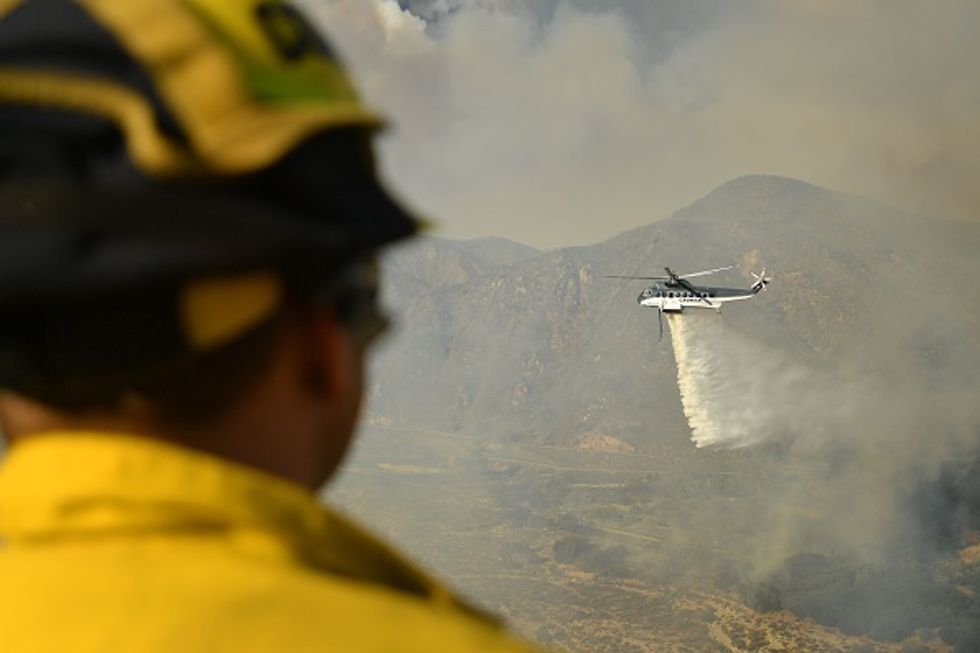 University of California Santa Cruz has been affected as they are now one-mile off reaching the main campus in what has been described as "frightening speed."
In California, at least 32 major fires were burning as of Wednesday afternoon and more than 64,000 people were under an evacuation order.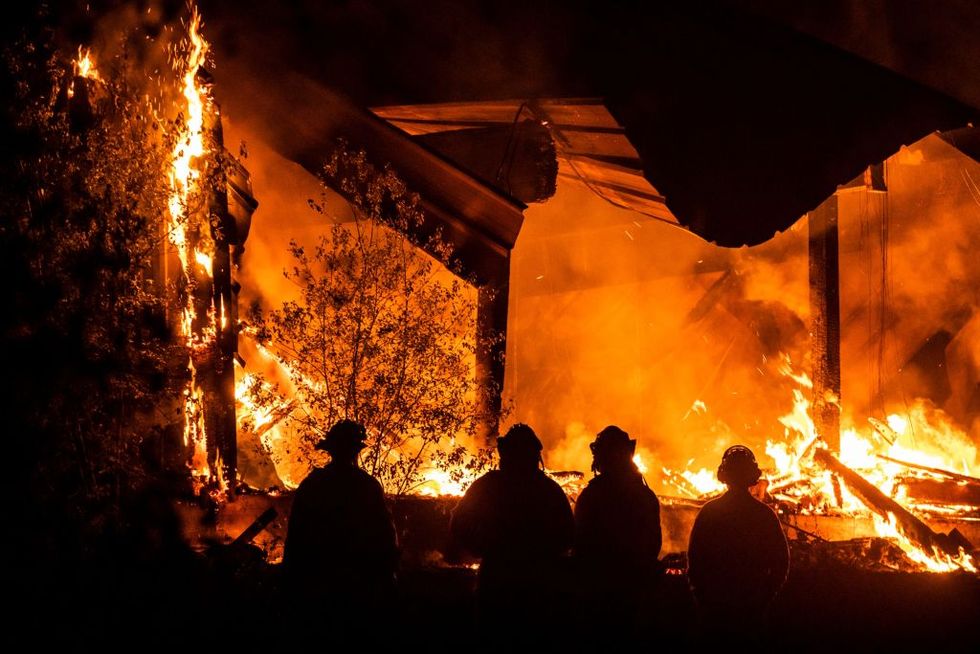 Due to the intensity of the blazes, emergency services have issued warnings statewide, stressing the dangers of the situation.
Donald Trump is being urged to issue a presidential disaster declaration.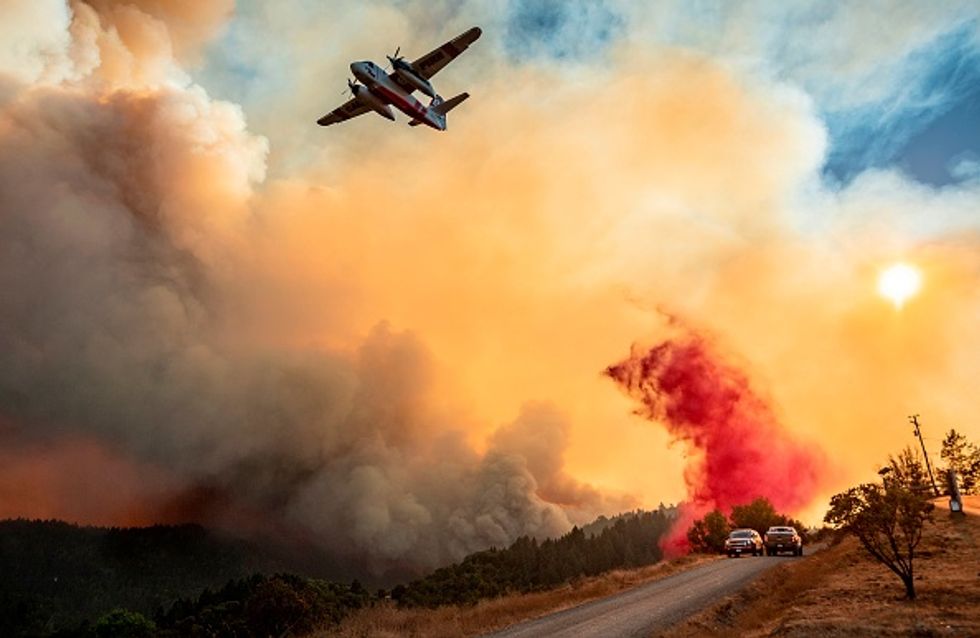 700 buildings have been completely destroyed and the blaze has also claimed the lives of 6 innocent civilians and injured 43 more.
LA fire chief, Ralph Terrazas, has previously spoken out when the wildfires first started getting fierce.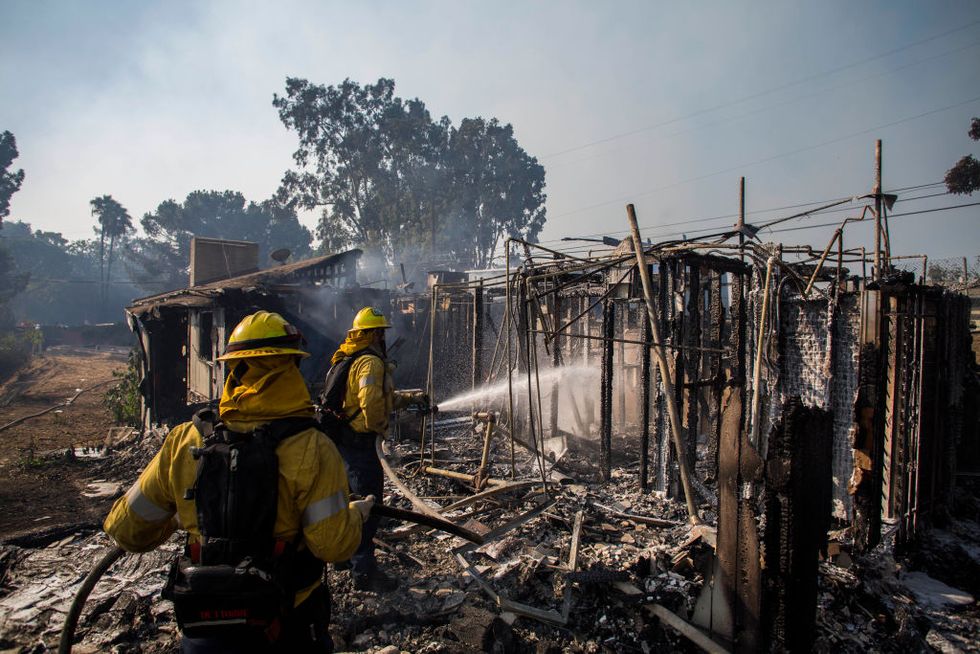 "They had to make some tough decisions on which houses they were able to protect," he said.
And now it seems as though even that level of protection is not enough.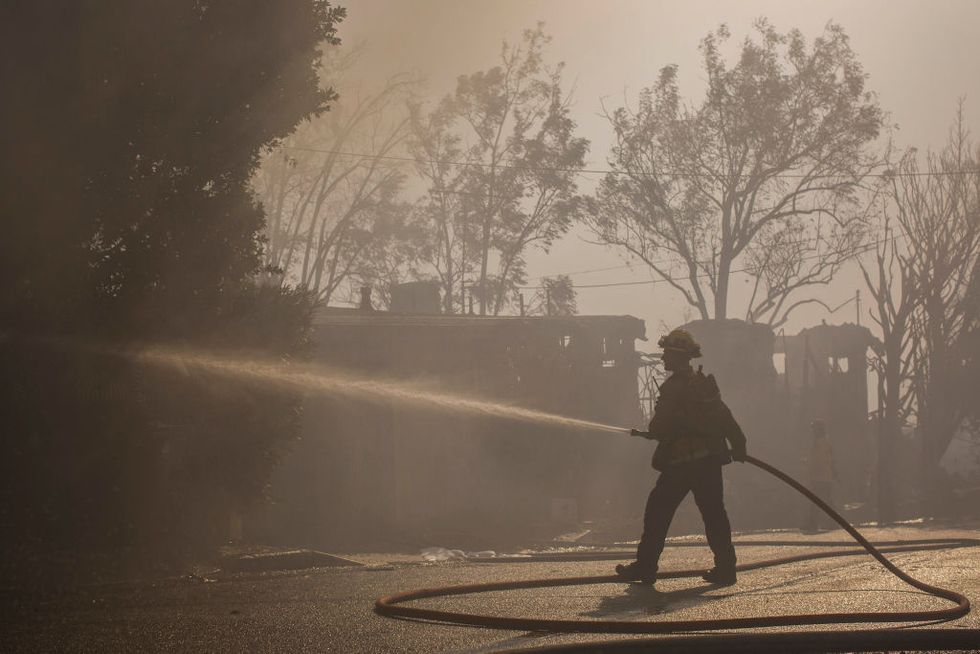 Firefighters from other states such as Oregon, New Mexico and Texas are rushing onto the scene with emergency equipment and extra bodies to help tackle the problem.
However, things are only getting worse.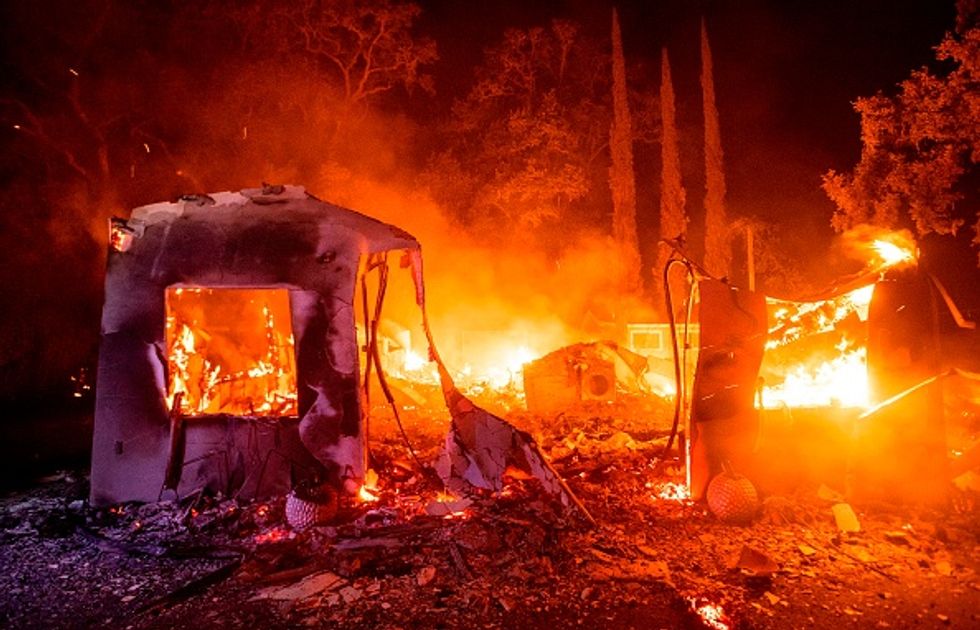 With winds reaching approximately eighty miles an hour over the past two days, it is believed that they have aided the beastly fire in engulfing land at a quicker rate. Due to this reason, over 170,000 residents have been told to flee the area.
How was such a devastating blaze caused?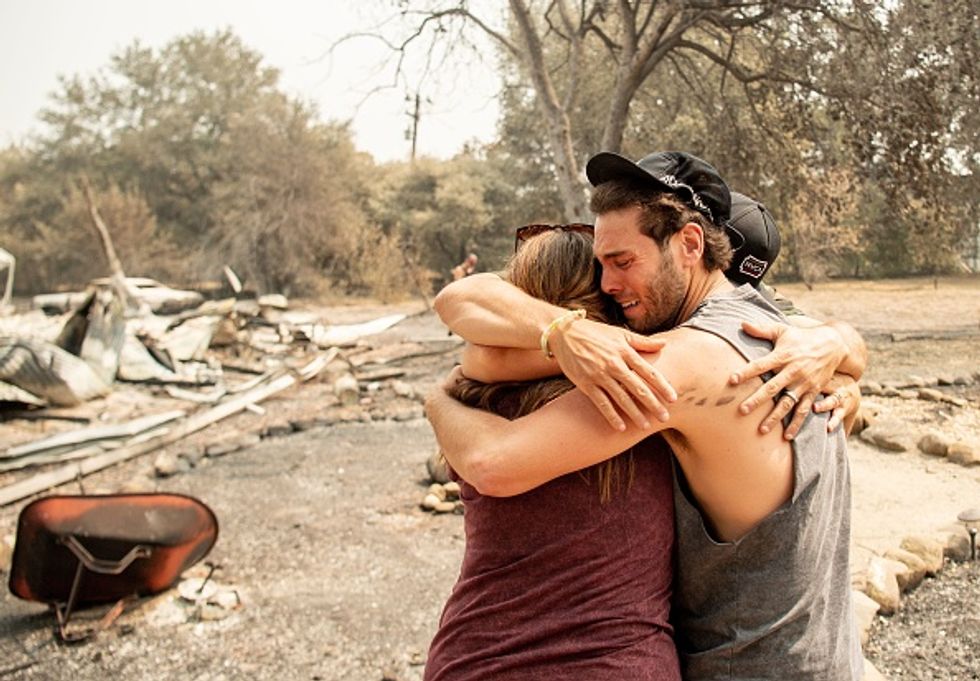 Well, a record-breaking heatwave combined with a lightning storm of 11,000 strikes have resulted in the disastrous flames.
Experts have also stated that climate change has played a role in all of this.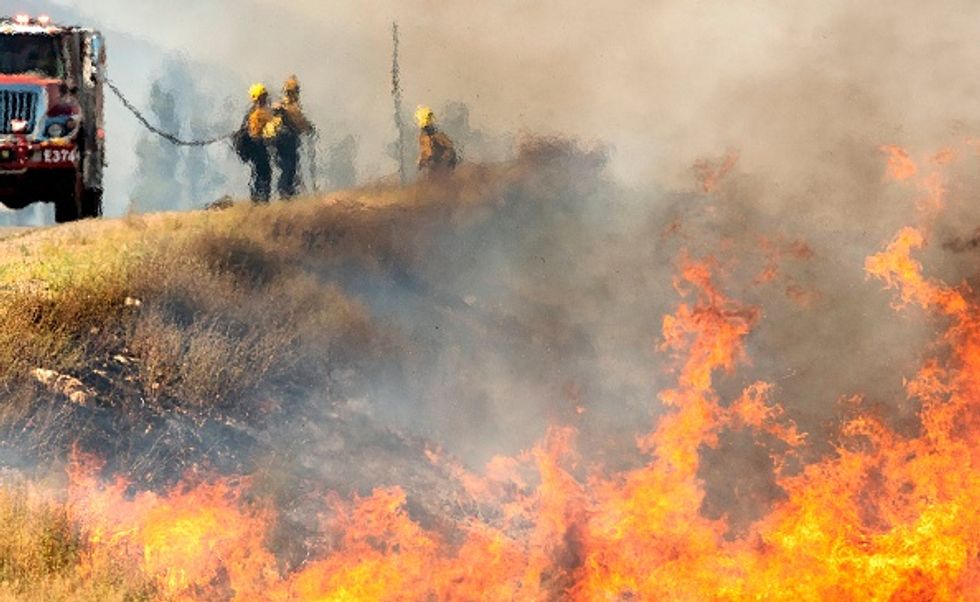 As the temperature of the earth continues to rise, it is no secret that it has played a role in aiding the California fires.
The firefighters on the front line are working hard to tackle the blaze.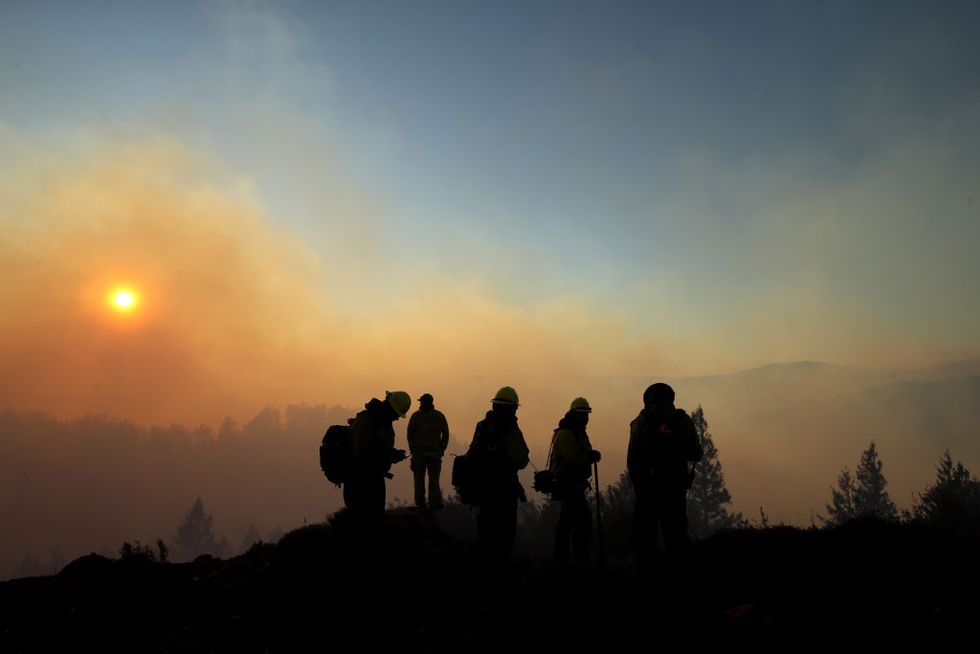 Right now, over 12,000 emergency service personnel have been deployed on the mission to get the fire under control and hopefully eradicate it before it causes more destruction.
However, this is easier said than done.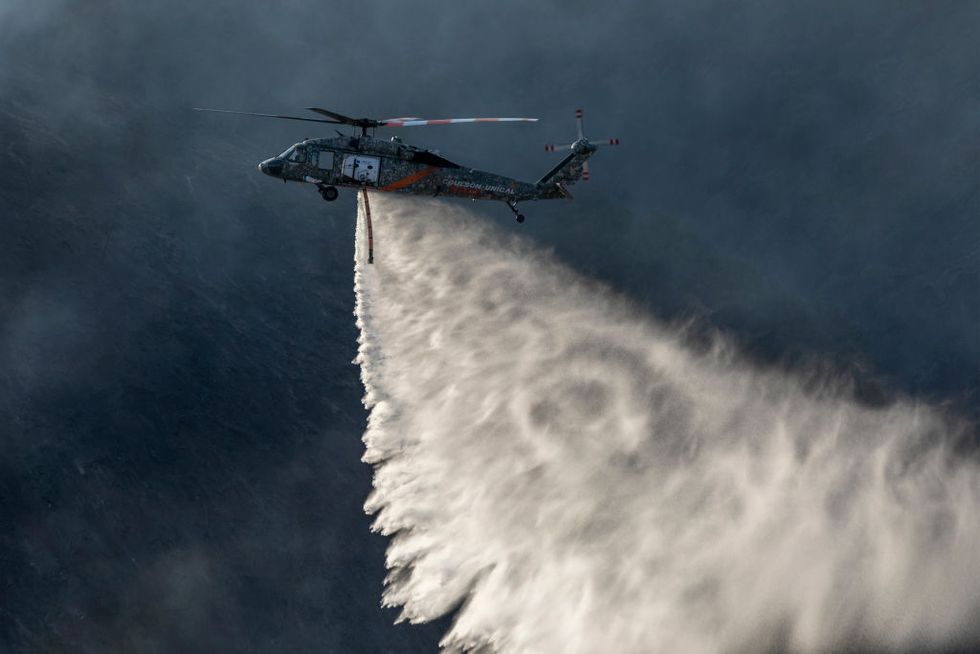 It has been reported that under half of the fire has actually been contained. Weather experts have claimed that winds are going to continue fanning the flames, which will only add more pressure to the people trying to regain control.
So this is why the state is pleading for help.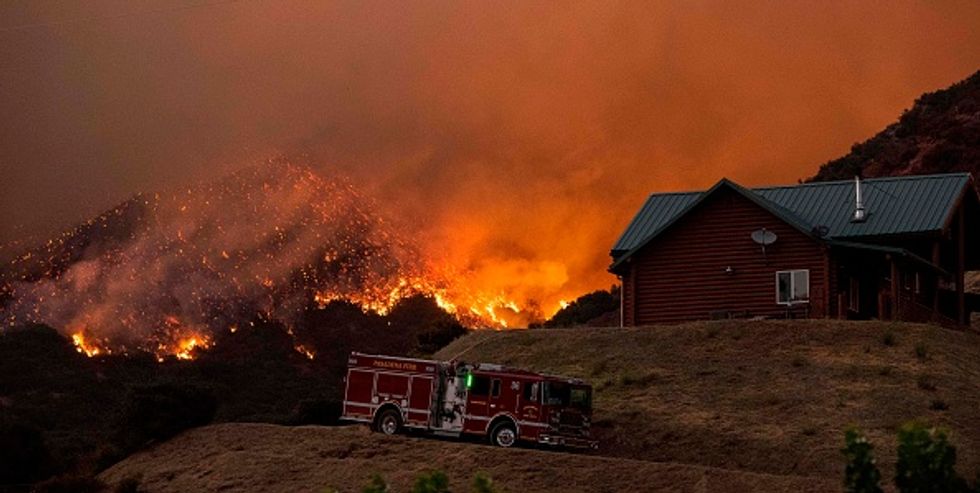 Governor Gavin Newsom has recently asked for help from firefighters in Australia and Canada in order to get the fires under control.
And despite the help from other countries, they're still in a desperate battle to contain the flames...
Insane skies right now in Stayton, Oregon. 🤯 Crazy these images aren't from the early morning or late at night... t… https://t.co/BDHQ7KLghD

— Bonnie Silkman KPTV (@Bonnie Silkman KPTV)1599590933.0
With residents of Oregon and California having to leave their houses and belongings behind in a bid to escape the flames.
CalFire reported 7 confirmed deaths on Wednesday as a result of the blazes.
The Golden Gate Bridge under dark orange skies in San Francisco due to multiple wildfires burning. #2020 is in the… https://t.co/4sZY4GPM8z

— ल_Lit🔥 (@ल_Lit🔥)1599727576.0
And sadly the death toll continues to rise.
A young boy and his grandmother have died after the fire ravaged their home in Oregon.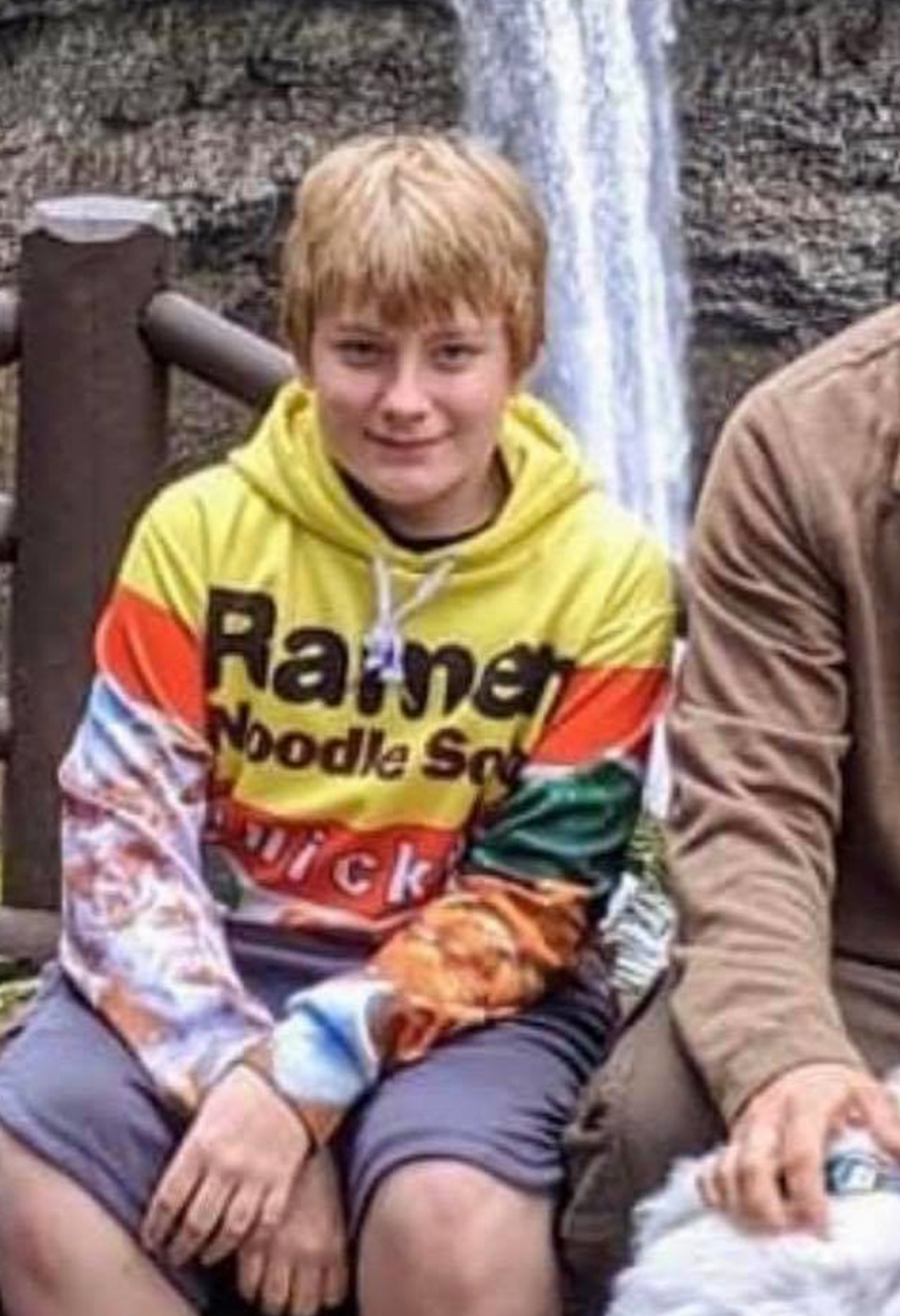 Twelve-year-old, Wyatt Tofte, and his seventy-one-year-old grandmother, Peggy Mosso, were caught in the Santiam Fire which took their lives this week.
The blaze surrounded their house at North Fork Road near Lyons.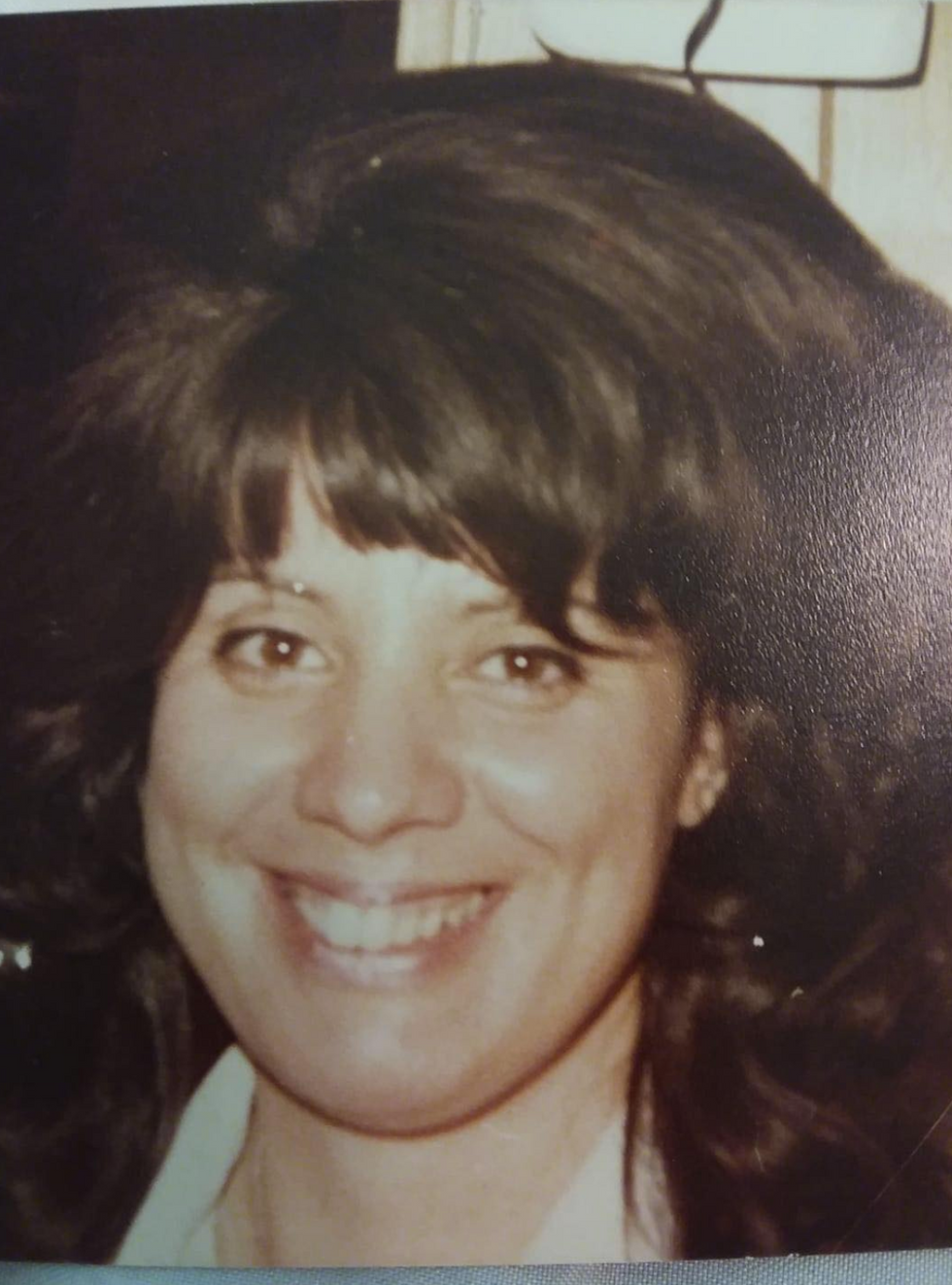 Angela Mosso, Wyatt's forty-five-year-old mother, was found alive but is currently in critical care at a Medical Center in Portland.
Wyatt fled the home on Tuesday due to the fire and hadn't been seen since.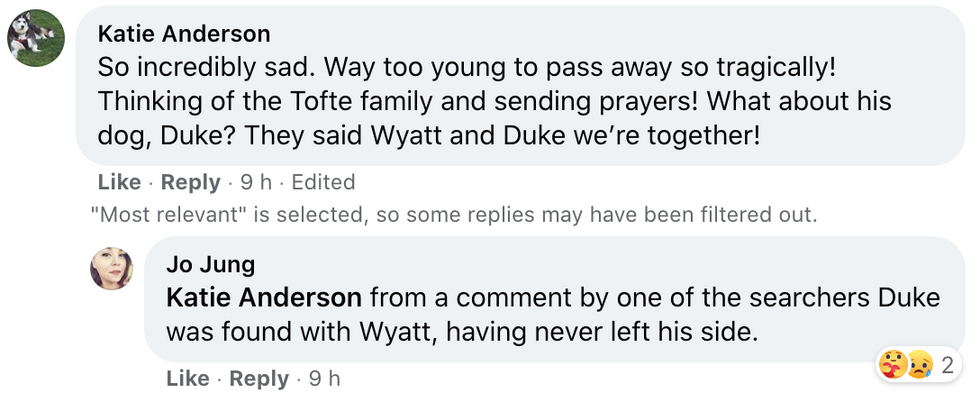 "He means everything. My family means everything to me," Wyatt's father, Chris Tofte said before the boy's body was found. "I can't do anything without knowing where he is at and what's going on."
Chris tried to get back into the home, but couldn't due to the blaze.

Once he could get back into the area, he found his wife in a critical condition.
The boy's body was found by volunteers on Wednesday after a search began around the local area.

The Enchanted Forest, an amusement park in Oregon, shared on its Facebook on Wednesday afternoon: "We are devastated to confirm that Wyatt Tofte has not survived. He was found a short while ago," The post said Tofte was the great-grandson of the park's founder.
"His grandmother, Peggy Mosso, was also taken, she was also a loved and important member of our extended family."
Our condolences are with their family and friends during this difficult time. Keep scrolling for more news on the wildfires...