As we get closer to Halloween, many of us are thinking (or stressing out) about what costume we'll wear to celebrate the spooky festivities in style. But when it comes to the kids, they are pretty easily pleased and usually, the cuteness factor comes way above any kind of scariness.
One safe bet for the kids is Disney. Chances are, most little ones will have a favorite Disney character and are fairly enamored with the magical franchise. So, it makes sense that an overwhelming proportion of kids will dress up as a Disney character at Halloween. From Snow White and Frozen to Wreck-It-Ralph and Big Hero Six, there certainly isn't a shortage of costumes to choose from either.
One movie that's proven extremely popular with the kids is Moana. The adventure-packed film follows fiesty teenager, Moana, who, after being called on by the ocean, sets out on a mission to save her people.
But now, concerns have been raised about how appropriate it is for kids to dress as her this Halloween. Keep scrolling to find out why.
Halloween is nearly here...
It is only a matter of days until we will be celebrating the ghoulish holidays.
Which means one thing.
idea of what you were dressing up as.
The costumes are one of the main parts of the festivities.
Dressing up for Halloween is equally as big of a deal for the kids.
Chances are most kids love Disney.
Given the fact that most little ones have a favorite character or movie from the house of the mouse, the magical franchise is a fairly popular choice for costumes for the kids.
There's no shortage of characters to choose from either.
Toy Story and, of course, Mickey and Minnie Mouse, there's an endless number of costumes available.
There's one movie, in particular, that's proven a popular choice over recent years.
via: imdb
Since it hit the global box office in 2016, Disney's
Moana
has become quite the hit amongst the kids.
Set in Ancient Polynesia, the movie centers on teen, Moana, who has to seek out the Demigod to save her village.
After the Demigod stole the heart of the goddess, Te Fiti, Moana follows the calling of the ocean and sets out on a daring mission to find Maui to set things right.
But when it comes to Moana-themed costumes, concerns have been raised.
It seems parents are being warned not to let their kids dress up as Moana this Halloween.
Disney has already come under fire for its costume inspired by Maui from the popular movie.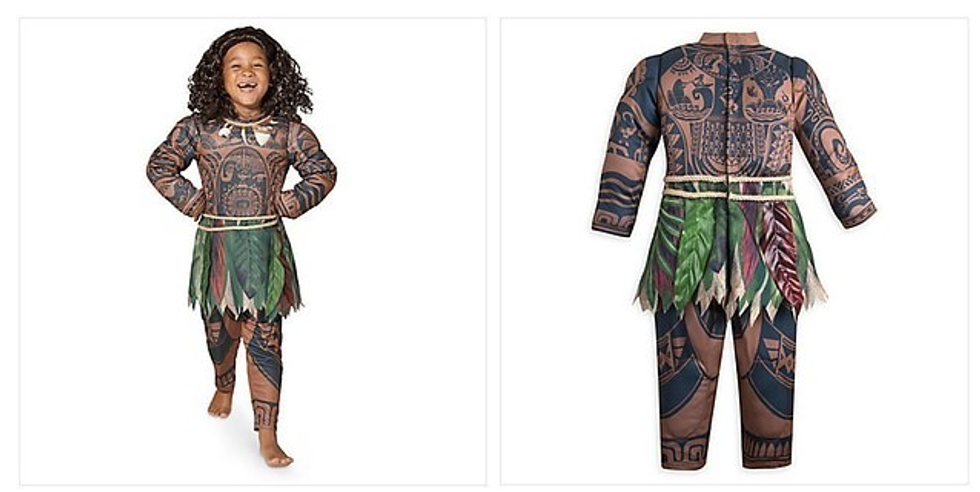 The zip-up costume cost about $50 — not including the matching wig, but was slammed for so-called "brownface" and many believed it teetered the line of offensive cultural appropriation.
People online raised concerns that the costume caricatured Polynesian culture, particularly by turning Maui's brown skin into a costume piece.
Um... yea NO! I did read somewhere today "Make Hallowe'en great... ... Don't #Appropriate!" For SHAME @Disney https://t.co/eNHEIAuQbK

— AndTheyOpenedTheFuckingDoorsCLPOTTS🏴‍☠️ (@AndTheyOpenedTheFuckingDoorsCLPOTTS🏴‍☠️)1474234521.0
Some people expressed the sentiment that "culture is not a costume" leading to a widespread backlash.
Disney eventually recalled the controversial costume. 
cosplaying things like moana is one thing - cosplay shouldn't be limited to what ur race is. but literally wearing a brown skin costume? no

— hannah (@hannah)1474289698.0
The organization told 
The Huffington Post
, "The team behind 'Moana' has taken great care to respect the cultures of the Pacific Islands that inspired the film, and we regret that the Maui costume has offended some. We sincerely apologize and are pulling the costume from our website and stores."
The controversial costume raised serious questions over where we draw the line.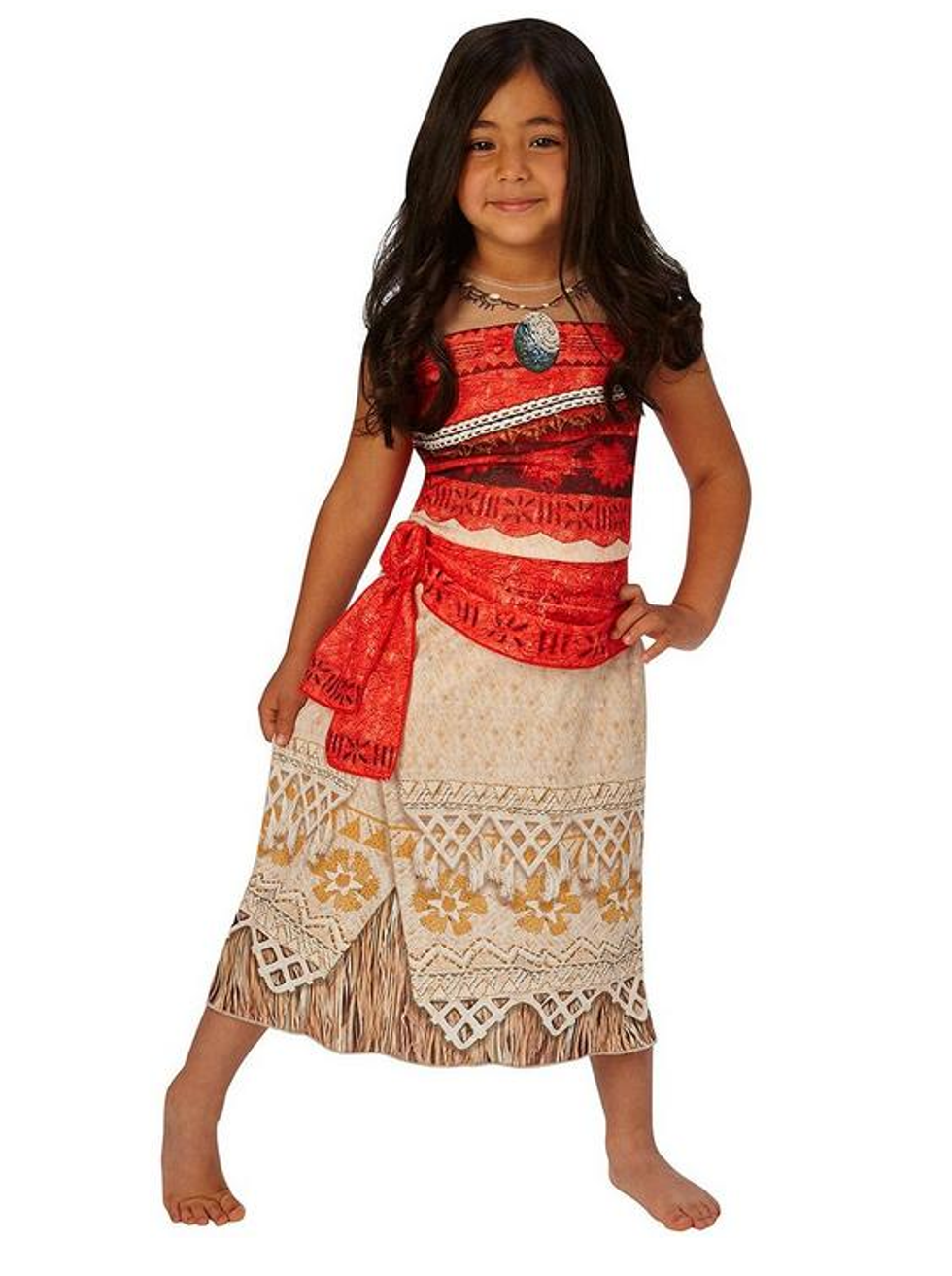 via: Very
And now, people are urging parents to re-think a Moana costume if their kid is white over concerns surrounding cultural appropriation of Polynesian culture.
An article highlighting this on raceconscious.org has been doing the rounds on parenting Facebook groups...
via: imdb
The piece, written by Sachi Feris, detailed how her 5-year-old daughter expressed her desire to dress as Moana, which Feris worried would be "cultural appropriation." Her daughter's other choice was Scandinavian Queen Elsa from Disney's smash hit
Frozen
. "I had some reservations regarding both costume choices … about cultural appropriation and the power/privilege carried by Whiteness, and about Whiteness and standards of beauty," she wrote.
Feris went on to write how she has a series of conversations with her daughter about dressing as Moana.
In particular, she focused on the ethics surrounding portraying the Polynesian teen. In the end, her daughter opted for Queen Else, which Feris said she also had concerns about, worried that her short-haired brunette daughter would think that you must be white, blue-eyed, and have long locks to be considered a "beautiful" princess.
Many believe that Halloween costumes are a good place to start when it comes to teaching kids to be racially sensitive.
via: imdb
And therefore, for white children, it's not appropriate for them to pretend to be a racial, ethnic, or religious minority. "Moana is a really special character to young girls of Polynesian descent who have never seen a Disney Princess who looks like them, just like how Tiana from
The Princess and the Frog 
likely resonated with young Black women who had waited decades to see themselves represented,"
Cosmopolitan
reports.
And when it comes to caucasian princesses...
There are plenty to choose from- think Snow White, Belle, Sleeping Beauty, Cinderella, or Ariel, to name a few.
But not everyone agrees...
Some think that cultural appropriation should never have been brought into the argument, given that kids are simply wanting to dress as their "hero."
Many don't see it as a clear cut argument.
As a Polynesian, I will not be offended if your child wants to dress up as Moana. Let the kids be kids, man. 🤷🏽‍♂️… https://t.co/ZqnBeKUKGF

— 🅻🆈🅻🅴🎥📸 (@🅻🆈🅻🅴🎥📸)1508961626.0
Like this user, who, as a Polynesian himself, said he wouldn't be offended at a kid dressing up as Moana but considers it a different issue for adults portraying the character.
It's caused quite a stir online.
@Cosmopolitan Let the kids enjoy themselves. You people have gone cray cray. I've never met people so easily trigge… https://t.co/qBpQh8d3We

— Anna Khait (@Anna Khait)1508809416.0
But, ultimately, if your child's costume feels a bit, well, iffy, probably best to change it.