A family has taken the internet by storm for welcoming a baby girl after having fourteen boys in a row...
It took fifteen tries... but one family has finally welcomed a baby girl.
Yep, you read that right. After having fourteen sons, they have finally had a daughter.
It's been one incredible journey...
And we have to say, the name they've picked for her is utterly adorable.
Welcoming a child into the world is an amazing experience.
via: Shutterstock
The whole thing is
magical,
and it truly releases the inner warriors in women after a grueling 9 months of pregnancy.
The labor isn't so magical, however...
The labor of childbirth is known for being one of the most painful things that the human body can experience.
It is the one thing that many women dread.
A combination of intense muscle tightening, abdomen cramps, pain in the torso and pelvic area, back pain, contractions from the uterus, and, eventually, pushing a baby out of the vagina... It's certainly no walk in the park.
Labor is different for every woman.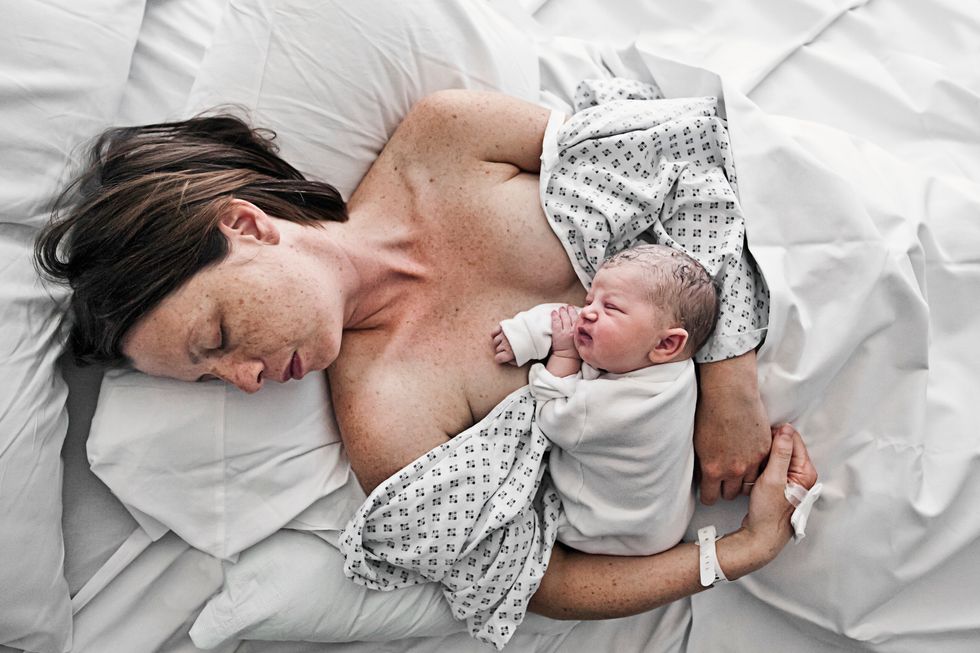 via: Getty
Despite the fact that labor is pretty much guaranteed to be painful, it varies slightly for every woman; no labor is the same.
This can depend on the woman's genetics...
As well as her tolerance to pain, her body type, and even the size of the baby.
But many women find that their bodies can remarkably birth numerous children without any complications.
... which often results in some very large families!
They must have an incredibly high pain threshold!
But one mom has been defying all of the odds over the years by safely delivering all fifteen of her children.
Kateri and Jay Schwandt live with their brood in West Michigan.
The couple, both forty-five, have tried for years to have a baby girl.
But their attempts came to no avail.
And resulted in them having a staggering
fourteen
sons.
Now, if we rewind for a second, the Schwandts started dating as freshmen...
The pair went on to tie the knot in 1993...
The pair started with Tyler, who is now twenty-eight.
Then they had thirteen more boys: Zach, Drew, Brandon, Tommy, Vinny, Calvan, Gabe, Wesley, Charlie, Luke, Tucker, Francisco, and Finley.
The family has attracted attention in local and national press for years each time they welcomed another child.
They even have their own live-streaming program,
14 Outdoorsmen.
But, over the past few years...
Every time Kateri was expecting, news organizations would start asking whether the next child would be a girl.
And it looks like it took fifteen tries!
As the couple finally welcomed a baby girl this week.
She weighs 7 pounds, 8 ounces, and is twenty inches long...
"My parents were finally blessed with the little girl they never thought they'd end up having," Tyler explained. "It's been about twelve hours since my dad told us, and I still haven't quite wrapped my mind around it."
Tyler went on to reveal that he also didn't think his parents were prepared with any girl names...
Father, Jay, spoke out about the new arrival.
The name they've picked is utterly adorable.
"We are overjoyed and beyond excited to add Maggie Jayne to our family," Jay said, revealing his daughter's name. "...Maggie is the greatest gift we could ever imagine."
Big brother Tyler has also shed led on the meaning of Maggie's name.
Congratulations to the happy couple!