As any parent can agree, baby monitors are essential pieces of kit when having a baby.
They allow us to check up on our babies regularly without having to be in the same room as them constantly while allowing us to be there for our children at all times.
But baby monitors have plagued horror movies and spooky stories, and it seems that some of these bizarre antics are a little more authentic than we expected.
A set of parents have very recently regretted buying their baby monitor after it's night vision made their baby look totally possessed.
Keep scrolling to learn more...
There's just something about baby monitors that are a little creepy.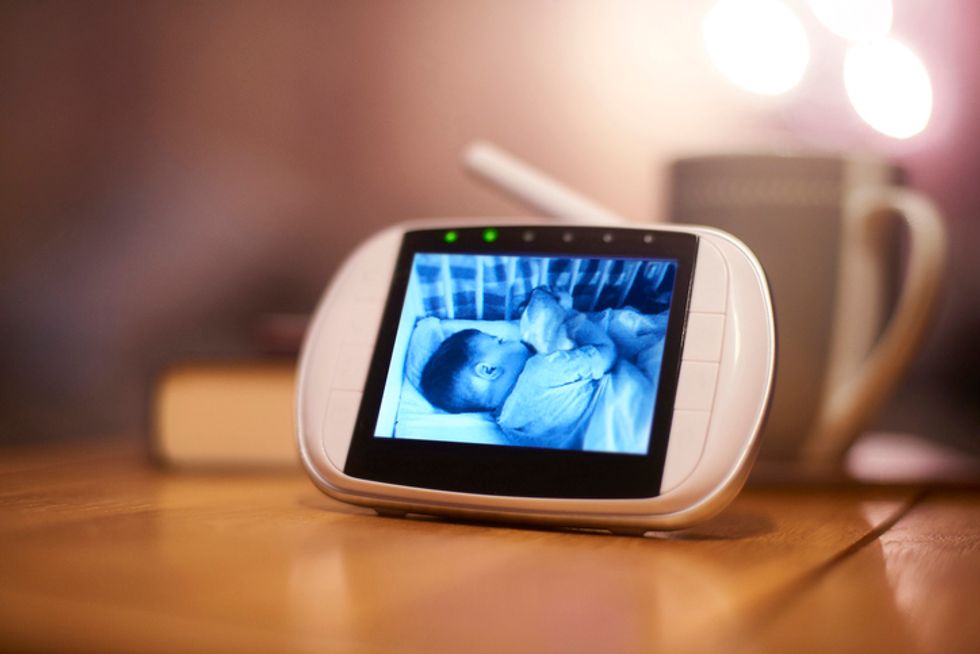 via: Getty Images
Is it because of the endless horror movies that feature a creepy demonic baby on the monitor? Or just the mere fact that they are filming someone as they sleep?
People just get the creeps from baby monitors...
And I'm pretty sure that the baby monitor scene picking up alien signals in the 2002 movie Signs didn't help toward this irrational weariness.
Children are a big fixture in horror movies...
From Paranormal Activity to Insidious, from Poltergeist to Rosemary's Baby, modern-day movie-watchers have been subjected to countless doses of domestic terror - and children are usually a big focus in these horrors.
The mystery behind what can be captured on a baby monitor in the middle of the night is very much apparent...
So, of course, a grainy black and white moving image of a baby is always going to be slightly unnerving.
Baby monitors are designed to watch over our babies...
But they more than often result in
capturing
some
rather strange
going-ons.
They capture everything.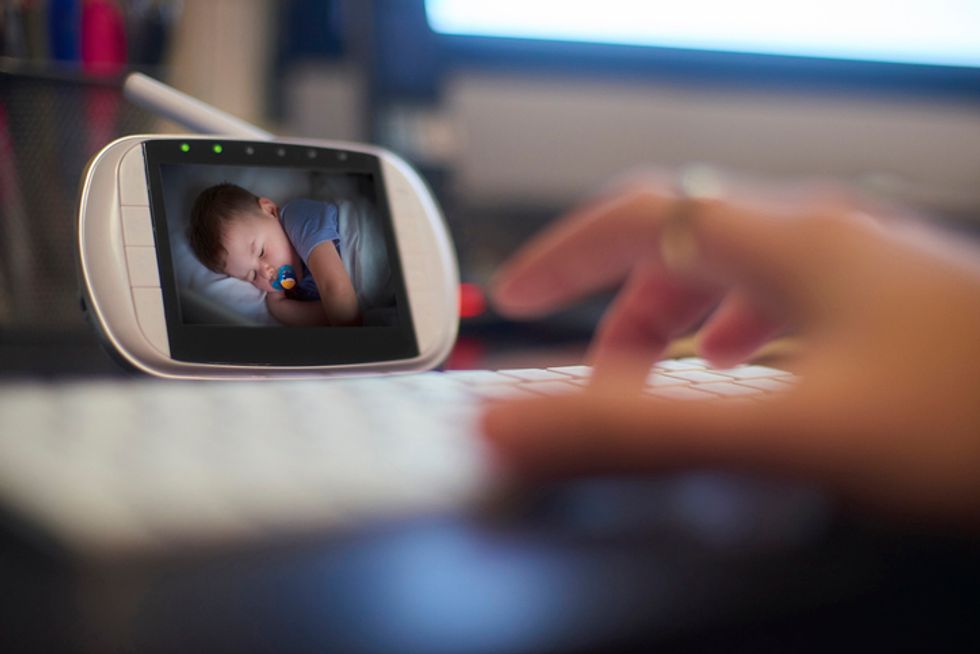 via: Getty Images
Whether that's catching the kids running amock in their rooms until the early hours or the family pet sneaking their way in, a baby monitor is
the perfect
spy cam.
A mom and dad recently saw something super spooky on their baby monitor cam...
And it made them regret their decision to buy a baby monitor massively.
A tweet has gone viral for all of the obvious reasons...
We got a new video baby monitor and I think that was a mistake https://t.co/Cu3Qwb0baJ

— Passion Pop Socialist (@Passion Pop Socialist)1573772645.0
Posted by
Passion Pop Socialist
, the tweet shows the baby monitor in night-vision mode picking up a baby with strangely glowing eyes and it's
rather unsettling.
What on earth is going on here...?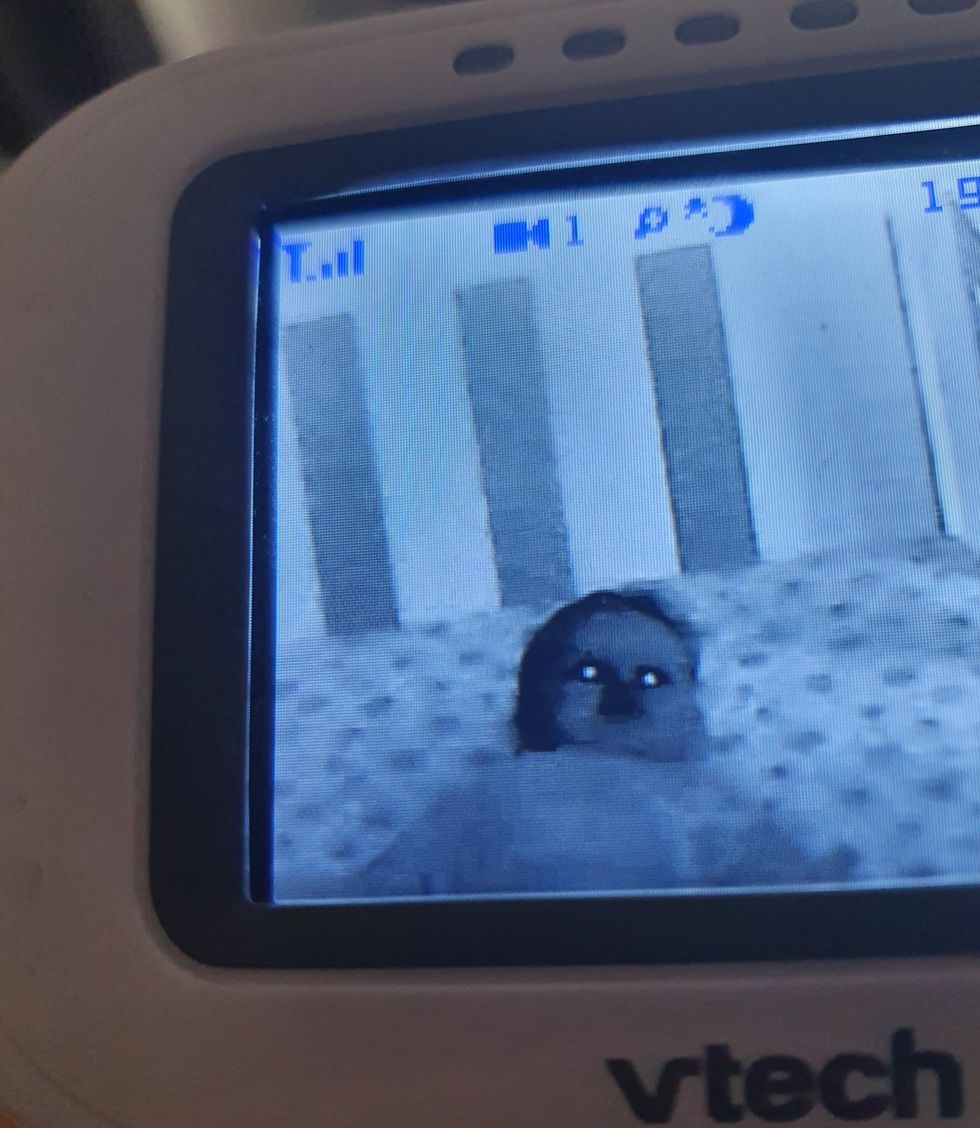 via: Twitter
The demon child is not what these parents expected to see at all, and even though the most likely explanation is a trick of the light, people are
pretty freaked out.
The tweet very quickly went viral...
It racked up more than 401,000 likes and 81,000 retweets, with people flocking from all over the world to catch a glimpse of the "possessed baby", with some even describing it as "something from Silent Hill."
Many appear to be genuinely frightened of the demonic child...
One person wrote, "My screen flickered when I opened this pic," while another replied, "I hate everyone who liked this because now I will have nightmares. Thank you."
People began to get a little carried away...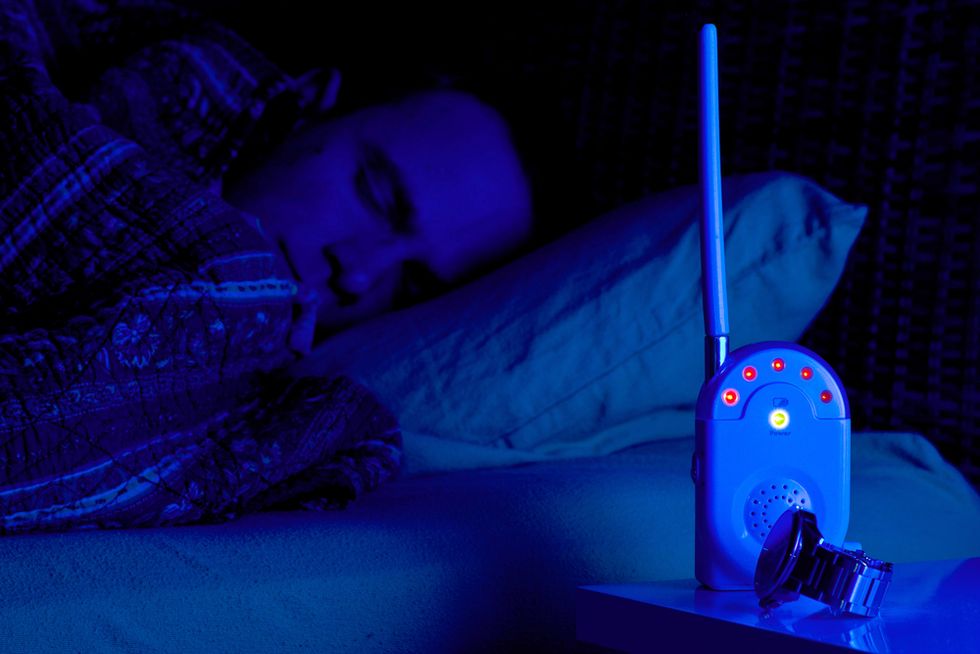 via: Shutterstock
"On a related note, does anyone have experience with a good noise generator app? Every one that I've tried so far is just layers of whispered chanting in Latin instead of white noise. It still puts Finn to sleep but I don't like it," another sarcastically wrote.
Others offered advice on how to handle the demon child...
One user suggested a baptism, but another replied with, "We did but it turned the water into blood, the priest started climbing up the walls, it was a whole thing."
Not to be dramatic...
Another user offered a fairly intricate solution: "1. Get out of the house 2. Leave the baby and leave a warning for the next owners 3. Let them buy it anyway 4. Horrors ensue 5. Find a desperate up and coming "writer" 6. sell your story 7. Go on a lavish vacation 8. Have a new baby 9. Buy a different monitor."
The baby probably isn't a demon, FYI...
The most likely explanation is simply a trick of the light and the night-vision just doing its job.
But other parents spoke out and could actually relate to the demonic baby...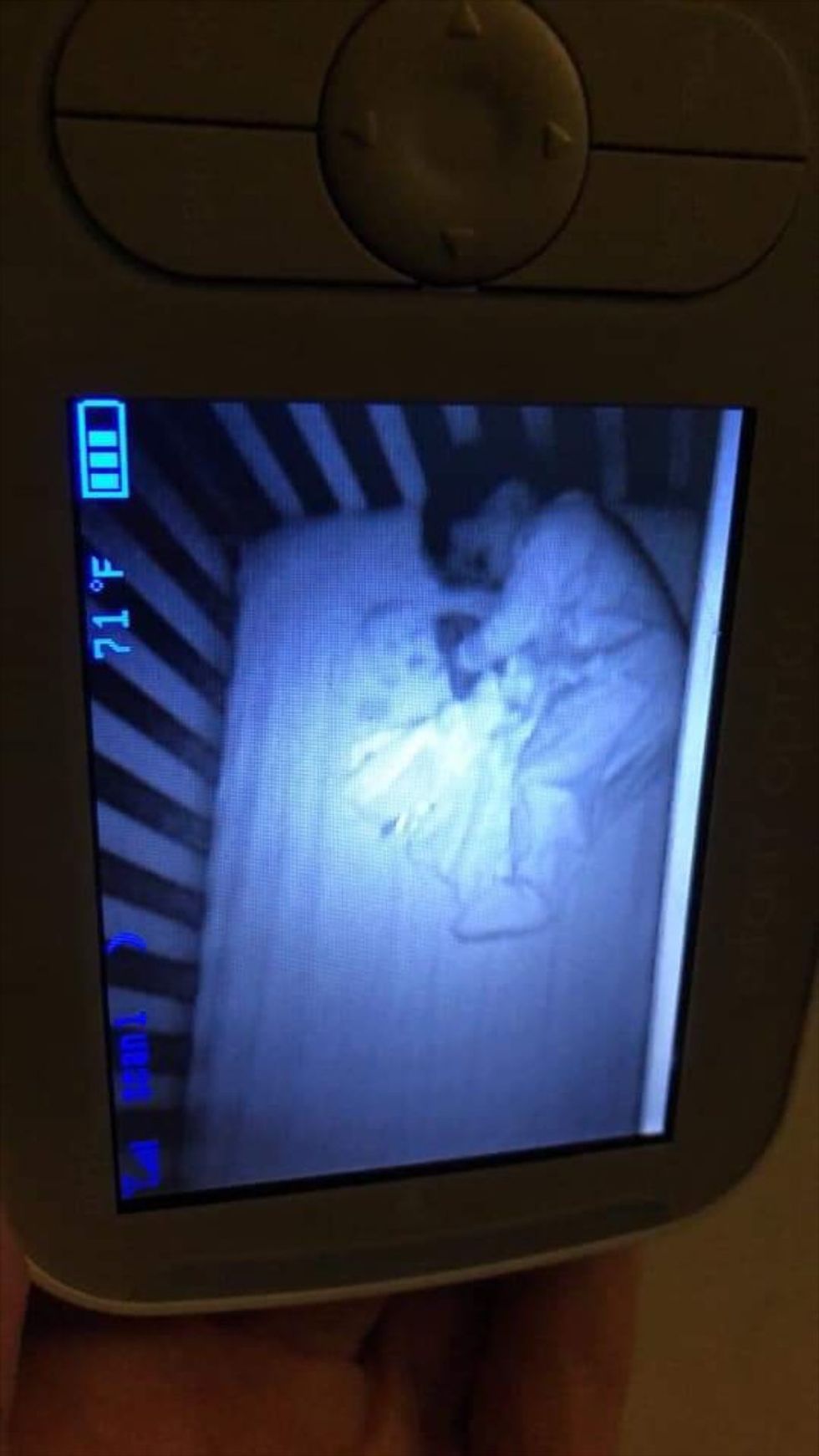 via: Twitter
A mom and dad were horrified when they noticed the shadow of
another baby's face
in their child's cot as they slept.
But it wasn't what it seemed...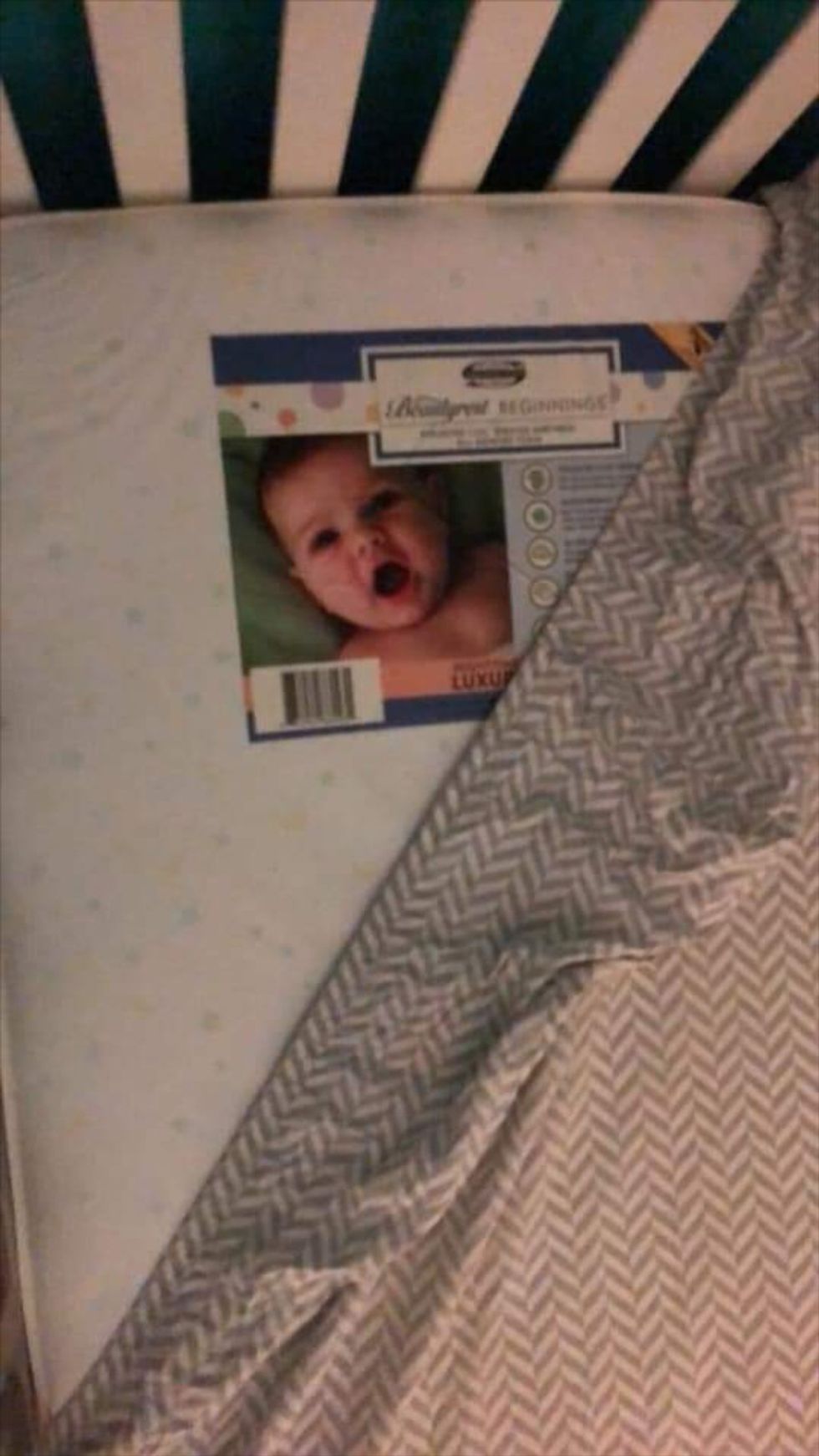 via: Twitter
Thankfully,
the night-vision had simply picked up the outline of the photograph on the mattress sheet. Thank goodness for that...
It looks like the glowing eyes aren't too unusual...
@PassionPopSoc Had the exact same experience https://t.co/GcWM02iyCv

— kim🦋 (@kim🦋)1573823482.0
Another mom posted a night-vision baby monitor snap of her son in his cot with the same eery glowing eyes.
The demon baby hype is very much apparent.
@kim_pozo @PassionPopSoc Me too https://t.co/fvSFIRyBnY

— Hailey (@Hailey)1573838408.0
More and more parents began to share snaps of their very own "possessed" children.
It's clear that there's nothing at all paranormal about these children...
But maybe these parents should book an exorcism, just to be safe...