Paris Jackson, the late Michael Jackson's 20-year-old daughter, was hospitalized in Los Angeles this Saturday after attempting suicide. According to TMZ, police and paramedics were called to the scene at 7:30 am after Jackson reportedly cut her wrists at her home.
TMZ also reported that the hospital placed a 5150 on the young woman, which is a variety of medical psychiatric hold.
Radar Online
, "We can confirm that an ambulance attended a suicide attempt at the 7200 block of Hillside in Los Angeles earlier today. The victim was transported to a local hospital – under HIPAA rules we cannot reveal this person's identity."
On March 2nd, Jackson posted the following meme:
She's been laying low over the last few weeks, attempting to stay out of the spotlight.
Leaving Neverland documentary about her father, Michael Jackson. In it, multiple men come forward to say they were sexually abused by the iconic singer as children. In the weeks since the film's release, many radio stations have stopped playing his music.
This isn't Jackson's first suicide attempt.
TMZ
, "Paris has had a hard time since her dad's death in 2009. She attempted suicide back in 2013 as well, and has been open about her struggles with depression in the past." While the young woman claims she hasn't seen 
Leaving Neverland
yet, all three of Michael Jackson's children are said to be in a terrible state over the film and its enormous blast radius.
According to the same TMZ report referenced above, Jackson is now in stable condition and has been released from the hospital into the care of her team. She's said to be at home now, recuperating.
US Weekly
, "She is in better spirits and surrounded by friends and family. She's strong but had a horrible episode, appears that everything she held inside finally burst. She does feel better and family and friends are still flying in."
At 12:03 pm, Jackson tweeted at TMZ, calling them "liars."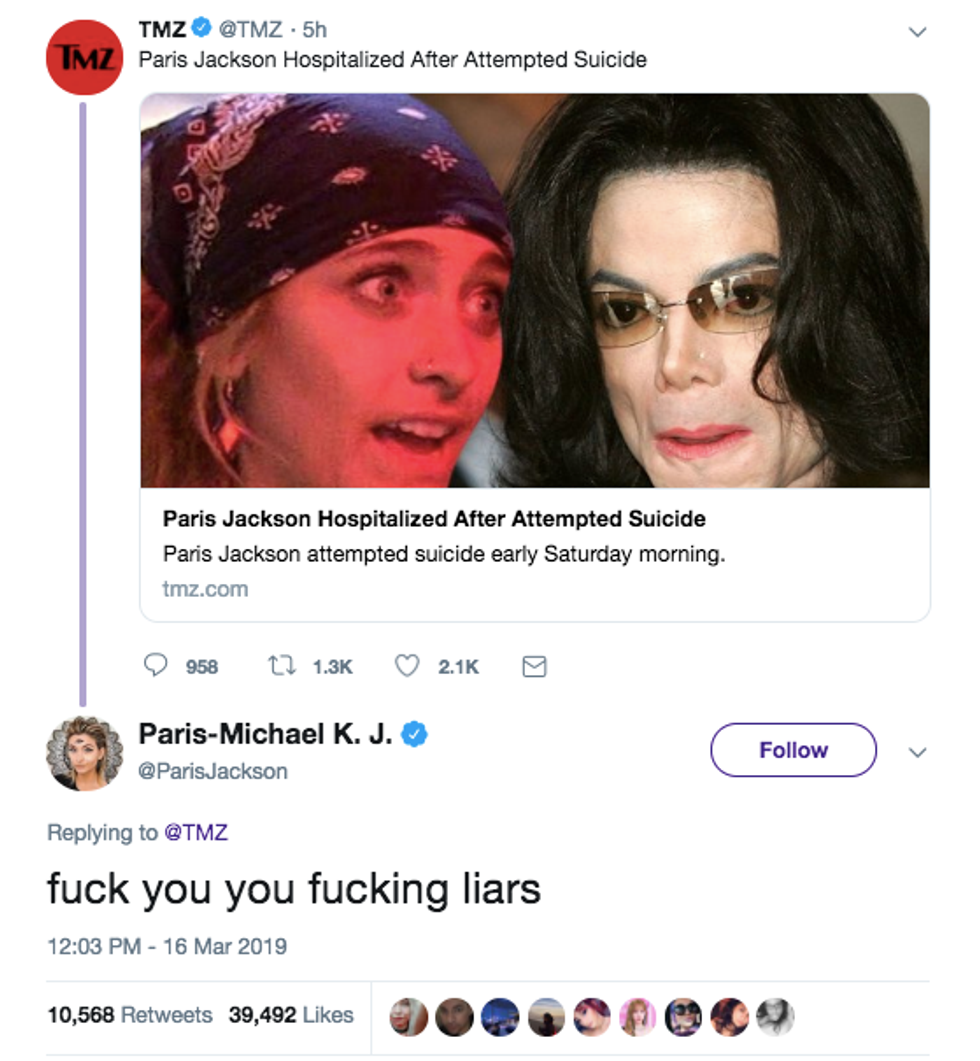 Does this mean she's refuting TMZ's report? We can't be sure. We do know that she was taken to the hospital via ambulance this morning and then released in the afternoon.
Later, she simply tweeted out a row of question marks:

According to
Entertainment Weekly,
a rep for Paris declined to comment on the day's events so we can't be sure of what occurred just yet.
In the meantime, fans like this one are rushing to support her.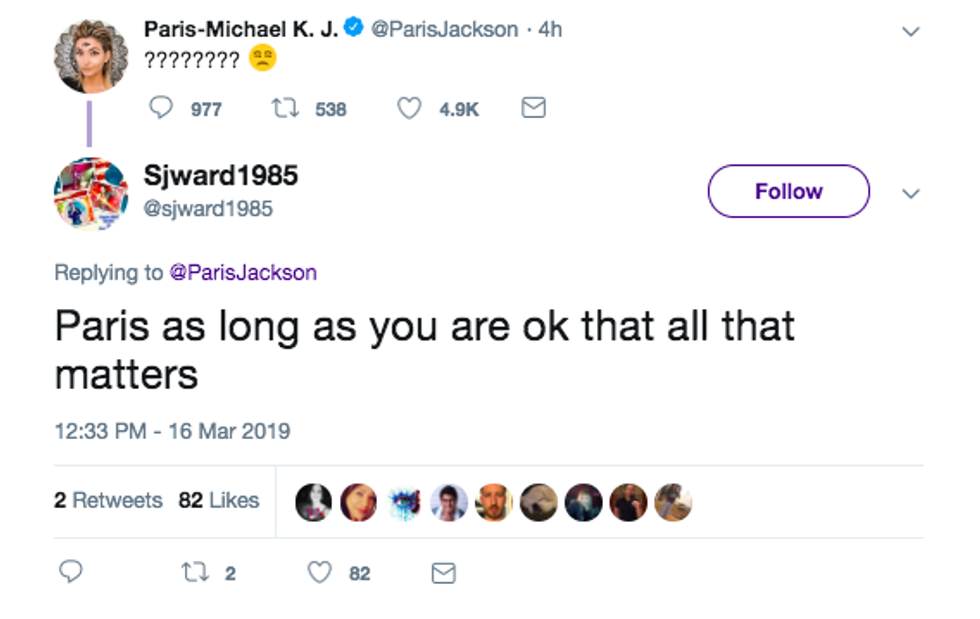 If you or someone you know is contemplating suicide, please call the National Suicide Prevention Lifeline at 1-800-273-8255.