Jersey Shore's finest, Pauly D, has revealed his "quarantine beard", and everyone is saying the same thing...
Born in Providence, Rhode Island, in 1980, Paul Delvecchio is pure reality television gold.
His lack of boundaries, loud and brash sense of humor and rather odd ability to make everybody fall in love with him makes him the perfect reality star.
He rose to fame on a little show called Jersey Shore.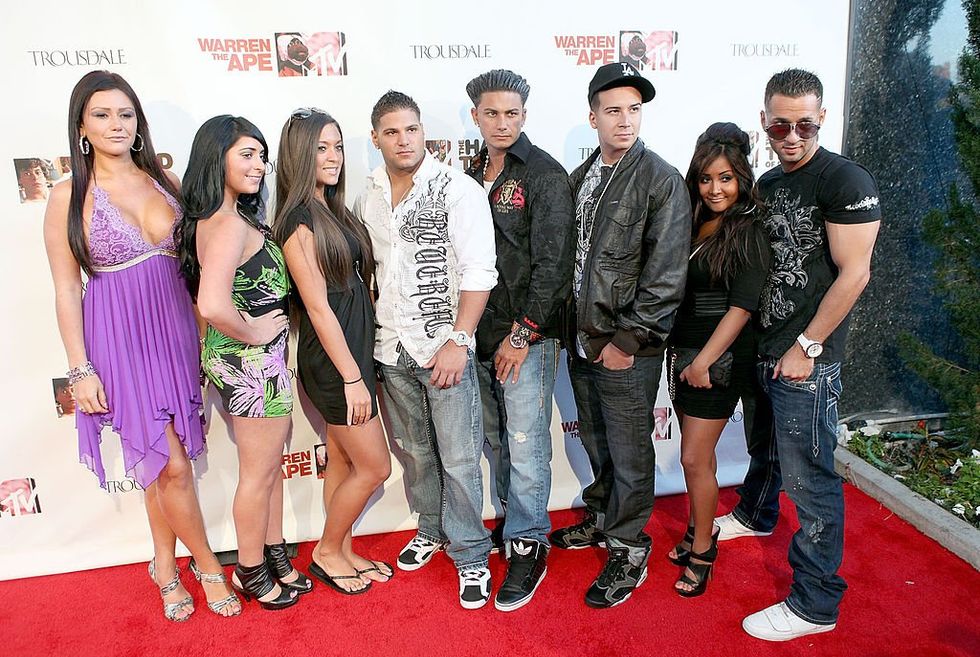 The series, set around eight Italian-American roommates staying in the party town of Seaside Heights, New Jersey, first aired in 2009, and became an immediate cultural sensation.
There were a few key reasons for the show's success.
But it's likely that a key one was that it gave viewers an insight into a very specific culture that, until then, the world had known very little about. Oh, and all the fighting and relationship drama, of course.
And one important aspect of this culture?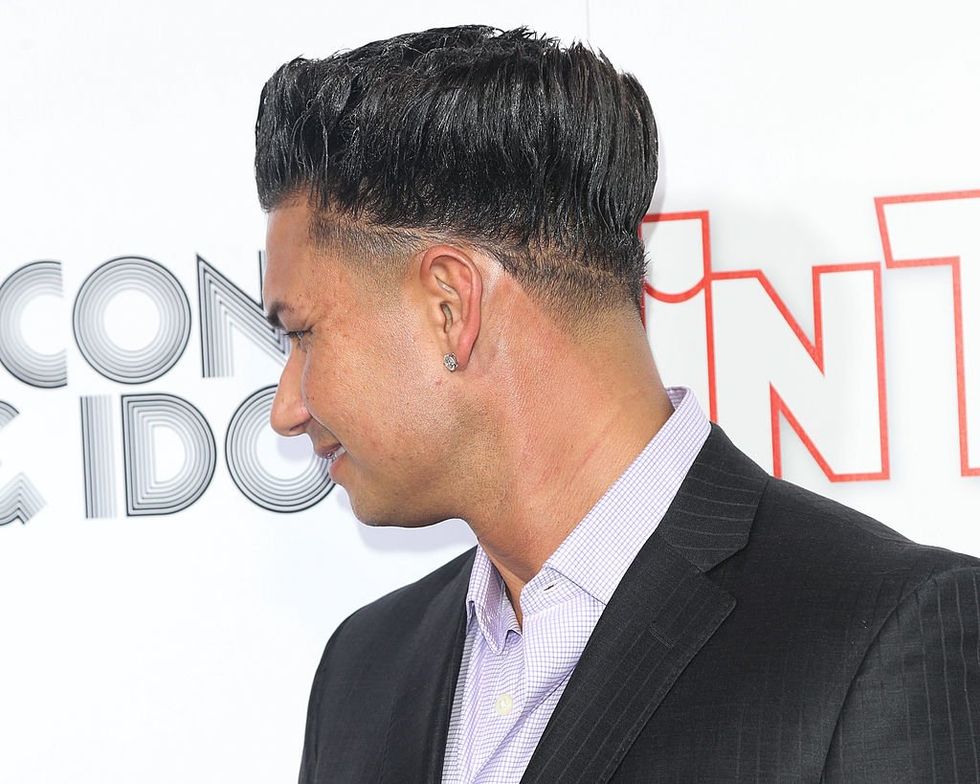 A very niche set of trends. The physical appearances of the 
Jersey Shore 
cast absolutely blew people's minds - with one particular look standing out above the rest.
Pauly D's hair.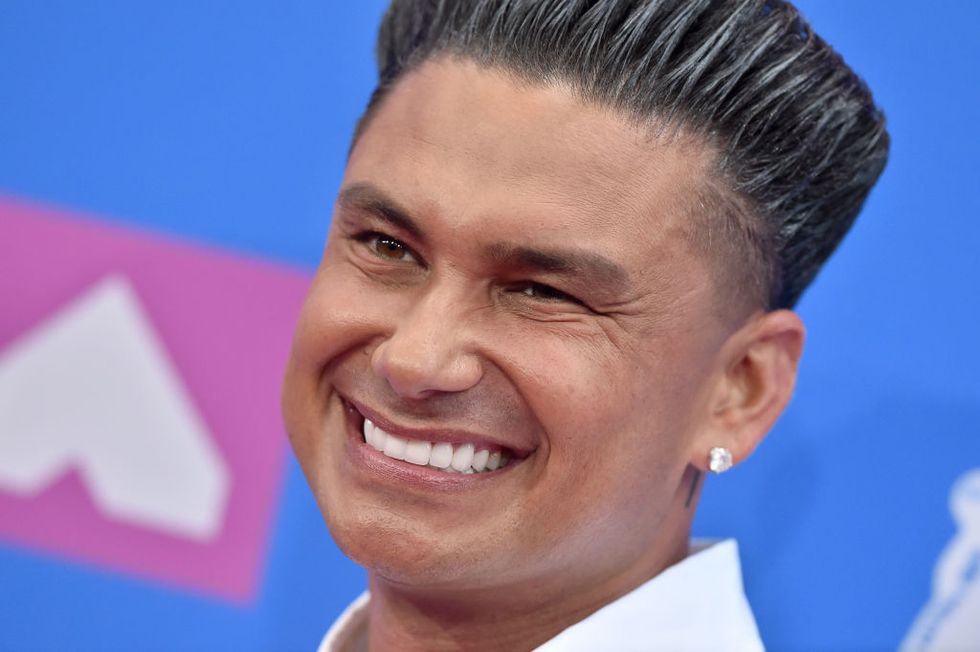 The style was unlike anything most of us had seen in pop culture before - almost a cylinder of lacquered hair that stood directly upwards from his head.
It really is something.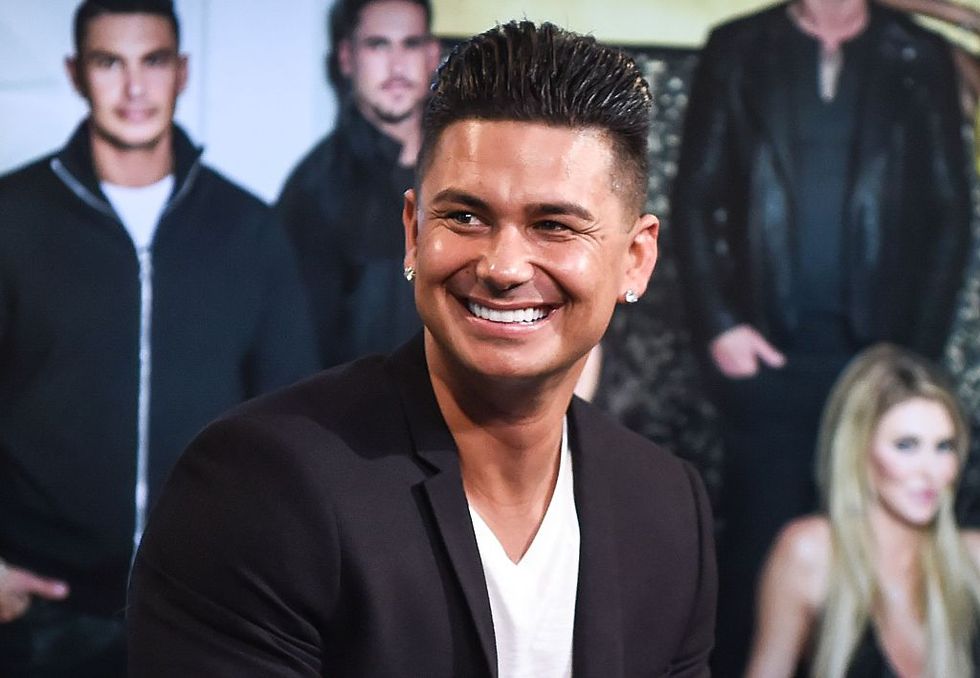 How does someone's hair stand up so solidified like that? Asking for a friend...
His hair-do long been a subject of public fascination.
Here he is getting touched while filming
The View 
in 2010. We have to say, we're pretty curious as to how that gelled 'do feels, too.
Pauly D is dedicated to the blowout life.
He has claimed to wash his hair every single day and to spend upwards of forty-five minutes blowing and gelling his hair into position. He also gets a trim around once a week.
The blowout lifestyle isn't without compromise, though.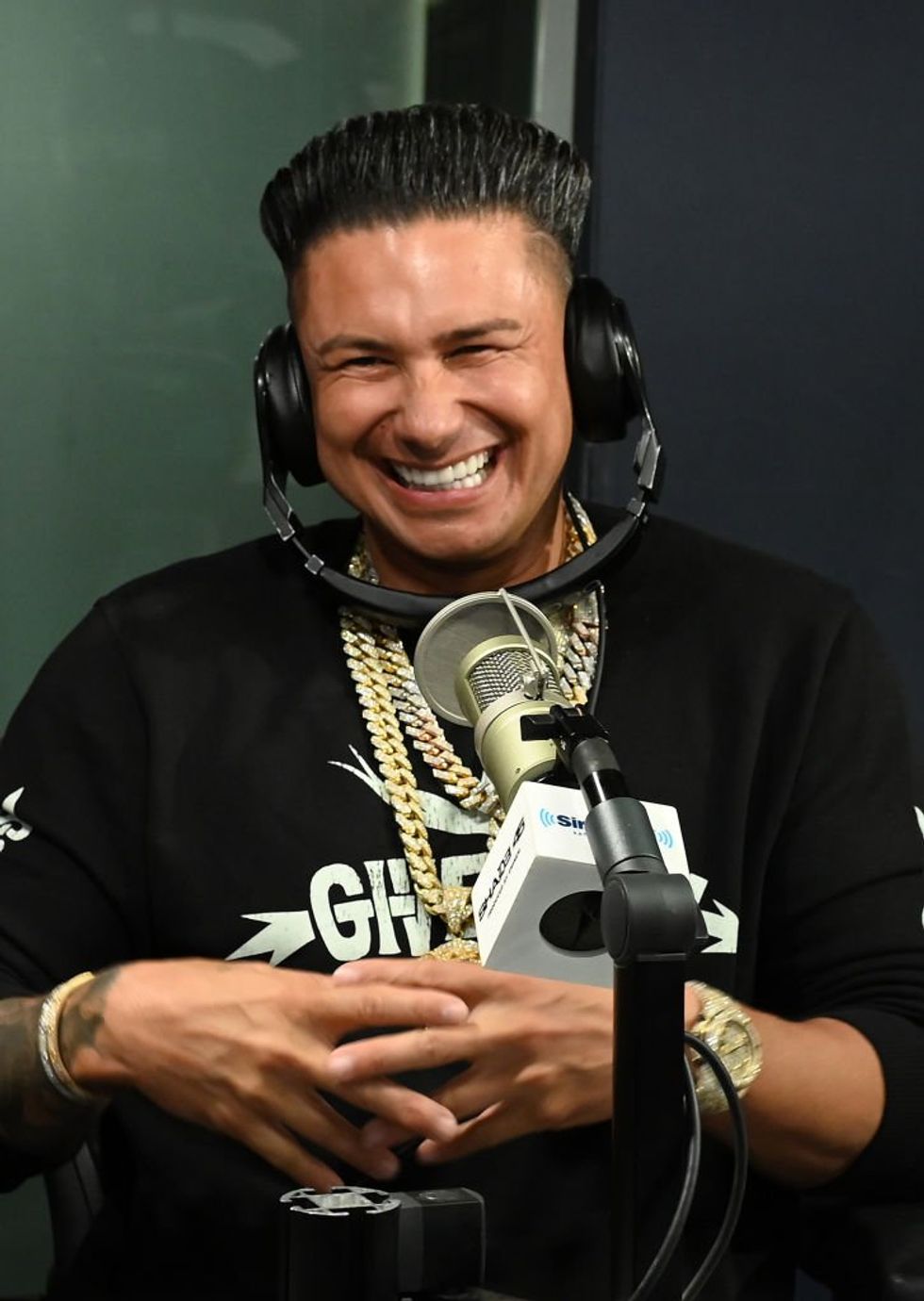 His strict hair regime means he can't do a couple of everyday tasks, such as wearing headphones, for example. Here he is rocking the "headphones under the chin" look while recording with Radio Andy earlier this year. All to protect that crazy hair.
But he's proud of how resilient his style is.
When asked on
Jersey Shore
by his gelato shop boss to wear a hairnet, he hit back, "My boss seems to think that my hair is going to fall off and go into the ice cream. This hair ain't moving, my dude. 150 mph on the highway on a street bike... It doesn't move! What makes you think it's going to move in a gelato shop?"
In fact, he's made some pretty bold claims about his blowout.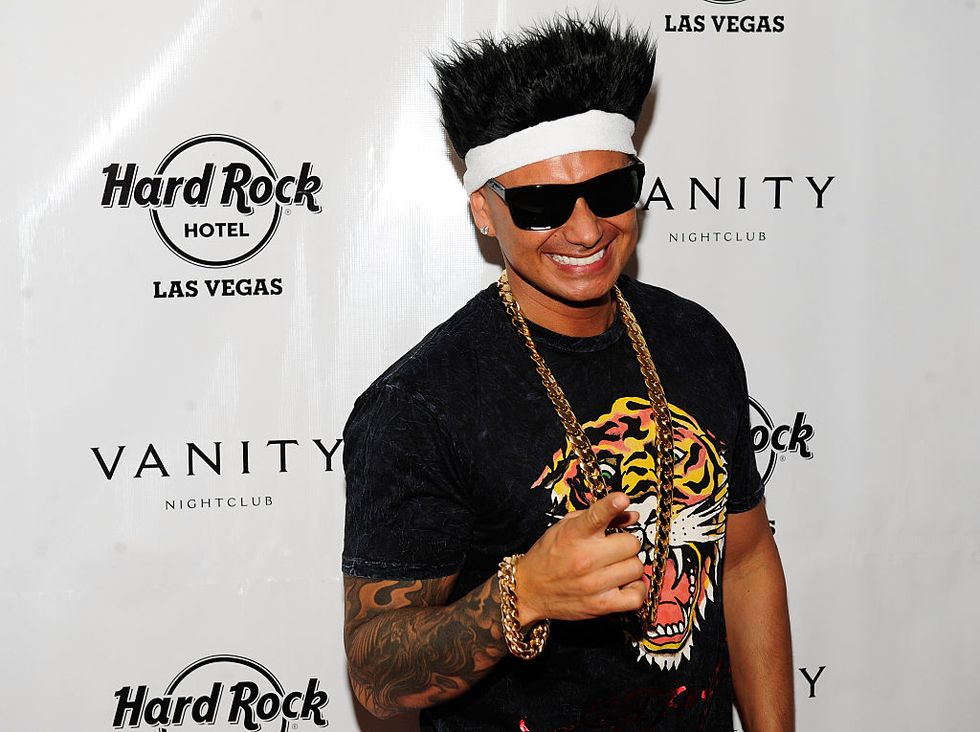 "My hair didn't even move an inch and I was in and out of the water. My hair's windproof, waterproof, soccer-proof, motorcycle-proof. I'm not sure if my hair's bulletproof. I'm not willing to try that,"
he's joked
.
And there's something else that fans have noticed.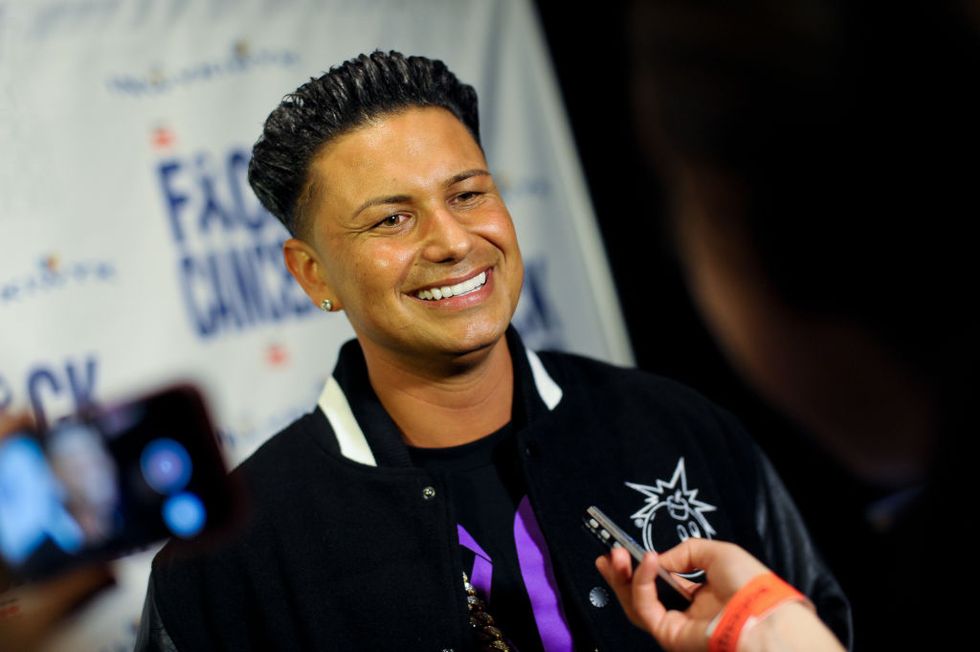 While the other
Jersey Shore 
stars have all undergone something of a transformation in the ten years that they've been in the public eye, Pauly D just
hasn't changed
- including that hairdo.
Over the years, we have seen him with some other styles.
In season 4 of the show, when the gang visited their homeland of Italy, Pauly dressed up as a "typical guido" - including a fauxhawk. But this look was still heavily gelled.
And, in 2013, he shocked fans with this Instagram post.
lots of gel.
He's also tried out a shorter 'do.
@DJPaulyD 😍😍😍 https://t.co/4qaQPaMco6

— 𝑪𝒓𝒚𝒔𝒕𝒂𝒍 𝑹𝒐𝒔𝒆. (@𝑪𝒓𝒚𝒔𝒕𝒂𝒍 𝑹𝒐𝒔𝒆.)1560363712.0
But none of these styles are quite as different as his latest transformation.
While in quarantine, Pauly has decided to somewhat relax his aesthetic.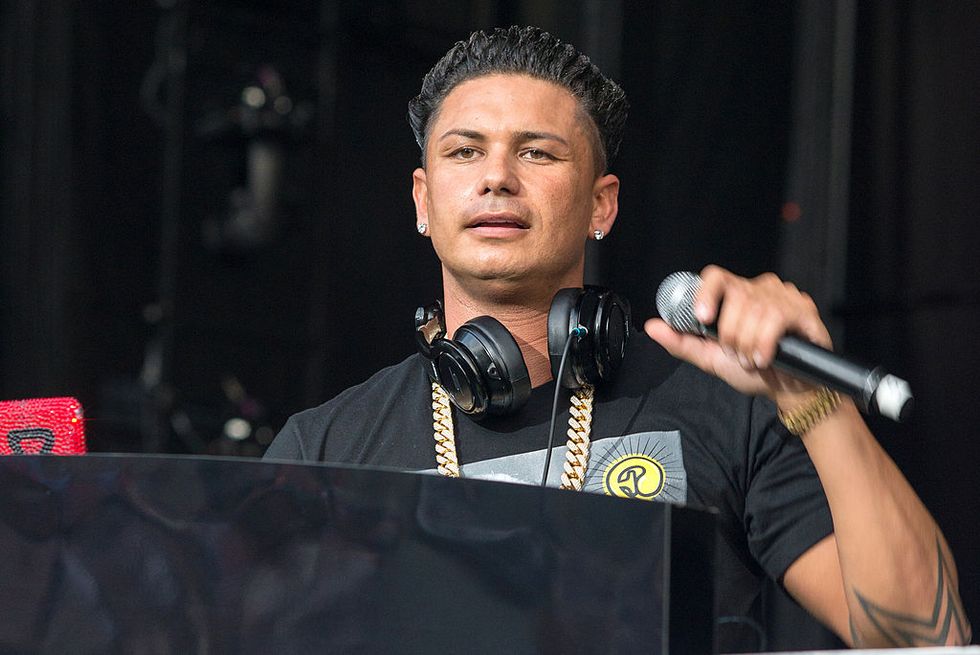 Don't worry though, his rigid hairdo is still very much intact.
He has decided to keep his thick head of hair company...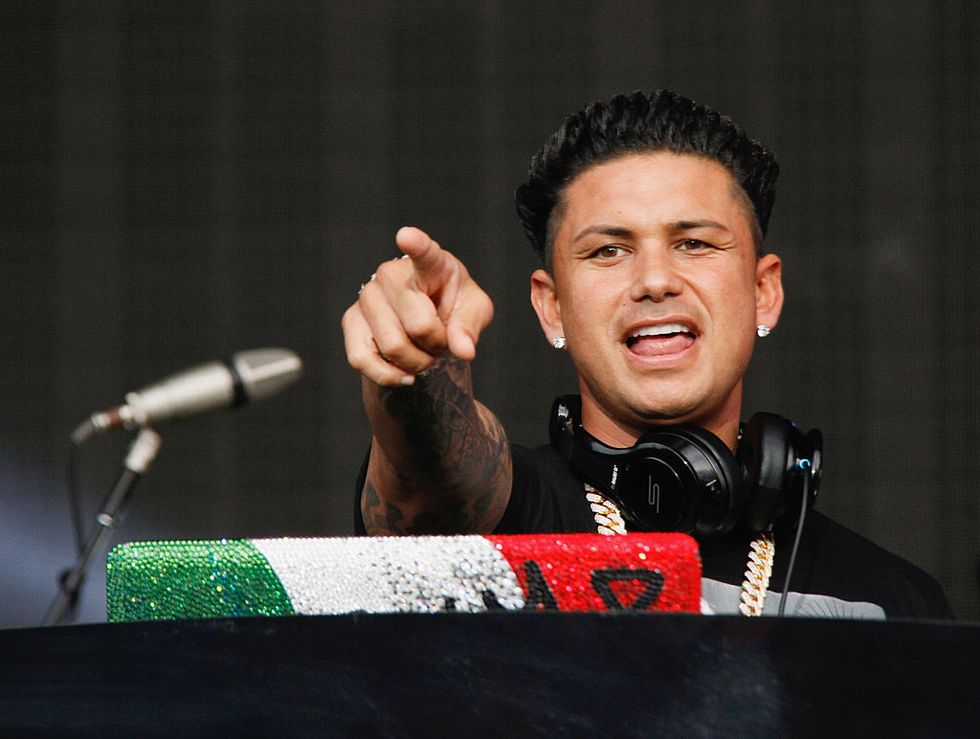 By growing a beard. Yes, you read that correctly.
Well, it turns out that most people on Twitter are loving his new look.
This is a whole new Pauly D, and we are here for it.
It's amazing just how much difference a beard can make to someone's face...
@DJPaulyD is this the same person? If it is - KEEP THE BEARD BRO

— 🧜🏾‍♀️ Unfriendly Blaxk Hottie 🧜🏾‍♀️ (@🧜🏾‍♀️ Unfriendly Blaxk Hottie 🧜🏾‍♀️)1587804736.0
Though he admittedly looks like a completely different person, most people are
huge
fans of the beard.
Though some can't help but notice his persistent hairdo...
@DJPaulyD Now that's consistency. Not even ONCE since 2009 has this man ever looked in the mirror and gone "hm mayb… https://t.co/KugId1Ry7d

— KUNGFU BENNY (@KUNGFU BENNY)1587785190.0
Which is still the same as it was back in 2009. Now
that's
commitment.
You have to admire his dedication to the cause.
@DJPaulyD You putting that much gel in your hair even during lockdown 😂 gotta love the consistency.

— a fasaad (@a fasaad)1587799076.0
Did we really expect any less of Pauly D?
Some have expressed disbelief...

Is it really him?
The new look certainly has shocked fans.

And have questioned if it
really is
Pauly D.
And others have this important question...
@DJPaulyD real question is will the BEARD stay put 150mph on the highway?

— Amanda Gurock (@Amanda Gurock)1587754330.0
Well, there's only one way to find out, isn't there?
Now, Pauly has never even been seen with a five o'clock shadow...
Quarantine Beard......... https://t.co/hHMJPqHGBv

— DJ Pauly D (@DJ Pauly D)1587754154.0
So his bearded face has certainly shocked plenty of his fans. Here it is, in all it's glory. Thoughts, anyone? For more on how the rest of the cast of Jersey Shore are doing these days, keep scrolling...