Have you ever gone through a tollbooth and realized the car before you paid your toll? Or maybe the person in front of you at Starbucks decided to treat you to a cup of coffee on them. There's nothing more heartwarming than finding out a stranger paid for something for you just to be kind.
This December, Kyle Jauregui and his family were on the receiving end of an act of kindness that left them speechless because while it definitely did brighten their day, it turned out to be about much more.
On December 27, 2017, Kyle went to go pick up his sister's 11th birthday cake.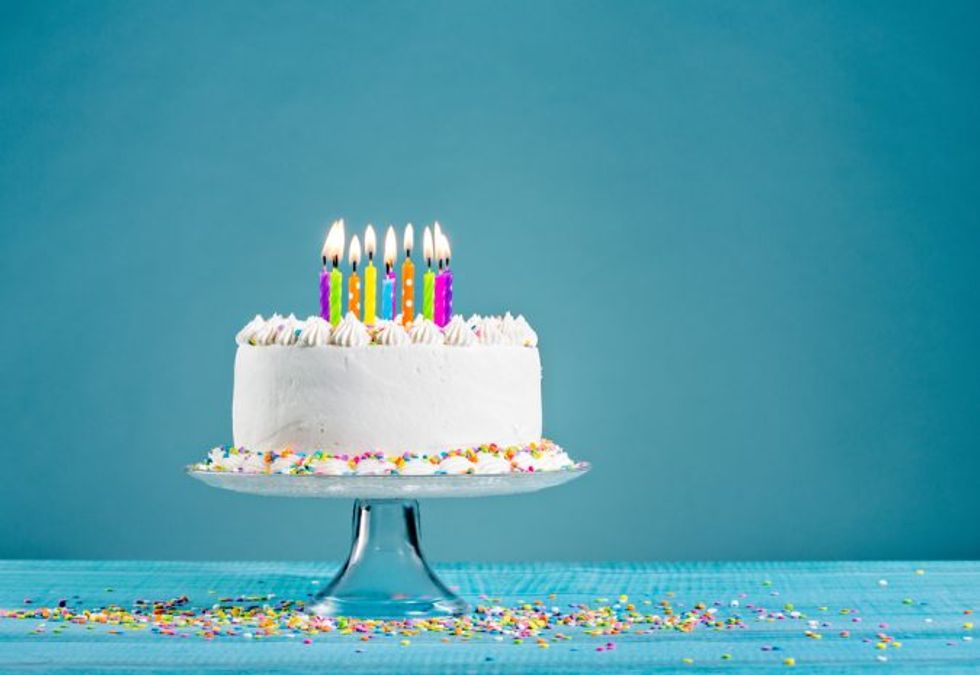 via: Shutterstock
Eleven year old Madison was probably pretty excited to get her Beauty and the Beast-themed cake, but their whole family was shocked when they realized that the cake had already been paid for when they got there.
Along with the cake the family received a note that explained why the cake had been paid for.
So today is my sisters birthday and when we went to pick up her cake someone had already paid for it. It was left w… https://t.co/DIqQhYaJe1

— Kyle Jauregui (@Kyle Jauregui)1514417689.0
According to a note left by the person who paid for the cake, they had done so in honor of their daughter, McKenna, in honor of her 10th birthday. The note explained that every year on McKenna's birthday, her mother does a random act of kindness.
She does this to honor McKenna, who sadly passed away 9 years ago at the age of 9 months.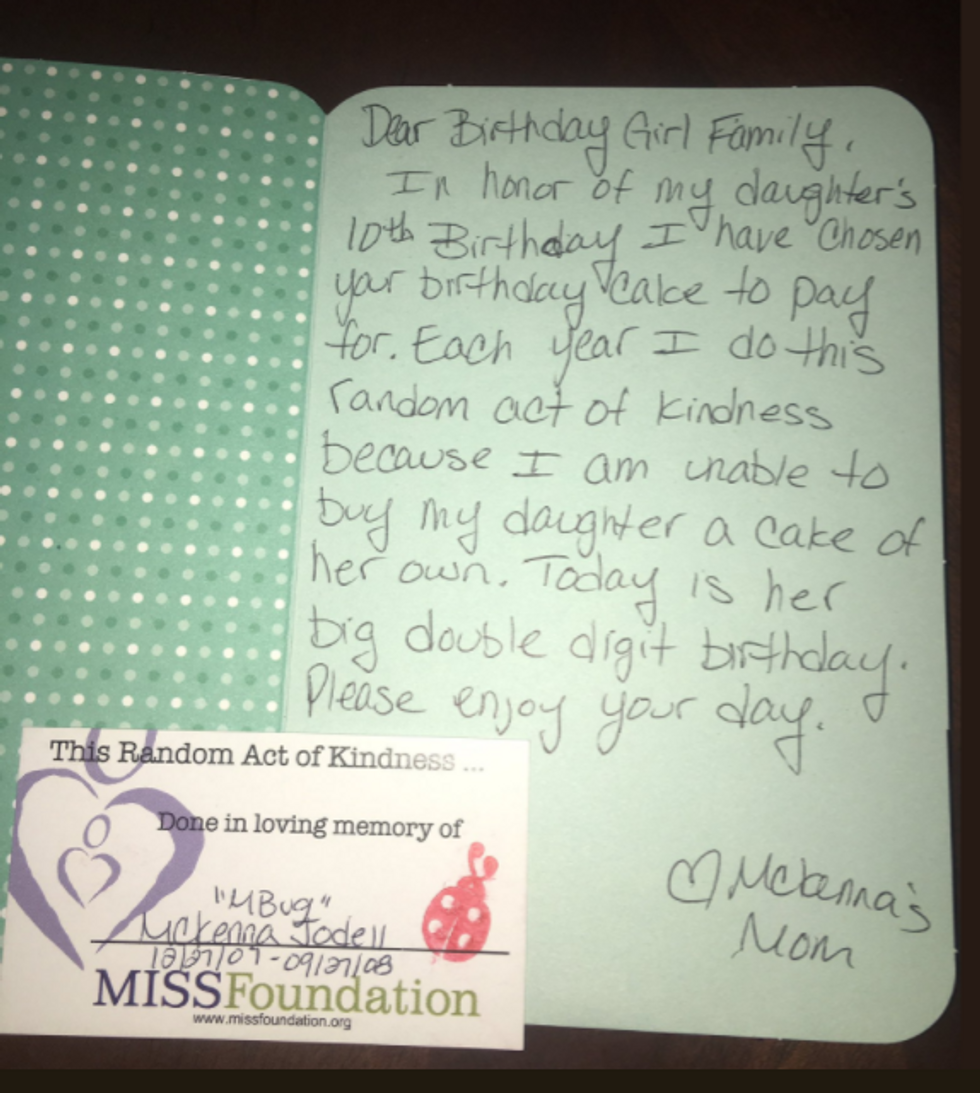 The card explained that McKenna's mother wouldn't be able to buy a birthday cake for McKenna on what would have been her double digit birthday, so instead she was paying for Madison's birthday cake. Kyle and his family were moved by this act of kindness.
The MISS Foundation supports grieving families and gives away these cards to encourage them to practice random acts of kindness to honor children and loved ones they have lost.
The MISS Foundation also provides counseling, advocacy, research and education to families who have lost a child. McKenna Jodell was killed in a tragic accident in the home and since her death her mother has been involved with MISS and their Kindness Project.
McKenna's mother Ashley, who paid for the cake, writes about dealing with the loss of her baby in a blog.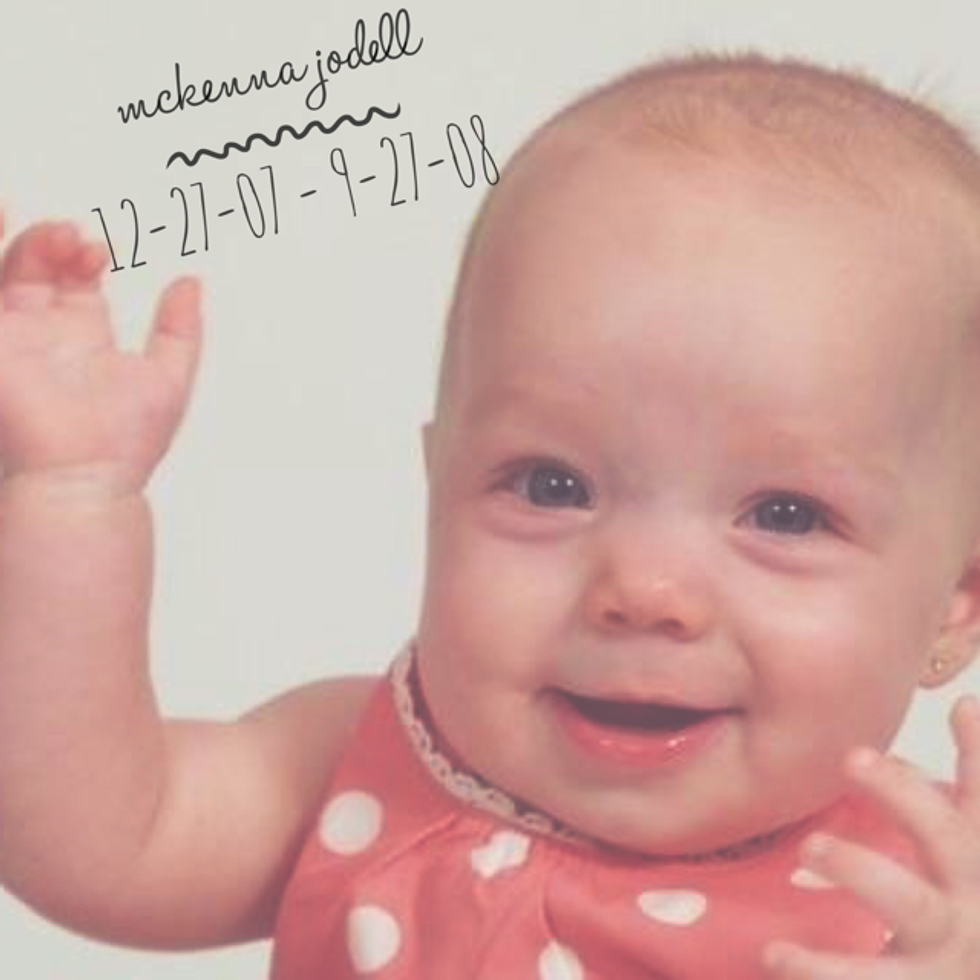 via: http://ashley-santi.blogspot.com/
She writes on her blog of McKenna, "
I want to make Mckenna proud, have her live through me because if I don't speak her name it is as if she never existed. But she did exist and changed my life the moment I knew I was going to be a mommy. Her name is Mckenna Jodell Fox and she was 9 months old and the sparkle in my eyes."
People were moved by hearing what Ashley did for Madison on her birthday in honor of McKenna
@Shhwaggy_T God bless you Mckenna's mom! What a wonderful way to deal with your grief. Know many people are praying… https://t.co/mSnp6FlTWZ

— Claudette Lundy (@Claudette Lundy)1514601661.0
Many people on Twitter responded with support.
Other people shared the acts of kindness they had done in honor of the loved ones they lost.
Like this woman who bought a drink for the car behind her at a drive through.
In general, people got pretty choked up about the whole thing.
@llhawaii @Shhwaggy_T It bought tears to my eyes. What a beautiful way to honor their child who passed away ❤️

— GypsyHeart 🖤 (@GypsyHeart 🖤)1514646279.0
The story touched a lot of people. Kyle's tweet's responses are full of crying memes and expressions of sympathy and heartache.
The MISS Foundation posted about Ashley's act of kindness to honor McKenna on their Facebook page.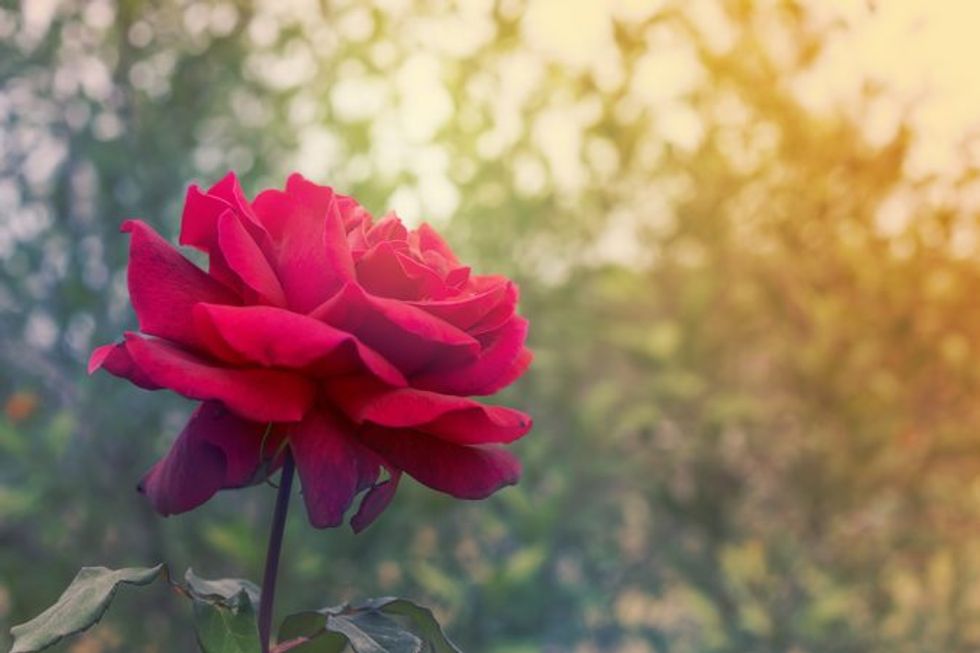 via: Shutterstock
They posted about the encounter with a reminder that all of the children who have been lost are behind the Kindness Project, the movement that inspired Ashley to pay for the cake.
They wrote:
It's so rare that the mainstream media opens up to talk about our precious children who died. And while this is primarily a "feel good" story, there is no denying that all our precious children, and our grief/love, are behind this movement. Thank you, each of you, for participating in the 

#

KindnessProject

 as we bring their love to the world while still, very very very much, feeli

ng our deep grief and sadness.
This was more than just a birthday cake, it was a memorial for McKenna and reminder to everyone to share acts of kindness every day.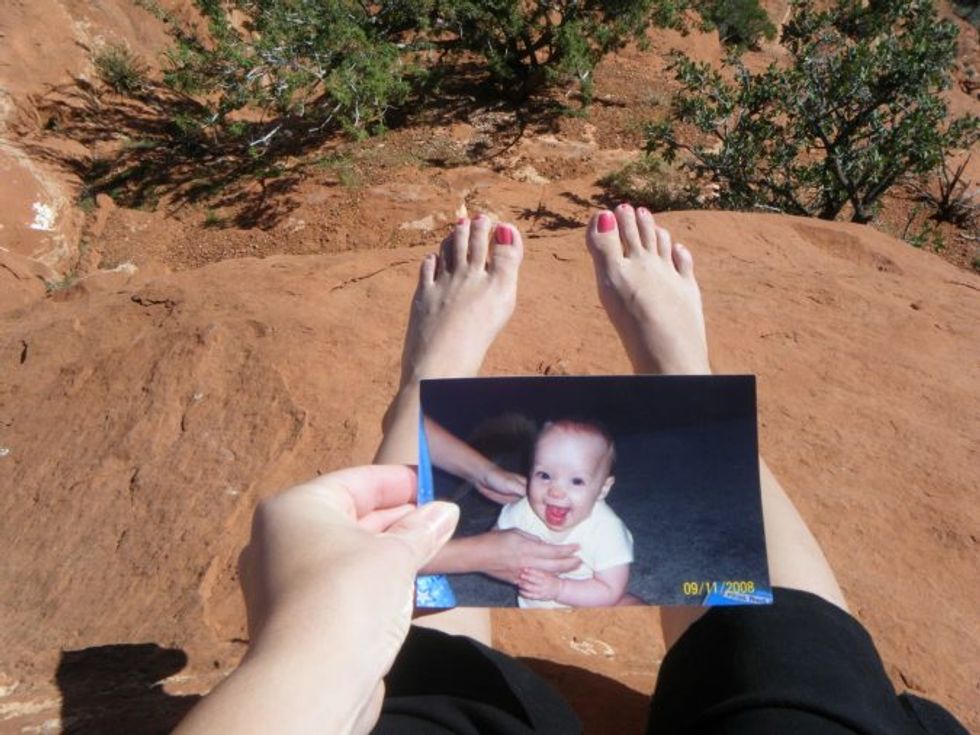 via: http://ashley-santi.blogspot.com
There is probably no greater gift than knowing your birthday was chosen to honor someone special. McKenna's memory will live on in the kind acts her mother chooses to share with others.
If you'd like to donate to the MISS Foundation, you can do so here.