This summer Kim Kardashian debuted her beauty line KKW Beauty. It features contour kits, lip glosses, and powders all in shimmery metallic colors. The Kardashians have a knack for making everything they touch turn to gold (or more specifically light gold, light rose gold, warm gold bronze, and rosy copper gold, as seen in Kim's makeup collection's very gold-focused color palette), but this week a move by KKW Beauty has some people seeing red.
Love them or hate them, the Kardashian family is a force of nature.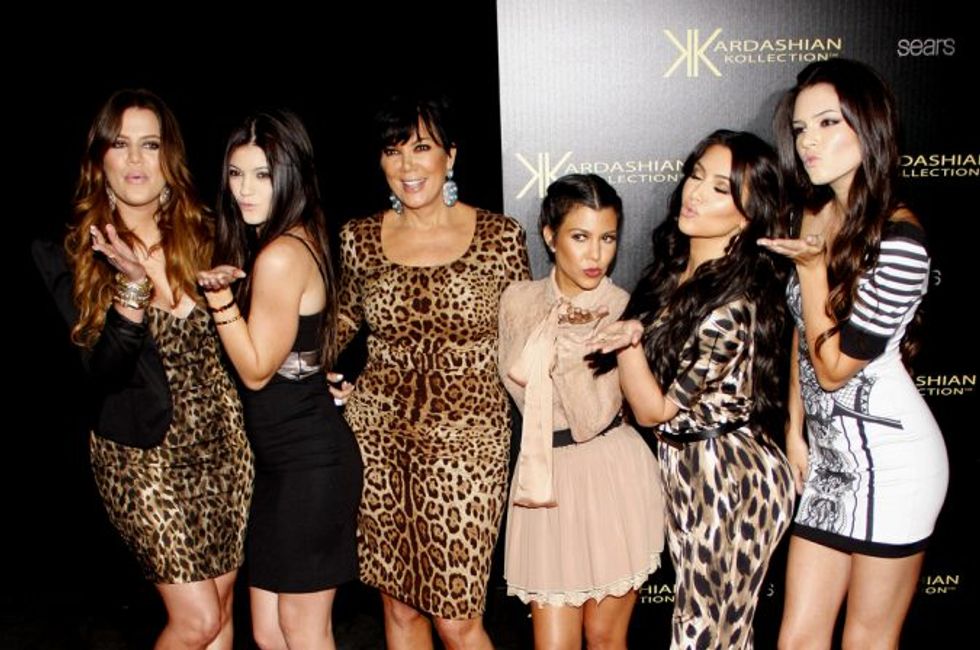 via: Shutterstock
Aside from their reality TV show, which is still going strong after 10 years on the air, the Kardashians have created an empire: Kylie's makeup line, Kendall's modelling, Khloe's spin off reality show, several sisters' clothing lines, Kourtney even has a food blog.
Their show is aptly named: it can be hard to keep up with this family's latest ventures. It's estimated the family made over $122 million dollars last year.
Kim released her latest project, make up and fragrance company KKW Beauty last June.
It was immediately popular. Kim tweeted that her contour kits, which retail at $48 each, sold out in less than three hours.
In November her fragrance sold out equally as fast.
My fragrances are now completely sold out!!! I'm working with my factory to bring you guys more product very soon! @KKWFRAGRANCE

— Kim Kardashian West (@Kim Kardashian West)1511029003.0
She sold $10 million dollars worth of perfume in just one day, selling over 300,000 bottles.
So far, she only sells her beauty products online and doesn't use traditional advertising.
Which means that not a single person who bought her perfume had even smelled it before they bought it. (Our guess is if gold has a smell, it smells like that).
This week Kim tweeted that KKW was having an open casting call for models.
Attention LA area beauties! Join our open casting call for a chance to be featured in an upcoming #KKWBeauty campai… https://t.co/Bm2YUFopvu

— KKW BEAUTY (@KKW BEAUTY)1513106433.0
The open call didn't give a lot of requirements. Just that models had to be over 18 year old women who worked in the LA area.
It seemed like there was really no specific look they were going for or even an age limit. 
But there was 
one
thing...
Some people noticed one particular requirement.
The casting call was for women only.
Some people on Twitter were mad that Kim didn't include men in her casting call.
@kkwbeauty there would be a lot of men who are in the beauty world who would love to do this

— adriana (@adriana)1513117924.0
In this day and age, there are lots of men who wear makeup too!
Why not let men enjoy showing off the various shades of shimmery gold, Kim?
People thought this was a bad move for KKW Beauty, a brand that has previously been pretty inclusive.
Ok, probably not cancelled considering it's selling out mystery-scent perfume in a matter of hours, but it definitely may be leaving some people out.
But some people argued that it's okay to create women-only spaces!
@kkwbeauty Don't know why people are upset this call is just for women. Maybe she's doing some ads showing women ag… https://t.co/S6KrgjfqdR

— Natasha (@Natasha)1513258004.0
Plus the casting call doesn't tell us much. Just because it doesn't include men, there's no guarantee that means the shoot itself won't include men.
Lots of cosmetic companies are starting to include men in their advertising.
Maybelline, L'Oreal, and Covergirl have all used male models in recent advertising. Besides being inclusive, it's a good business move.
Men are already wearing makeup, why not market to them specifically?
So what exactly has been the fallout?
Diversity in advertising is always a good thing.
We will see if Kim listens to fans' suggestions and uses male models. But it's still pretty cool that Kim's casting call has so little requirements for women.
It would be great to see women of all types represented in her beauty line.  
Men or no men, people are still pretty excited about KKW Beauty's products.
My @kkwbeauty @KimKardashian Ultralight Beams get delivered today I'm gonna be on my way home from work like https://t.co/jeU9J4Rhj2

— hannah (@hannah)1513013488.0
No wonder they sold out so fast.
And some people just have completely different concerns altogether.
@kkwbeauty @KimKardashian Glitter bad for environment

— melissa (@melissa)1512506520.0
You might be fighting a losing battle there.
Hopefully Kim will includes lots of different types of people in her advertising campaign.
But look, Kim's gonna do what Kim wants and will probably make a billion dollars from it regardless.
It's Kim Kardashian's world and we are all just living in it.