2017 has been a big year. One of the most influential movements of the last 12 months came thanks to the women and men who've been victims of sexual harassment and abuse. A lot of powerful men were finally exposed as the predators they are, and it became clear that women will no longer stay silent when they are mistreated.
It would stand to reason that pop culture, including advertisements and commercials for brands, should have picked up on the feeling of the moment and been extra careful to reflect this historic moment in time in their content. But that's not exactly what happened in the new Jimmy Choo ad featuring actor and model, Cara Delevingne. In fact, the just-released commercial has people saying it's sexist, tone-deaf, and so not what we need right now.
The ad opens with Delevingne being stopped in her tracks by the new pair of sparkly Jimmy Choo boots.
OK, these are objectively great boots, but that's not the point — the problems with this ad start quickly after this moment.
Delevingne dons her new awesome boots and takes off down the city streets.
At night. Alone. In a short, sparkly party dress. This already rings of a world that doesn't exist, one that doesn't seem to acknowledge the reality that women are constantly preyed upon by predatory men.
But then it gets worse. She gets catcalled!
Delevingne struts past a guy hanging out on a stoop. As she passes him, he whistles and says, "Nice shoes, lady." She smirks and walks on. Yeah, he was "just" talking about her shoes. But like, this is maybe not the time to make the argument that catcalling can just be benign compliments about a woman's shoes. It almost never is.
Delevingne continues on her walk, makes a passing woman jealous with her Jimmy Choos, and makes her way to a hot dog stand manned by a guy she seems to know.
"Hey Sal," Delevingne says. "Hey hey, there she is!" says Sal the hot dog man. "I am starving," Delevingne tells Sal. "Can I have my usual please?" Sal hands her a hot dog, she kisses it (which is definitely what normal people do), and as she walks away, her friend Sal calls after her, "Hey, great shoes!"
The video was available to watch this morning, but it seems like it's already been taken down following the backlash.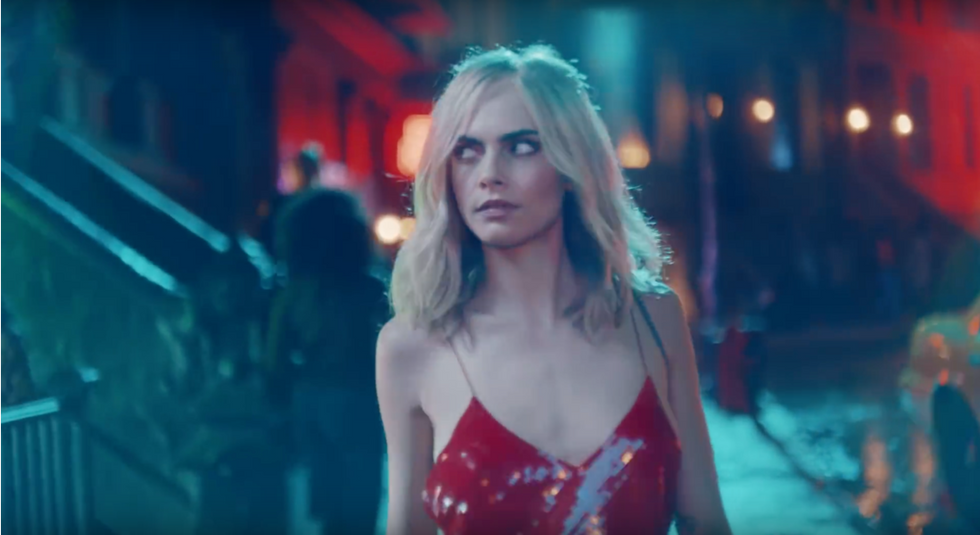 via: YouTube
It was meant to be lighthearted and benign. But it wasn't, especially in 2017, and it absolutely infuriated the people of Twitter...
Most people clearly expressed that now is not the time for an ad like this.
It seems to romanticize the idea of catcalling, and while the incidents in the ad seemed to be relatively harmless, in the current climate, that is not what we need.
Read the room, Jimmy Choo!
There were multitudinous other things Jimmy Choo could have done to try to sell shoes that didn't include even implied sexual harassment. They should have chosen one of those things.
The ad is especially misguided when you consider who their target audience is.
@JessicaValenti Nothing says 'buy me' like harassment. Hard pass.

— layineggs (@layineggs)1513709475.0
"Buy these shoes and strange men will whistle at you on the street" is not exactly a selling point for women these days.
While most blamed the brand for the ad, some criticized Cara Delevingne for taking part in the commercial.
@JessicaValenti Disappointed in Cara for agreeing to be in this campaign if I'm being really honest.

— Candice (@Candice)1513701772.0
Cara Delevingne has been an outspoken voice for women's rights and the #MeToo movement.
She even shared her own incidents of sexual harassment and assault with Harvey Weinstein
. She could have been more discerning when she agreed to star in this ad, for sure.
Many argued that the ad isn't meant to be about harassment at all — the mood is light and fun.
@KarinaSwanS @jimmychoo @Caradelevingne I don't view the mood as light. Anytime a man catcalls a women no matter wh… https://t.co/yr6uBChfKA

— Bonnie Bauman (@Bonnie Bauman)1513718390.0
But in today's world, there is no such thing as a lighthearted take on sexual harassment. Until women are no longer assaulted with regularity, until women don't fear for their lives when they walk down the street — and even after that — it is not helpful in any way to show that catcalling is allowed or that harassment of any form is acceptable.