It's true what they say, dogs are a man's best friend. And what better way to spend some quality time with your best friend than getting your nails done together? That's right: nothing!
Recently, a new trend has caught our eye and it might just be the cutest trend of the summer. People are now getting matching pedicures with their dogs and we're really here for it! Wait until you see some of these cute ass puppies with their nails looking all pretty. I can guarantee you, you'll be running to the salon with your own pooch asking for a French manicure after looking at these pics.
Keep scrolling to see them all!
Summer is here, which means we're going to be seeing a lot more toe exposure.
It may be a positive for some, but for us normal folk, it's probably the worst thing that we have to endure throughout this season.
Earlier this month, the "extra-long" toenail trend already had us reeling.
We just couldn't understand how people were actually walking around with these!
But, thankfully, this new trend is much better than that one.
I can guarantee you that these won't repulse you unless you hate dogs and all things cute - then you don't even deserve to see these pictures.
We all know that people love to pamper their pooches!
From cute spa days to dressing them up in personalized outfits, we support all of that good stuff. According to
iHeartDogs
, here are 5 of the best ways to show some well-deserved love to your pet!
1. Give your dog a massage.
You don't need to be an experienced masseuse to be able to do this. Your dog will enjoy a good ol' message just because he enjoys your touch.
2. Give your dog a bath.
It might not be fun if your dog hates getting wet, but a nice bubble bath will help to ease any tension in their bodies.
3. Make them a homemade treat.
Whip up some yummy treats for your pet. That way, you'll be able to control what goes into your dog's body and it will also help you to understand what your dog does and doesn't like.
4. Take them to the salon.
A cut, wash, and blowdry is always the best idea to keep your dog look its best.
5. Paint their nails!
This new tip will give you some quality bonding time with your pooch! These people have given it a go and the results are as cute as hell!
Happy Independence Day.
Pedicure with a cause.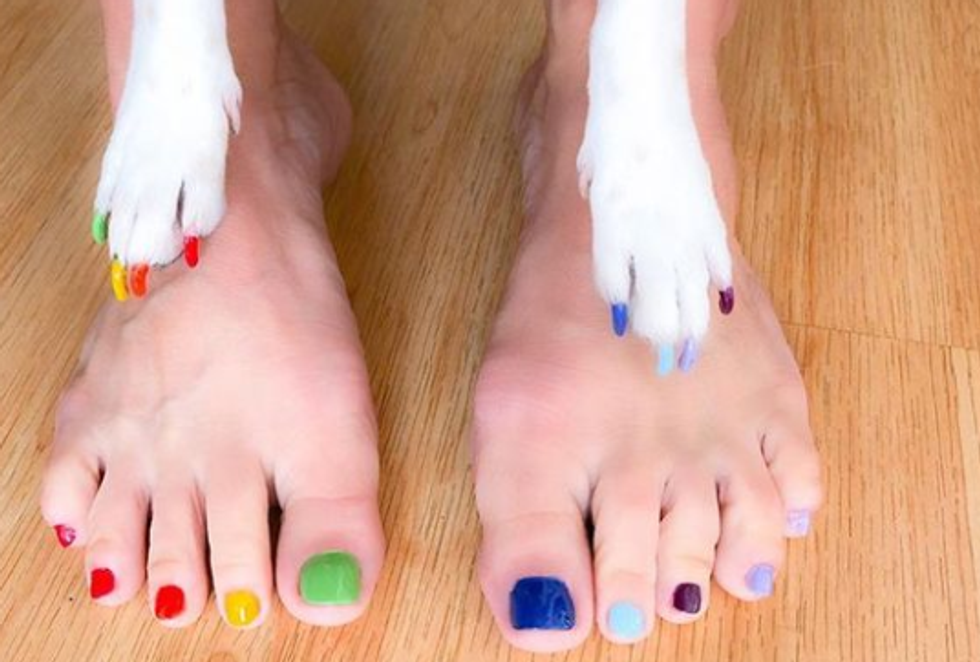 via: Instagram
Who says that you can't support LGBTQ+ community in the cutest way possible?
Metallic Madness.
This summer trend is one that I hope never goes away!
I'm on my way to the salon with my pup as we speak. I'll meet you there! Not ready to leave the cuteness behind? Check out these pics of some of the cutest pets ever getting their pamper on!