Jill Biden has been praised for her support during her husband's presidential run. And her latest move might just be her most iconic yet.
This election has been an experience, to say the least.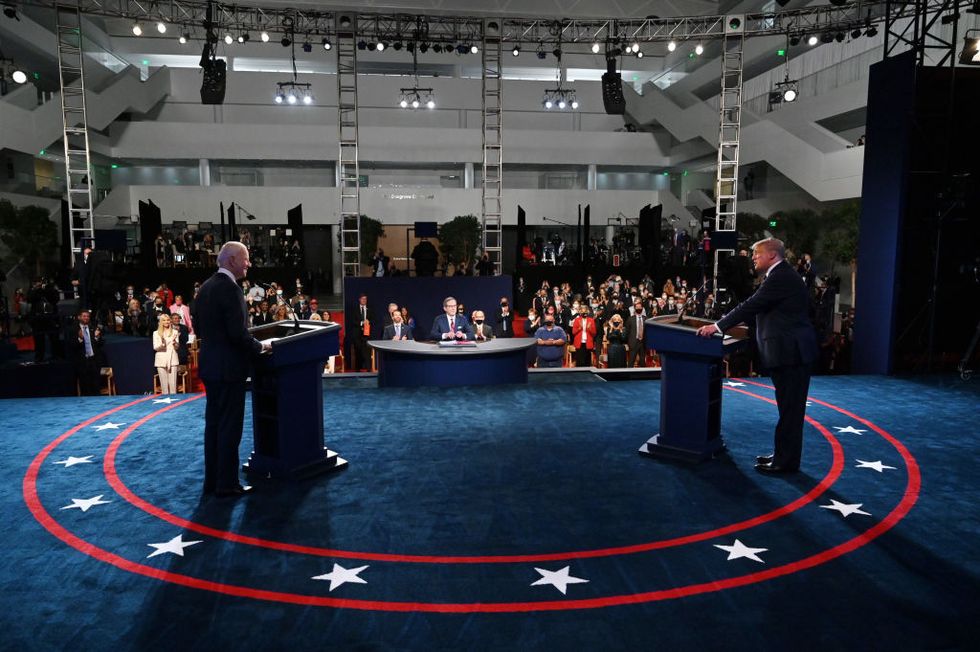 via: Getty
Trump V Biden was never going to be a civilized affair, after all.
Tensions between the candidates have been bubbling for some time now...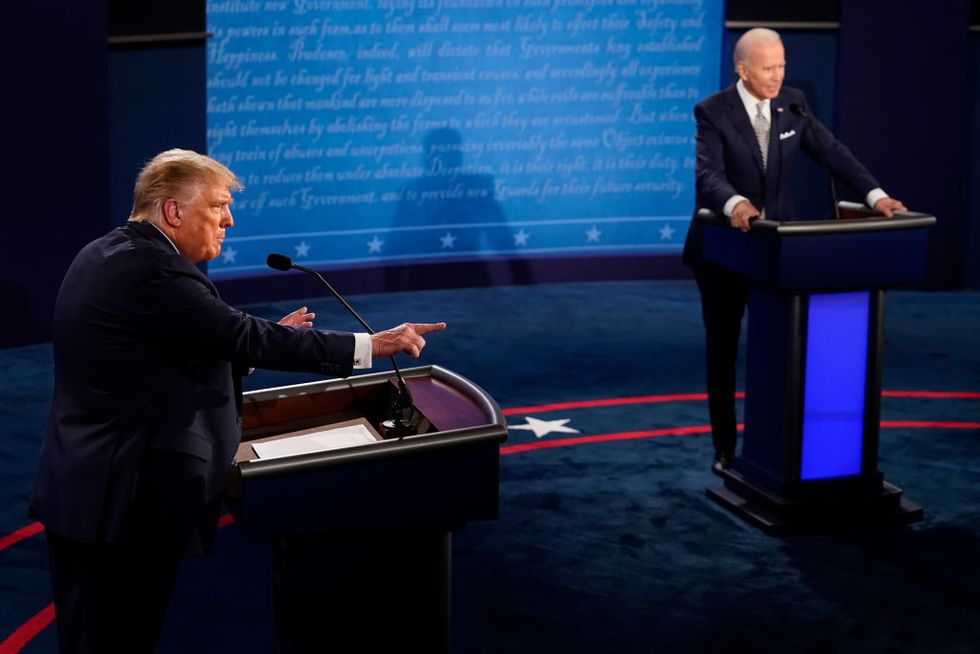 via: Getty
And have come to light over the entire election process.
But aside from the politics, some have pointed out another major difference between the candidates.
Their relationships with their wives...
But now Jill Biden has hit headlines for another reason...
I haven't seen this ANYWHERE, but the real winner of the debate? MRS. BIDEN. JILL, my girl, you were serving https://t.co/P0DLiq4M9l

— Faith Vanchu. (@Faith Vanchu.)1601491801.0
A wife that offers public support and affection
and 
rocks a face mask? Melania could never...
Yep, her matching dress and mask weren't just a feast for the eyes ...
They were also a valuable message to American voters.
Great choice, Jill!
Jill Biden's mask/dress match is something a nice touch. https://t.co/ff0mdElg92

— Zach Haberman (@Zach Haberman)1603420775.0
And last night, amid the election chaos, she gave us yet another iconic look...
Her election look has been praised on Twitter.
Jill Biden SERVED that pink coat.

— Loanne (@Loanne)1604469037.0
With many finding it the only comfort in a long night.
Hey, we have to be grateful for small things, right?
I know how unimportant this is considering the scale of this morning's events but I LOVE @DrBiden coat! #USElections2020

— SHOP FAILTEFAE ON ETSY 🥰 (@SHOP FAILTEFAE ON ETSY 🥰)1604469778.0
And Jill always offers us a look.
jill biden with the pink coat queen

— ana (@ana)1604496975.0
Jill Biden's coat is winning for sure!

— Amanda Lauren (@Amanda Lauren)1604468655.0
Can someone please tell me where to get Jill Biden's coat? And then buy me a vacation home somewhere I can wear the aforementioned coat?

— Liz Sczudlo (@Liz Sczudlo)1604468835.0
jill biden looking stunning in her pink coat

— jasmine (@jasmine)1604506073.0
Did Y'all See @DrBiden Coat Though?! I'm Here For It . We Need Another Fly Ass First Lady!

— ♐️🌪❤️ (@♐️🌪❤️)1604502627.0
Can someone link me Dr Jill Biden's coat

— la araña discoteca (@la araña discoteca)1604468868.0
Jill Biden in that powder pink over coat is making me like pink. 😍😤

— liz (@liz)1604506263.0
Jill Biden came out in that pink coat......black gloves........matching black mask..........She might be a dolly what the hell

— Petunia (@Petunia)1604468581.0
I like Jill Biden's coat. I also want to fucking scream

— Bab (@Bab)1604468621.0
Here's the look that got everybody talking.
Want more from this controversial election? Scroll on...