Obviously, we've seen a lot of people deal with allegations of sexual misconduct this year. We've also seen a variety of responses to those allegations.
Some people have immediately apologized for their actions. (Of course, those apologies only came after their victims had come forward with allegations.) Others have vehemently denied any wrongdoing (not a good look). At least one person — film director Morgan Spurlock — has admitted to sexually harassing people before the specific allegations were made public.
But we haven't seen an "apology" quite like Mario Batali's. It's honestly one of the most bizarre things to have happened this year. And that's saying something.
Last week, we all learned the truth about Mario Batali.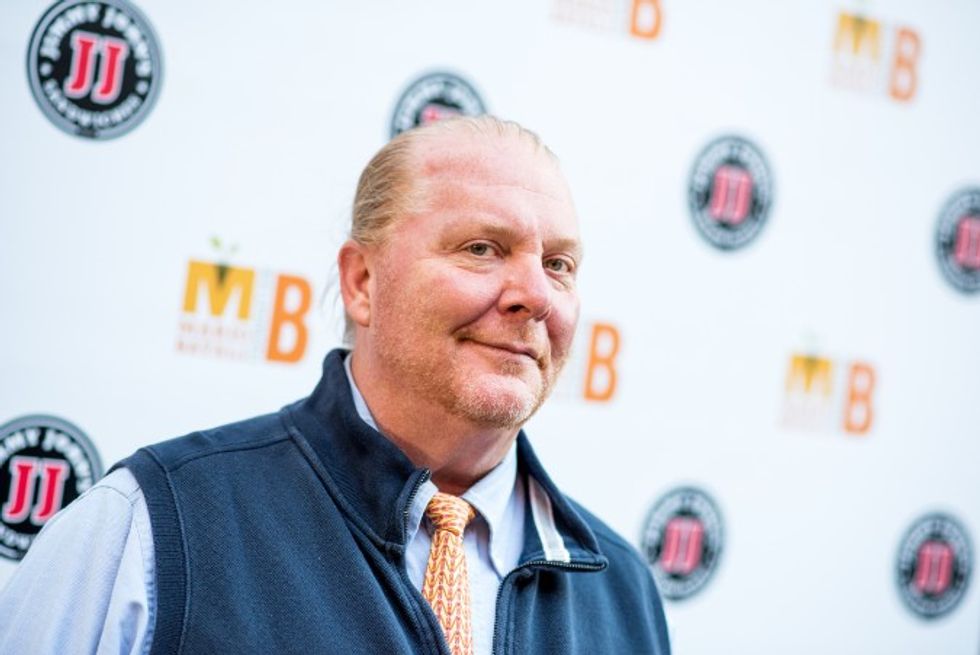 According to a
report first published by Eater New York
, four women have accused Mario Batali of sexual misconduct.
The specific allegations
range from Batali groping a woman at a party to forcing another woman to straddle him. Now, Batali has made an official statement regarding the allegations. And boy oh boy, what a statement it is!
Over the weekend, Batali sent the following email newsletter to his fans, presumably as a sort of apology: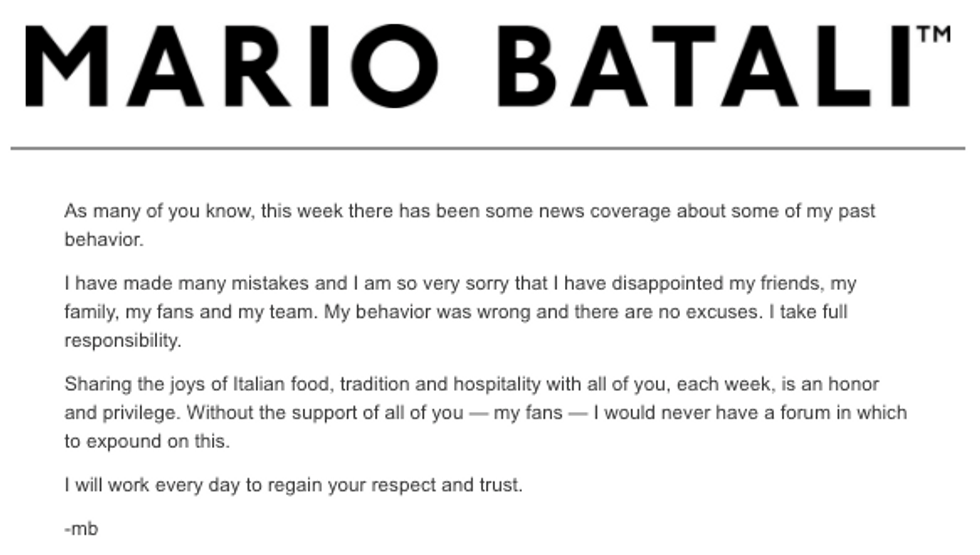 "I have made many mistakes and I am so very sorry that I have disappointed my friends, my family, my fans and my team," the letter says in part.
Hmmm....
We couldn't help but notice that Batali's "apology" note appears to "apologize" to everyone except the women he sexually harassed. That's obviously not OK. But the next part of the message is even worse.
Batali's "apology" note includes the following postscript: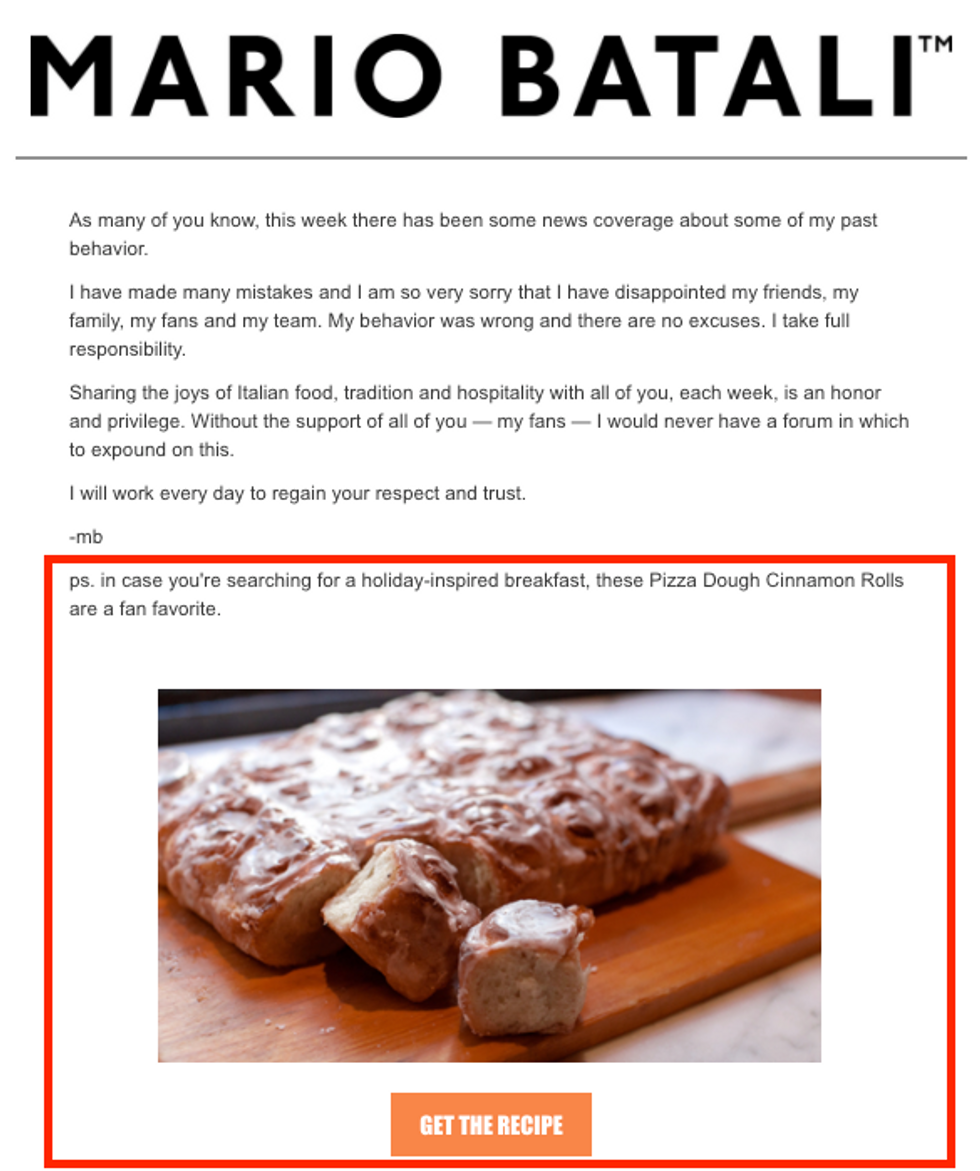 It's a recipe. For Pizza Dough Cinnamon Rolls. For someone who has made a living cooking food, this is surprisingly tasteless.
What? How? WHY?!
How did this happen? How could Mario Batali possibly think that it was a good idea to include a recipe — for Pizza Dough Cinnamon Rolls — at the end of a newsletter that acknowledges the fact that he sexually harassed and assaulted multiple women?! It truly beggars belief. The Internet felt the same way...
A bunch of people assumed the Cinnamon Roll recipe was some kind of joke:
I genuinely thought that "Mario Batali includes a cinnamon roll recipe in his sexual harassment apology" was an oni… https://t.co/yV6Ho6nODD

— Ben Novack (@Ben Novack)1513438808.0
We wish it had been! But no. It was as real as it was awful. (Which is to say, VERY!)
Needless to say, people had some questions.
@rainerickson @timothymalcolm @jules_su I need more details. Do you add the hubris in with the yeast or does it get mixed into the icing?

— Thanks Georgia! (@Thanks Georgia!)1513391358.0
We also have a question for Batali: What were you possibly thinking as you penned this letter?
One woman even tried the recipe:
My Mario Batali Pizza Dough Cinnamon Rolls are complete and they taste hollow and meaningless! https://t.co/Su7r7AALdJ

— amy wood (@amy wood)1513533513.0
And — wouldn't you know it? — the rolls tasted hollow and meaningless, just like Batali's poorly executed "apology." We're guessing they also tasted cowardly, tone deaf, and distinctly like something you'd use to cover your ass in the event that your horrid past behavior was made public.
Maybe Batali will offer another apology for his awful apology.
@jules_su Tomorrow: MARIO BATALI Hey guys, look, I'm sorry if I offended anyone by undercutting my apology with a… https://t.co/ynDkFNfLY4

— Timothy Malcolm (@Timothy Malcolm)1513385669.0
And of course, he'll have to include another recipe in 
that
apology. Unfortunately for Batali, there is no recipe in the world that could make up for this complete failure to act like a normal human being by A) not sexually harassing women and B) not sharing a recipe for cinnamon rolls when he was caught sexually harassing women.