There are some logos that are so famous they're basically instantly recognizable - and some would say, iconic. And one which has been a sports icon since the 1960s is that of the Chicago Bulls. The basketball team's logo has the perfect expression of intimidation and threat. Basically, it was the ultimate sporting team logo - except for one thing.
More than fifty years after the logo was designed, internet users decided to turn the logo one hundred and eighty degrees. And when they did - well, they noticed something pretty rude, and the internet can't get enough.
If you want to make a name for your brand...
Getting the logo right is absolutely key. Think about it - the biggest brands on the market are basically instantly recognizable just by a small picture.
Which means getting it right is essential.
Companies tend to hire whole teams and invest thousands in order to make sure they get their branding right.
And for the Chicago Bulls basketball team?
via: YouTube
This hugely important job fell to one man: Dean P. Wessel. He's still celebrated by the team to this day.
And, hey, it seemed to work!
Because the Chicago Bulls are one of the most instantly recognizable sports teams of all time.
And this is in no small part due to their logo.
via: Amazon
The iconic angry bull's face has been a part of the team's legacy for over fifty years, having been designed in 1966.
But, in the decades since the logo's inception...
It seems nobody ever had the thought to turn it upside down and check that it still looked ok.
Until now, that is.
Because one Twitter user flipped the logo - and discovered something pretty horrifying and hilarious.
Let us give you a hint.
The image stops looking like a bull, and, instead, begins to look like a robot in a rather compromising position.
Can you see it yet?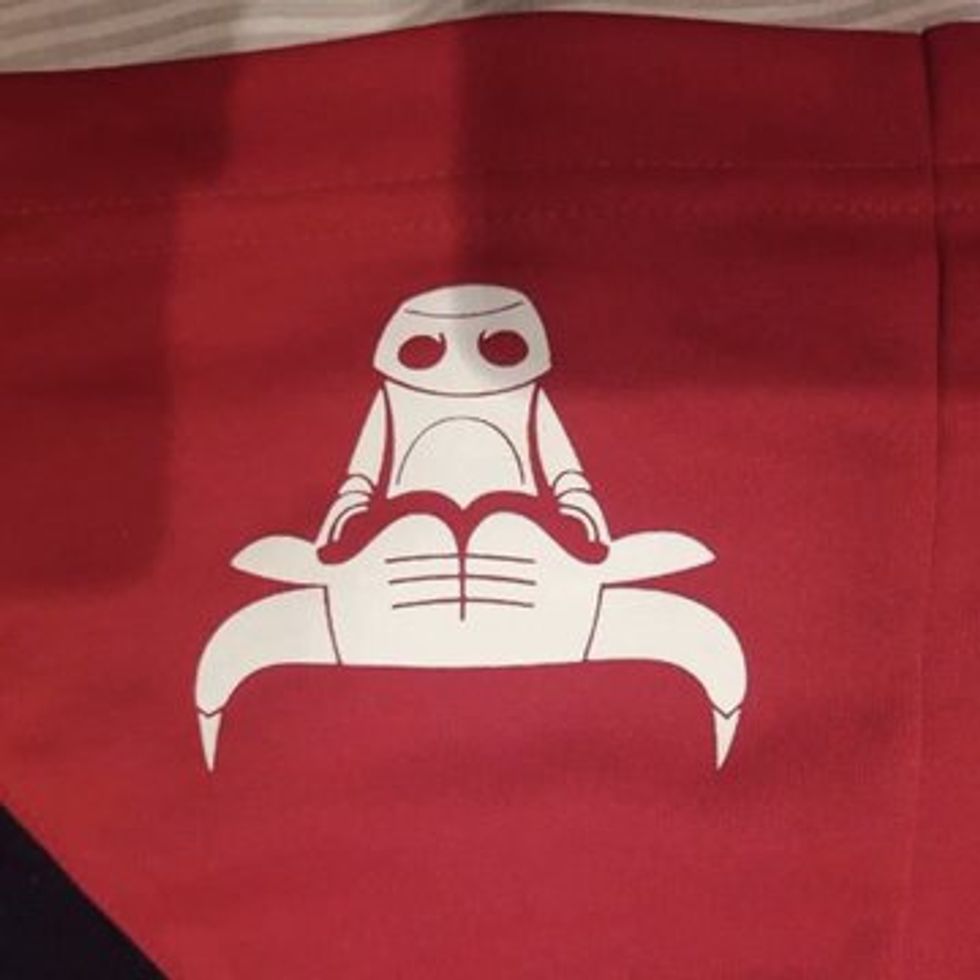 via: Twitter
If you're struggling, let us give you a hint. The other member of the ... romantic clinch? It's a crab, of course!
Yep, you've got it.
If you turn the Chicago bulls logo upside down it's a robot having sex with a crab https://t.co/KGfsqyr3Ml

— Deniz Camp (@Deniz Camp)1568486212.0
It looks like a robot gaining "biblical knowledge" of a crab. A weird situation, to be sure - but the image doesn't lie!
Some aren't reacting well to the news.
@MDesaad You're a bad person and I can't unsee this

— Aw beans, it's Ted "Nibs" Brandt (@Aw beans, it's Ted "Nibs" Brandt)1568486748.0
Having seen this robot-crab monstrosity, it's hard to ever look at the Chicago Bulls logo in the same way.
Although some made this point.
@MDesaad It's reading a book man. A book! https://t.co/1pTxtsO7Jz

— Tobias Struckmeier (@Tobias Struckmeier)1568587291.0
The robot seems pretty undeniable - but the crab could actually be a book on a lectern, or something equally innocent.
Some made this joke.
@jamiegambell @atomictimepiece "Getting crabs" finally a good thing

— Deniz Camp (@Deniz Camp)1568489636.0
Ah, the classic crabs joke. It really does keep on giving.
And some pointed this out.
@MDesaad @Moneycotty It's like a personalysis ink blot.

— owelet (@owelet)1568582159.0
Maybe what we see in this image says more about us than the picture itself.
And maybe this is true.
@MDesaad @ComfortablySmug Only the Illuminati are supposed to know this ancient Truth.

— Business Master Crapplefratz (@Business Master Crapplefratz)1568505065.0
Perhaps, by flipping this logo, we've discovered something we were never supposed to know. Curious about some logos with sneaky hidden messages? Keep scrolling for the very best of the bunch.