Last night we saw a whole host of A-listers hit the red carpet for the annual MTV VMAs, celebrating the best in music.
During the course of the evening, we watched some of the industry's biggest names bag some pretty huge awards as well as performances from several celebs, including Taylor Swift, Camila Cabello, Lizzo, and, of course, Missy Elliott. 
But one performance this year has really got the internet talking. News of Miley Cyrus's split from long-term boo, Liam Hemsworth, has shaken the world over the past couple of weeks. And it seems like no end is in sight - particularly if Miley's VMAs performance is anything to go by. Watch the video below!
Last night it was the annual MTV VMAs.
This year's show strayed away from tradition.
Many fans didn't think that he was right for the job.
The bizarre thing about Sebastian Maniscalco as host: his opener was full of bits ("being triggered"/safe spaces) &… https://t.co/Qdhe56yawI

— MadBack (@MadBack)1566865274.0
Many viewers didn't understand why he was hosting the event, and, with several of his jokes branded "tasteless," it seems like people think that he simply didn't know his audience.
His opening monologue, in particular, came under fire.
we're 20 mins into the #VMAs & the washed up host has already made a 'triggered joke' & mocked safe spaces... 🙄

— grayden ♡ (@grayden ♡)1566865210.0
Before wrapping up his opener, the comedian mocked the current social climate. "MTV noticed that we're living in ultrasensitive times," Maniscalco said. "If you feel triggered or you feel offended by anything I'm saying here or anything the musical artists are doing, they're providing a safe space backstage where you'll get some stress balls and a blankie and also Lil Nas X brought his horse which will double as an emotional support animal. If you'd like to talk to your ushers they'll send you back to where that's happening." And, of course, the exact people that he was targeting took to Twitter to slam the host.
But, backlash aside, we had an exciting night ahead.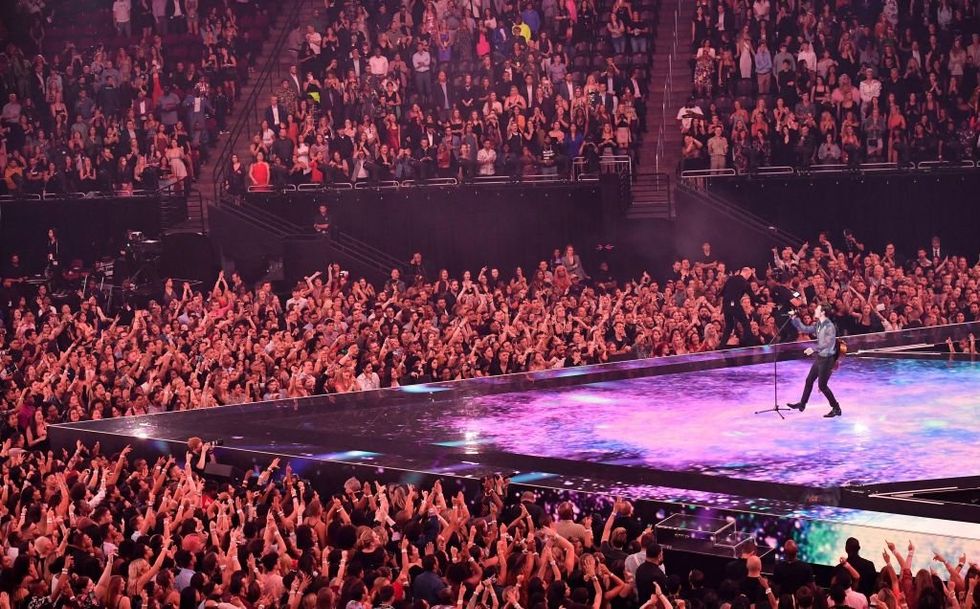 We all wanted to know who would be taking home the top awards, as well as what our favorite stars would be wearing when they graced the red carpet.
On the red carpet, we were wowed by many of the top stars.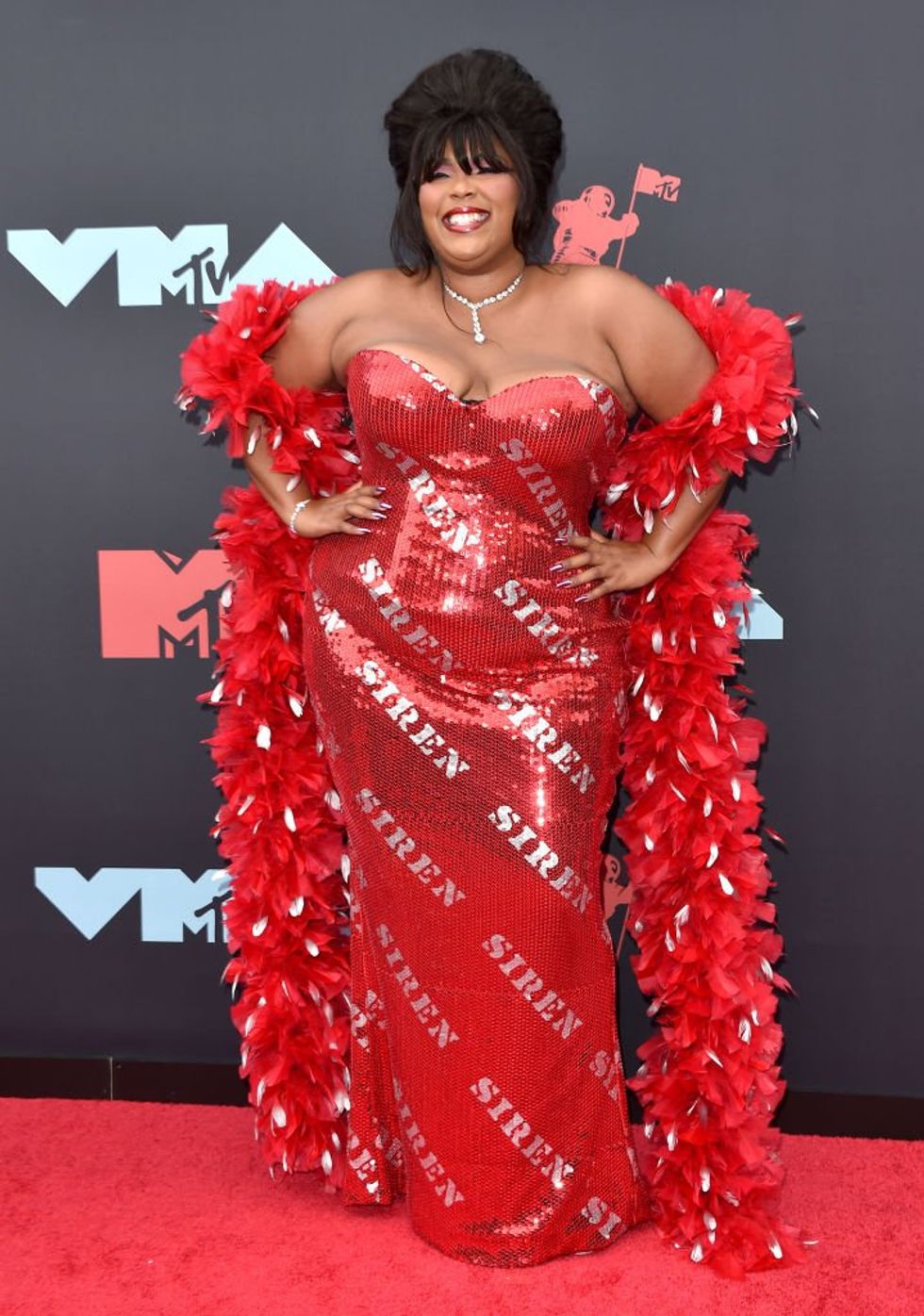 There's no better place than the VMAs to sport a head-turning ensemble - there are zero fashion rules at
this
awards show. From stars such as Taylor Swift and Megan Thee Stallion rocking the blazer vibe, to Lizzo's head-turning red-number, the fashion looks certainly didn't disappoint this year.
Hailed as one of the best-dressed, Zara Larsson, stole the show.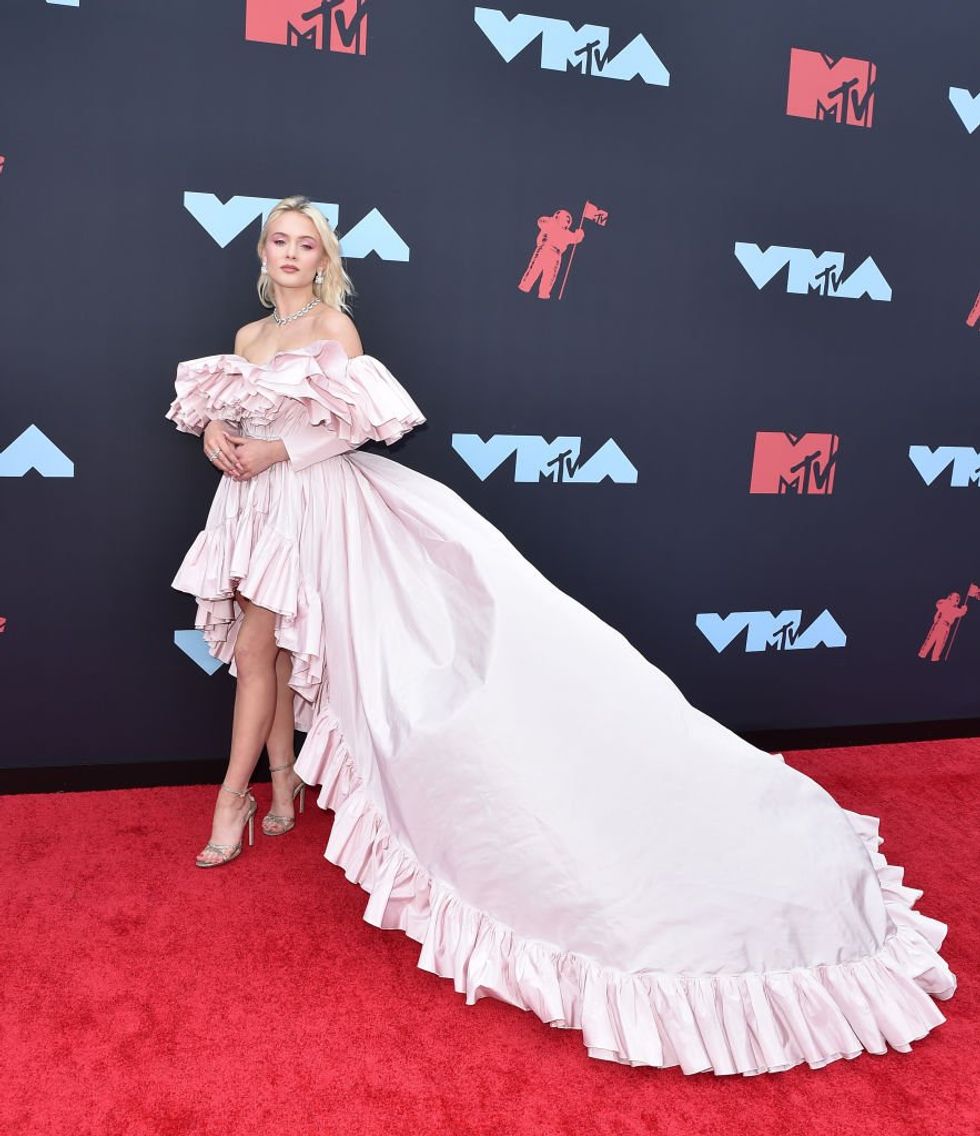 The Swedish pop powerhouse gave us
major
princess vibes in this floaty, pastel pink gown.
But, music-wise, it was a jam-packed evening.
Miley Cyrus
, and musical newcomers including Lizzo, Lil Naz X, and Ava Max, we were in for an electrifying setlist.
And, of course, we got to find out who would be bagging an award.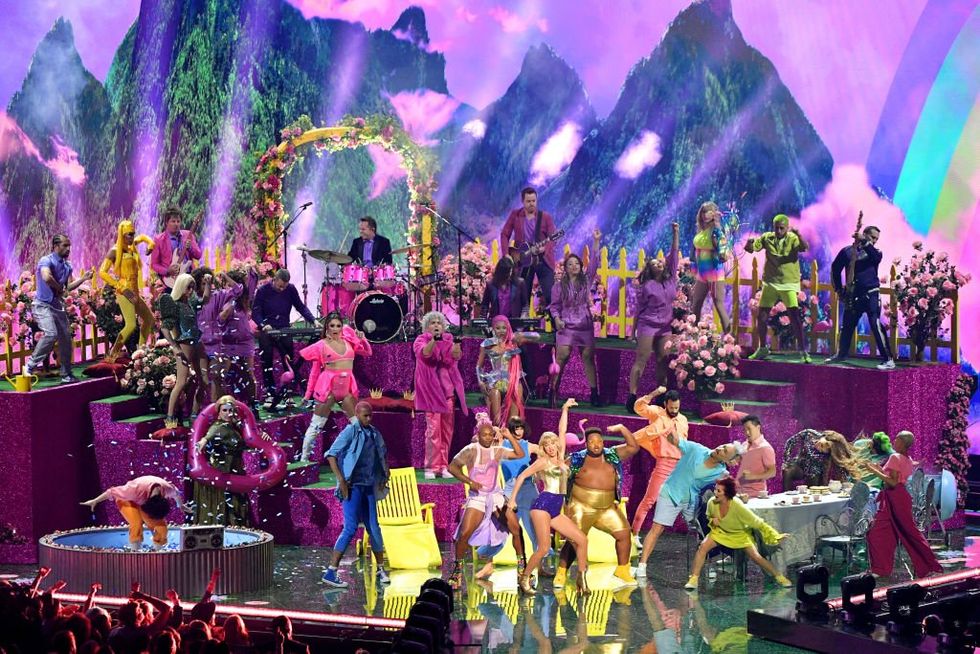 Pop sensation, Taylor Swift, raced ahead, taking home the award for "Best Music Music Video" and "Video For Good" for her acclaimed "You Need to Calm Down" single - praised for its trailblazing LGBTQ+ representation. But it didn't end there for the star, who also bagged the "Best Visual Effects" award for her single "ME!" ft. Brendon Urie.
It was also a good night for seventeen-year-old Billie Eilish.
and "Best Editing" for her hit song "Bad Guy."
The "Best Pop" award went to an unlikely winner.
Normani and Korean pop band, BTS, also won big.
BTS, who've quickly risen to pop stardom, won "Best Band," and "Best K-Pop,"  with former Fifth Harmony member, Normani, bagging the prize for "Best R&B" for her hit single  "Waves" ft. 6LACK.
"Artist of the Year" is probably the one you've all been waiting for.
Shawn Mendes
to be crowned artist of the year.
But it didn't stop there for the star.
It looks like the pop sensation was in for a huge winning streak last night, also taking home the awards for "Song of Summer" for her latest single, "Boyfriend," and "Best Art Direction," for her popular single "7 Rings."
Another of the night's top prizes went to Lil Naz X.
probably know what for. The star won the award for "Song of the Year" for his chart-dominating "Old Town Road" Remix with Billy Ray Cyrus.
Speaking of Cyrus' ...
One of the top stories of the night involves Billy Ray's very famous daughter, Miley. She's been in the headlines a lot lately, thanks to her split from Liam Hemsworth.
Many thought that the pair were forever.
seemed like the stuff of soulmates - and many fans were truly invested in this celeb pairing.
But it seemed like it wasn't to be.
Although we can't imagine that this helped.
Miley Cyrus & Kaitlynn Carter mourning their husbands in their own, unique way https://t.co/PpxbDSWkr6

— Chicks in the Office (@Chicks in the Office)1565486446.0
Shortly after the breakup was announced, Miley Cyrus was seen making out with reality star, Kaitlynn Carter, beachside in Italy.
Miley then took to Twitter to share her point of view.
I can accept that the life I've chosen means I must live completely open and transparent with my fans who I love, a… https://t.co/nsZXBU8q2w

— Miley Ray Cyrus (@Miley Ray Cyrus)1566496117.0
She tried to defend her actions following the split, letting the world know that she shouldn't be vilified for her actions.
Miley also shared this on her social media.
Internet detectives quickly got to work.
Listening to the lyrics, it seemed like there were some obvious Liam connections. "Once upon a time, it was paradise Once upon a time, I was paralyzed Think I'm gonna miss these harbor lights But it's time to let it go Once upon a time, it was made for us Woke up one day, it had turned to dust Baby, we were found, but now we're lost So it's time to let it go
I want my house in the hills Don't want the whiskey and pills I don't give up easily But I don't think I'm down
So won't you slide away Back to the ocean, I'll go back to the city lights"
We mean, 
c'mon!
Anyway.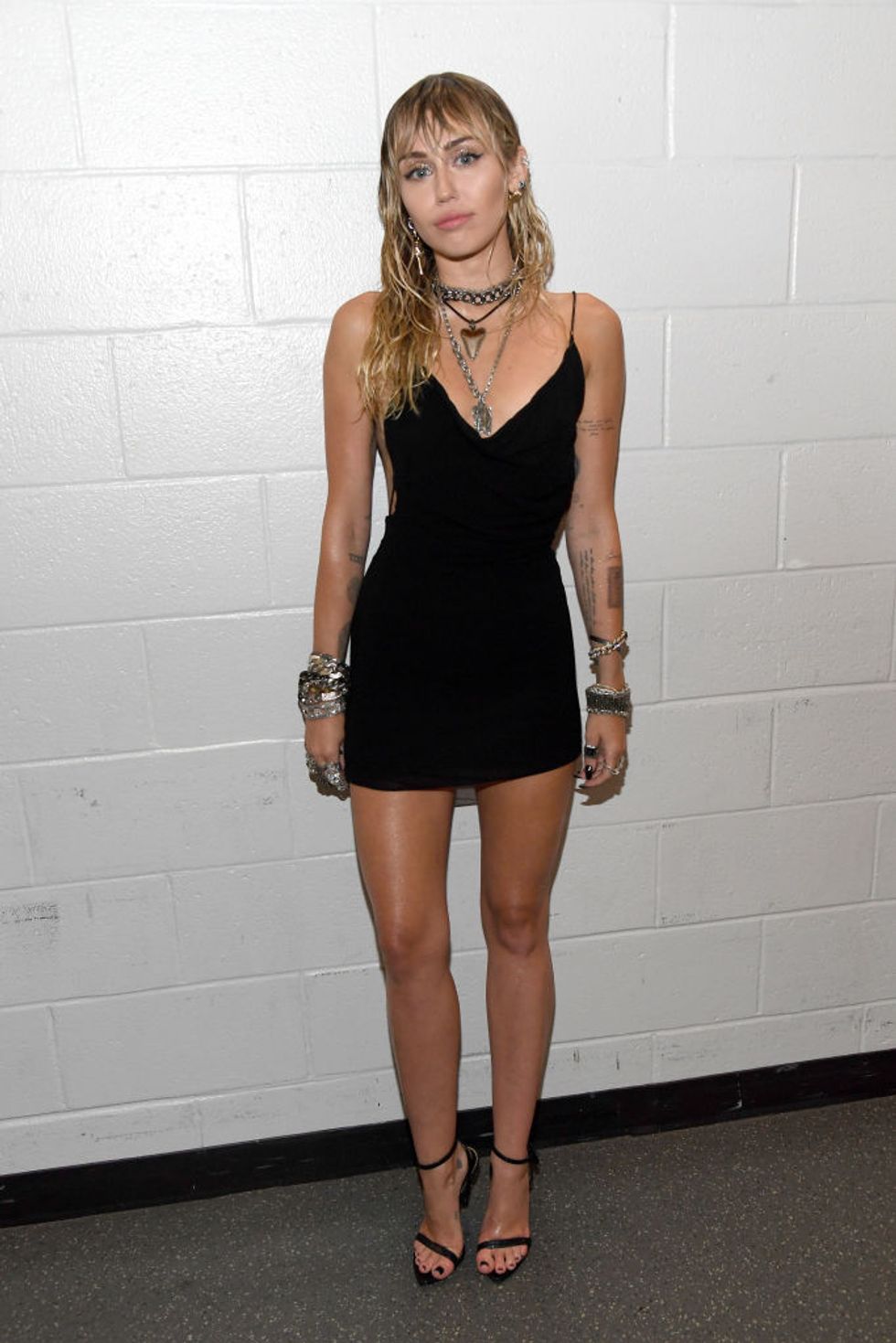 Miley was in full attendance at the VMAs, looking totally stunning in the way you do after a horrific break-up.
But she wasn't just walking the red carpet.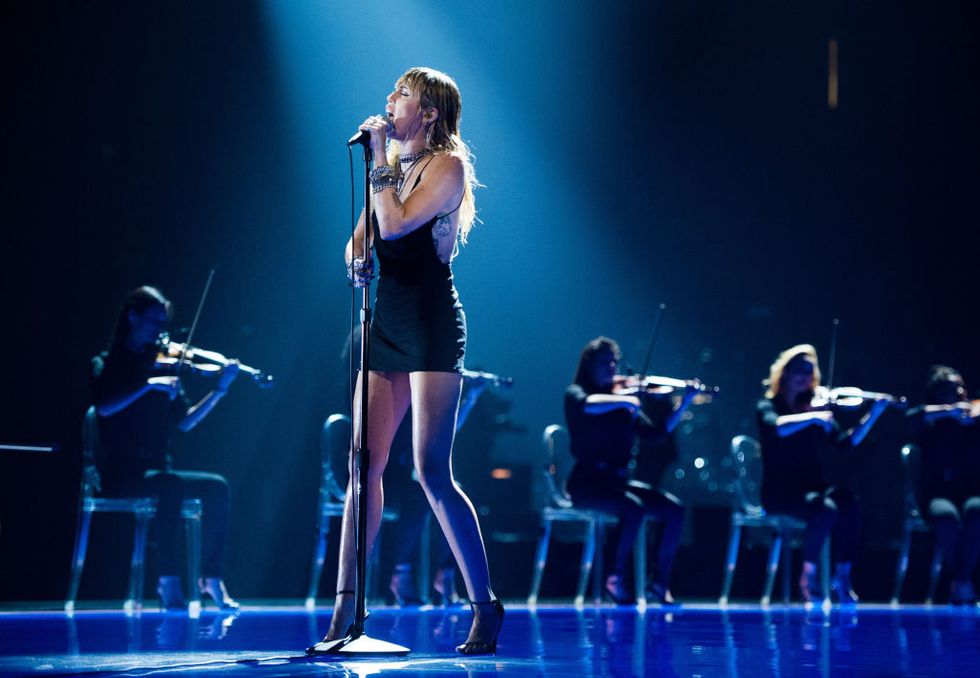 Miley also took to the stage for her first live performance of her new song, "Slide Away."
And some fans noticed something about the performance.
It seems as though Miley made a subtle change to the song's lyrics - and many think that this may be a way to subtly reference the end of her relationship with Liam.
That's gotta hurt.
The song is supposed to end, "You're right, we're grown now." But at the end of her VMA's performance, Miley Cyrus substituted it for, "You're right, I'm grown now." Some think that this is her way of finalizing her split from Liam and establishing herself as an individual entity once more.
And that's not all Cyrus did.
She also showed up to the event with Kaitlynn Carter as her date. It seems like she's determined to prove to the world that she's not thinking about Liam right now!
But there's one thing that people agree on.
Miley's raw and emotional performance of her latest single was absolutely incredible. Hey, she's certainly found the silver lining of her heartbreak.
And many have noticed this.
This song is basically "Wrecking Ball" 2.0 💔 https://t.co/jJVgcitH9m

— POPSUGAR (@POPSUGAR)1566135303.0
Whenever Miley breaks up with Liam, the world gets some of the most intense and beautiful break-up songs of all time.
Here's the full performance.
Do you think that that lyric change was a dig at Liam? Or simply a coincidence? Either way, it's hard to deny Miley's talent. Interested in learning more about the Cyrus-Hemsworth break-up? We've got the full story below.