The Simpsons is, not only one of the most iconic cartoon series of all time, but it is apparently our most reliable glimpse into the future, too.
The show has given us countless spooky predictions that have come true over the years, though their latest is undoubtedly their scariest yet...
For years, the TV show has been dropping futuristic hints, and we're only just noticing them now...
From President Trump to Greta Thunberg's damning climate-change speech, and all the way to Game of Thrones plot twists and technological inventions... The Simpsons called them first.
It's all pretty spooky...
Though their latest prediction may be their scariest yet - and some fans already have some theories about it. But first, let's look at the show's best and spookiest predictions to date...
Smart Watches.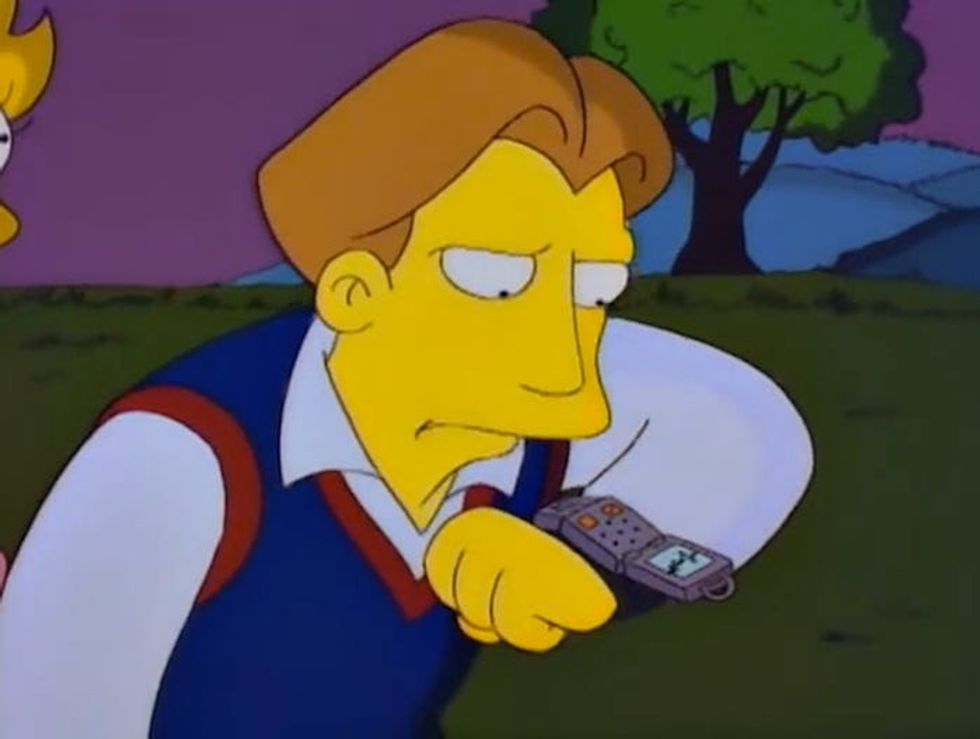 Season 6, episode nineteen. Let's start with a major throwback - back in 1995,
The Simpsons
introduced the idea that, one day, you would be able to use your watch as a cell phone. The futuristic episode, titled "Lisa's Wedding" was aired twenty years before the release of the Apple Watch. Spooky, right?
Autocorrect.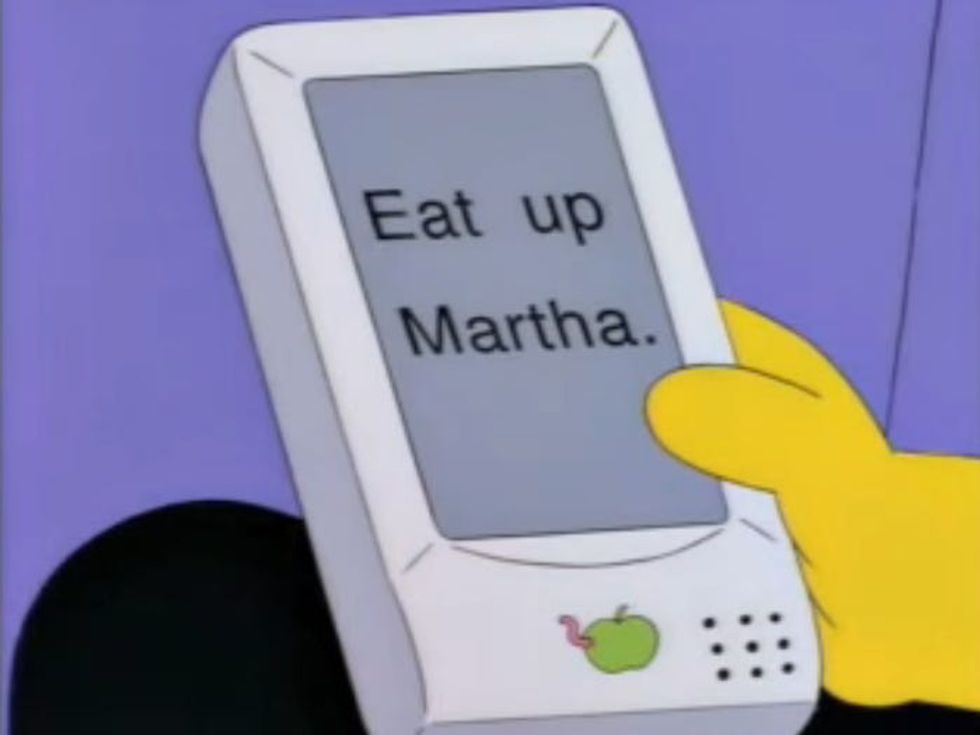 Season 6, episode 8. Another technological prediction... I'm starting to think that Steve Jobs may have co-written the show. School bullies Kearny and Dolph take a memo to "beat up Martin" on a Newton device in an episode of
The Simpsons
 that aired in 1994. The memo gets quickly translated to "eat up Martha" — an early foreshadowing of autocorrect frustrations.
Robotic librarians.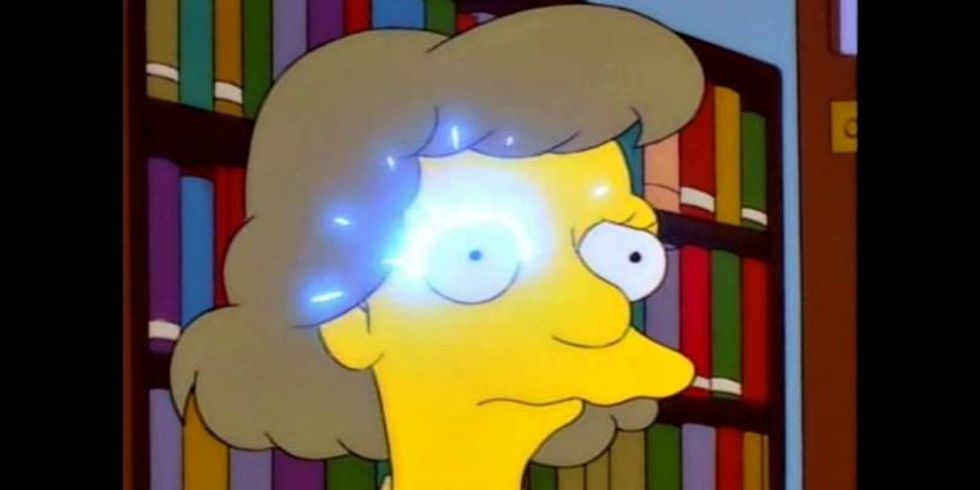 Season 6, episode nineteen. In the second prediction of this episode, it is suggested that by the year 2010, all librarians will have been replaced with humanistic robots. Though not all librarians have been replaced (thankfully), robotics students from the University of Aberystwyth built a prototype for a walking library robot, while scientists in Singapore have begun testing their own robot librarians.
The building of The Shard in London.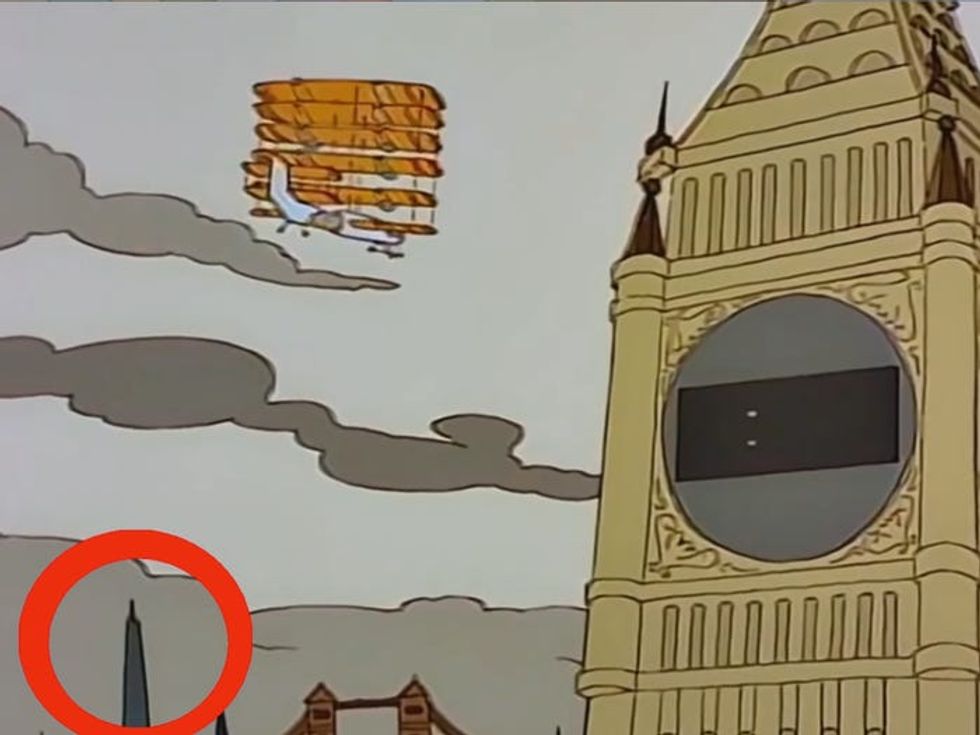 Season 6, episode nineteen. Okay, I
promise
that this is the last prediction from this futuristic episode. There were just so many! During Lisa's trip to London, we see a skyscraper behind Tower Bridge that looks eerily similar to The Shard, and it's is even in the right location... A whole fourteen years before it was built.
Greta Thunberg.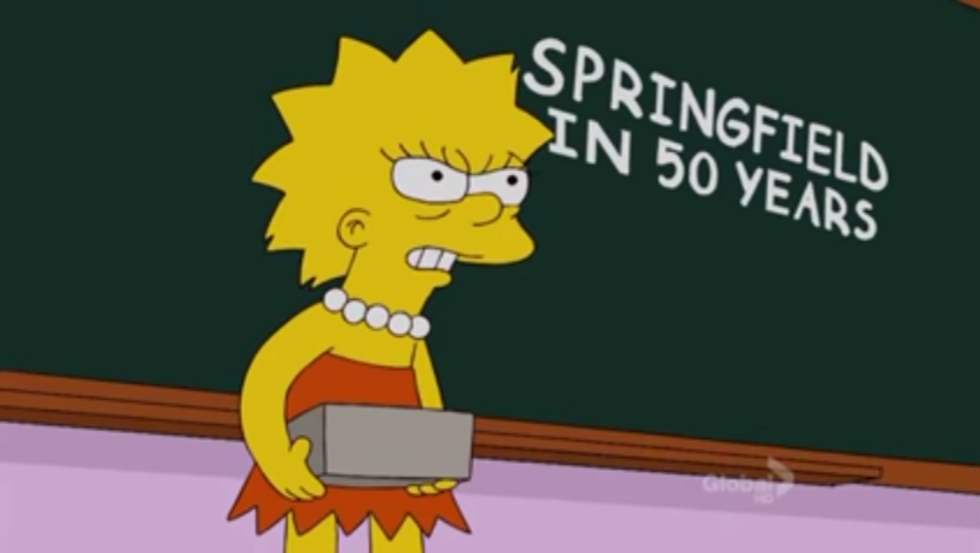 In the 2007 Simpsons feature film, Lisa attempts to save Springfield from the dangers of environmental catastrophe. In one key sequence, Lisa gives a speech to her classmates about what could happen to Springfield in fifty years unless something is done to avert the inevitable damage of climate change. The clip is remarkably similar to Thunberg's speech at the U.N Summit.
The end of Fortnite.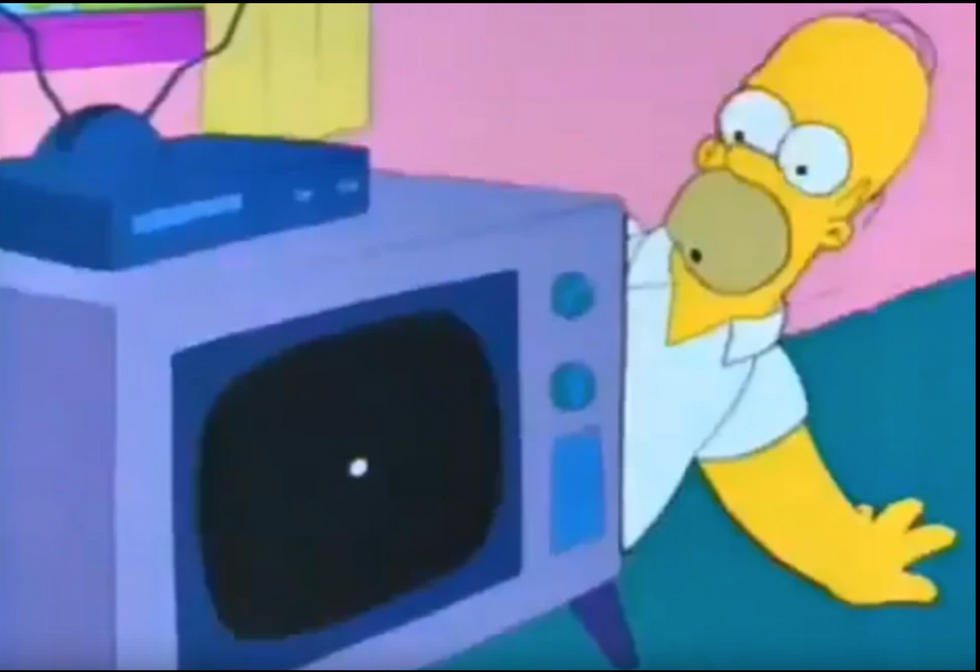 Season 2, episode 1. The episode, titled "The Way We Was" shows the family as they watch a television interview when the TV set mysteriously switches off. All that's left on-screen is a small white dot – which is reminiscent of Fortnite's eerie black hole. The kids panic and scream when they realize that they can't get their TV to work again... Much like the many Fortnite players out there.
The 3-eyed fish.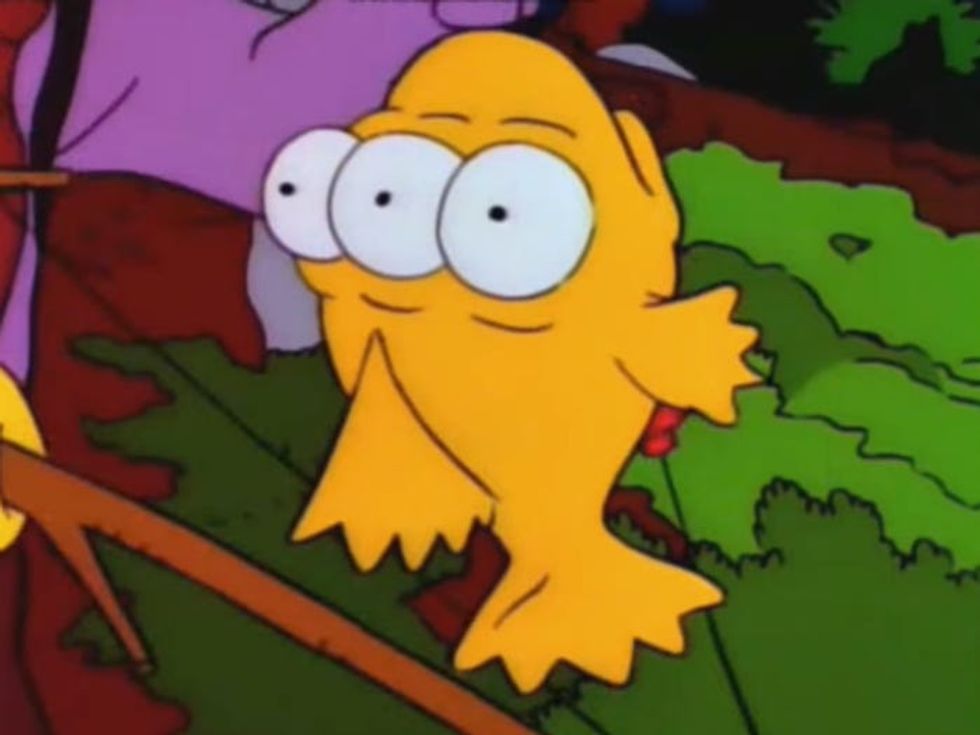 Season 2, episode 4. In this episode from 1990, Bart catches a three-eyed fish named Blinky in the river by the power plant, which makes local headlines. More than a decade later, a three-eyed fish was discovered in a reservoir in Argentina. And, to make this story even stranger, the reservoir itself was fed by water from a nuclear power plant.
The horsemeat scandal.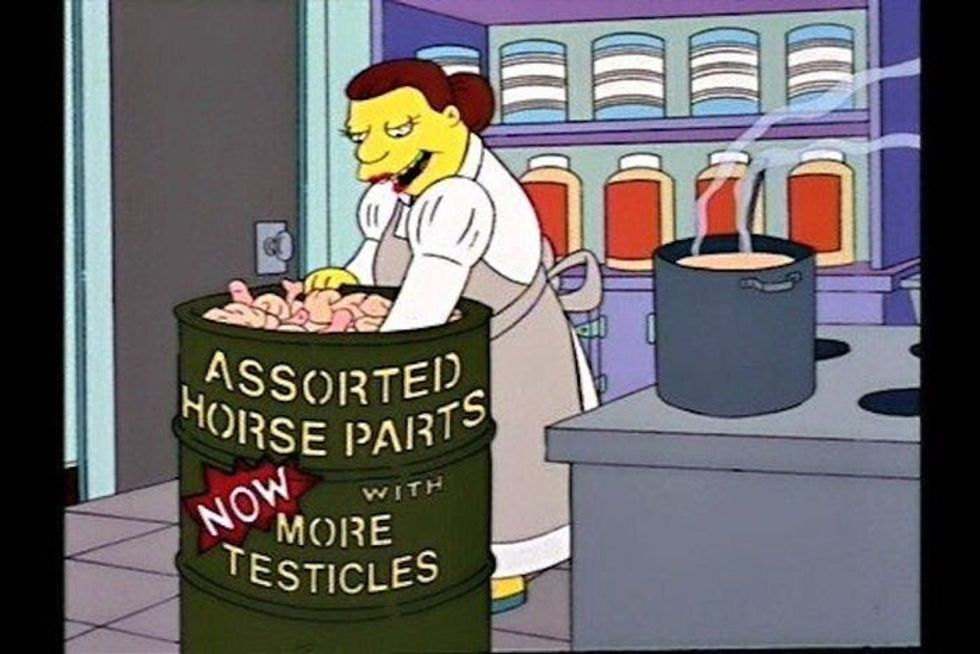 Season 5, episode nineteen. In this 1994 episode, Lunchlady Doris used "assorted horse parts" to make yet another disgusting lunch for the students at Springfield Elementary. 9 years on from the episode, the Food Safety Authority of Ireland found horse DNA in over one-third of beefburger samples from supermarkets and ready meals. Yikes.
Letter from The Beatles.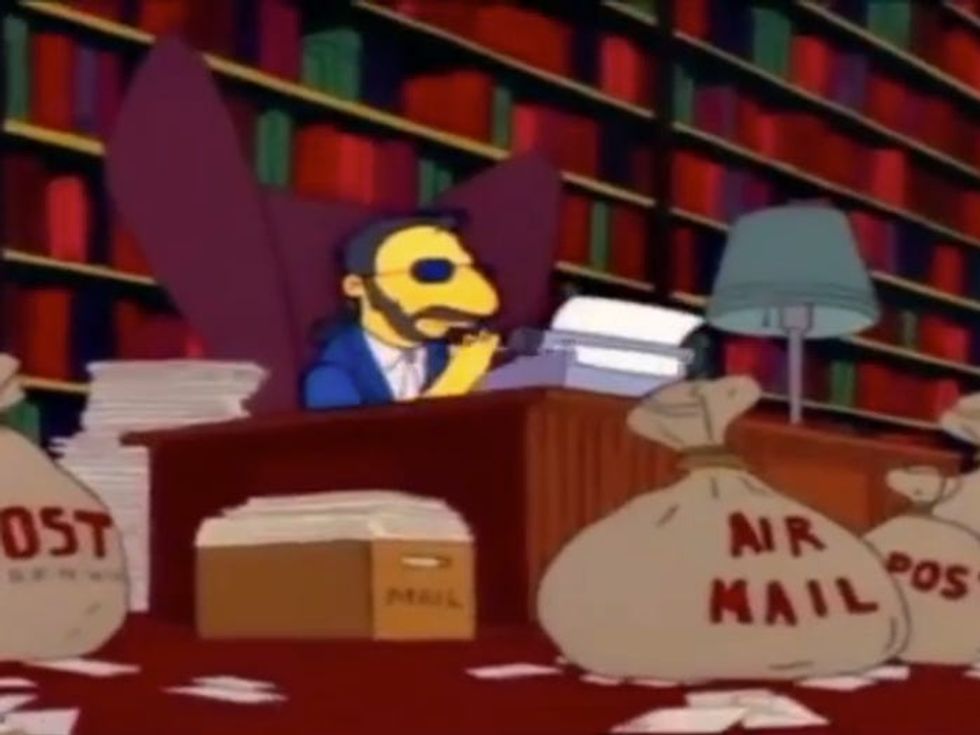 Season 2, episode eighteen. In this episode, which was aired in 1991, The Beatles' Ringo Star answering mounds of fan mail that had been sent to him decades ago. Fast forward a couple of decades to September 2013, 2 Beatles fans from Essex, England, received a reply from Paul McCartney to a letter and recording they had sent to the band fifty years ago.
The Seigfried and Roy tiger attack.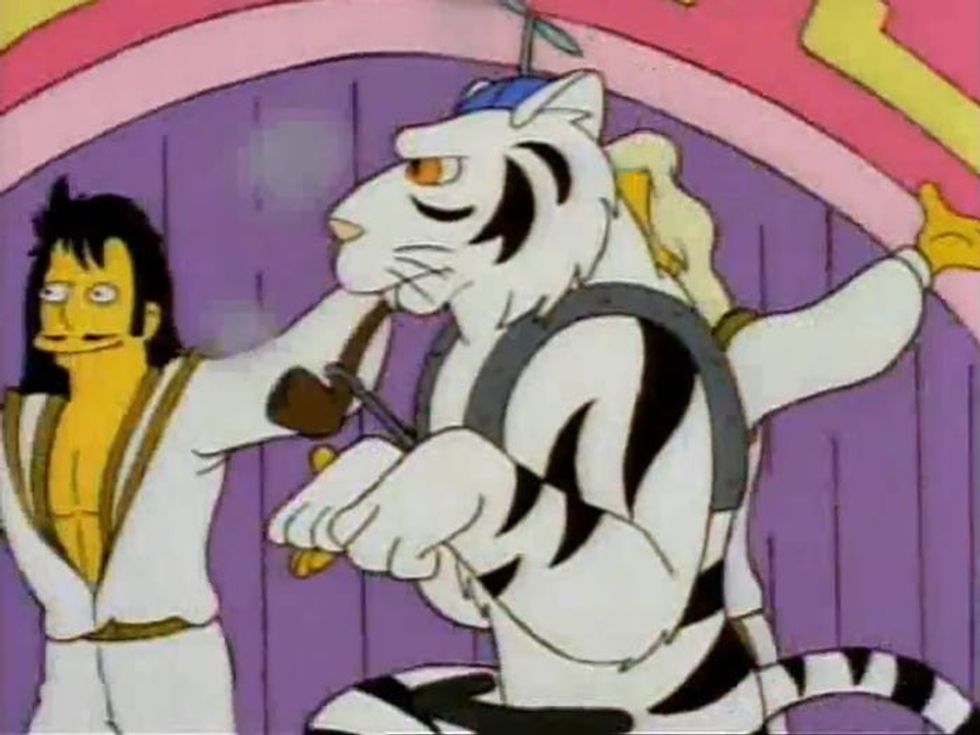 Season 5, episode ten. The Simpsons parodied entertainers Siegfried & Roy in a 1993 episode called "$pringfield". During the episode, the magicians are viciously mauled by a trained white tiger while performing in a casino. In 2003, Roy Horn of Siegfried and Roy were attacked during a live performance by Montecore, one of their white tigers.
The Ebola outbreak.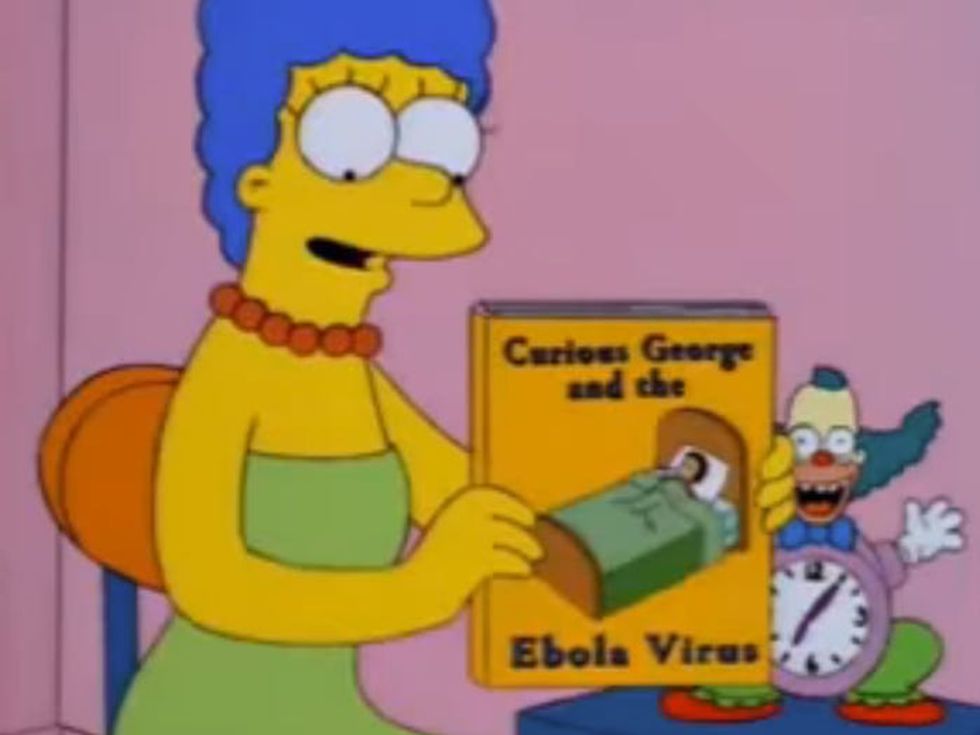 Season 9, episode 3. In a scene from the 1997 episode "Lisa's Sax," Marge suggests Bart read a book titled "Curious George and the Ebola Virus." The virus wasn't particularly widespread in the 1990s, but years later in 2014, it was the top of the news agenda.
The discovery of the Higgs Boson equation.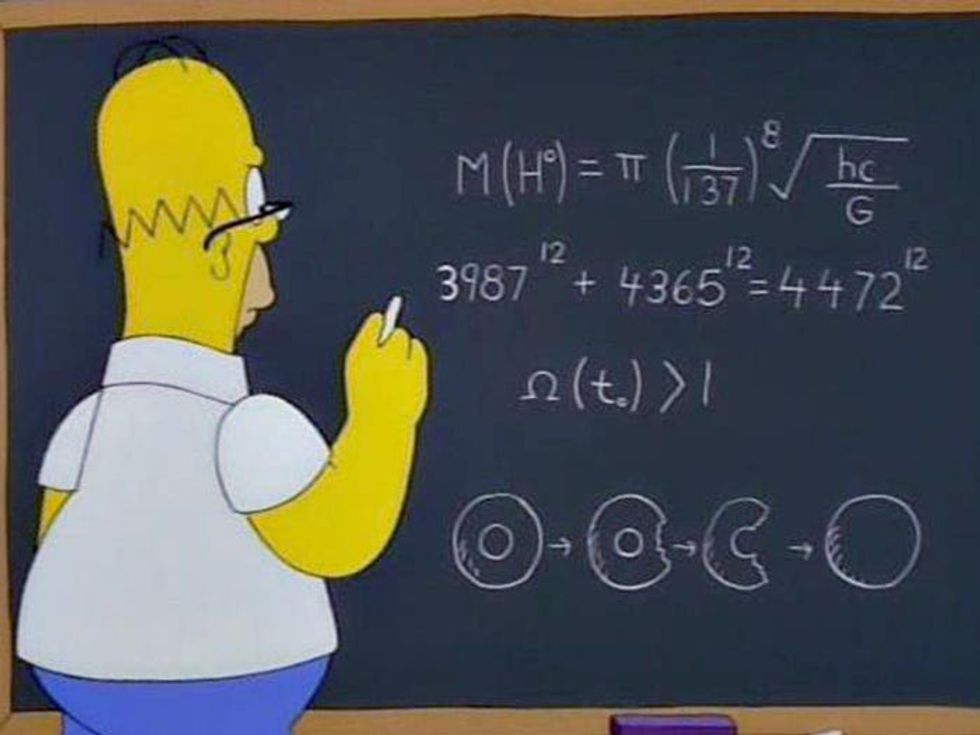 This one is for all you maths geeks out there. In the 1998 episode, "The Wizard of Evergreen Terrace," Homer becomes an inventor and is shown in front of a complicated equation on a blackboard. According to Simon Singh, the author of "The Simpsons and Their Mathematical Secrets," the equation predicts the mass of the Higgs boson particle.
Disney buying 20th Century Fox.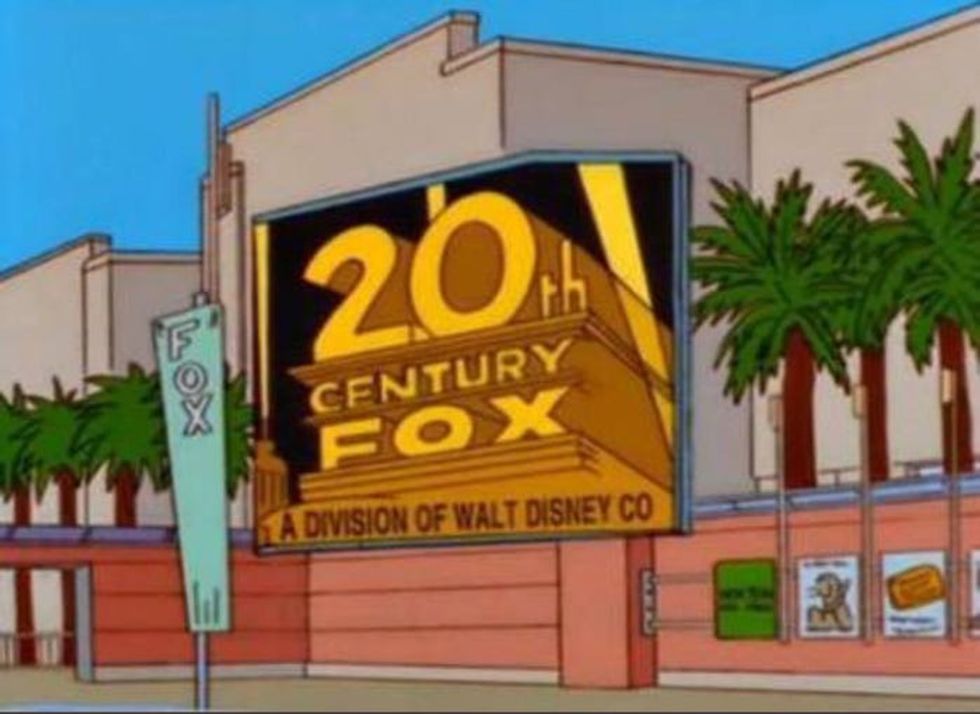 Season ten, episode 5. Okay, this one was just downright
creepy
. In the 1998 episode "When You Dish Upon a Star," Ron Howard and Brian Grazer produce a script Homer pitches. The script is being produced at 20th Century Fox, and a sign in front of the studio's headquarters reveals that it is "a division of Walt Disney Co." On December 14, 2017, Disney purchased 21st Century Fox for an estimated $52.4 billion... Nineteen years on from the episode.
The U.S beating Sweden at curling at the Winter Olympics.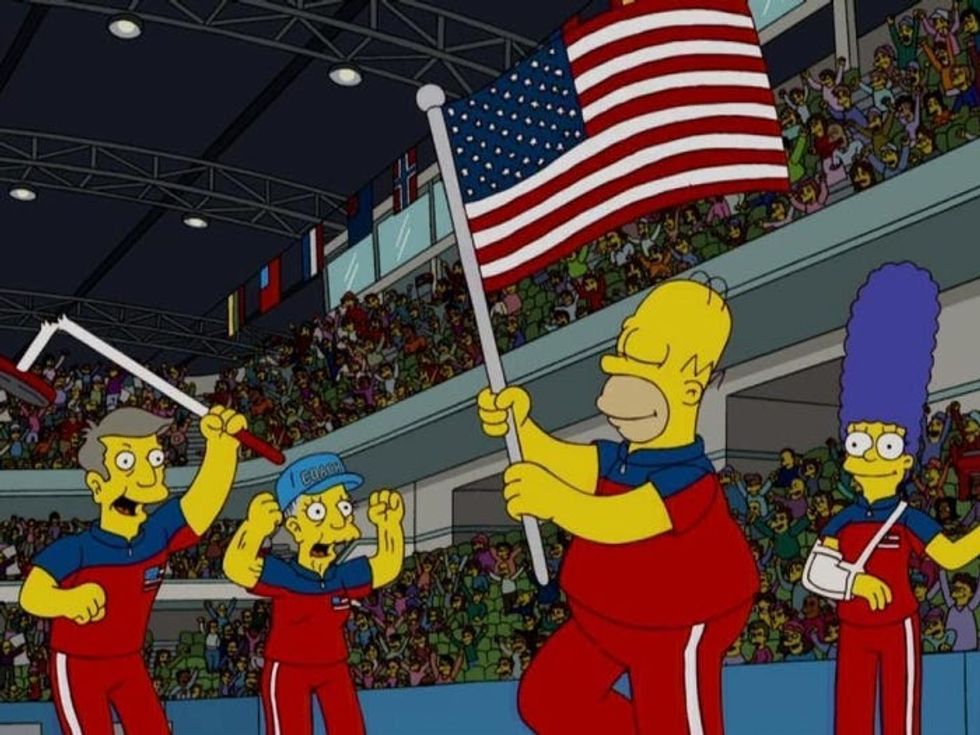 Season twenty-one, episode twelve. In the 2010 episode called "Boy Meets Curl," Marge and Homer compete in curling at the Vancouver Olympics and beat Sweden. In real life, the U.S. Men's Olympic Curling Team won a gold medal after defeating Sweden even though they were behind, which is exactly how it played out on the episode.
President Trump.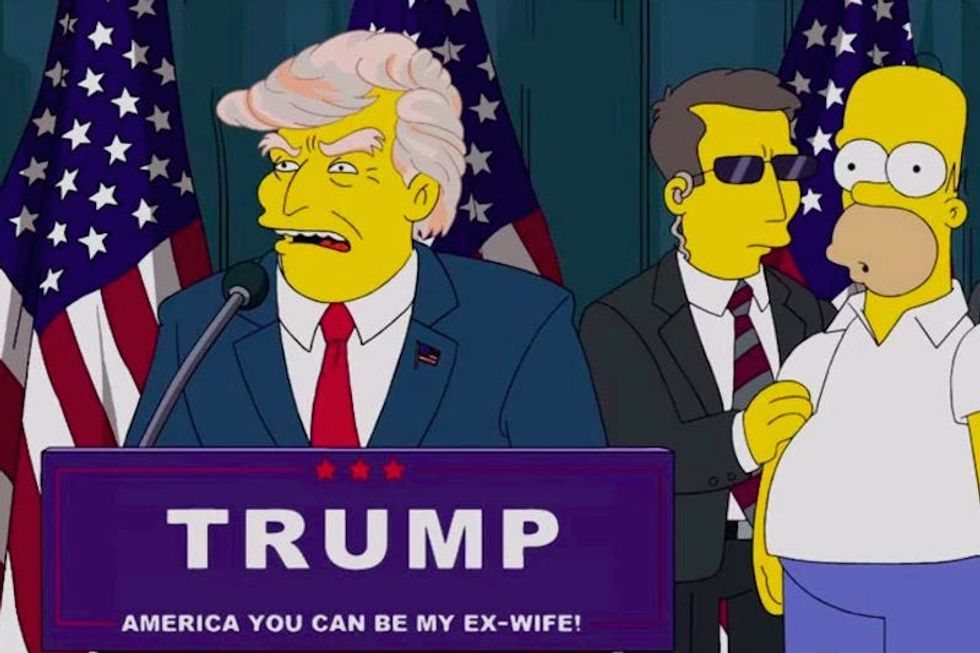 Season eleven, episode seventeen. Okay, this is a big one. In an episode called "Bart to the Future," which was broadcast in 2000, Lisa has been elected as his successor and quips: "We've inherited quite a budget crunch from President Trump." In an interview with The Hollywood Reporter, writer Dan Greaney called the episode "a warning to America."
The invention of the tomacco plant.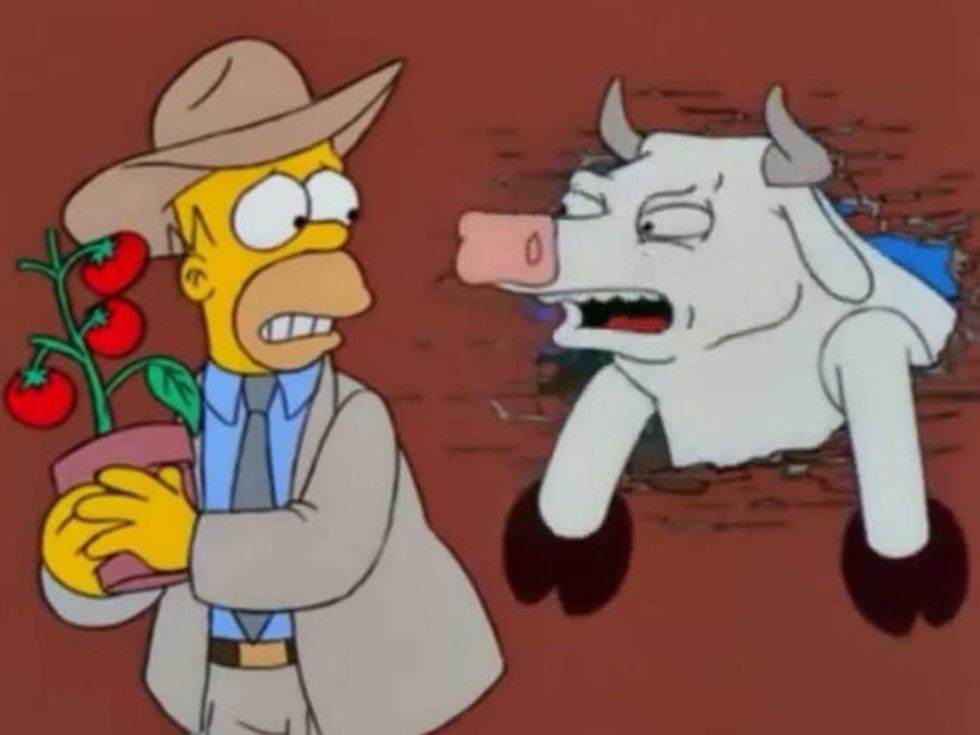 Season eleven, episode 5. In the 1999 episode, Homer uses nuclear energy to invent the hybrid tomacco plant - A mix of tomatoes and tobacco, for those who didn't catch on. This inspired US "Simpsons" fan Rob Baur to create his own plant. In 2003, Baur grafted together a tobacco root and a tomato stem to make "tomacco."
Faulty voting machines.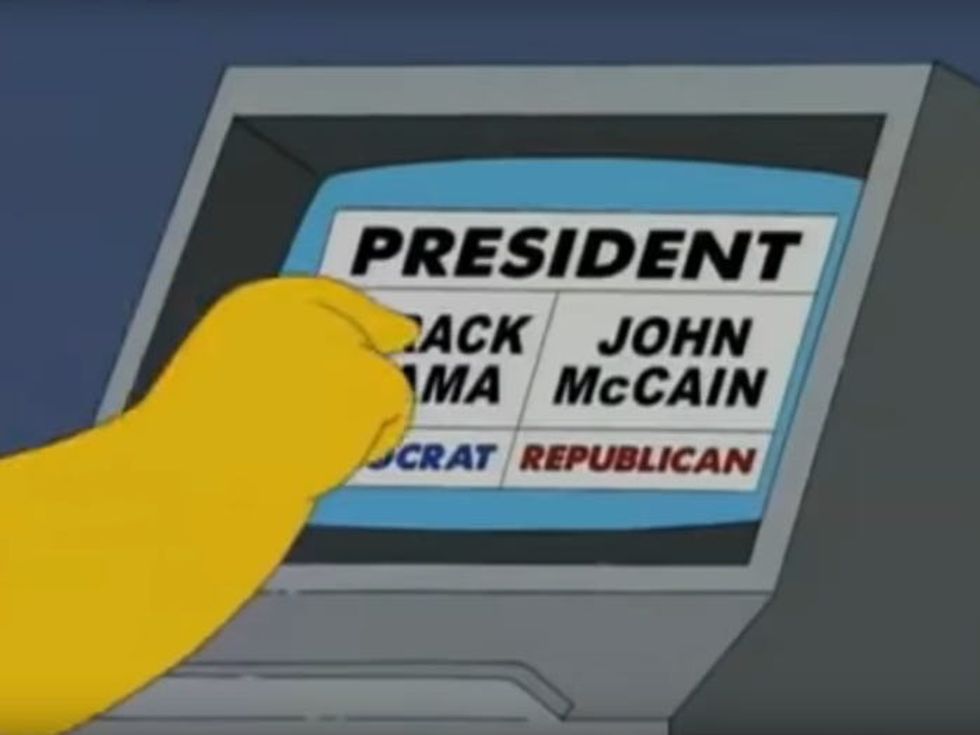 Season twenty, episode 4. In this 2008 episode, we watched as Homer tried to vote for Barack Obama in the US General Election, but the "faulty" machine changed his vote. 4 years later, a voting machine in Pennsylvania had to be recalled after it kept changing people's votes for Barack Obama to ones for his Republican rival, Mitt Romney.
2016's Nobel Prize Winner.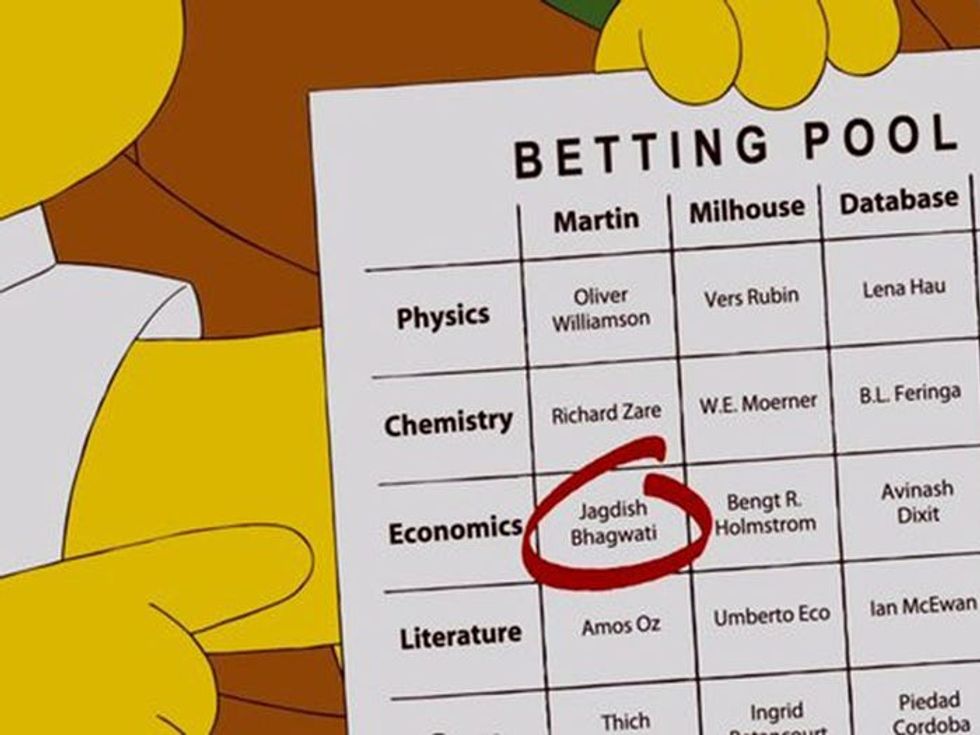 Season twenty-two, episode 1. MIT professor Bengt Holmström won the Nobel Prize in economics in 2016, six years
after
he was bet on to win the Nobel Prize on a 2010 episode of
The Simpsons
. Holmström's name appears on a betting scorecard when Martin, Lisa, Database, and Milhouse bet on Nobel Prize winners.
Game of Thrones plot twist.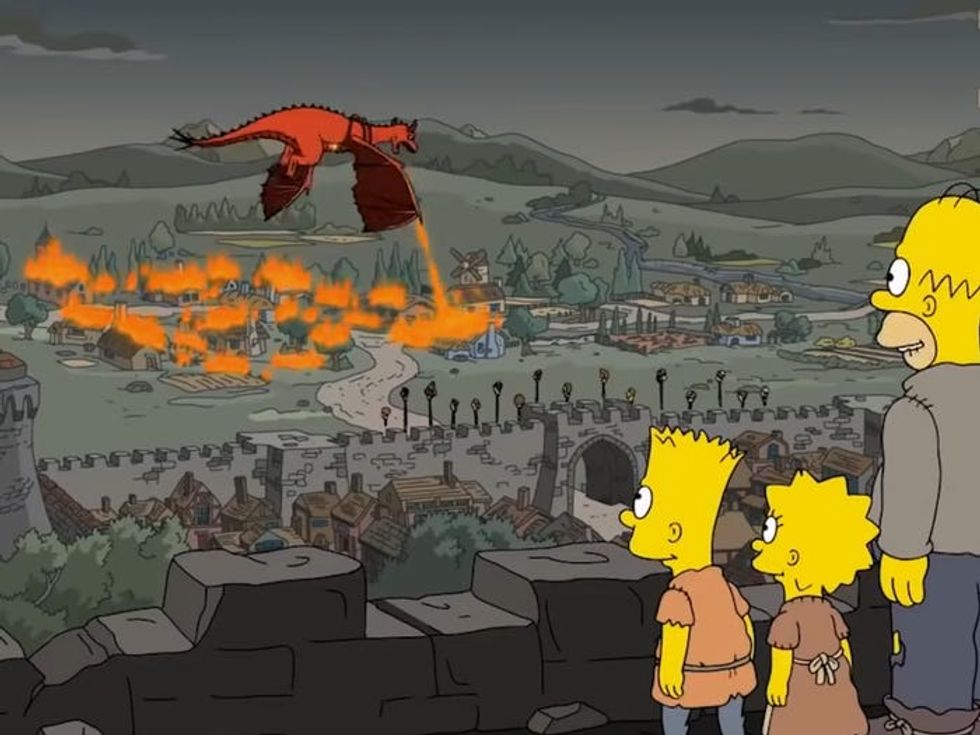 Season twenty-nine, episode 1. In the penultimate episode of
GoT
, Daenerys Targaryen disturbed fans when she and her dragon laid waste to an already surrendered King's Landing, obliterating thousands of innocent people. In 2017, on an episode that spoofed various aspects of
Game of Thrones,
 Homer revives a dragon that proceeds to incinerate a village.
Lady Gaga's Super Bowl halftime show.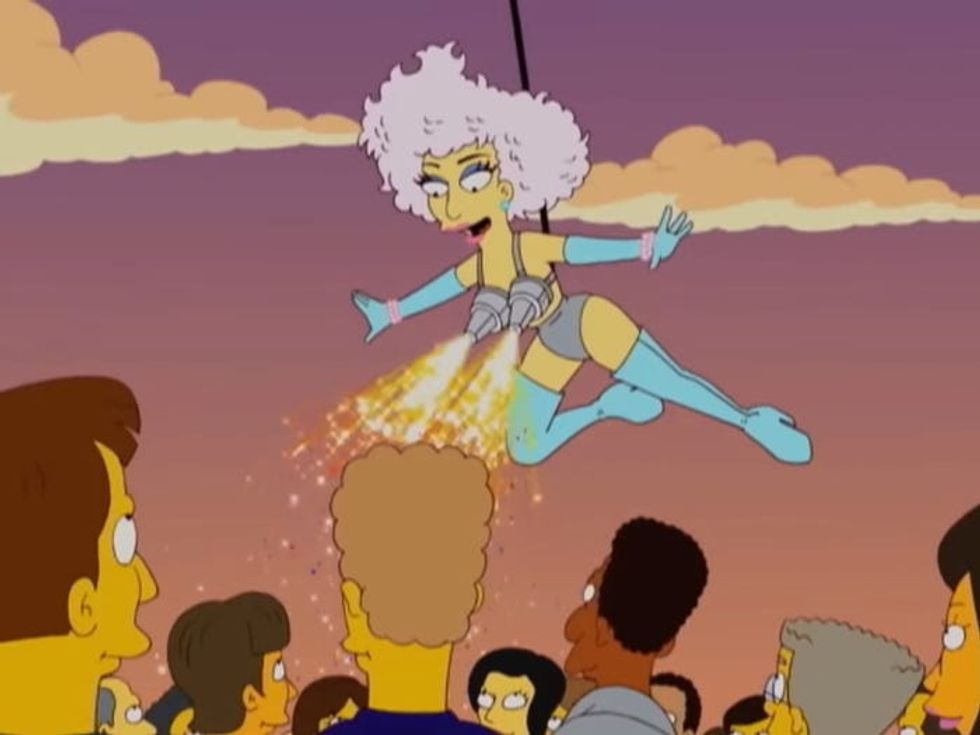 Season twenty-three, episode twenty-two. In 2012, Lady Gaga performed for the town of Springfield hanging in midair. 5 years later, she flew off the Houston NRG Stadium roof in real-life to perform her Super Bowl halftime show.
And now, for the spookiest prediction...
Some fans think The Simpsons predicted the Capitol Hill riots.
The "prediction" is taken from a 1996 episode of the show...
And appears to show mustached, gun-carrying characters taking over the building as part of a parody of Schoolhouse Rock's "I'm Just a Bill" segment, as per
LadBible.
The scene in question also shows a talking amendment, but when it's told it needs to become part of the Constitution, it shouts "door's open boys."
Simpson's predicted the Capitol Hill thing. https://t.co/kejp7HpnWG

— ppl call me wheelie (@ppl call me wheelie)1609968936.0
Other similar characters start cheering as they run up the stairs carrying weapons - eerie similar to the chaos we saw on Wednesday.
And let's just say, it didn't go over fans' heads.
Simpsons predicted it many years ago #CapitolHill #WashingtonDC https://t.co/CDFTq2kYb1

— Frɑncis Creɑven (@Frɑncis Creɑven)1609976510.0
What do you think? It's certainly spooky,
right
? For more on the iconic cartoon, read on...