The five-month span in 2018 when Pete Davidson and Ariana Grande were together was quite the time to be alive. People from across the globe came together to root for this crazy young couple in love, and when they decided to part ways, the world suddenly seemed to make a little bit less sense.
Luckily, there's still a tiny bit of Pete and Ariana's drama floating around in the atmosphere to get you through the week. Pete Davidson recently made some comments in a stand-up set about how Grande called out his manhood on Twitter – and he is not happy about it. Keep reading to find out the surprising reason why.
Remember back when Ariana Grande and Pete Davidson were a couple?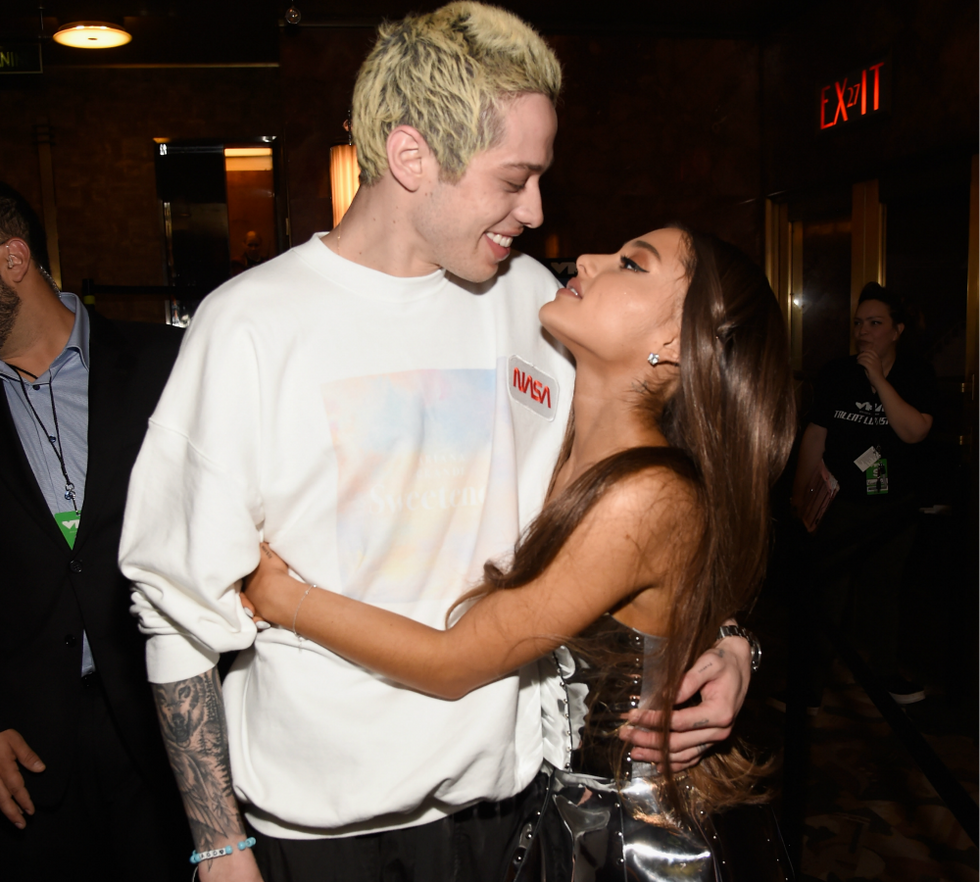 I know, you probably have to rack your brain right now to try and recollect when they were a "thing." After all, they were
such
a laid-back couple that barely shared any of their business with the general public.
Just kidding! They were the complete opposite of that.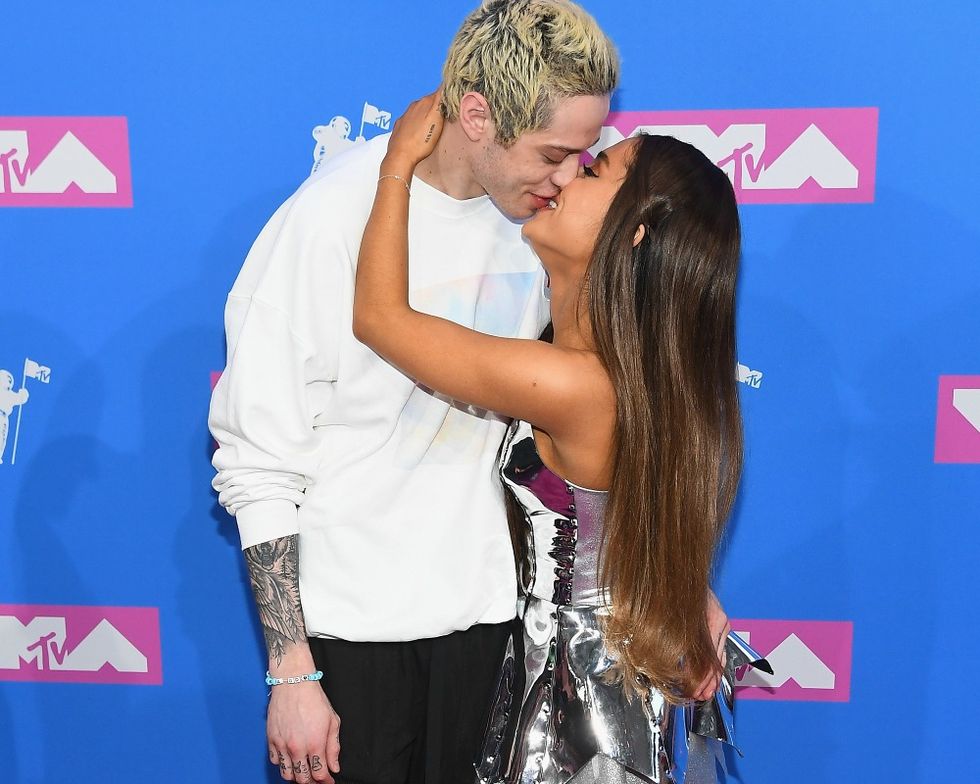 In fact, they were pretty much the epitome of TMI and PDA. They could barely keep their hands off each other in public and were constantly posting about each other on their respective social media accounts.
It all started when the dynamic duo was spotted hanging out at an SNL after-party in May of 2018.
By May, a source close to the couple reported that things seemed to be moving pretty dark fast.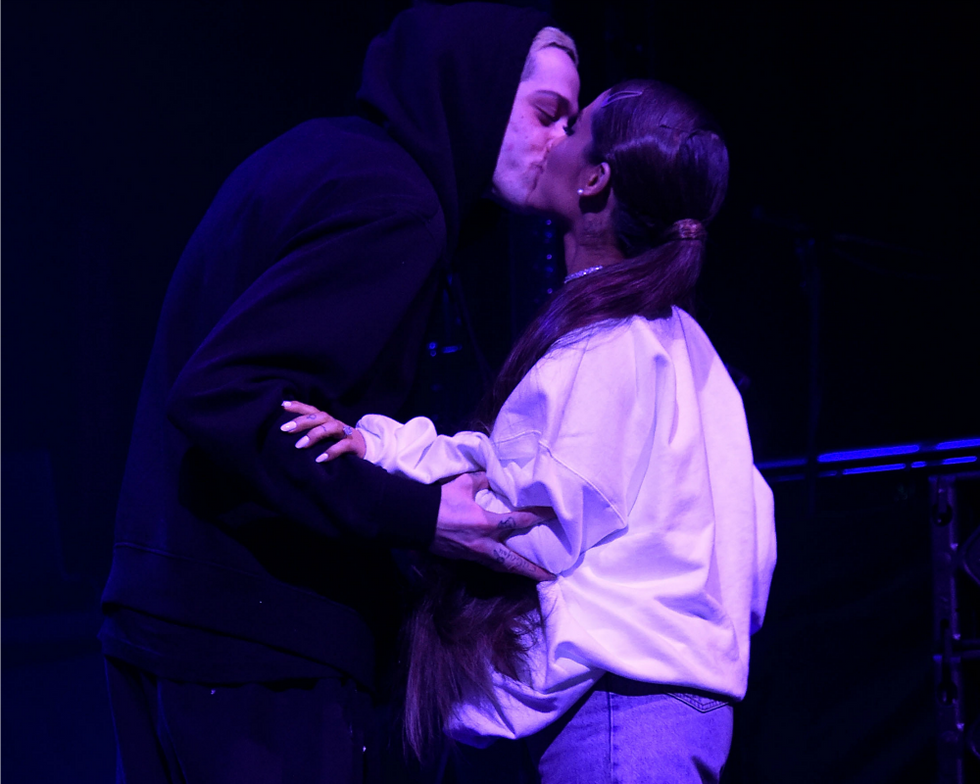 As in, matching-tattoos fast. They were spotted around town sporting the same tiny cloud on their finger. Because no one regrets getting matching tattoos with someone they've been dating for two months!
Their social media accounts start blowing up with various pics and sweet messages to each other.
The lovey-dovey pics and heart-eyed emojis come rolling in.
They shared their mutual love for the 'Harry Potter' films with the world, and honestly, it's kind of adorable.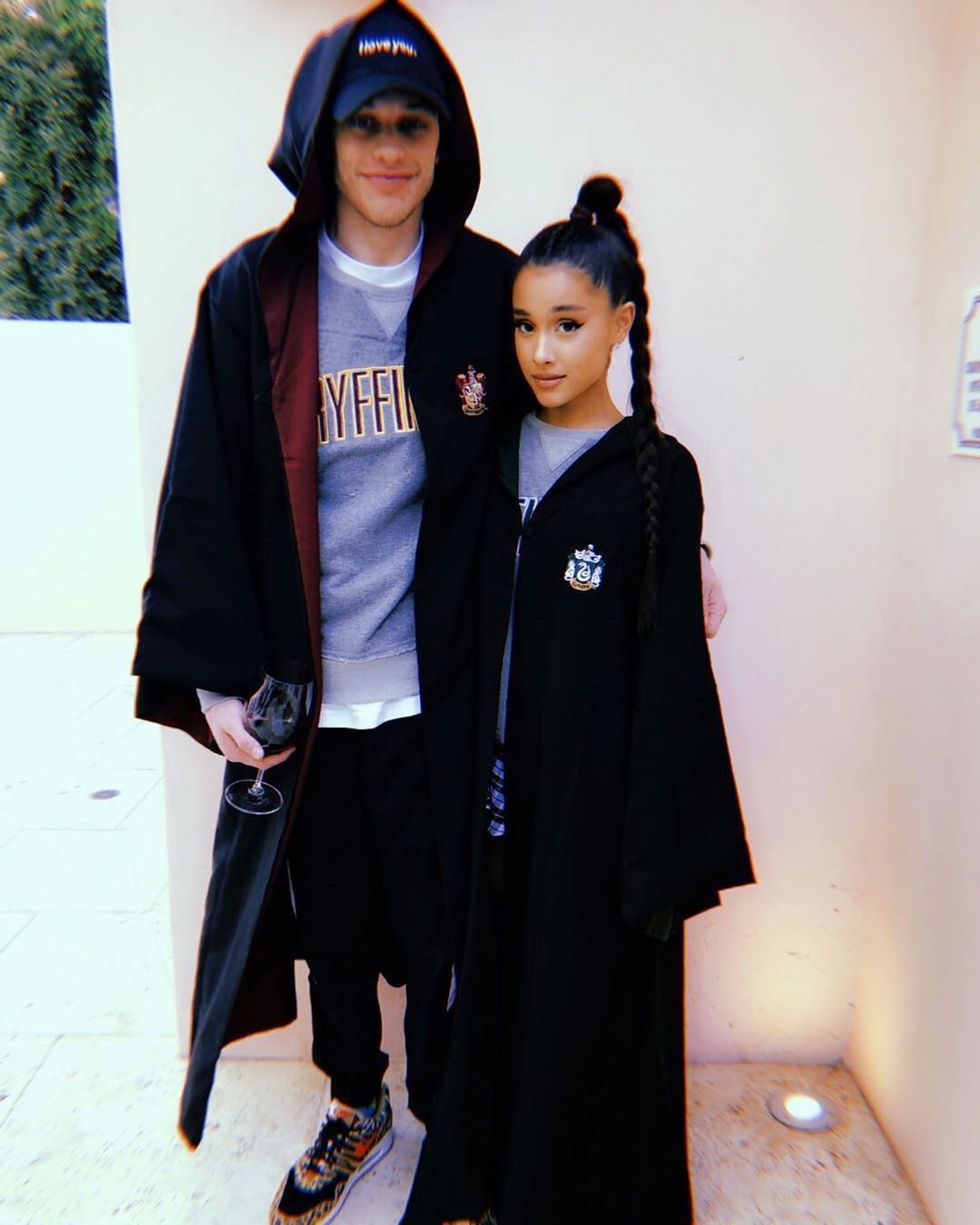 You'd think a couple who HP's together would stay together, but alas, the world is a mysterious place sometimes. Ariana captioned this Instagram post "u tryna Slytherin (I'm deleting my account now)."
The "God is a Woman" singer continued the trend and posted this video of Pete talking about his HP expertise (or lack thereof.)
doesn't know what Professor Quirrell's favorite scarf was?  Or what young Dumbledore's cat's name was? This is some basic stuff, Davidson.
Surprise! They got engaged!
@xsweetdrops @intoyouariana HAHAHAHAHAHH HES BEEN BRIEFED

— Ariana Grande (@Ariana Grande)1528766964.0
After word spread that the two were altar-bound, fans started freaking out on Twitter and Instagram. Ariana didn't deny it, and the shot of a gigantic diamond ring posted to Pete's Instagram confirmed the news. What a whirlwind romance, huh folks?!
Sure, the constant love fest was a bit much, but that's what happens when you find the one, right?
So it really shouldn't have been a surprise when she dropped this huge TMI about Pete online.
SHE FUCKIN DIDN'T https://t.co/AH84VeQQzi

— gina (@gina)1529633733.0
In June of 2018, after a fan was trying to ask an innocent question, Ariana responded with a pretty obvious reference to one of Davidson's attributes. Touché, Grande.
There were mixed reactions to this new information.
@agb_galaxy NONONONONONO! ARIANA! https://t.co/lSFaCyWlpt

— milf 🐉 (@milf 🐉)1529434548.0
Some people were NOT having the NSFW nature of the infamous Tweet. Why must you subject us to this, Ari?! Haven't we already heard WAY too much about your relationship at this point?
Others were more than okay with it.
10 inches, that's all the imagery I needed for later @ArianaGrande https://t.co/gVKIaPGXgv

— 🔮 (@🔮)1529633818.0
This Twitter user seemed pretty psyched about stowing this info away and revisiting it later. I mean, don't get me wrong, it's not that I'm not
happy
for Ariana or anything...
Some were more dubious about the claim.
ariana: like 10 inches us: proof or fake. https://t.co/0iojIj8yd5

— lottie (@lottie)1529701149.0
Like this Twitter user, who demanded that Ariana "prove" the 10 inches claim. Whatever that means...
And so, after all this, you can imagine the shock and horror that spread across the globe when the duo reportedly ended their five-month relationship.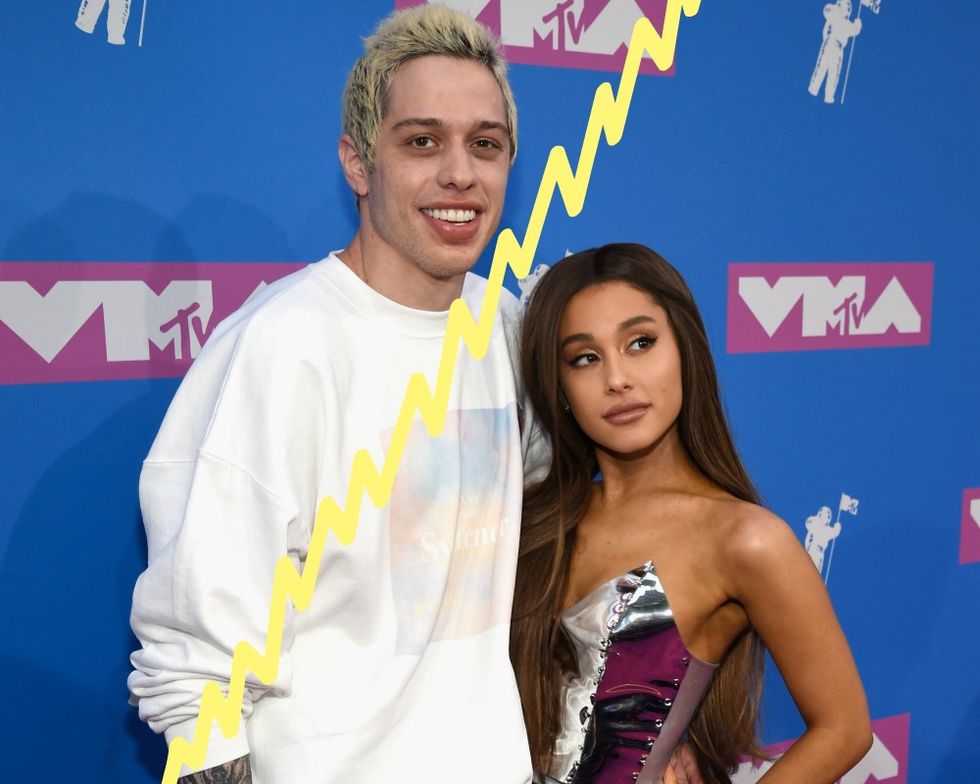 What a dark day it was. I'm sure you can remember exactly where you were when you heard the news. A source told
TMZ,
 "with both parties acknowledging that it simply was not the right time for their relationship to take off," and while the two are still great friends, "things are over romantically."
On November 5th, Ariana debuted her wildly anticipated single, "Thank U, Next" and the world lost its collective mind.
But fans of Periana (aka the Pete/Ariana nickname that I just made up) were quick to notice a page dedicated to Davidson in the "Thank U, Next" music video.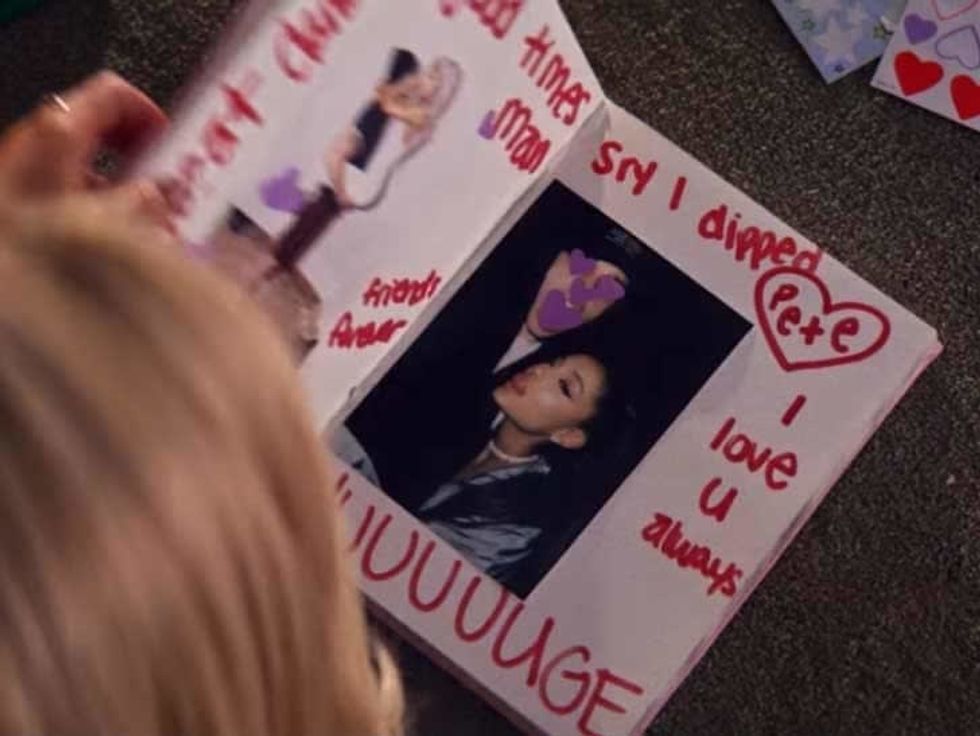 It says "Sry I dipped," with "Pete" written inside a heart and the word "HUUUUUUUGE" in capital letters at the bottom of the page. I wonder what that "huge" would be referring to...
Since their breakup, Pete hasn't been shy about expressing his feelings about how things went down.
ɢᴇᴛ ᴇxᴄɪᴛᴇᴅ! @JonahHill hosts #SNL this week with musical guest @maggierogers! https://t.co/RBtFmaAYth

— Saturday Night Live - SNL (@Saturday Night Live - SNL)1541107915.0
He joked about the broken engagement in a promo for SNL and even spoke openly about the split on the show. "I know some of you are curious about the breakup," he said. "The truth is it's nobody's business, and sometimes things just don't work out. And that's okay."
He went on to say some sweet and heartfelt things about his ex-fiance.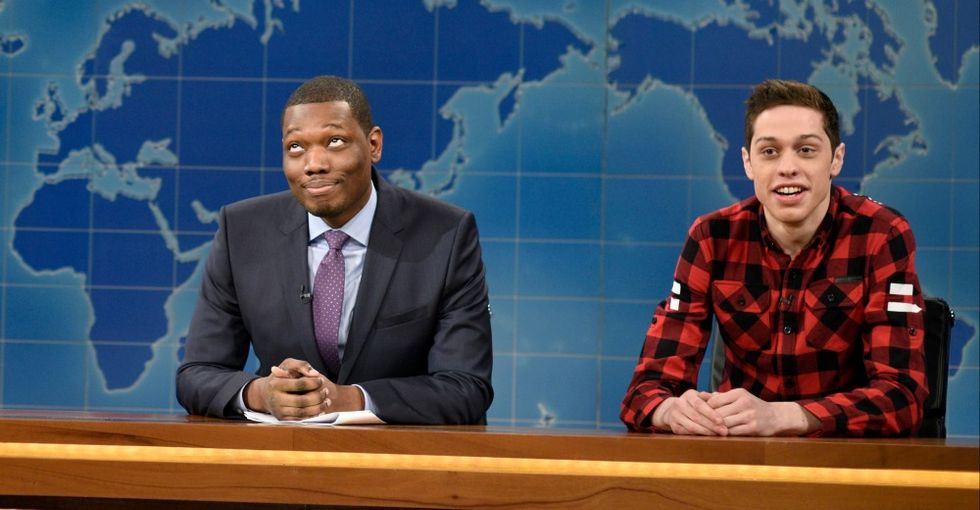 "She's a wonderful, strong person and I genuinely wish her all the happiness in the world." Awww! What a guy!
Oh, but about that whole 10 inches tweet...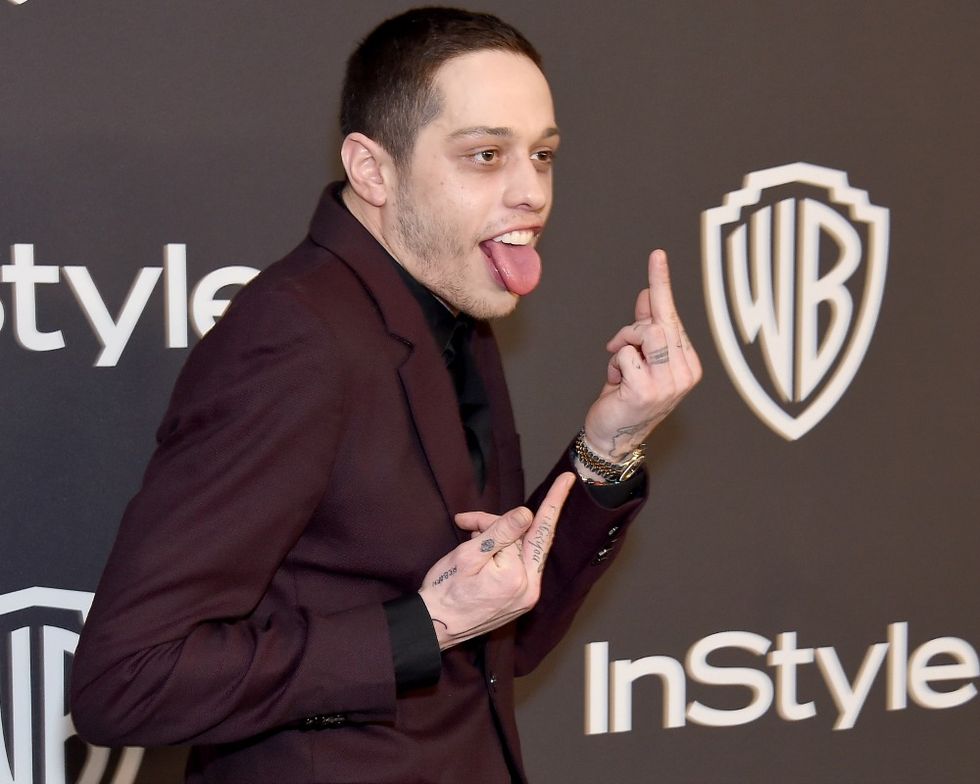 It turns out, Davidson was not as stoked to discover that Grande had shared that little tidbit of personal information with the world. And the reason why might surprise you.
During a stand-up performance on New Year's Eve, Davidson spoke candidly about his reaction to Grande's hit single coming out RIGHT before he had to perform on SNL.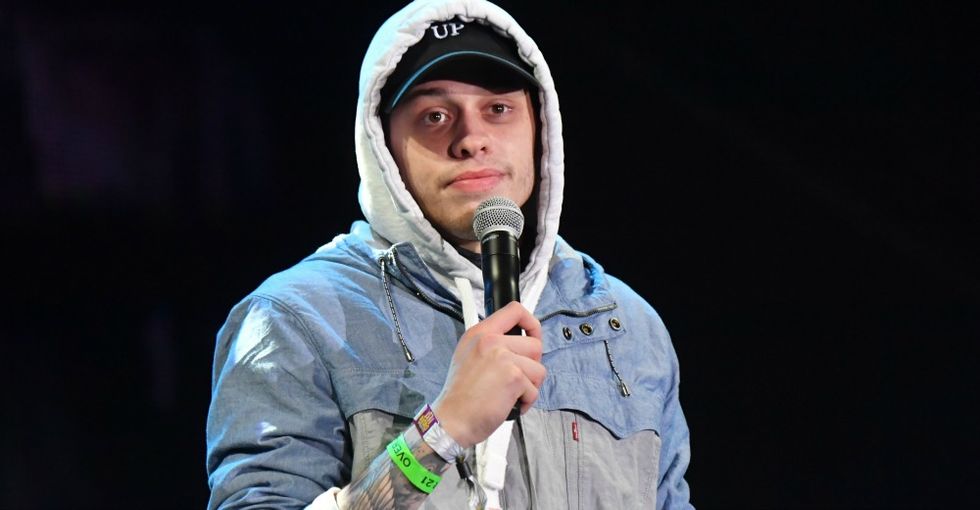 "That shit came out before I had to put on a fucking duck hat and be like, "Derrrp, here's the pizza!" So all my friends were there. It was a sad day."
"We didn't know it was going to happen."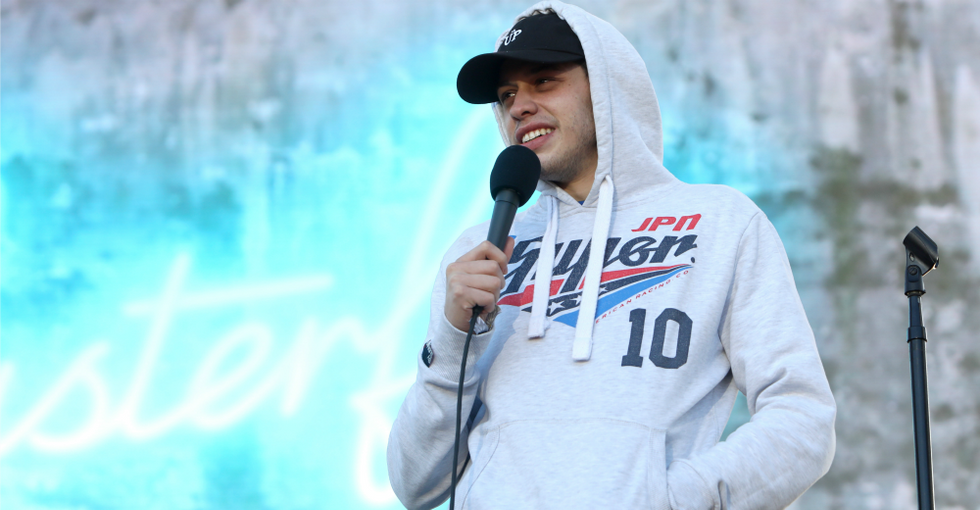 "[I thought] this won't be easy, this is rough. So I start playing it. And we're all like, 'Ehh...it's OK.'"
But he didn't stop there.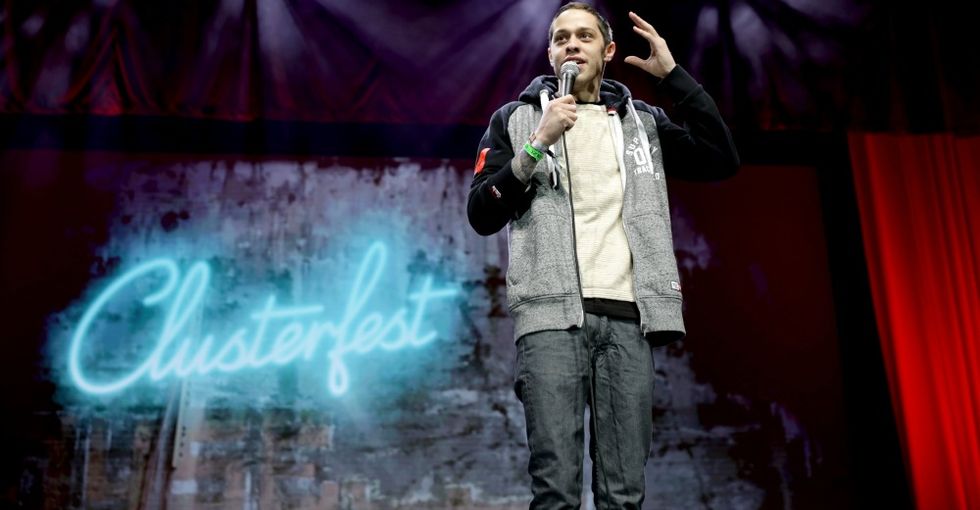 "Usually [with] breakup songs you know who it's about, but you don't really know. That G named all of us. Bam. She named all of us."
"And then tells us, yeah, he has a big dick."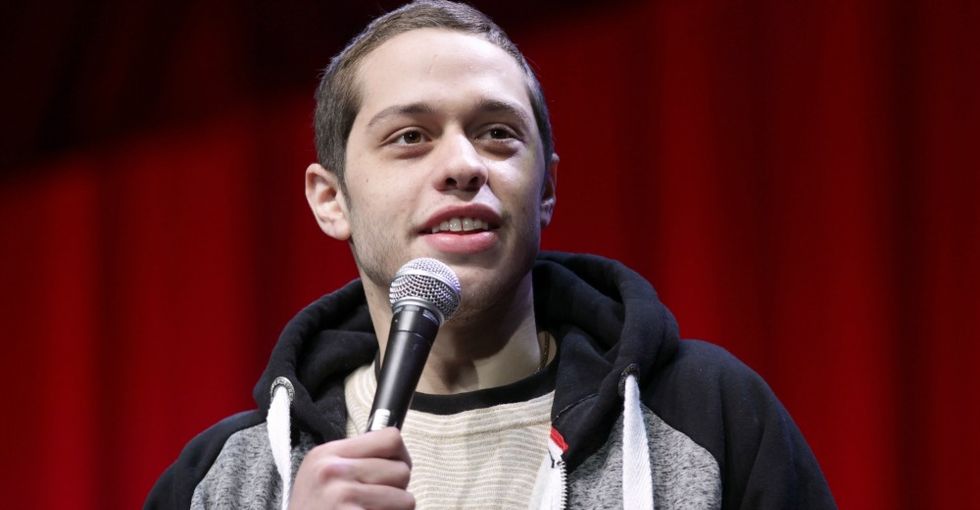 Then, in what seemed like an effort to downplay his allegedly well-endowed reputation, he added, "Everything is huge to her." We'll take that with a grain a salt, Pete.
So why was he so upset about Grande calling out his manhood?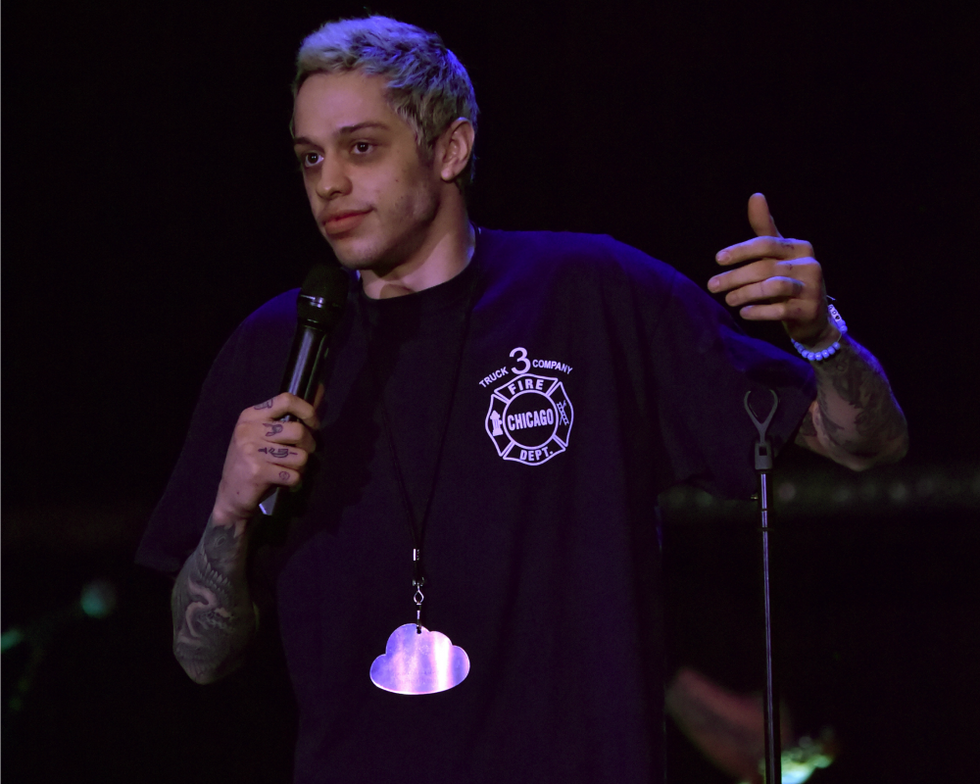 Because, apparently, it's taking a toll on his dating life since breaking up with the famous singer. Grande still seems to be having an effect on the comedian several months after breaking off their engagement.
"Why would she tell everyone that I have a huge penis?"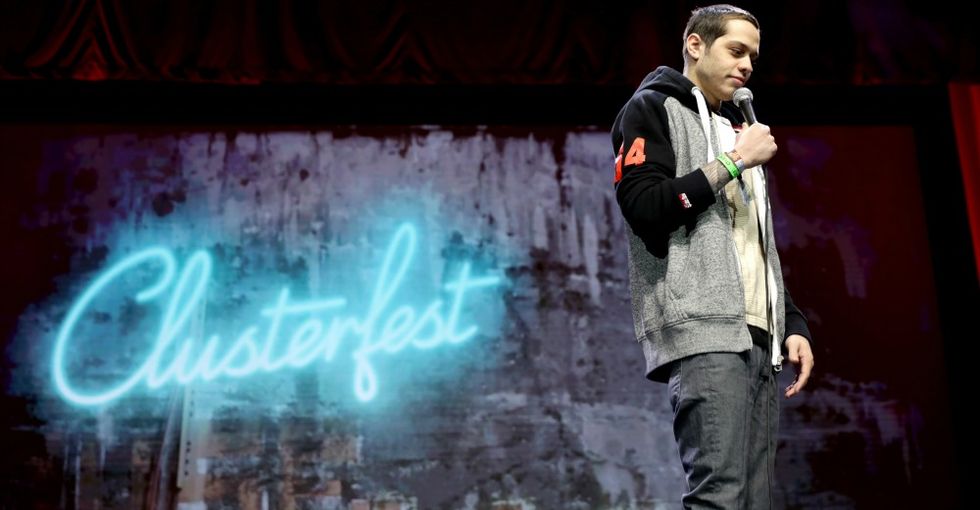 "So that every girl who sees my dick for the rest of my life is disappointed?" Poor Pete now has such notorious junk that it's causing a widespread letdown.
And that's gotta make finding someone new pretty difficult.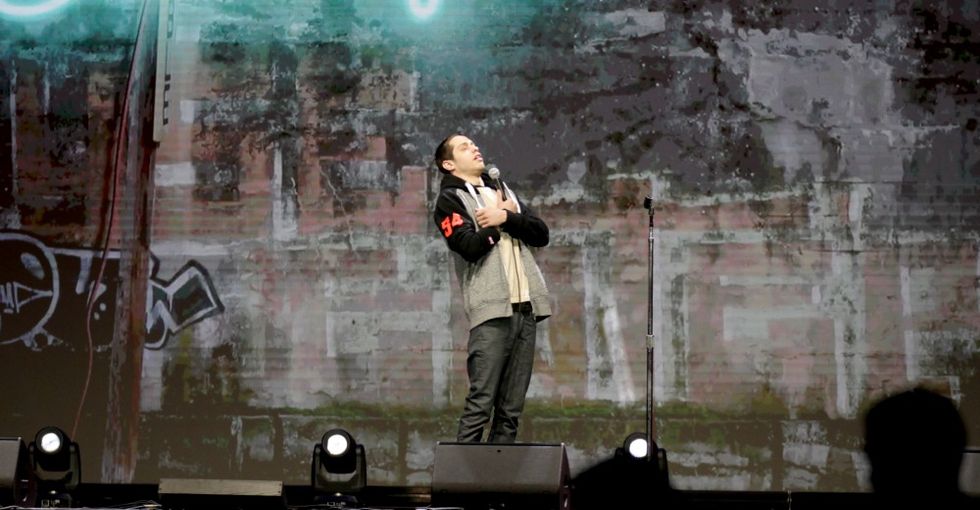 You'd think he'd be happy that she didn't decide to tell the whole world the
opposite
of what she actually said, right? Then women would be pleasantly surprised instead of disappointed, so I guess that would be more ideal.
This isn't the first time that Pete has made some very NSFW comments about his anatomy, or his relationship with Ariana.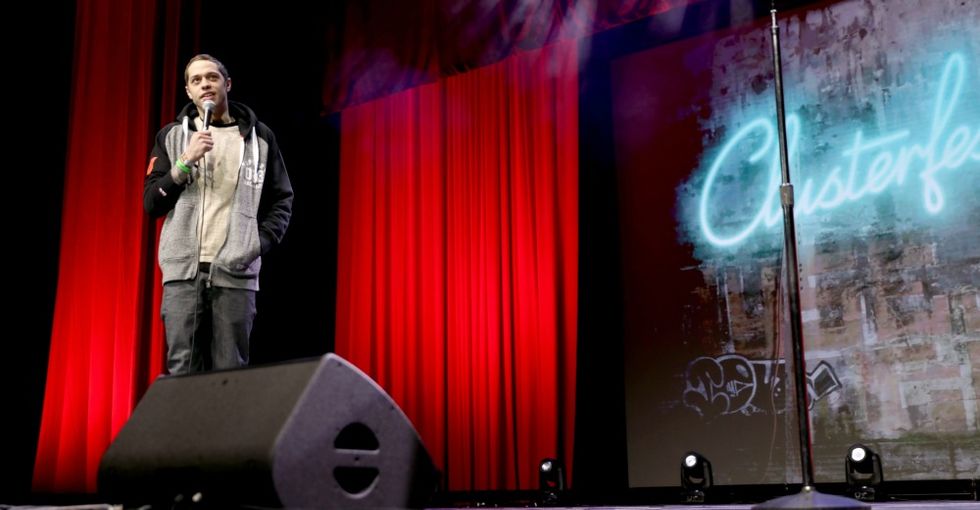 Right before their breakup, he had a very candid interview with Howard Stern. When asked what it's like dating Grande, the comedian replied, 
"My dick's forever hard."
Thanks so much for that jarring mental image, Pete.
Seriously, if that was Ariana's plan all along, then kudos to her.
So, even though they've been broken up since October, the Pete and Ariana drama continues.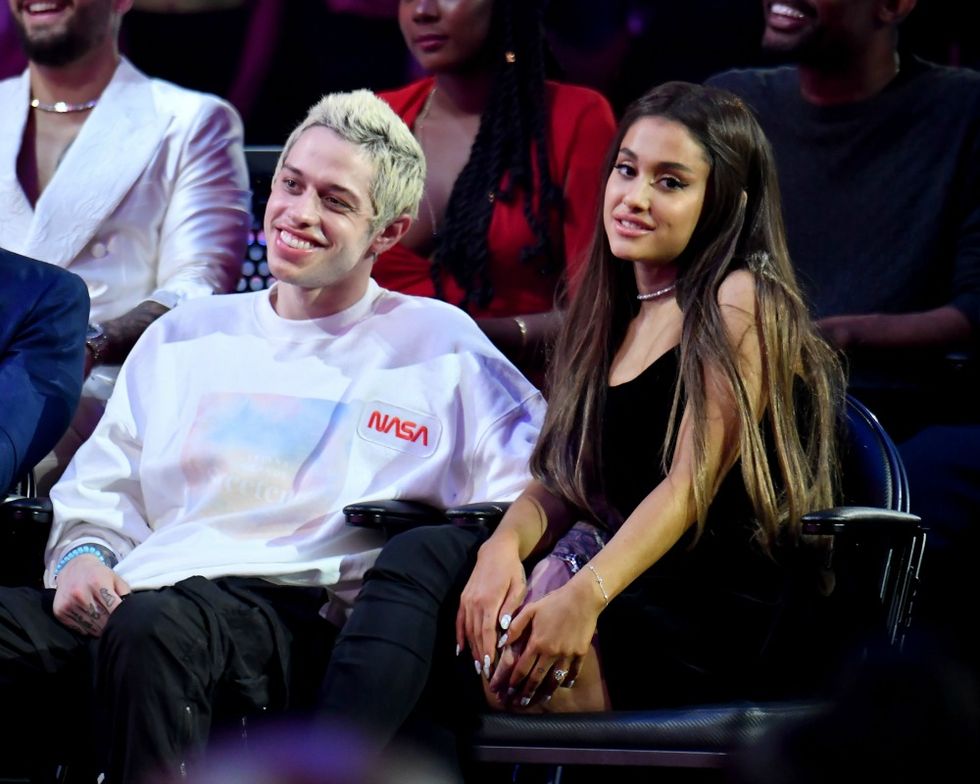 Or, rather, the "Periana" drama continues. And I don't know about you, but I wouldn't have it any other way.