PewDiePie is one of the most famous YouTubers on the planet, and the Swedish blogger has made quite a name for himself. Among all of his other accolades, he has recently won another one he can be proud of... The most handsome face in the world.
However, he definitely had some pretty stiff competition. Keep scrolling to see who else made it into the top 10...
For those of you that might not be aware, PewDiePie has become one of the biggest YouTubers of our time.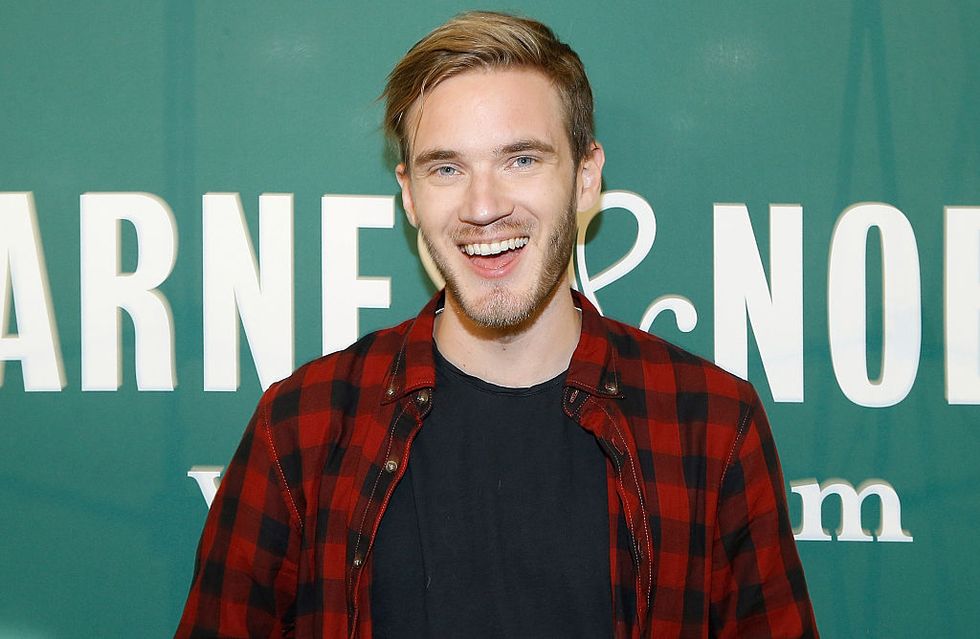 The Swedish vlogger, whose real name is Felix Kjellberg, became the first
YouTuber
to reach the seventy million subscriber mark, and now has over 108 million subscribers, making him the most successful person on YouTube.
He is best known for his commentary videos on various video games...
Though he hasn't been shy of controversy.
He has previously been accused of making anti-Semitic comments in several of his videos.
anti-Semitic comments
, and Youtube subsequently responded by canceling the second season of his original series on YouTube Premium.
And several of his other actions have ruffled feathers for the same reason.
Many of PewDiePie's other videos have sparked a similar outcry. In one of these, he performed a Nazi "heil" salute, and, in another, he hired a pair of performers from a freelancer website to hold up a sign reading "Death to all Jews."
But he defended himself and said that those videos were satirical...
Long story short...
But he recently admitted to feeling "very tired" of his job...
After a little hiatus early last year, he was back with a bang...
Recently, he has won an award that he'll be talking about for the rest of his life...
all of his fans talking!
That's right, ladies and gentlemen, PewDiePie's face has been named as "the most handsome" of 2020.
particular audience voted?
Don't get me wrong, PewDiePie is pretty handsome, but just wait until you see who he beat to get to the top spot...
And just like me, not everyone agrees with the "controversial" ranking...
I bet you're curious to see who made it into the top 10, right?
So without further ado, let me introduce you to who else made the coveted list...
10. Paing Takhon.
This Burmese actor and model slid into the top 10 with his luscious locks and cool tattoos. I can see why he definitely made it as a new entry. We're off to a good start.
9. Timothee Chalamet.
The twenty-five-year-old baby faced actor took the number 9 spot. It must have been his jawline.
8. Jason Momoa.
Now, I expected Momoa to make the cut but definitely at a better spot than number 8. He deserves to be in the top 5, for sure.
7. Xiao Zhan.
After starting his career out in a boy band in China, Zhan suddenly gained popularity (I'm sure his face had something to do with it) and started a career in the world of acting. Here's another accomplishment he can be proud of. Spot number 7.
6. Jason Derulo.
We were actually doing pretty well and then this? Jason Derulo is an attractive man but ranking 6th in the world is pushing it a bit too much. Maybe number thirty-one would be more suited... Sorry, Derulo.
5. Henry Cavill.
If I had it my way, not that I'm anyone important, but I do know what the people want. And according to me, Henry Cavill should have taken that top spot. As if he's only number 5? This is the prime reason why I can't take this list seriously.
4. Jeon Jungkook.
The BTS star was last year's reigning champ and this year dropped 3 places to take the number 4 spot. A talented young man with a handsome, babyface. We can see why he made it into the top 10.
3. Chris Hemsworth.
Number 3? Correct. He is. And he's a nice guy. We have no choice but to stan.
2. Kim Taehyung.
Also known by his stage name, V. Another member of BTS who seems to be very popular with YouTube fans and it's pretty easy to see why. Charm, charisma... Still not as handsome as Chris Hemsworth though, but we'll let it slide because it's V.
1. Felix Kjellberg.
And of course, the number 1 spot was taken by the Swedish YouTube star, PewDiePie, who has made it onto this all-star list for the sixth year running. Never at the number 1 spot, but finally, the day has arrived.
And there we have it, guys.