Italian artist Marianna Zampieri is a self-described "Catographer." Her passion? Taking gorgeous wedding photos of brides and grooms with their four-legged feline friends to commemorate getting married. Sign me up.
Looking back, I wish my wedding photographer had taken photos of me with my cats. Not just because it would have been incredibly cute, but also to remember them forever, in the context of that special day.
Zampieri knows how special the bond between owner and cat can be, which is why she takes extra time to get such beautiful, intimate photos of the couples with their fur babies.
"I'm not a professional photographer, rather I have recently discovered a passion for photography," says Zampieri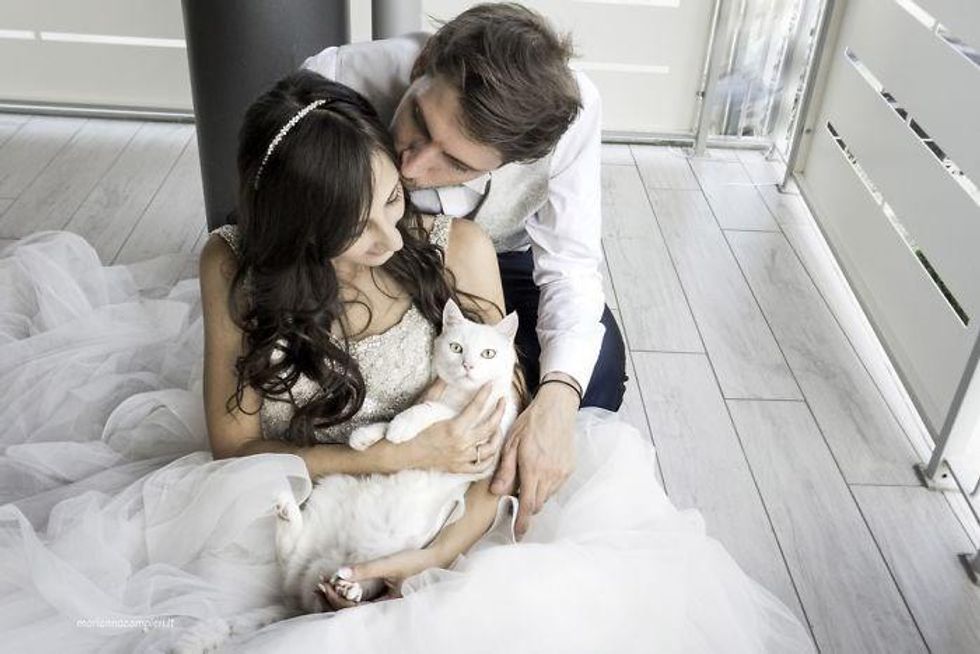 "It all started when I adopted my cat Arthur in 2012, and I wanted to find an effective way to share what I see in him so what better way than through the photographs? Arthur is and still remains my favorite model, but I also like to photograph street cats or colony cats; I have a true adoration for them, so proud, elegant, savage, I always look at them with the same admiration. In fact, I also manage a Facebook page dedicated to adoptions and food collection for the colonies of my area."
"After a couple of years, I decided to do something different: so I thought of a new project and "Passions" was born."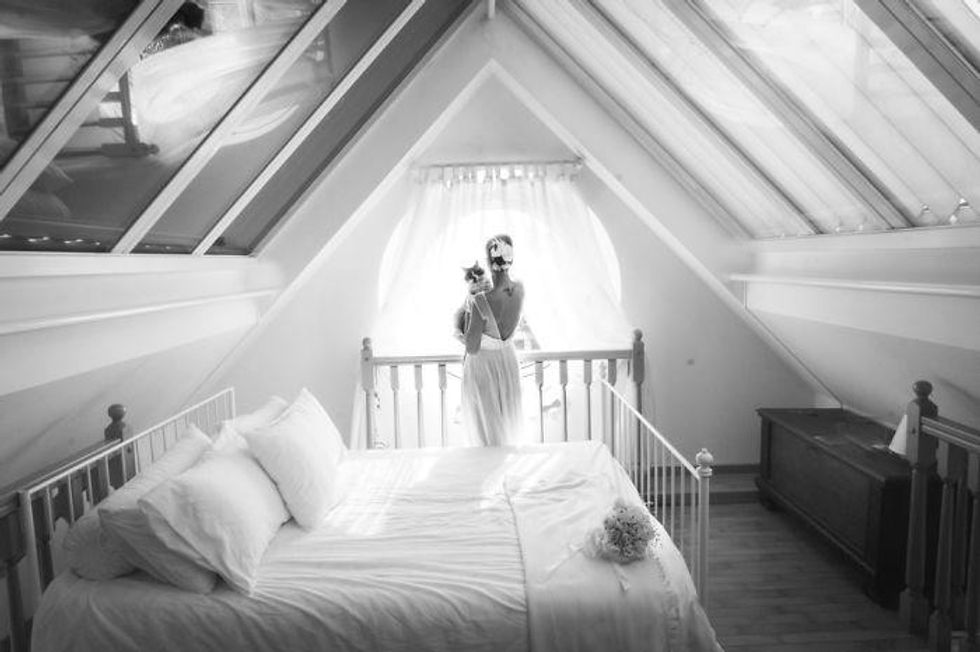 "Through the photos of this project I try to capture with a snap the special bond that is created between the cat and the person with whom he lives while they share moments of pleasure, engaged in activities that represent what the person loves most to do, his passion precisely. They are simple shots stolen from everyday life."
"Each chapter has a different theme and is not always easy to make; cats are very unpredictable and this is the most difficult part of the project."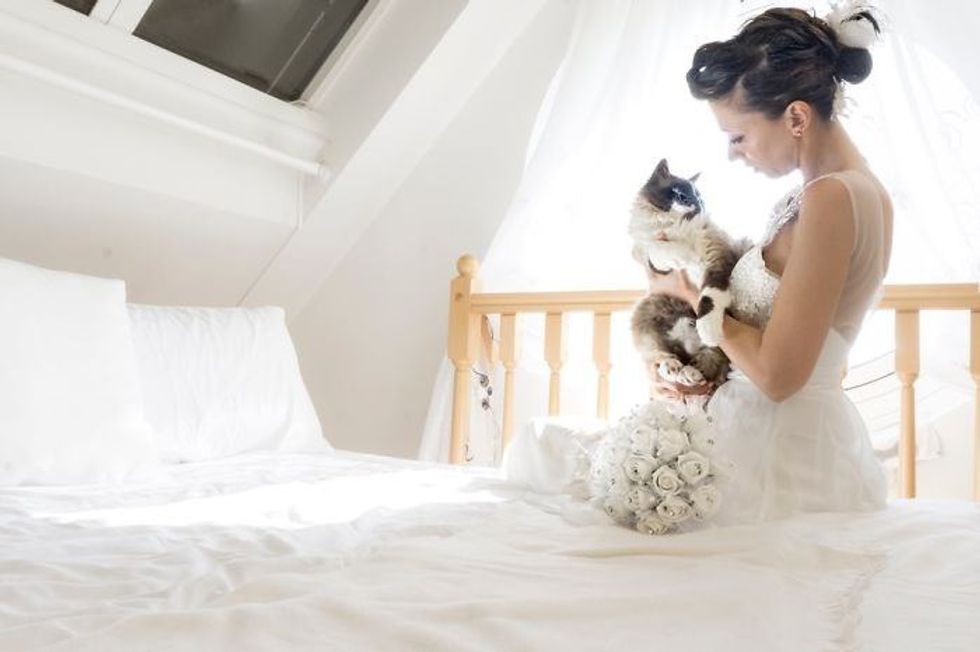 "They do what they want when they want, I can never predict what will come out of it, I simply watch as a spectator and document what happens. In fact, I go to my 'models' home, just because they can feel as comfortable as possible."
"The essential feature of my photos is spontaneity."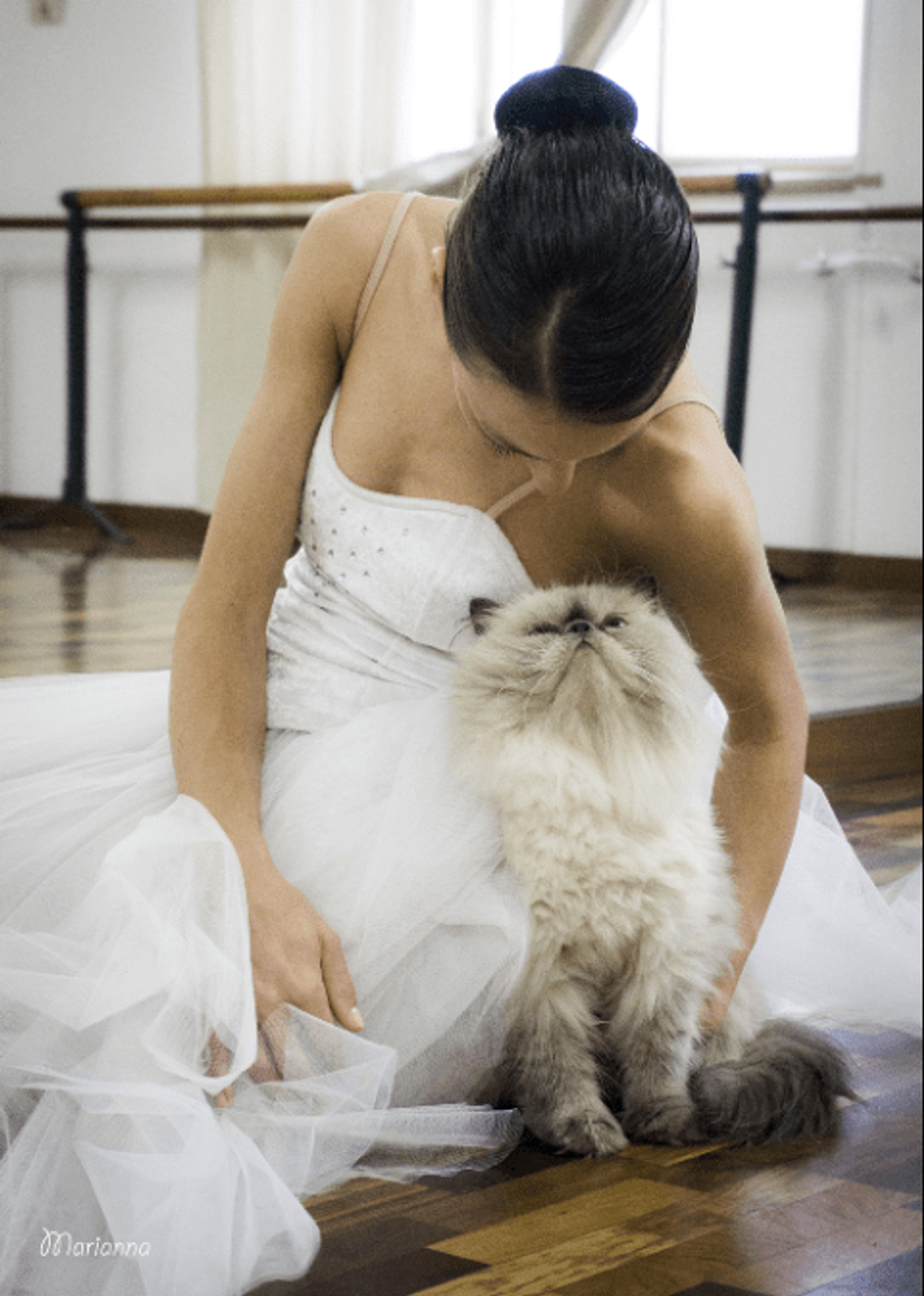 "I do not like the posing photos where the cat is forced or forced into his arms; I like to create a setting with objects that recall the passion of each chapter but the cat must feel free to do - or not to do! - what pleases him at that moment."
"So every photo shooting is in itself..."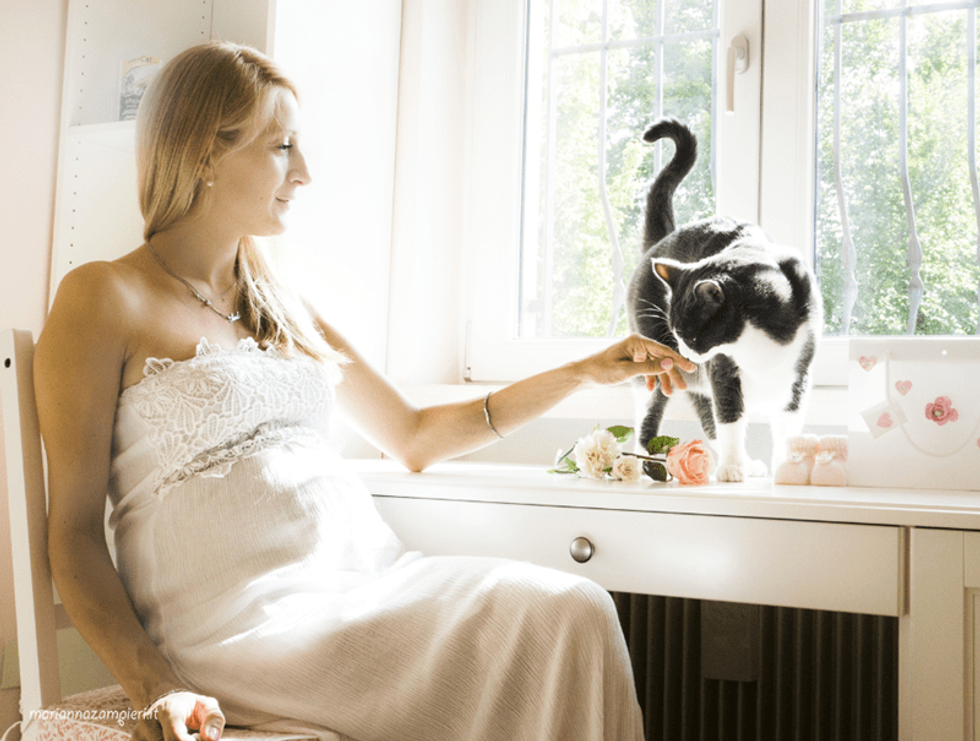 "There are no rules; sometimes in a short time I can get what I imagined, sometimes not, sometimes it takes a little more time to come out of something good, but cats are always dictating times and ways."
"But when I reach my goal, it is really an emotion: assist and be able to capture with a photo the relationship between cat and human always leaves me breathless."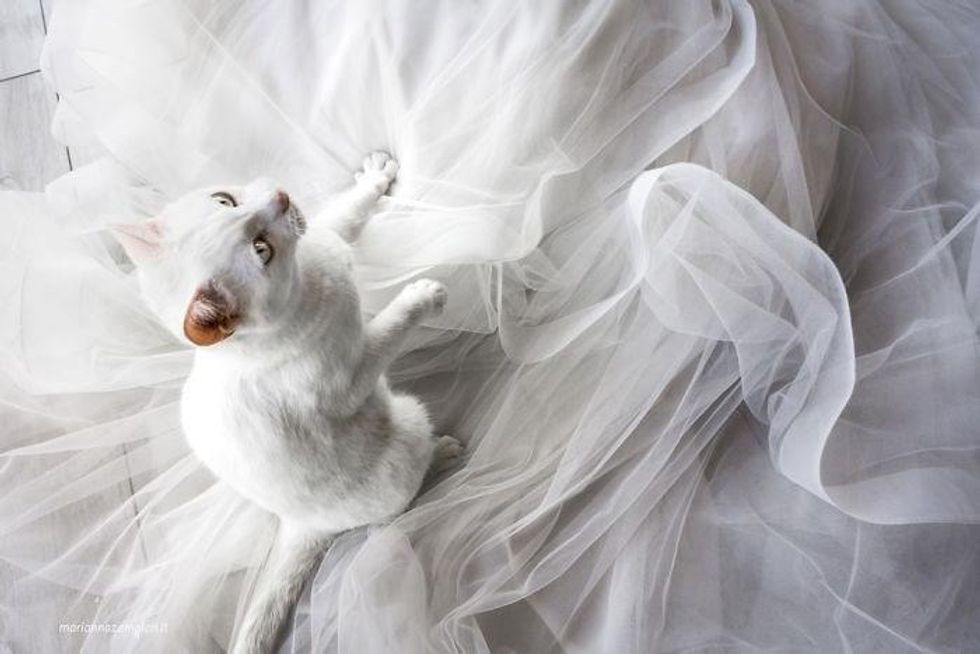 We couldn't agree more!
Look at this gorgeous bride with her sweet fur baby.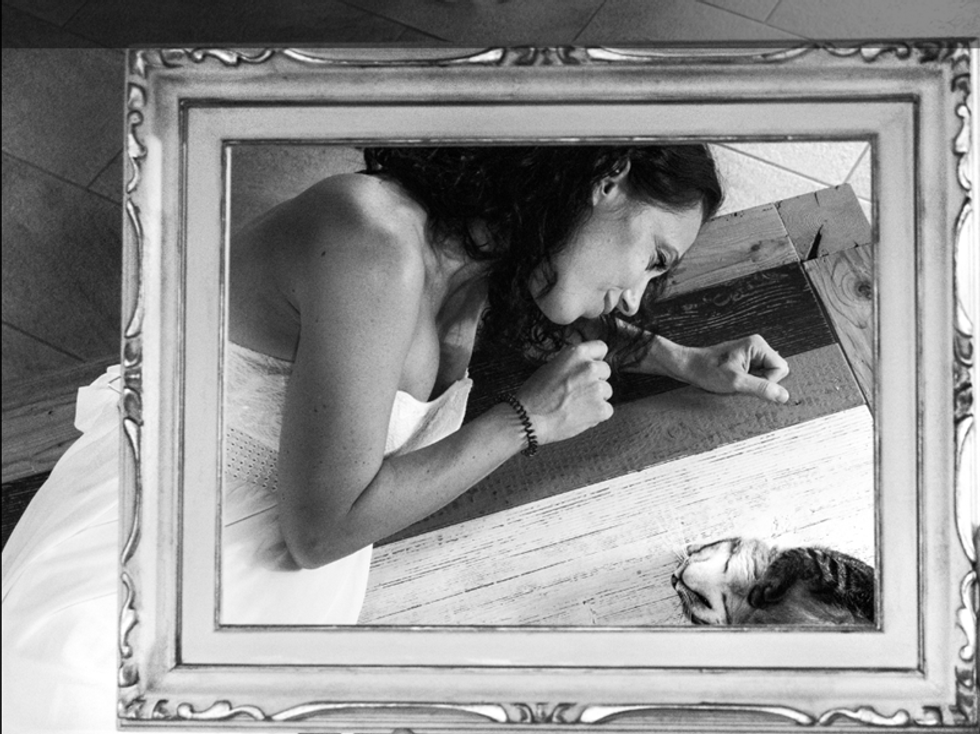 What a little chin!
I can't get over the swagger of this independent outdoor cat!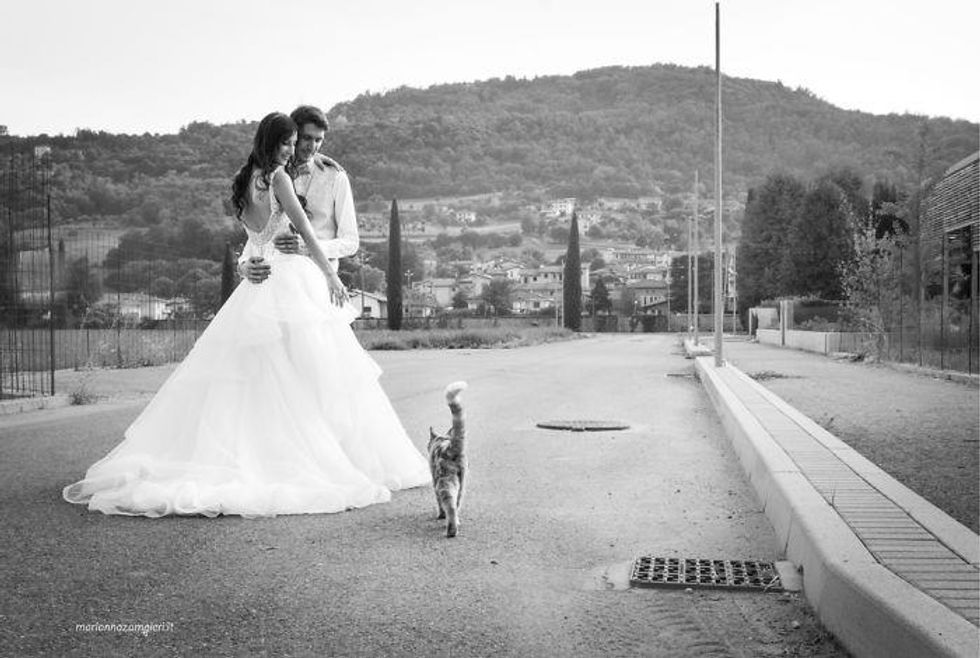 He knows it's his moment to shine.
This one is just filled to the brim with sweetness.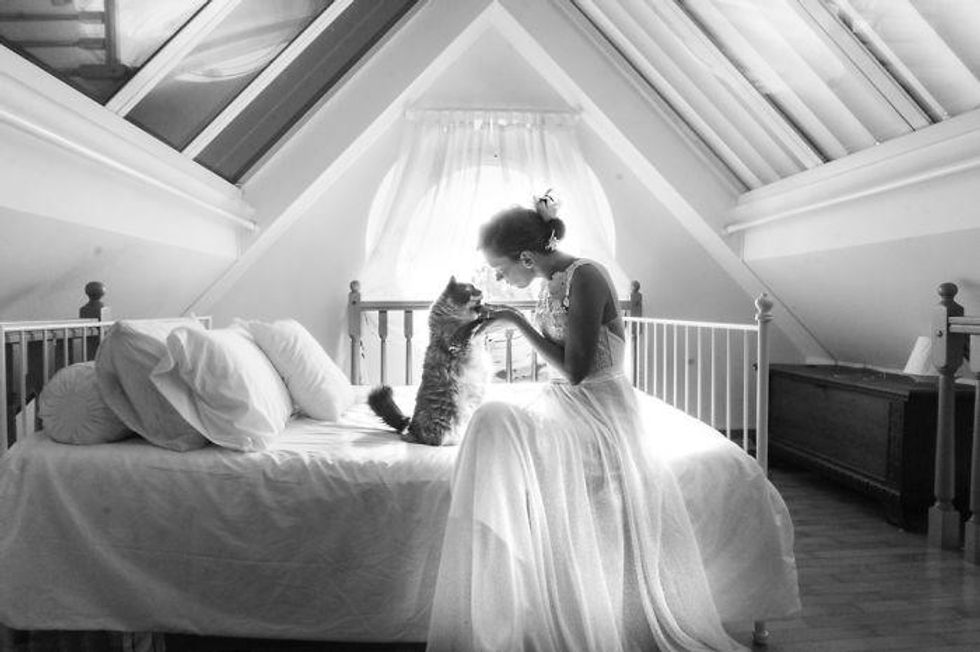 Their silhouettes almost make a heart shape!
Just look at this happy couple and their princess.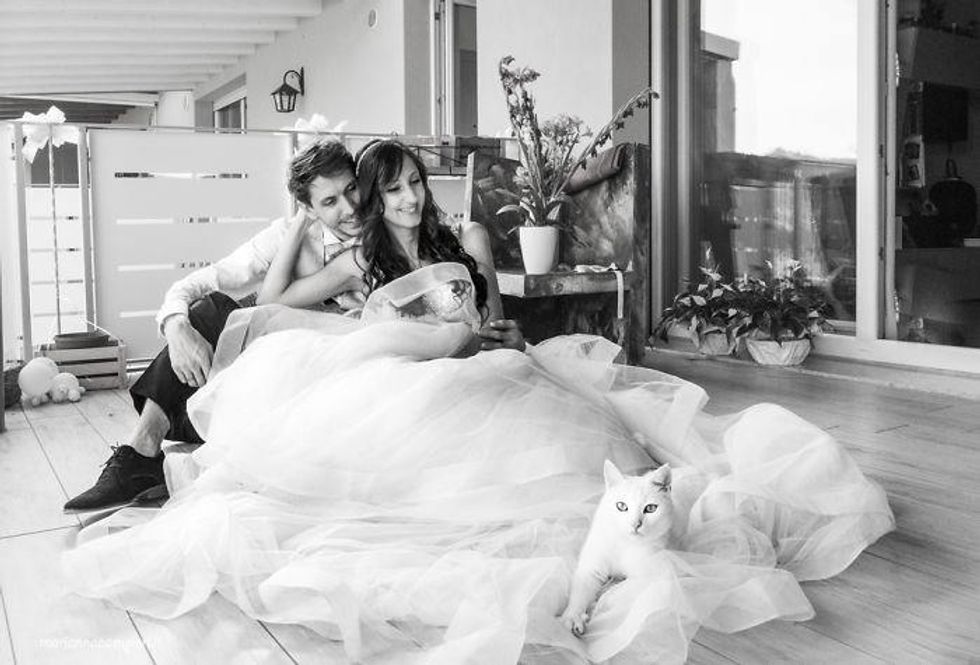 This is a photo the couples will cherish forever. Or should I say... fur-ever? Share this with your feline-loving friends!