Adam Sandler, despite being one of the most-loved comedic actors in Hollywood, isn't known for starring in the most critically acclaimed of films. Harsh, we know. But it's true.
As much as we love him, we've got to admit, his films are often more on the chick-flick comedy side of the movie spectrum, and don't tend to fare too well on cynical movie rating websites. Until Uncut Gems, that was.
But now Sandler has hit headlines for another reason - and the internet doesn't know what to think!
Adam Sandler has had one hell of a career.
via: Getty
And it's needless to say, he has become one of our country's most recognizable and well-loved comedic actors.
Sandler found his fame after becoming a Saturday Night Live cast member.
via: Getty
After dabbling in stand-up comedy for a couple of years, Sandler became an instant hit when he became a regular addition to
Saturday Night Live.
Audiences fell in love with Sandler's goofy demeanor.
And, alongside his fellow cast member and friend, Chris Farley, he created some memorable and hilarious sketches. However, not everyone was too impressed, and Sandler was subsequently fired from the show in 1995.
But his career didn't stop there.
And Sandler went on to star in many comedy classics, including Billy Maddison, Happy Gilmore, and The Wedding Singer.
Yet, despite all of his success...
Sandler continuously struggled at the hands of film critics, who often raised their eyebrows at his goofy and often silly performances.
However, it now appears that Sandler may have finally caught the attention of these critics...
via: imdb
As his most recent movie,
Uncut Gems
, has truly been turning the heads of film buffs. Keep scrolling for the trailer.
The movie has scored a staggering rating of 91% on Rotten Tomatoes.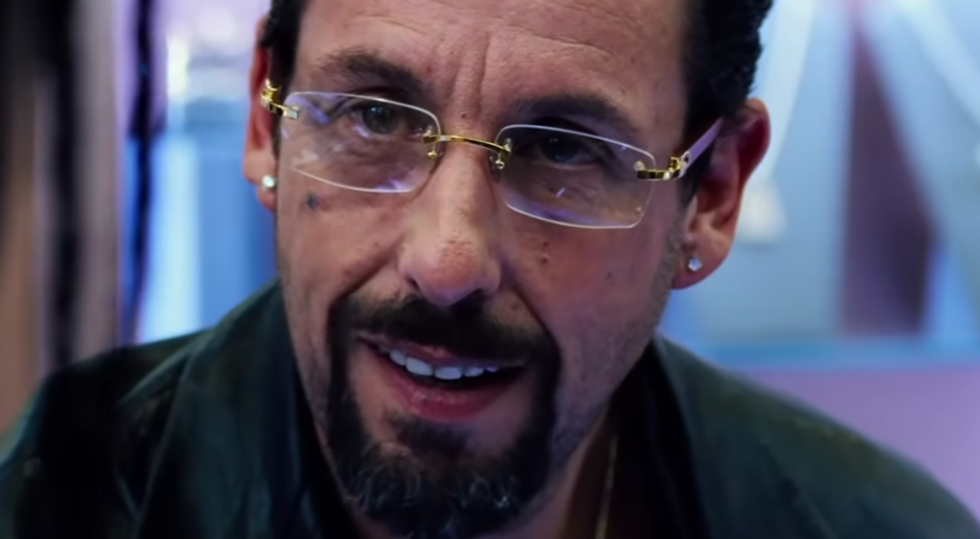 via: YouTube
No easy feat, to say the least.
For those of you who don't know...
Rotten Tomatoes is one of the most trusted recommendation resources for movies and TV series. The website rates movies using their "Tomatometer" scoring system: A meter that is based on the opinions of hundreds of film and television critics.
So, it's needless to say, their rating system is a pretty harsh one.
For example, Sandler's other (and best performing) movies scored quite poorly on their "Tomatometer," with Happy Gilmore getting 61% and Billy Maddison scraping only 40%.
So it was obviously a massive shock to see his latest release score so highly.
via: Rotten Tomatoes
Uncut Gems
 is an electrifying new crime thriller created by the acclaimed filmmakers, Josh and Benny Safdie.
Uncut Gems sounds a lot darker than Sandler's usual type of movie.
via: imdb
The synopsis reads: "Howard Ratner (Adam Sandler), is a charismatic New York City jeweler always on the lookout for the next big score. When he makes a series of high-stakes bets that could lead to the windfall of a lifetime, Howard must perform a precarious high-wire act, balancing business, family and encroaching adversaries on all sides, in his relentless pursuit of the ultimate win."
And the critics have been praising the movie.
via: imdb
Variety
critic, Peter Debruge, said in his write-up: "Uncut Gems feels like being locked inside the pinwheeling brain of a lunatic for more than two hours - and guess what: It's a gas!"
The flick sounds like a far cry from Sandler's other movies.
via: imdb
As Eric Kohn from
Indiewire
noted, writing: "
Uncut Gems 
won't sit well with anyone who prefers protagonists easy to like or stories with a clear moral compass."
"But there's a genuine subversive glee involved in following Howard through his inane quest for all the money he can score, and watching him set himself up for failure with such conviction the whole way through."
But, despite the change of genre, Sandler's performance has been wholesomely celebrated.
'Uncut Gems' best film of year and one of the best of the decade! What other movie of any of the movies understood… https://t.co/Np2rSIfhSf

— Gabriel Gundacker (@Gabriel Gundacker)1578953633.0
Variety Fair's
 K. Austin Collins, praised Sandler's performance, gushing: "I'm a longtime fan of Sandler, and of his schtick; I know his grab-bag of gestures and jokes as well as any other living actor's. And yet I wasn't prepared for
Uncut Gems
, which pushes his comic persona far toward the malicious insecurities that have long given Sandler his fire."
It was even predicted to be a winner at the Oscars...
via: imdb
In Rotten Tomatoes' "Ridiculously Early Oscar Predictions" list, Sadler has made the list to be a potential Oscar winner for the "Best Actor" award, with them
stating:
"He is beloved by many, but he has not been much of critical darling, especially lately. That being said, when Sandler teams up with indie directors, good things happen." But of course, the flick was ultimately snubbed this year.
But now Sandler has hit headlines for another reason.
He was spotted out and about buying tampons.
And he didn't care who knew it!
Waving 'em loud and proud.
Some people were thrilled.
@AdamSandler buying tampons - the hero we didn't know we needed

— Blueyedcole (@Blueyedcole)1590131863.0
It is nice to see a guy running errands for the women in his life.
Others had a pretty strong reaction.
why am I so horny for Adam Sandler buying tampons

— sta(c)y danger(ous) ☭ (@sta(c)y danger(ous) ☭)1590095651.0
Umm ... ok then.
Although others have pointed out this just indicates how low the bar is.
Are we really celebrating a man buying tampons in big 2020? Want more from Sandler? Scroll on to see how he reacted to his Oscar snub ...