We all know that British journalist Piers Morgan is known for his ruthless style of reporting and he just can't seem to keep his mouth shut!
Following rumors he is set to return as co-host of Good Morning Britain, which he quit in March following complaints, he continues to run a feud with the Duchess of Sussex, Meghan Markle.
And his most recent attack involves dubbing her "Princess Pinocchio."
"ITV didn't get rid of me. I left GMB because I declined to apologize for disbelieving Princess Pinocchio," the fifty-six-year-old declared on Twitter.

Morgan is seen as one of the most brutal journalists in the business.
He is both loved and hated for his ruthless form of reporting, especially against Meghan Markle, whom he seems to have a particular vendetta against.
Morgan quit Good Morning Britain after storming off the set following an argument with weatherman Alex Beresford. Outside his London home back in March, he spoke to reporters about his decision to leave the popular breakfast show.

"I believe in freedom of speech, I believe in the right to be allowed to have an opinion. If people want to believe Meghan Markle, that's entirely their right."
"I don't believe almost anything that comes out of her mouth and I think the damage she's done to the British monarchy and to the Queen at a time when Prince Philip is lying in hospital is enormous and frankly contemptible," he said, "If I have to fall on my sword for expressing an honestly held opinion about Meghan Markle and that diatribe of bilge that she came out within that interview, so be it."

He's been described in the U.K as "marmite," referring to the vegetable spread which "you either love or hate."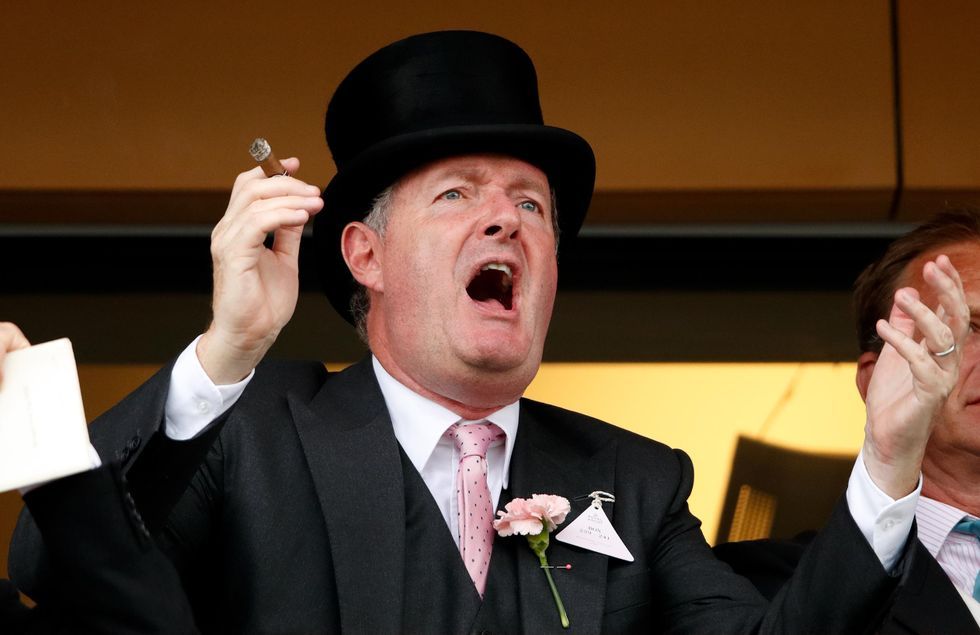 Replying to a since-deleted message from an apparent critic, Morgan also bragged about how he "still [works] for ITV," sharing news of an upcoming interview show the U.K channel is broadcasting.
Morgan became a fierce critic of Markle, damning her as a consistent liar after her tell-all interview with Oprah Winfrey, where she accused the royal family of racism and her ongoing mental health struggles caused by her husband's family.

Last week Piers Morgan called Markle a "palpable liar."
Appearing on Fox News, he took yet another swipe at the royal couple.
"In relation to that interview, we now know that there were at least seventeen things that came out of Meghan Markle's mouth which have now been proven to be untrue, so I don't know at what point I'm allowed to not have to apologize for disbelieving somebody who is a palpable liar."

He doesn't seem to be slowing on the feud with the Duchess of Sussex.
"To which I say, I've never said a racist thing about Meghan Markle or anybody else, it has nothing to do with the color of her skin and everything to do with her inability to tell the truth and her rank hypocrisy."
Morgan shared a news story on Saturday, about rumors he could return to his "Good Morning Britain" job, asking, "Did anyone take my dressing room?"
What do you think about the journalist's ruthless attacks on Markle?