People around the globe are frantically searching for ways to alleviate boredom while stuck at home in isolation, and the internet has rejoiced at watching the fails of many surface on social media.
One person who had a truly shocking fail while at home was singer, Pink, who in an attempt to give herself something to do, got drunk and decided to make a truly drastic change to her appearance.
The singer shared a video of her shocking new hairstyle to Instagram, and her reaction is surprising, to say the least.
Keep scrolling for the full story, and to see her outrageous new style for yourself...
Pink is one of the biggest pop stars of the past twenty years.
Born Alecia Beth Moore in Doylestown, Pennsylvania in 1979, the forty-year-old has become one of the best known feminist music icons of our decade.
She has had an impressively long career.
She first rose to fame in the girl-group Choice in 1995, when she was just sixteen. But record producers quickly saw her potential for solo stardom and they wasted no time in snatching her right up.
Pink's first solo studio album came out in the year 2000.
The album, titled 
Can't Take Me Home, 
was certified double-platinum in the U.S. It included 2 top-ten hits, "There You Go" and "Most Girls."
From then, she has gone on to achieve huge career successes.
She's sold over 90 million records worldwide, making her one of the best selling musical acts 
of all time.
Pink is well loved for her emotional vocals.
She often uses a slightly strained, husky tone to convey the feeling of her music, and she's also known for being an amazingly energetic live performer.
The singer is also known for her outspoken nature.
She isn't one to sit quietly if she disagrees with something, as has been overtly critical of issues such as celebrity culture, misogyny, animal cruelty, and homophobia.
But Pink has a softer side, too.
Many of her song lyrics reference childhood trauma she faced. Her parents struggled with their mental health, and their divorce in Pink's youth obviously affected her.
Her appearances haven't always matched this softer side, however...
She first captured press attention as a result of her wild and wacky outfits, including her eponymous "pink" hair. This incredible style was for the 2004 MTV Video Music Awards, and it remains iconic to this day.
She has always rocked short hair cuts...
And even though some of them were
rather questionable
, Pink totally owned it.
But her crazy styles have toned down a little in recent years...
But Pink's bold style has clearly rubbed off onto her children.
anyone with a mom this cool.
Her daughter, Willow, now has a quirky haircut herself.
Carey and Pink are both known to be very supportive of their children and how they want to identify.
Pink spoke of her daughter's insecurities in 2017...
In her
MTV VMA's speech
, she told the audience, "Recently, I was driving my daughter to school and she said to me, out of the blue, 'Mama?' I said, 'Yes, baby?' She said, 'I'm the ugliest girl I know.'" "'And I said, "Huh?' And she was like, 'Yeah, I look like a boy with long hair.' And my brain went to, 'Oh my god, you're 6. Why? Where is this coming from? Who said this? Can I kick a 6-year-old's a**, like what?"
Pink wanted to teach Willow a valuable lesson.
"I didn't say anything. Instead, I went home and I made a Powerpoint presentation for her. And in that presentation were androgynous rockstars and artists that live their truth, are probably made fun of every day of their life, and carry on, wave their flag and inspire the rest of us," she said. "And these are artists like Michael Jackson and David Bowie and Freddie Mercury and Annie Lennox and Prince and Janis Joplin and George Michael, Elton John, so many artists — her eyes glazed over."
She explained to her daughter that everyone is beautiful in their own way...
Long story short, Pink is an incredible mom.
But motherhood hasn't stopped Pink from experimenting with new and quirky styles as, recently, she decided to shave her entire head. As you do.
The singer received plenty of support over her new look...
But her latest hairstyle venture might just be her worst yet.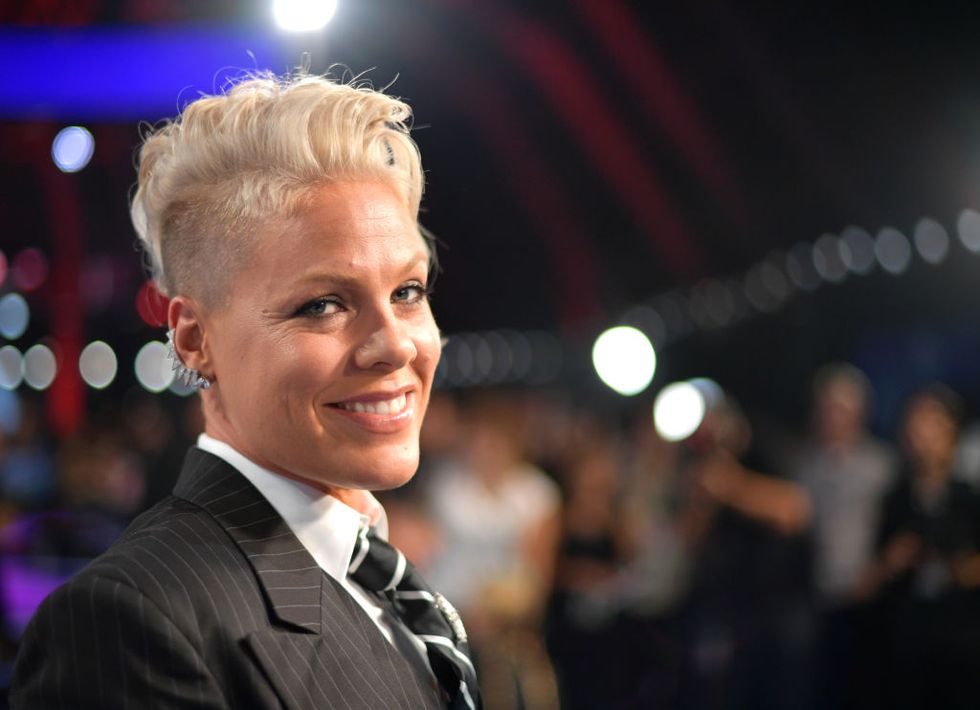 Pink with a bad haircut? Surely that isn't possible?
Well, even the singer herself has admitted that she's messed up with this one.
As, like many of us currently stuck in quarantine, Pink decided to pass the time by drinking.
But, a drunk Pink makes for some pretty impulsive decisions...
"I'm going to share something I did last night."
"When I drink, I get really really brilliant ideas."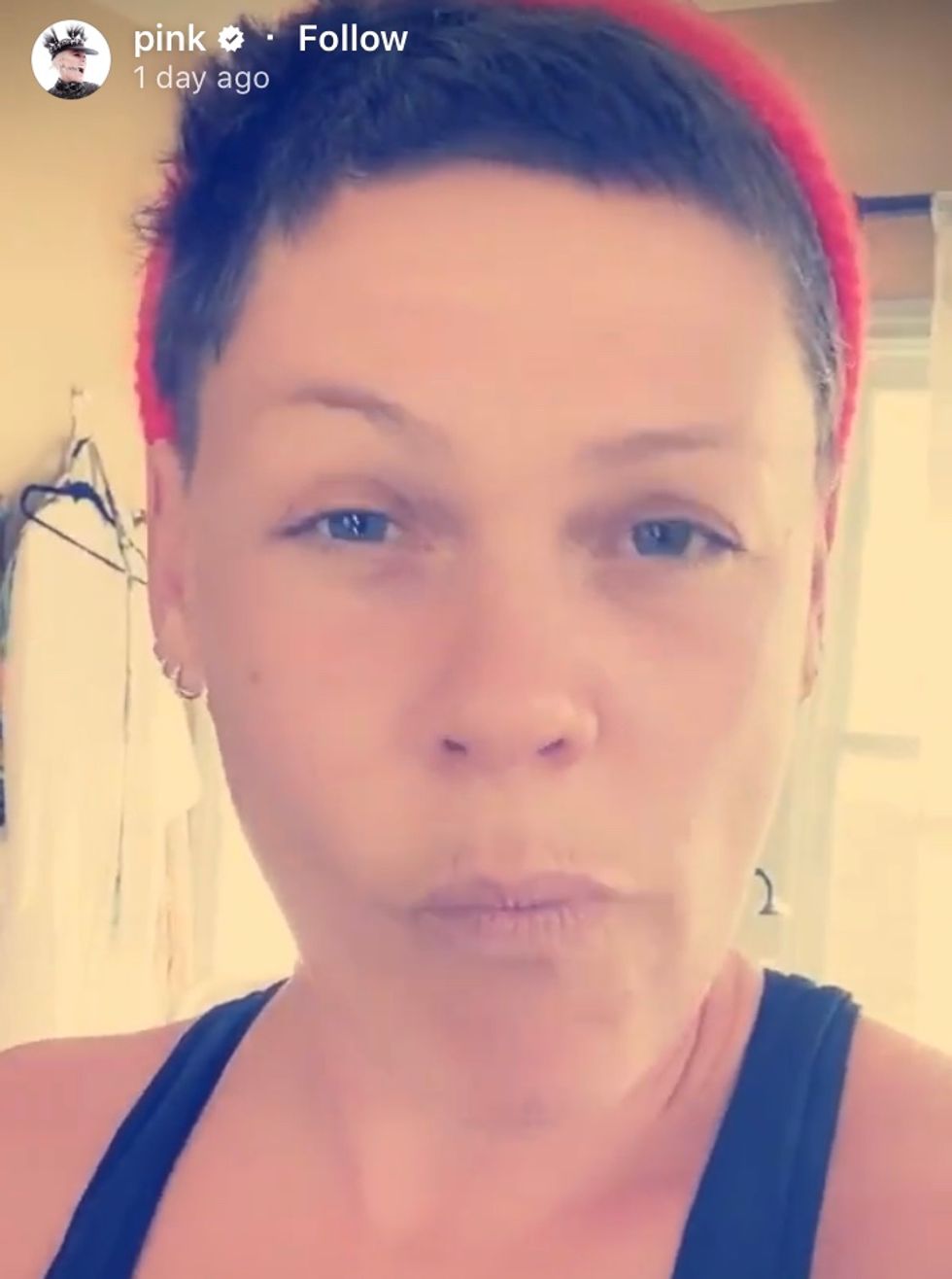 She continued: "Last night, I got the idea - I can cut hair?! I can totally cut hair. Why have I been paying people all this time?"
"Look what I did."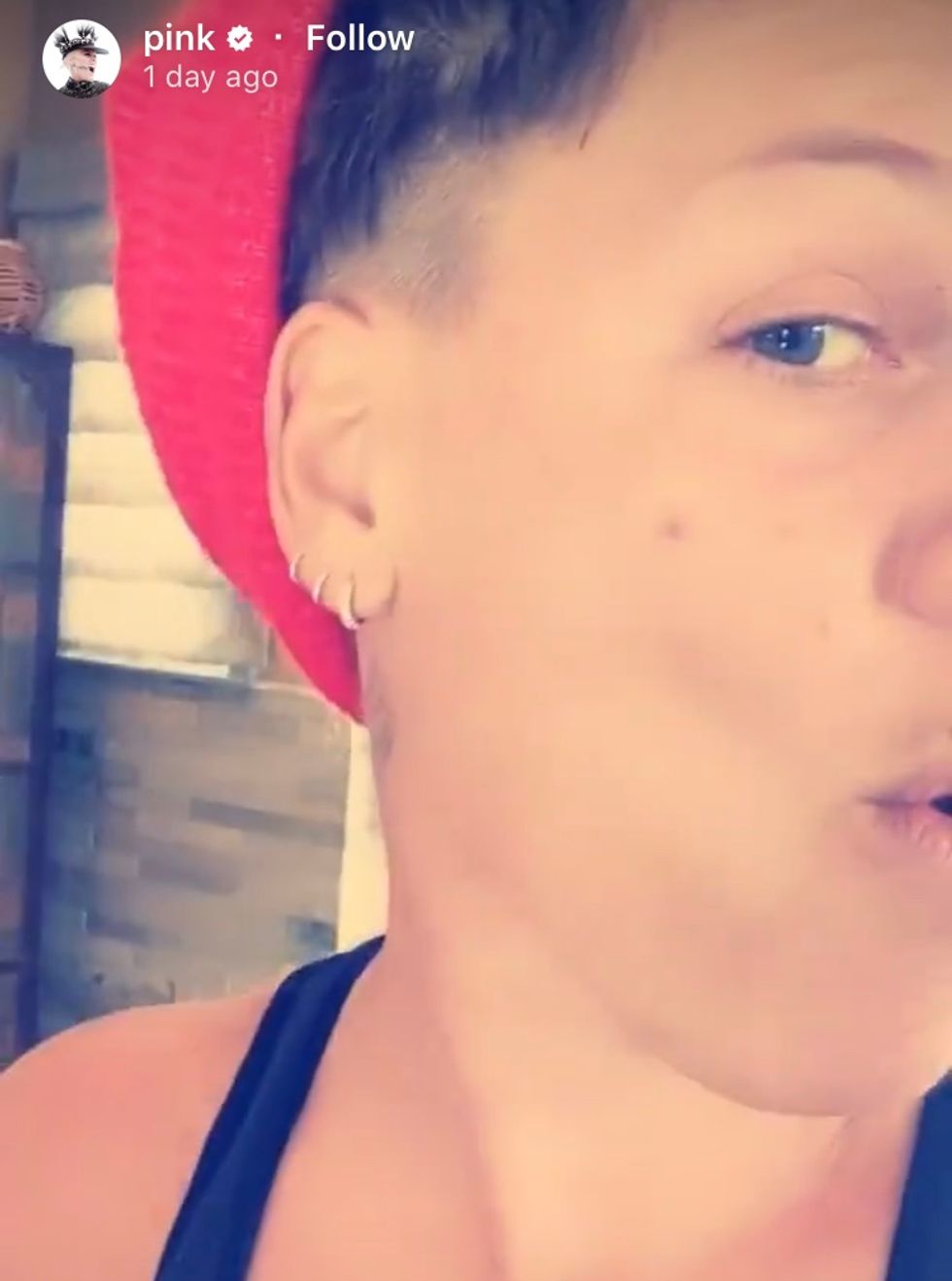 The singer then reveals her new do... Which is nothing short of a disaster.
"What do you think?"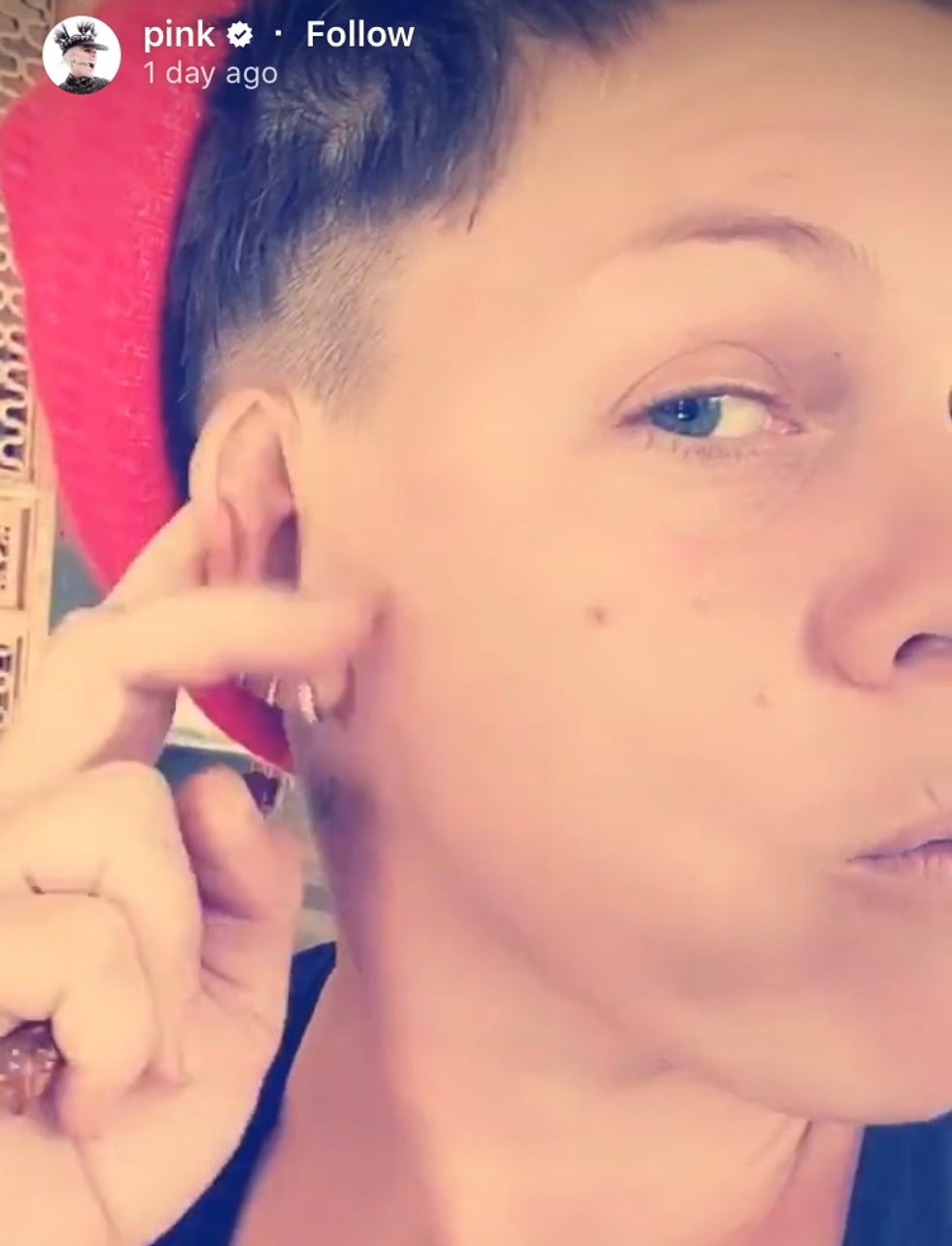 The singer proudly shows off her new hairstyle, which is evidently her own attempt at a skin fade... A
botched
and
patchy
skin fade, that is.
But, hilariously, Pink seems very unconcerned about her disastrous new hair cut...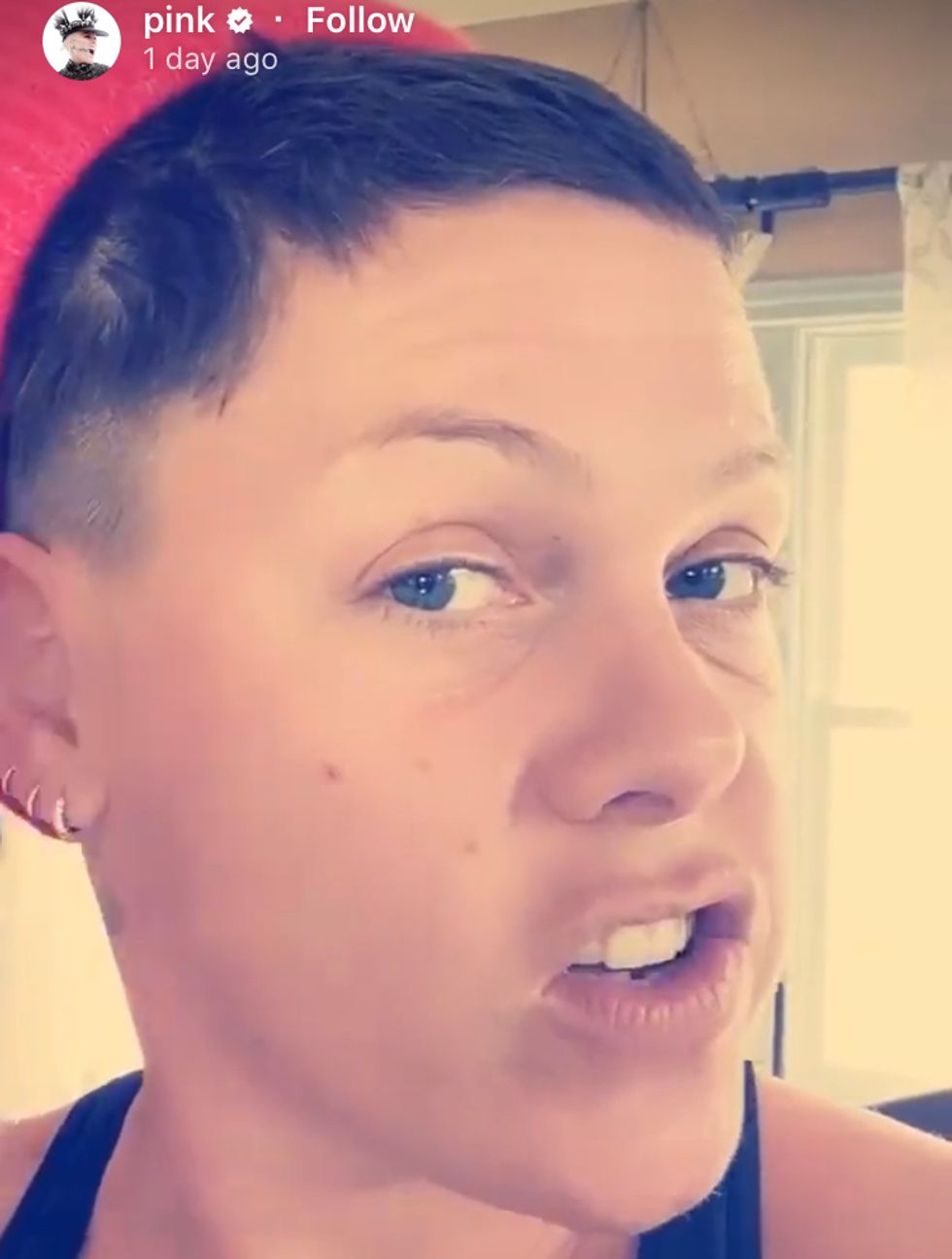 And cheerily reminded people to "stay safe" and to "cut their own hair."
You can watch her full revelation here...
lot of backlash...