Reports are just in about a horrifying plane crash at Calicut International airport in Kozhikode, Kerala.
A plane carrying over 190 people has crashed in Kerala, India.

The flight contained 184 passengers, and 7 crew members.
The plane is reported to have come in to trouble while attempting to land.

It is thought that it skidded off the runway at the airport as it in flew in from Dubai. There was heavy rainfall in the region which could have contributed to difficult landing conditions.
Pictures from the scene suggest that the plane was split in two.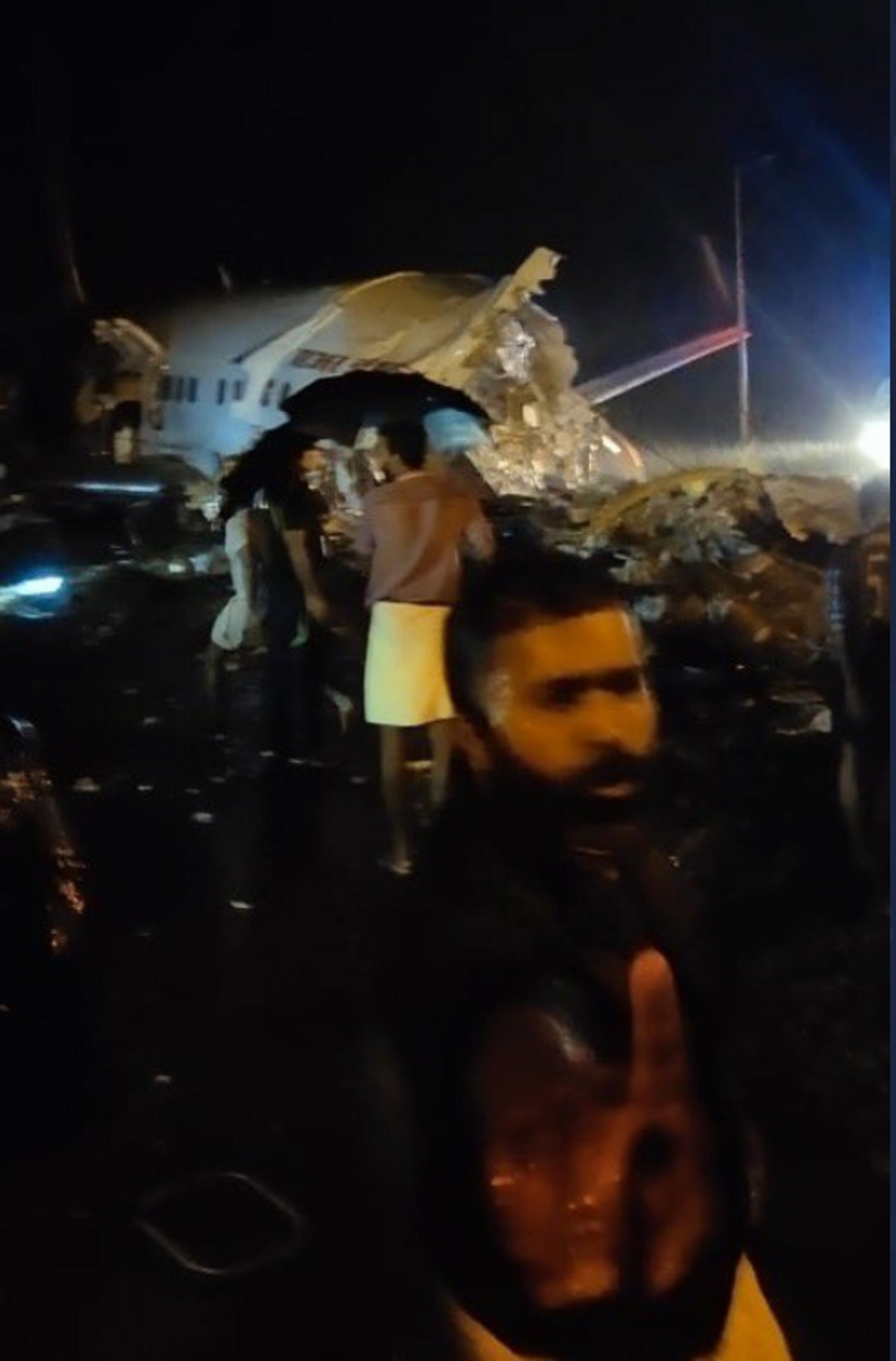 Air India said in a statement: "Air India Express flight IX 1344 operated by B737 aircraft from Dubai to Calicut overshot runway at Kozhikode at 19:41 hrs tonight. "No fire reported at the time of landing. There are 174 passengers, 10 Infants, two Pilots and five cabin crew on board the aircraft. "As per the initial reports rescue operations are on and passengers are being taken to hospital for medical care. We will soon share the update in this regard."
BREAKING: An Air India Express flight carrying an estimated 191 passengers from Dubai has crash-landed in Kerala, a… https://t.co/h3f8FCl04V

— AJ+ (@AJ+)1596815333.0
Disturbed by the news of an #AirIndia Express Aircraft accident after it over shot the runway at #Kozhikode airport… https://t.co/YSQ3ALrGpj

— G Kishan Reddy (@G Kishan Reddy)1596817082.0
#AirIndia Express flight incident in Kozhikode is disturbing. My condolences to the families who lost their loved o… https://t.co/zEDz80Dxt5

— Devendra Fadnavis (@Devendra Fadnavis)1596817177.0
Saddened to learn about the tragic accident of Air India Express aircraft in Kozhikode, Kerala. Hon Home Minister… https://t.co/SUKVMXnjWP

— Jagat Prakash Nadda (@Jagat Prakash Nadda)1596816116.0
Shocked and deeply pained to learn about the Air India Express mishap at Kozhikode airport. My prayers are with the… https://t.co/XQ3kikd2Lm

— Raghav Chadha (@Raghav Chadha)1596817010.0
Deeply distressed to hear about the Air India Express tragedy at Kozhikode. Prayers are with the bereaved families… https://t.co/Ceu5CZqn1l

— Dr. S. Jaishankar (@Dr. S. Jaishankar)1596816132.0
Second tragedy of the day in Kerala : Air India Express skids off the run way at Kozhikode, front portion splits ,… https://t.co/6Lg4OfEEjR

— Alphons KJ (@Alphons KJ)1596813252.0
Relatives of passengers onboard Air India Express Flight (IX 1344) that crashed at Karipur International Airport, c… https://t.co/6ChzSohBwJ

— ANI (@ANI)1596817005.0
Deeply shocked to hear about the Air India Express tragedy at Kozhikode airport. Prayers are with the crew, passengers and those injured.

— Tejashwi Yadav (@Tejashwi Yadav)1596816733.0
Minister A.C Moideen will lead the rescue efforts at the Kozhikode International Airport. Police and Fire Force p… https://t.co/YpohT0z6dP

— Pinarayi Vijayan (@Pinarayi Vijayan)1596816715.0
Prayers for all passengers in the Air India Express Flight accident in Calicut 🙏🙏

— Sambit Patra (@Sambit Patra)1596815048.0
Distressed to learn about the tragic accident of Air India Express aircraft in Kozhikode, Kerala. Have instructed… https://t.co/t1AqcksQ9G

— Amit Shah (@Amit Shah)1596815135.0
Early visuals from the crash site | Air India Express flight accident in Kerala's Kozhikode #AirIndia Live Update… https://t.co/AqREXnTbyp

— The Times Of India (@The Times Of India)1596815480.0
Pained to hear about the accident of Air India Express Aircraft in Kozhikode, Kerala. Praying for the safety of al… https://t.co/pwGxHkB9tb

— Piyush Goyal (@Piyush Goyal)1596817017.0