Plastic surgery comes with its risks, and it is up to the person having it to decide whether or not they want to take those risks in order to look the way that they want to look.
With plastic surgery being a bit of a trend right now, it seems that everyone has had some form of cosmetic surgery, whether that's discreet fillers in the cheek or a breast enlargement that'll give you double Ds in a mere few hours.
But with plastic surgery comes a lot of criticism, with many disagreeing that filling our bodies with silicone is acceptable.
One woman recently found herself a victim of hate from a stranger in regards to her new lip fillers. Keep scrolling to hear the full story...
It seems that everyone has had some form of cosmetic surgery nowadays...
via: Getty Images
Smaller procedures are fairly affordable, meaning that more and more people can now access cosmetic surgery and achieve the look that they've always wanted.
Cosmetic surgery can look great when done reasonably.
Procedures such as botox and fillers can be used to achieve a natural and youthful complexion... when applied to the minimum.
Celebs have taken over the world of cosmetic surgery...
attempted to deny it? She's now open and proud of her silicone lips and they have truly transformed her into a completely different person.
It's not just her lips, however...
impossible curves certainly suggest that this is true.
But plastic surgery can go very wrong...
People have been known to
overdo plastic surgery
, and the results can be absolutely
terrifying.
Donatella Versace is known for more than just her fashion empire...
always killing it.
Jocelyn Wildenstein is perhaps one of the most famous celebs for having extreme surgery...
And not forgetting the Human Ken Doll...
Rodrigo Alves
has had pretty much every cosmetic procedure there is. That includes lip fillers, botox,
pec and ab implants
, liposuction, and even rib removal, all of which were designed to make Rodrigo look as plastic and as "perfect" as possible.
He has claimed that cosmetic surgery is the only way that he can be his "true self..."
slightly alarming to us, Rodrigo has insisted that he's happier than ever with his plastic and non-human look.
Even the smallest of cosmetic procedures hold their risks...
Lip fillers are one of the most popular cosmetic procedures and people seem to be obsessed with having plump and voluptuous lips.
The Duck Lip craze...
Whilst plump and luscious lips seem desirable, there are been many people out there who have allowed a little bit too much filler to be injected into their lips, leaving them with "duck lips."
A video has recently gone viral of a distraught young woman...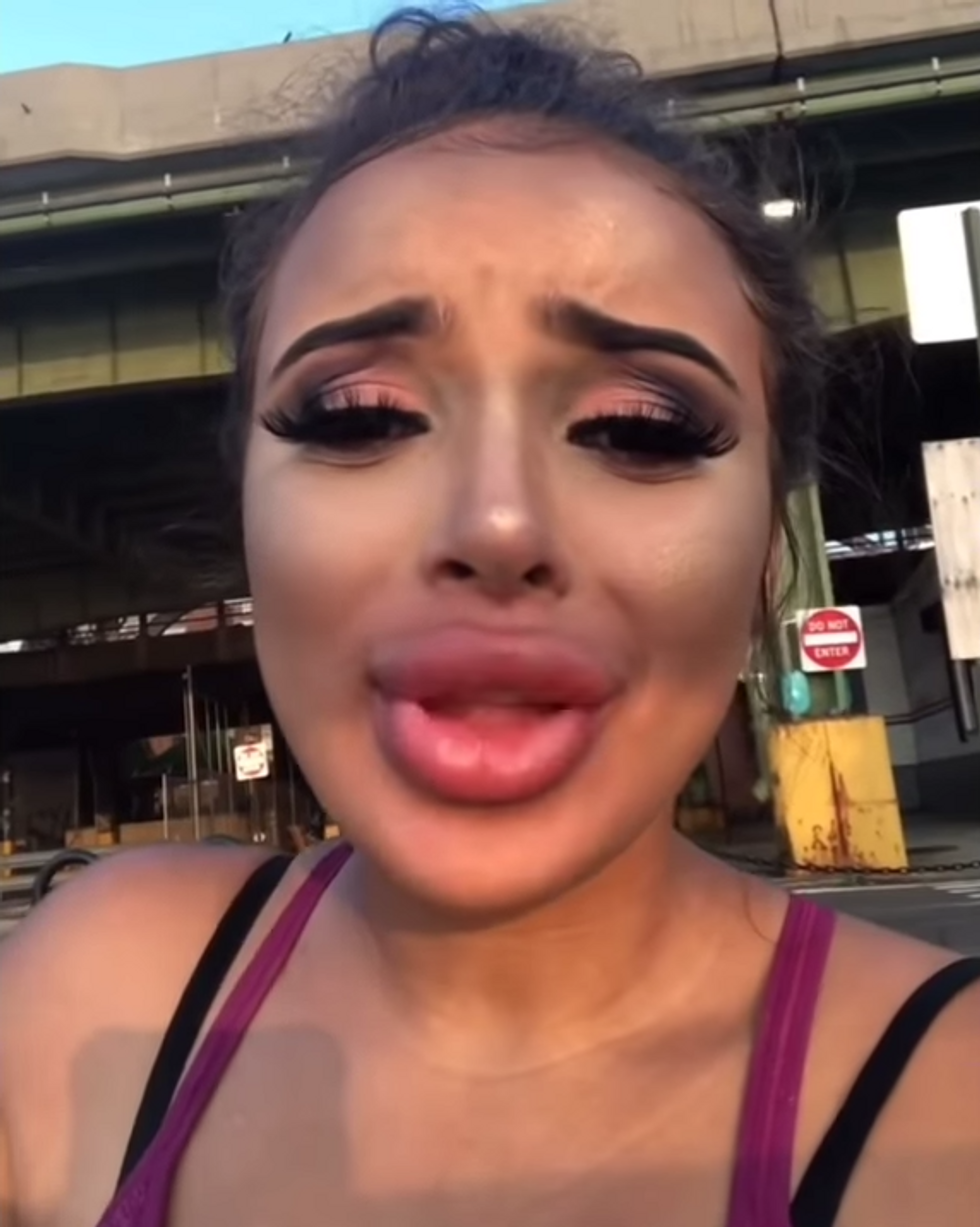 via: Youtube
The young woman, who hasn't been identified, is filming herself and is clearly upset over having been called out for her overly-large lips that she had just had filled.
Her lips had clearly been filled to the brim with filler...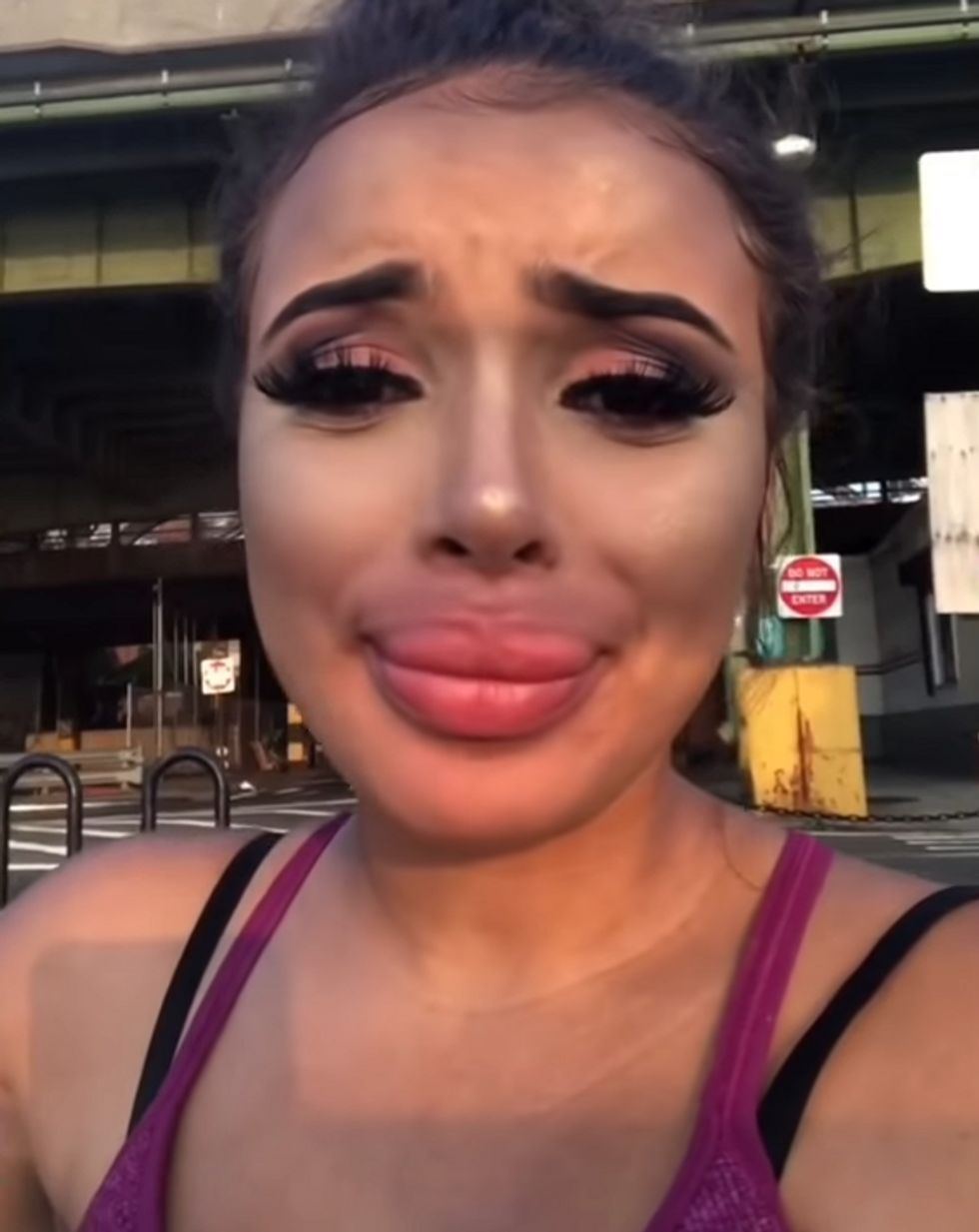 via: Youtube
She begins her video by explaining that she's just been jogging.
She clearly wasn't expecting her lips to stay as puffy and swollen as they have done...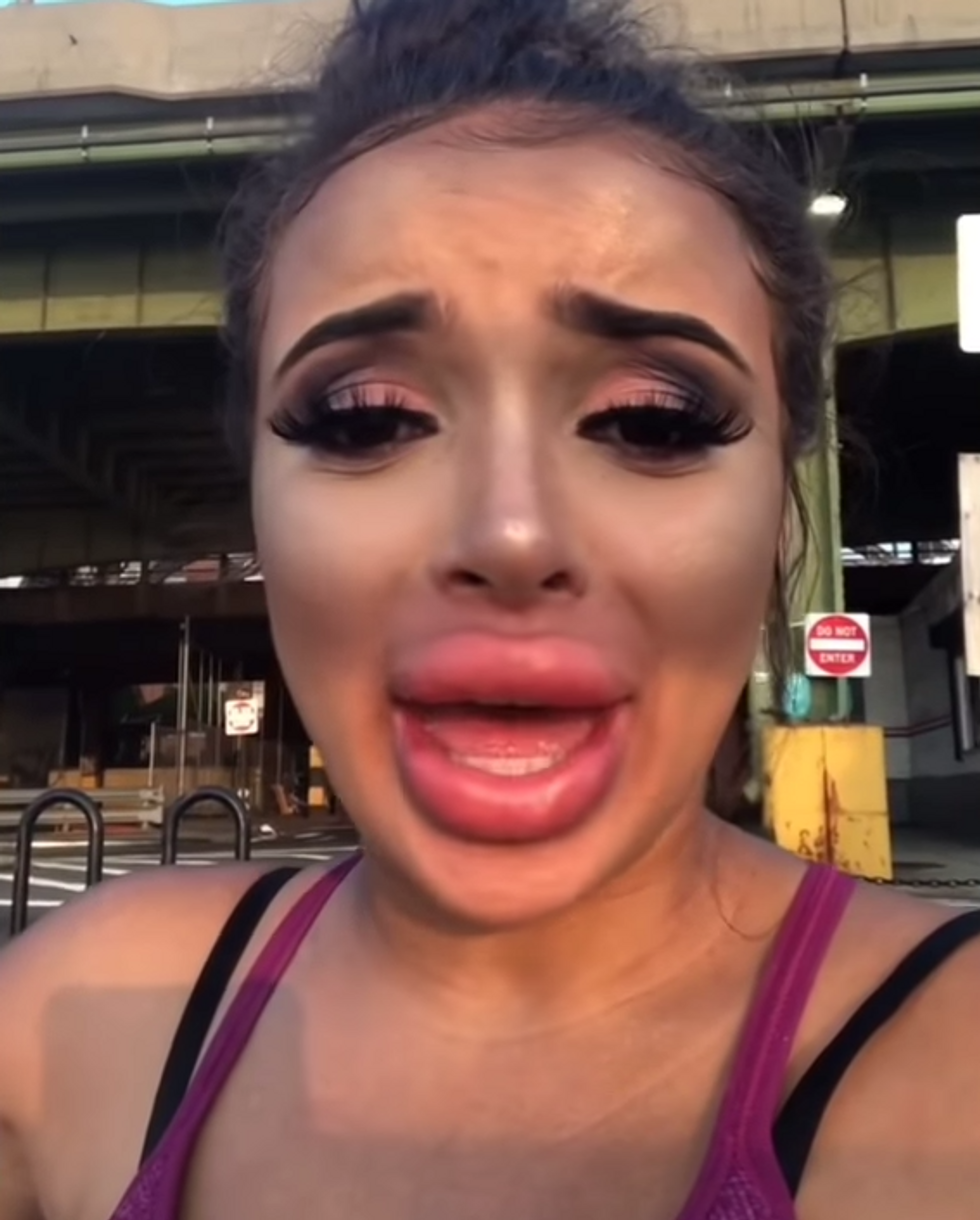 via: Youtube
She says tearfully: "Everybody was telling me that my lips were going to swell down... and my lips look the same! I waited a week already and they're still the same."
She is clearly upset with the results of her lip job...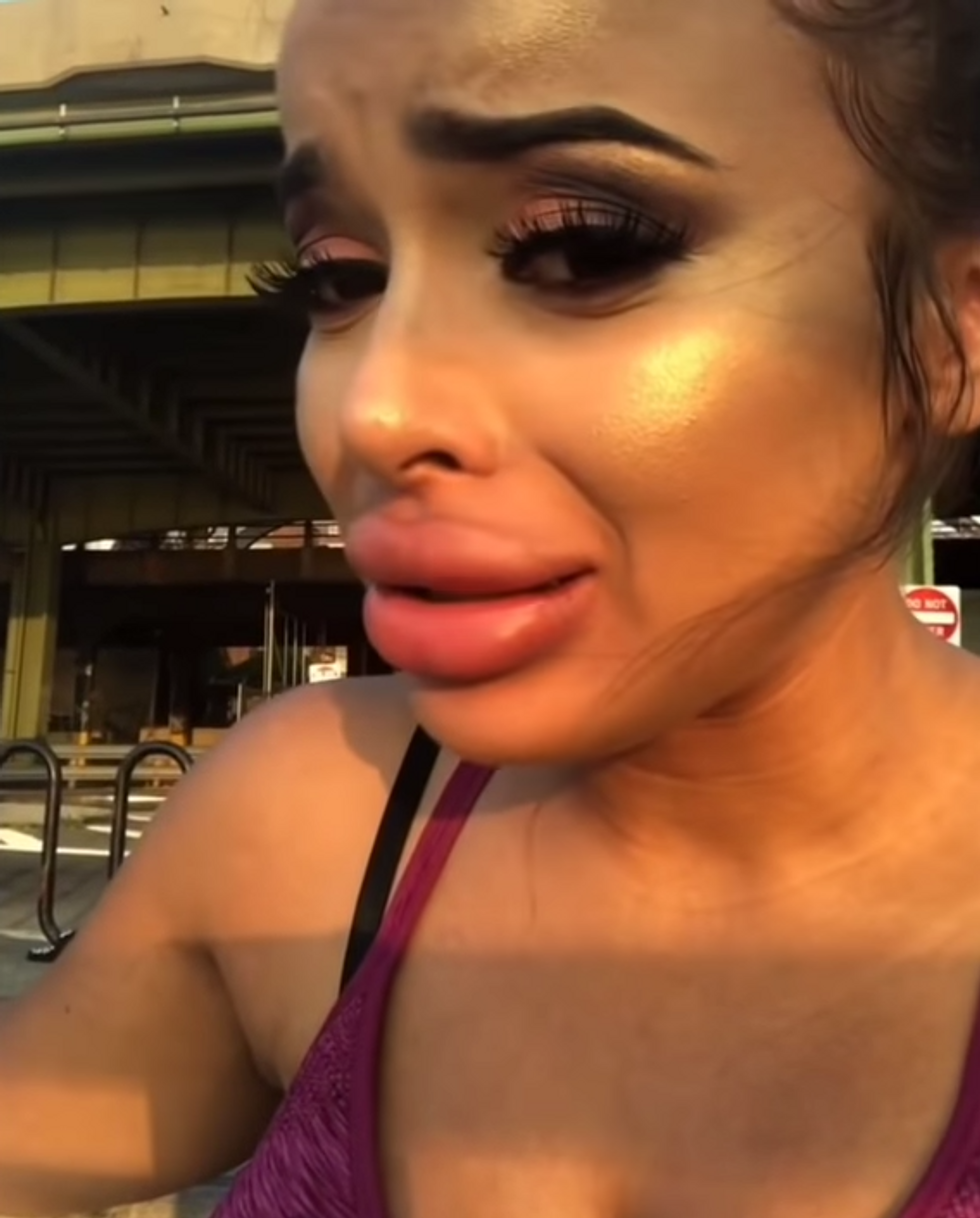 via: Youtube
"Look at this sh*t," she says, turning her head so that her lip size can be seen dramatically at a different angle. "When I was jogging, some guy came up to me and stopped me, and he told me I look like a blow-up doll."
Her encounter with the stranger upset her terribly...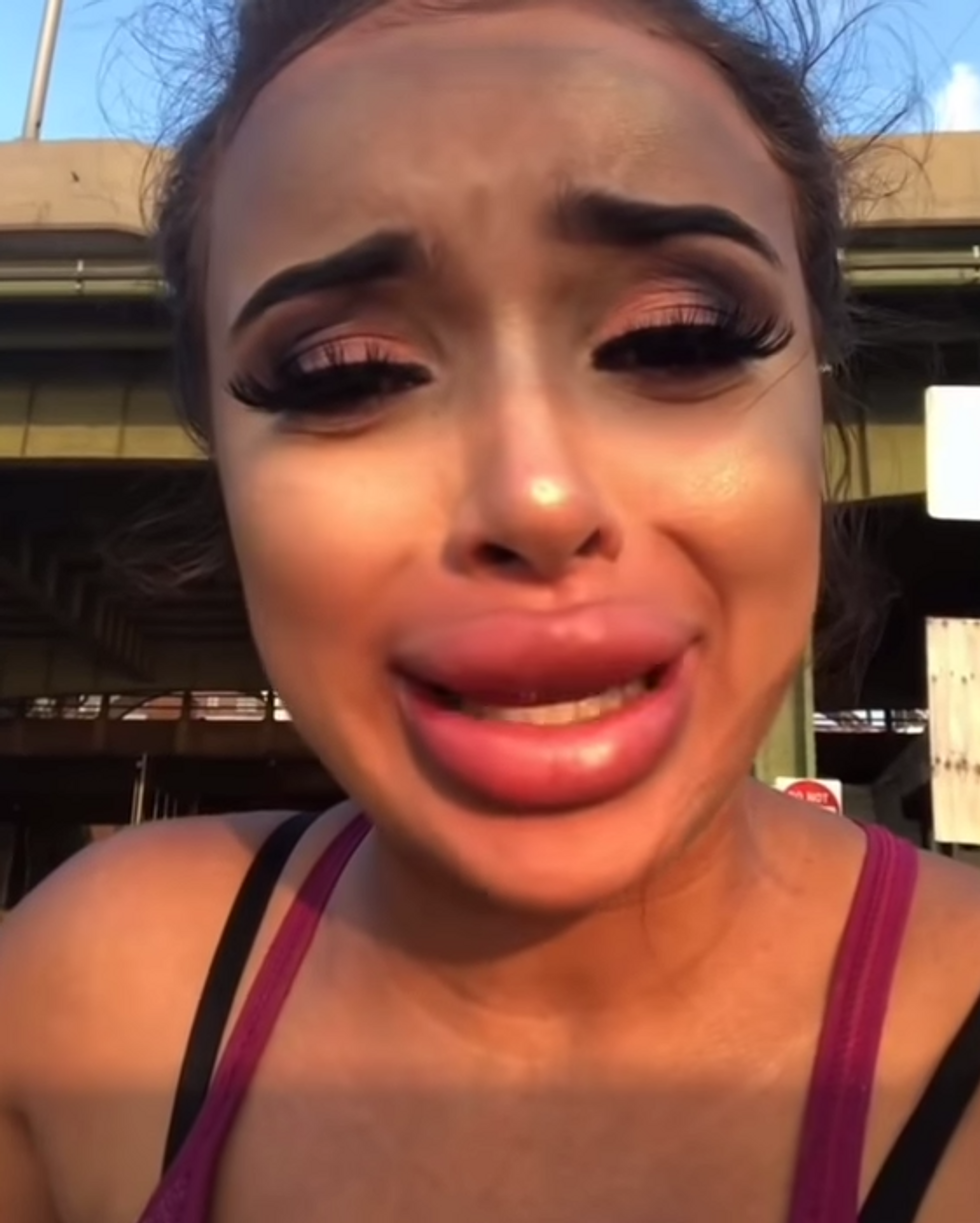 via: Youtube
She went on to say: "He said he would put his c*ck inside of her throat." "That was so f*cked up and mean," she said through tears.
This poor woman didn't deserve the cruel comment...
Her lip fillers may be extreme, but she didn't at all deserve that bile and ignorant comment from a complete stranger. People have been taking to
Reddit
to leave comments of support, such as "Aww poor girl. She needs to go back to her surgeon because that really doesn't look right. Her body is acting like it really doesn't like what was injected into it. I hope she didn't go to a self-taught surgeon who uses cement for fillers."
Not all comments were sympathetic, however...
"I have no idea. Where are they finding all these troglodyte boomer men who think dead coral bleached hair, balloon t*tties, blow-up doll lips, and ass implants look good? For f*ck's sake, looks like a Barbie doll got left in the oven," one wrote.
A highlight of the negative attitude towards cosmetic surgery...
"Am I the only person who thinks it's a bit creepy for a guy to go up to a woman and say what was said to her?" another user pondered. No matter a woman's appearance, it is completely unacceptable to violate someone in this way and make her feel this comfortable. It is unknown whether or not the video is authentic. Watch here to figure out for yourselves... Did you hear about the mom who urged her fourteen-year-old daughter to get surgery because "ugly people get nowhere?" Yep. Keep reading for more on that.