Warning: Major Breaking Bad spoilers ahead.
When Breaking Bad was brought to a close back in 2013, the world was divided as to whether the main character, Walter White, survived when he was shot in his lab.
The final episode was brought to a dramatic close with a panning shot of Walter laid amongst his beloved chemistry equipment, as he slowly bleeds out and is surrounded by armed police. Most people assumed straight away that he had finally been killed, but many (myself included...) hoped that he could have survived the wound.
Now, our question has been answered. Kind of.
Police have released the mugshot of a fugitive who is wanted for parole violations, and he looks uncannily like Walter White. And, to make this story even better, he was initially arrested for drug possession. But whether it was the blue stuff, well, we don't know that yet...
Ever since its release in 2008, the world has been crazy for Breaking Bad.
And, since the show's dramatic finale back in 2013, people have been itching to know what happened to the great Heisenberg.
Just to quickly recap...
via: IMDB
The series followed the story of a struggling chemistry teacher. Created by Vince Gilligan, we watched as Walter White, an underachieving high-school chemistry teacher, was diagnosed with stage-3 lung cancer.
Walt turned to a life of crime in order to support his family.
via: IMDB
Conscious of the looming medical costs, and not wanting to leave his pregnant wife and disabled son bankrupt, Walt teamed up with his former student, Jesse Pinkman, and used his chemistry skills to start "cooking."
Queue the birth of Heisenberg.
The success of their signature drug catapulted Walt and Jesse to high levels of success amongst other drug cartels, and we watched (in both horror and awe), as Walt transformed from a timid high-school teacher to the hardened, and incredibly dangerous drug lord, Heisenberg.
Heisenberg became involved with some dangerous people...
via: IMDB
Throughout the show, we watched as Walt and Jesse get mixed up with some precarious crowds. Ranging from the lunatic dealer, Tuco, to deadly businessman, Gustavo Fring, the pair continuously found themselves in dangerous waters throughout the show.
And it wasn't until the final episode that Walt's fate was actually hanging in the balance.
This was when fans became truly divided on Heisenberg's fate.
The final moments of the show's finale left us crying for more.
Literally. Or am I the only one who cried?
Did he survive? Or did he die?
Those were the main questions burning on everyone's lips when the show came to a close.
Well, it appears that he is still very much out there and on the run...
Or his doppelganger is.
Illinois police have released a mugshot of a wanted man...
Which instantly went viral because of his striking resemblance to Breaking Bad's Walter White.
The Galesburg Police Department released a mugshot of Todd W. Barrick Jr on September 3rd.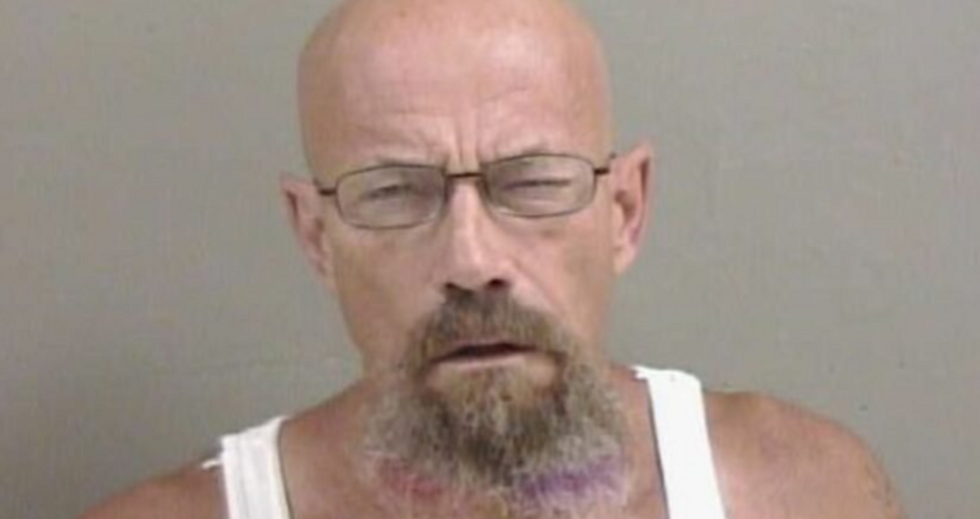 So he is
definitely
not Walter White, folks. Maybe just his estranged twin brother... In the mugshot, Barrick is seen wearing a white tank and sporting a bald head, scruffy goatee, and square glasses, just like his style-inspiration, Heisenberg. It's
ridiculously
uncanny, isn't it?
And, to make things even better...
Barrick was initially arrested on charges for the possession of drugs. You really can't make this stuff up, can you?
Whether it was Heisenberg's famous blue variety, we don't know.
via: IMDB
But Barrick, who is fifty-years-old (the same age as Walter White, funnily enough...), is wanted for a parole violation.
And people online have found the whole thing very funny.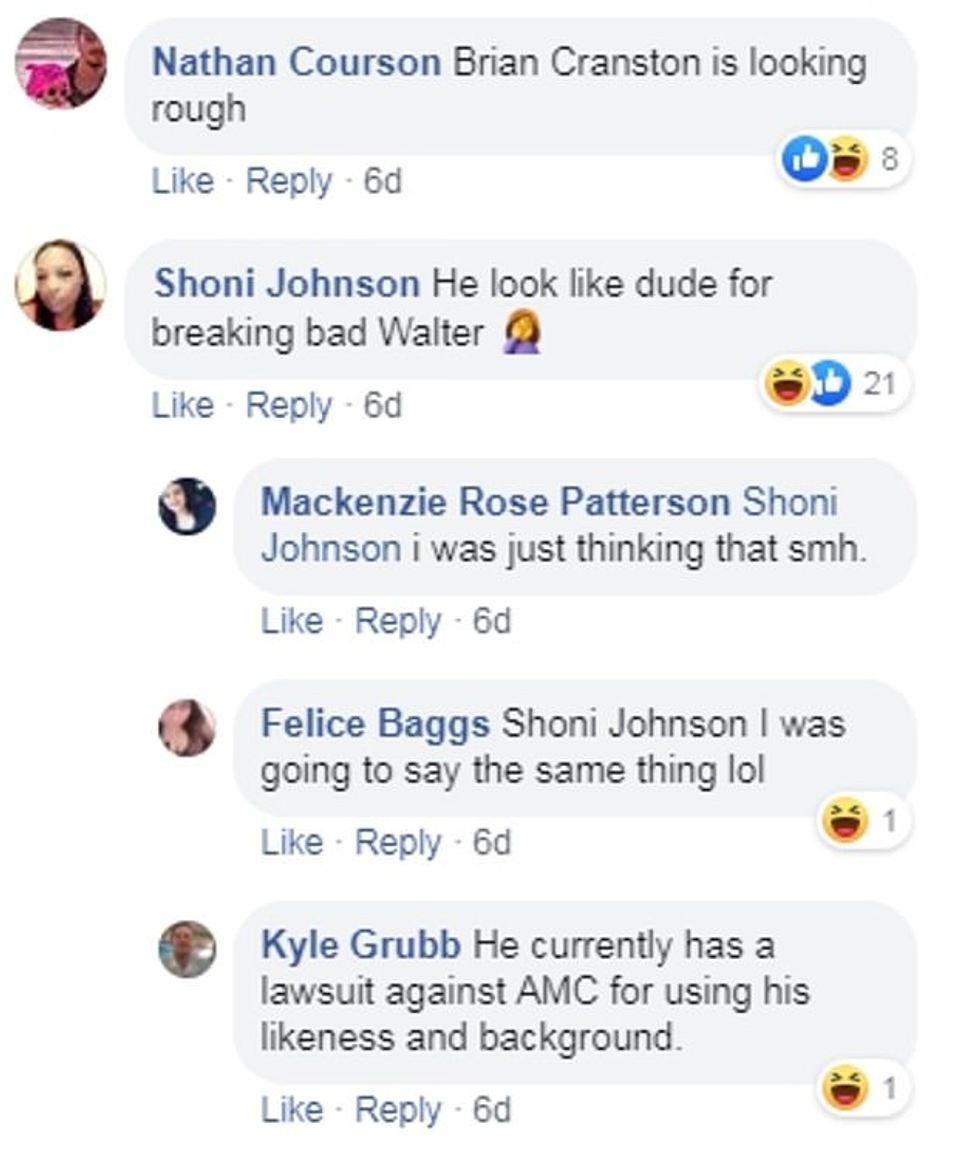 One person inquired: "Have you tried Albuquerque? Perhaps at Los Pollos Hermanos," while another joked, "Well, I guess we have a spoiler for the Breaking Bad movie…" Hilarious, guys!
Though we won't have to wait much longer for the actual Walter White's fate...
Because the Breaking Bad movie is coming very soon... in October, to be precise. Keep scrolling to hear more details about the movie, which may shine some light on whether Heisenberg survived or not...