If someone told you at the beginning of the year that a mullet sporting, gun-toting, Oklahoma man with 3 husbands and 180 pet tigers would be the only thing bringing people together during a global pandemic, you'd walk the other way... quickly.
Yet here we are, and Carole Baskin is racking up some serious haters.
A couple of Netflix addicts might have gone too far with their hatred of the cat-lover, forcing the cops to intervene.
Keep scrolling to find out what they did, and why everyone is backing them up...
No one could have guessed this show would cause such an uproar.
#TigerKingNetflix #TigerKing wrapped up in a few images https://t.co/WlIcwczTXg

— SaveBigCats (@SaveBigCats)1586121290.0
The story line and characters seem too crazy to be real.
Even so, Tiger King has become the quarantine documentary.
And people are starting to get a little too invested.
It's taken the meme world by storm.
And when this happens, there's no going back.
People are actually backing Joe Exotic.
Joe exotic is my fav country star ⭐️ https://t.co/PA2EpydJBk

— Sweet T 🍯 (@Sweet T 🍯)1585923225.0
Whether it's his catchy music videos or conspiracy spreading, he's clearly built quite a fan base.
And they're determined to tell Carole Baskin what they really think of her.
Even if it means breaking the law...
Thirty-year-old, Jasmine Page became a massive fan of the Netflix show, just like the rest of us.
She binge-watched her way through it after its release last month.
The problem started when she got her husband involved.
She suggested to Liam that they should make a sign about the show, to "put a smile on people's faces."
They got stuck in after tucking their kids up in bed.
On Wednesday night, the two parents put up a sign encouraging people to beep their horns if they hated Carole Baskin.
She has made a name for herself as Joe Exotic's nemesis.
do you know who could find Carole Baskin's husband? #TigerKing https://t.co/wSQvNSnSMe

— Molly Cobain (@Molly Cobain)1586099456.0
The animal rights activist has become a viral meme sensation.
Over the course of 2 days, the couple got bombarded with cars beeping away.
The couple were amazed that "about 100 cars" beeped as they passed their home.
One woman even halted traffic as she slowed down to shout support.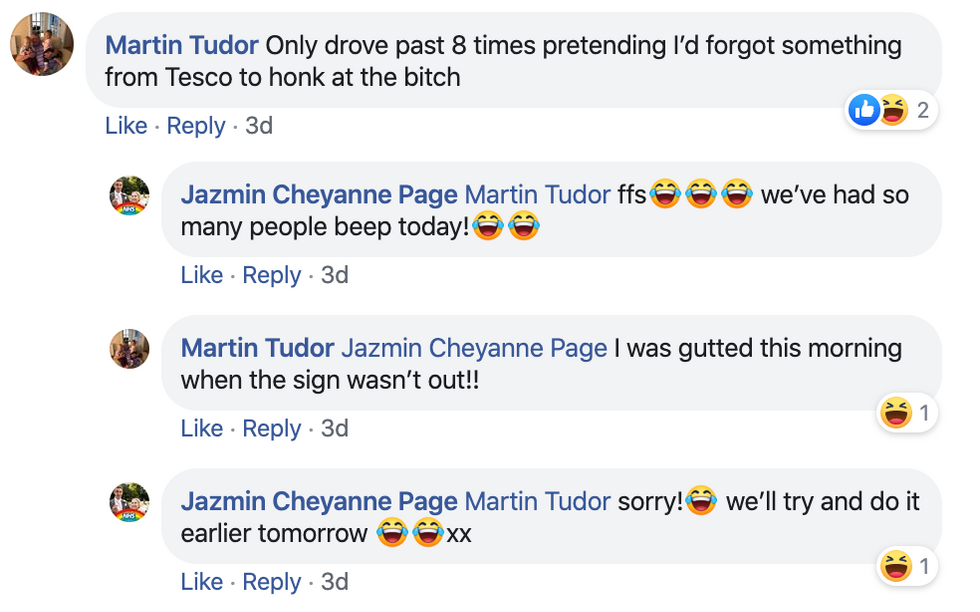 via: Facebook
However, this spectacle didn't last long before the cops were called.
On Saturday night, the couple got a visit from local law enforcement.
They had not only received complaints from neighbors but they also claimed it was a section 5 public order offense, which bans displaying signs that are threatening or abusive.
Jazmin, from Gloucester, UK, was shocked by the statement.
A neighbor up the street put a Honk if you hate Carole Baskin sign in their front yard and my dad asked me if that… https://t.co/s2Z1p1tccL

— KRISTIN ELIZABETH ♥️🔮✨ (@KRISTIN ELIZABETH ♥️🔮✨)1585793215.0
She said: "We literally did it to put a smile on people's faces and it worked for a while, but someone obviously wasn't too happy."
Jazmin printed off a huge sign, as Liam nailed together a wooden frame to mount it on, before taping the sign to waterproof it.
She continued:
"We watched 
Tiger King
and found it hilarious that there are people in the world like that - with their guns and everything.
I don't know how I got the idea. I just said to my husband, '
W
ouldn't it be funny if we put a sign up outside our house?'
We decided to do it to make people laugh as they drove past. People beeped their horns loads of time - about 100 times in two days.
My eight-year-old kept asking, '
W
ho's Carole Baskin?' I just 
replied,
 '
D
on't you worry.'"
The couple were surprised so many passers-by showed their mutual appreciation for the sentiment.
Jazmin said: "My husband is usually asleep on the sofa by 10 pm, but he stayed up until 2 am watching the whole series. It gets you gripped.
Every time we watched an episode I was like, 'Oh my god, I need to know what happens next.' You
have to
watch more. It's completely unbelievable.
So
on Wednesday night we printed off the [sign] and I had a big bit of cardboard, so we stuck it to that and sellotaped over it to make it waterproof.
We couldn't make it stay up though, so initially, we nailed two pieces of wood together, but every time we tried to hammer it in the ground it fell apart. In the end, we had to stick it to a pallet."
It's clear that everyone loved the idea.
Some drivers beeped or even slowed down to show support, while pedestrians used their daily exercise allocation to visit the home and take pictures.
The sign attracted too much attention.
Which alerted officials, meaning the couple got a visit from the cops.
Things started to get a little crazy.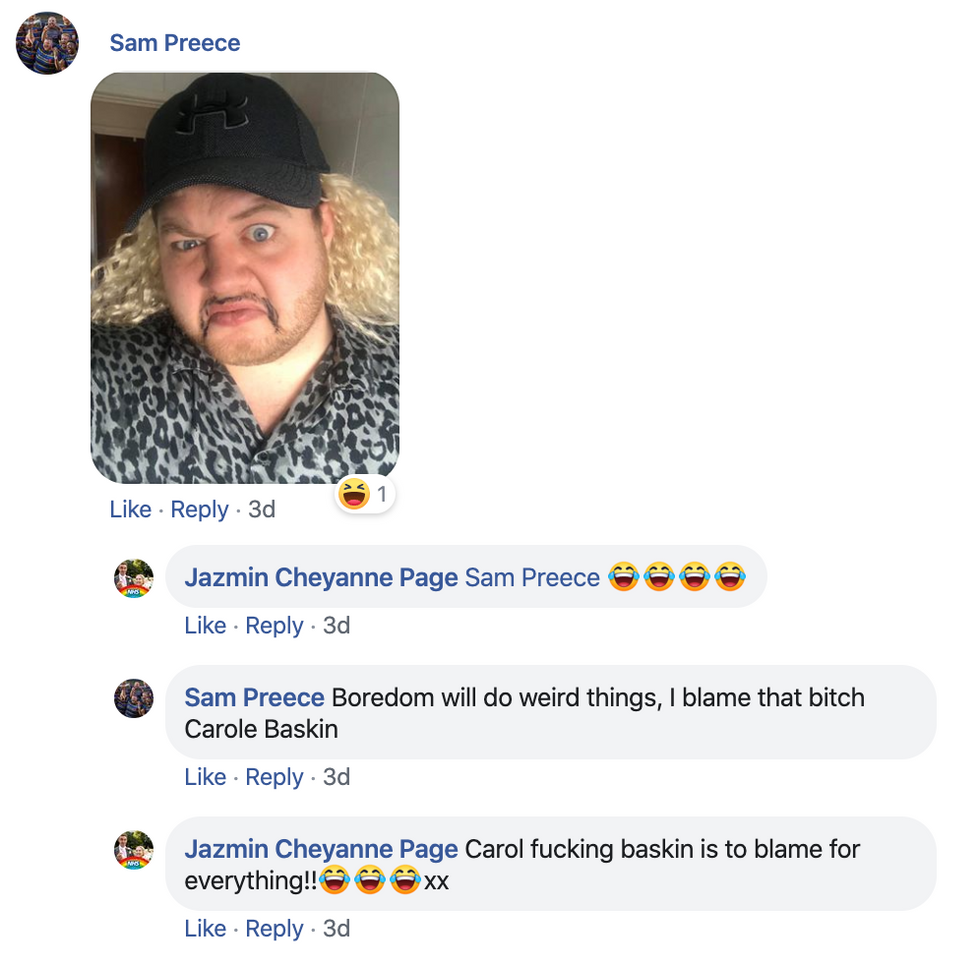 via: Facbook
Jazmin said: "We were outside on Friday and a white van went past beeping continuously. They wound the window down and just shouted, '
F
**k that b***h Carole Baskin'.
We then had someone go past who actually stopped her car and the traffic built up, so people had to go round her.
She was
beeping
and she shouted something but we have quite a long driveway, so I couldn't hear what she was saying."
It was bound to happen at some point.
Jazmin continued:
"I don't know if the sign was offensive to somebody or whether it was the beeping that annoyed people, but someone reported 
us
and the police came.
I was so scared. I didn't go outside - I sent Liam out. They said they'd had a couple of phone calls from people saying they found it offensive, and under section five of the Public Order Act, we had to take it down. We still get people beeping though. We've had two today and we had four or five yesterday, even though we've taken the sign down."
This hasn't stopped the couple from getting support online.
The whole stunt has gone viral, with people sharing the couple's story all over social media. At least we've still got the memes. Keep scrolling for more Tiger King news...