What's the first thing that springs to mind when you think of Post Malone? Is it his music? Nope. Is it his love-life? Nope, not that either.
Let me guess, it's probably his heavily tattooed face and curly mullet hair doo. Am I right?
Well now, the seemingly impossible has happened... We've been offered a glorious insight into an untattooed, freshly-trimmed Post Malone thanks to Mitchell Wiggs.
Keep scrolling to see the pics that leave the Post we all know and love completely unrecognizable.
Post Malone has sky-rocketed to stardom over the past few years...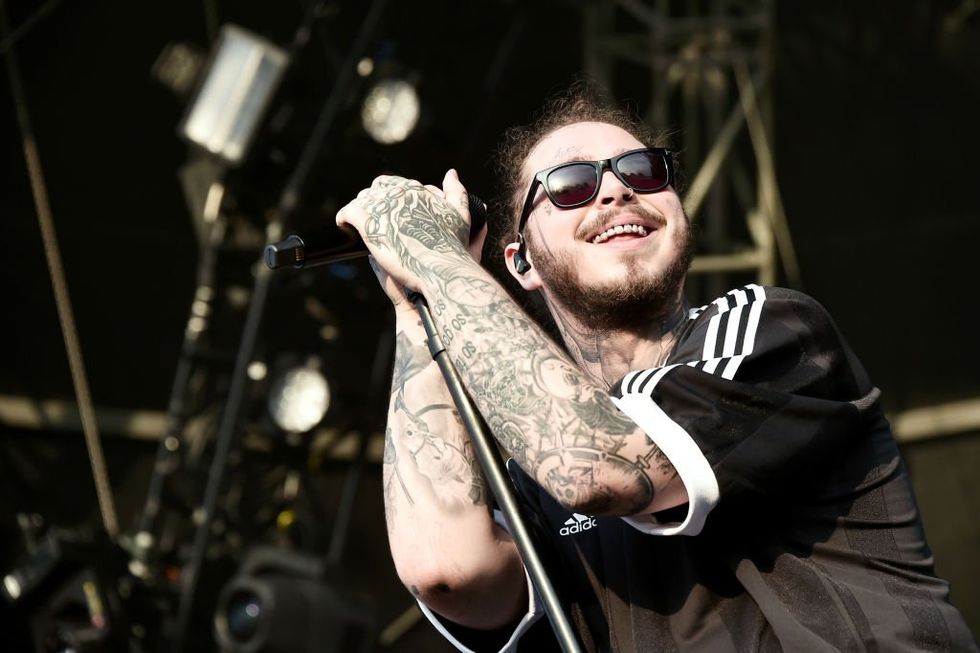 Post, whose real name is Austin Richard Post, is an American rapper who specializes in genres such as hip-hop, R&B, pop, and rock.
As of this year, Post Malone has sold over sixty million records in the U.S.
Post, who was born in New York, has also won 2 American Music Awards, a Billboard Music Award, and an MTV Video Music Award.
He's a pretty big face in the world of hip-hop and pop...
And he has always been open about the music that has influenced him from a young age.
It's no secret that Post is heavily influenced by a variety of music legends...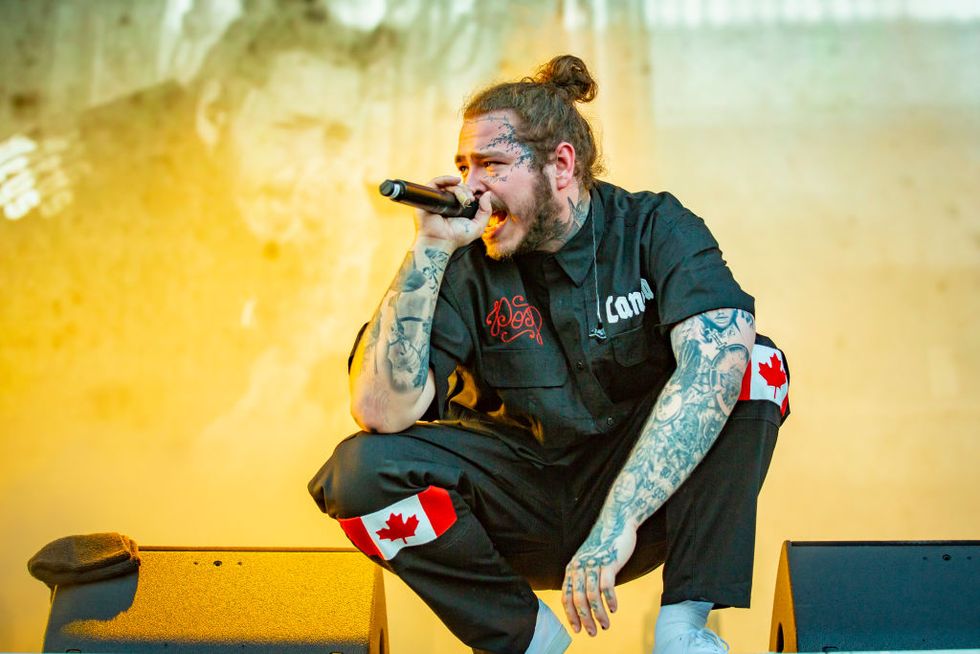 This includes the likes of Bob Dylan, Kurt Cobain, Johnny Cash, 50 Cent, and Kanye West. Post has
reportedly
said that Bob Dylan is a "genius" and "a God," and he has even gotten an honorable tattoo of Dylan.
His most recent album features several collaborations...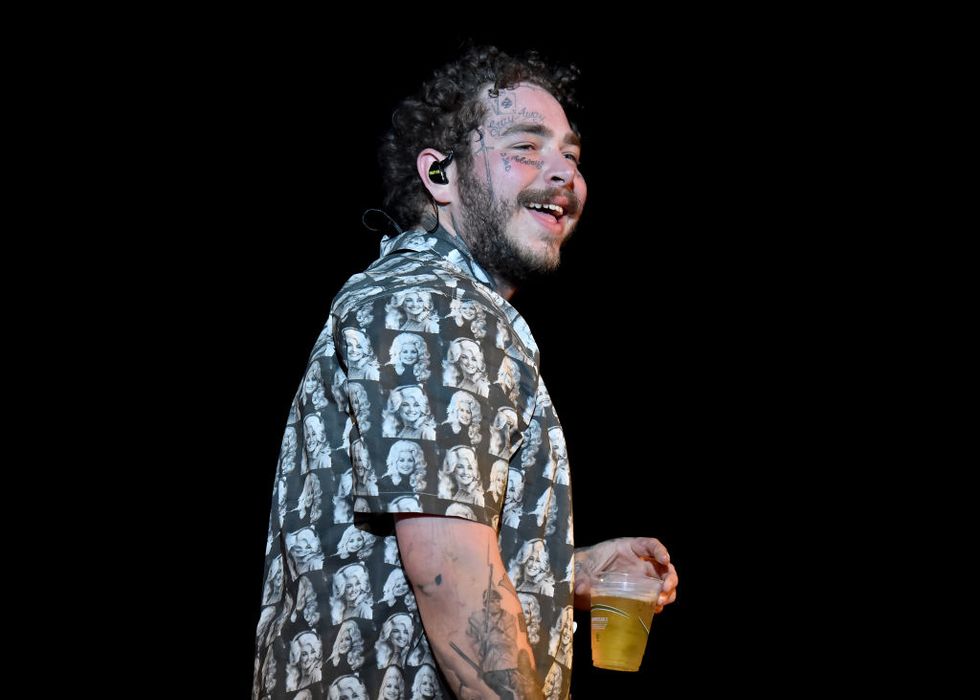 His third studio album,
Hollywood's Bleeding,
has just been released and features collabs with big names such as Travis Scott, Meek Mill, and SZA.
And, if he isn't known for his music...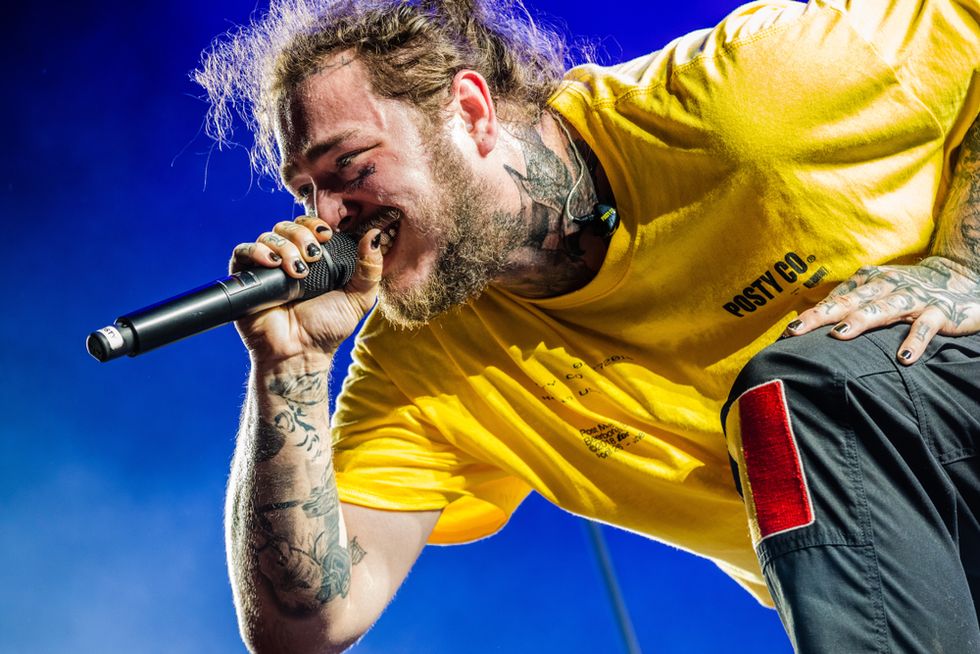 He's known for his distinct style.
Post Malone is perhaps one of the most recognized musicians of the decade...
And his heavily tattooed face and body, his long hair (and sometimes mullet), and eccentric dress sense are to thank for this.
His reason for the 'Always Tired' tattoo is hilarious.
told
Tim Westwood during London's Wireless Festival last weekend. "I guess 'always' is more letters than 'tired,' but I was tired so I didn't realize." He later added about his tattoos: "Anything to piss my mom off."
But now, we have been given a glimpse into what Post could look like without his heavily tattooed exterior...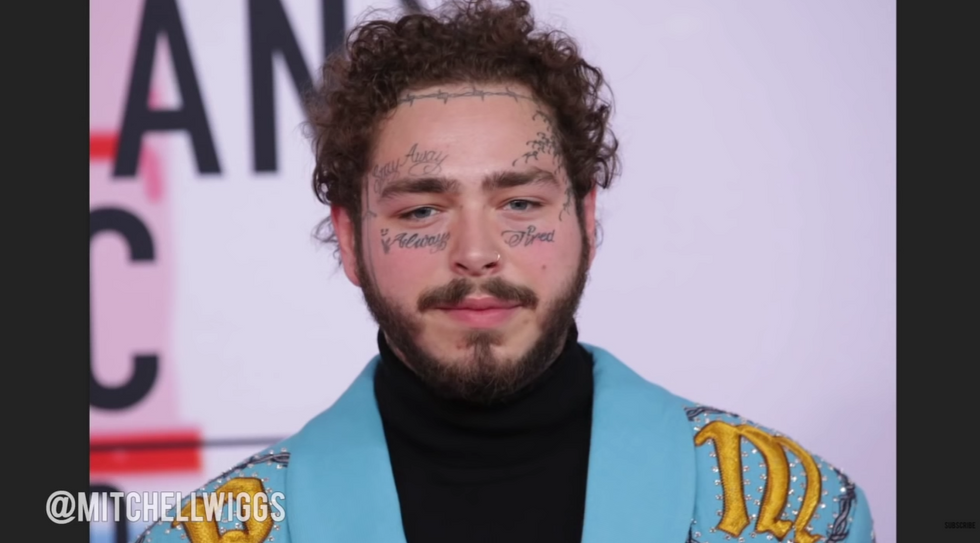 YouTuber, and expert photoshopper, Mitchell Wiggs removed his face tats and also smoothed out his signature curly hair, instead opting for a neat short back and sides. Not very Post Malone, is it?
Wiggs begins to painstakingly remove Post's tattoos one by one...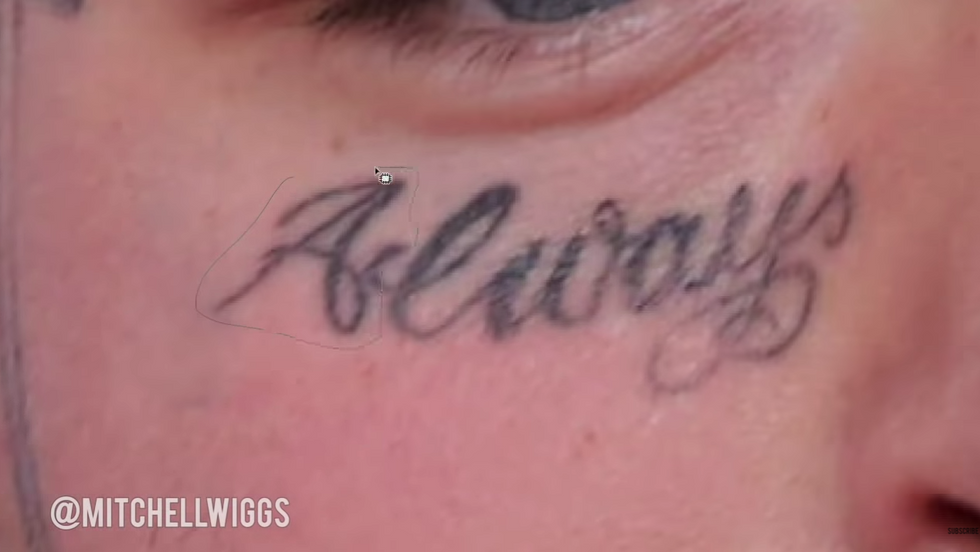 By highlighting them and smoothing them out with a skin-colored pen tool.
It is a very long process...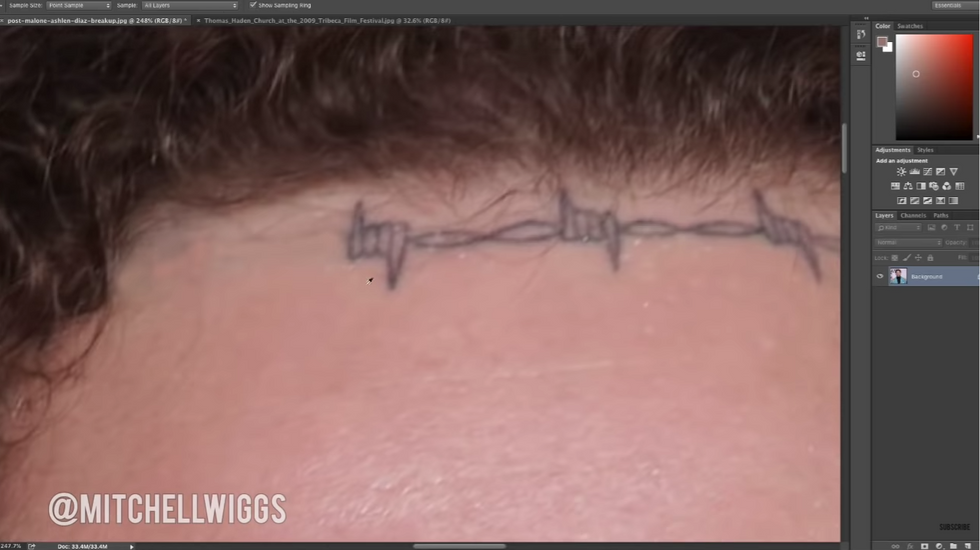 Obviously. Have you not
seen
his face?
So. Many. Face. Tattoos.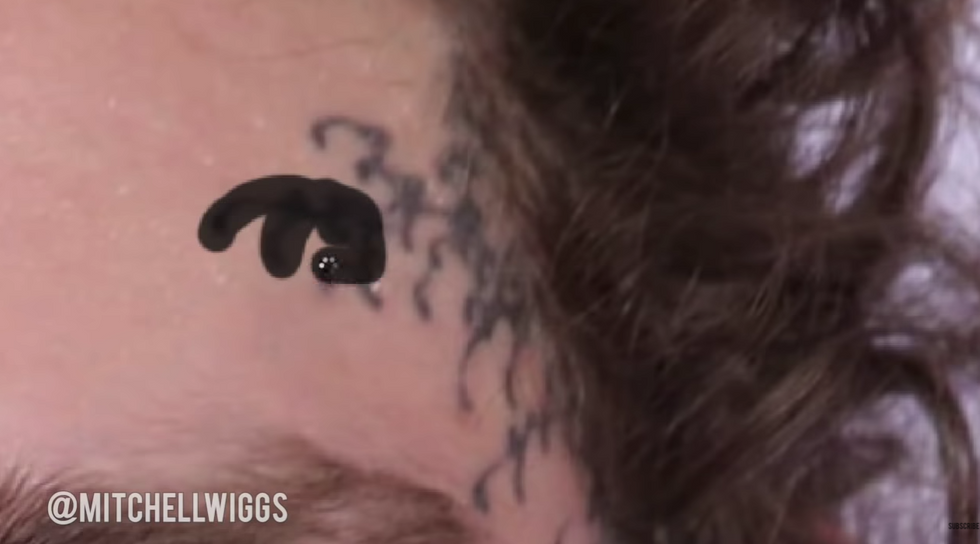 Why do you hate your mother so much, Post?
Once the face tats were finally sorted...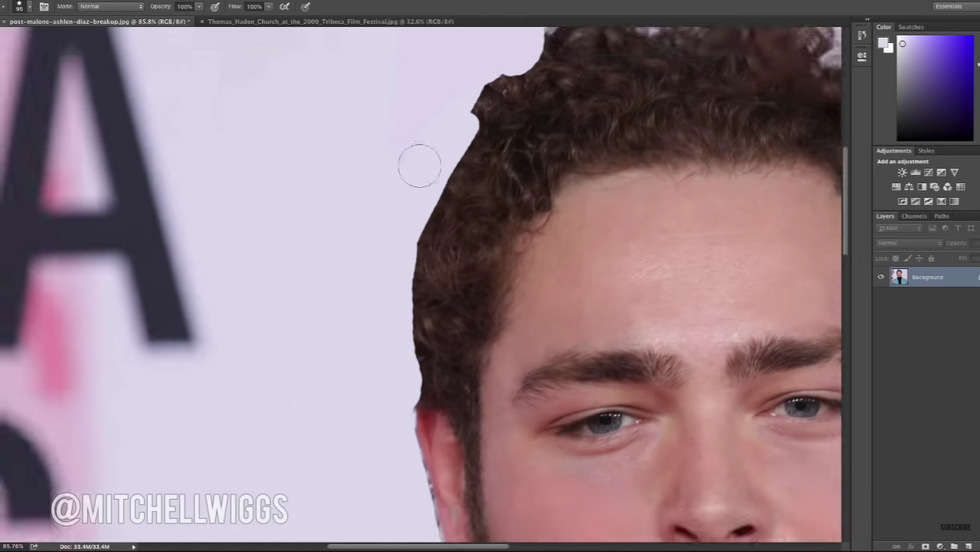 It was time to move on to that out-of-control mane of his.
After his hair was cropped out, however...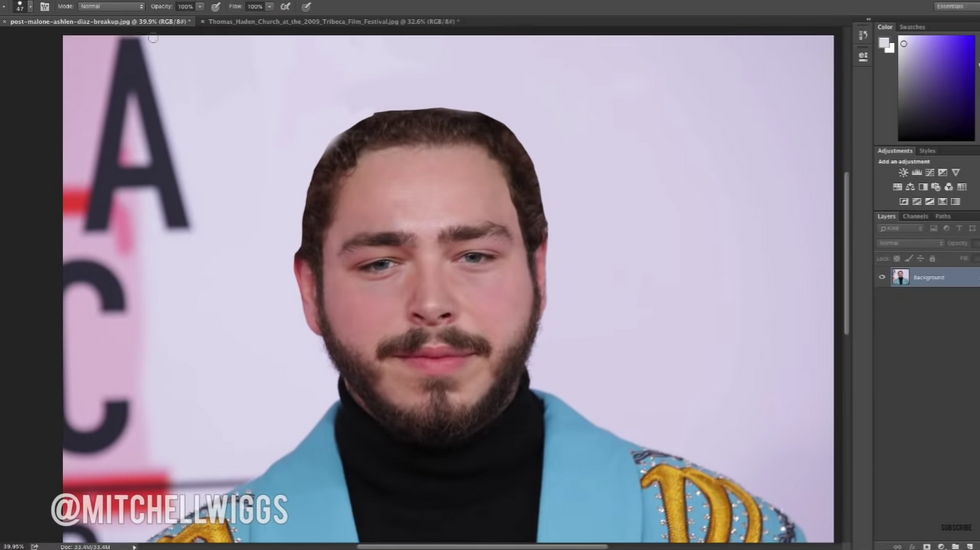 It looked a little bit odd and unnatural, to say the least.
So, obviously, Thomas Haden Church was brought in.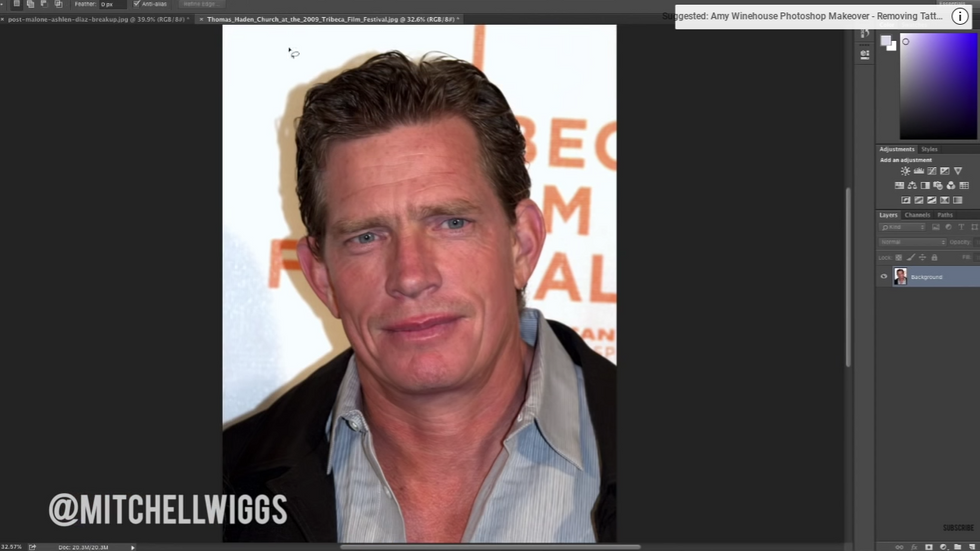 And his forehead was cut and cropped out to use on Post Malone's. There's a sentence I never thought I'd say...
Admittedly, it started out looking plain ridiculous.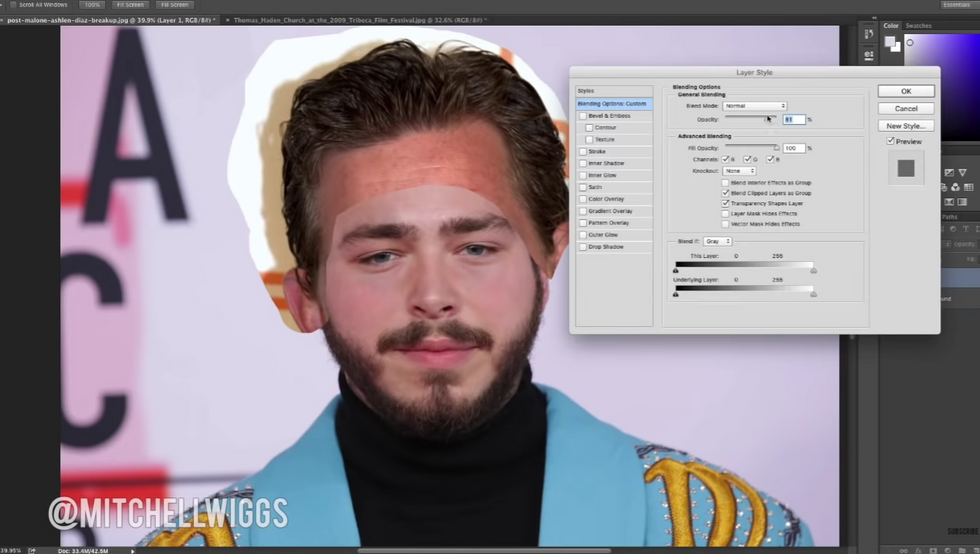 But everything on Photoshop does at first, doesn't it? The aim of the bizarre hair transplant was to use Church's wonderful hairline to blend into Malone's not-so-wonderful hairline. Does that make sense?
As you can see...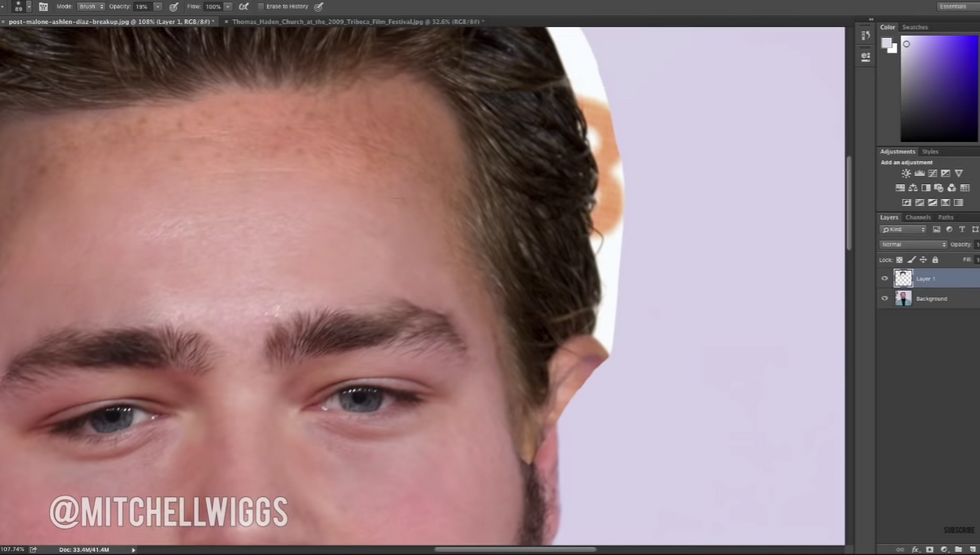 Wiggs expertly smoothed and blended the 2 skin tones together, giving Post that luscious head of hair he'd always wanted.
The finished product is simply dazzling.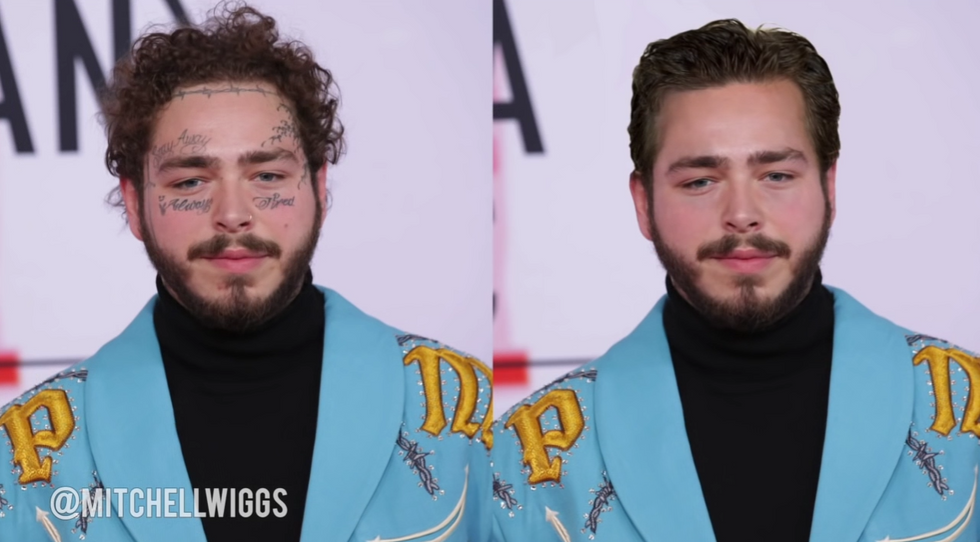 Hey, a Post Malone with Thomas Haden Church's hairline is something I can
definitely
get on board with.
You can watch the full transformation here.
And it's needless to say that Post looks completely unrecognizable. This guy truly is a Photoshop genius! On a slightly unrelated topic, do you think he'll be able to transform Tinder profiles? Asking for a friend...