Every now and then, something "vintage" ends up being worth quite the pretty penny. Sure, the beanie baby boom turned out to be a dead end. We'd even avoid removing their tags in hopes of getting to sell them later on. But lots of other collectibles from the '80s and '90s are insanely valuable nowadays, and you might not even know it!
Remember Precious Moments? They're little porcelain figurines with huge eyes and various themes. You can't really do anything with them, but there's a sudden demand for the old figurines nonetheless. So if you've got an assortment of old Precious Moments figurines lying around, this might be your lucky day. Now, you can make a ton of money on them. In fact, some may even be worth hundreds (or thousands) of dollars!
Precious Moments figurines have been around for quite a while.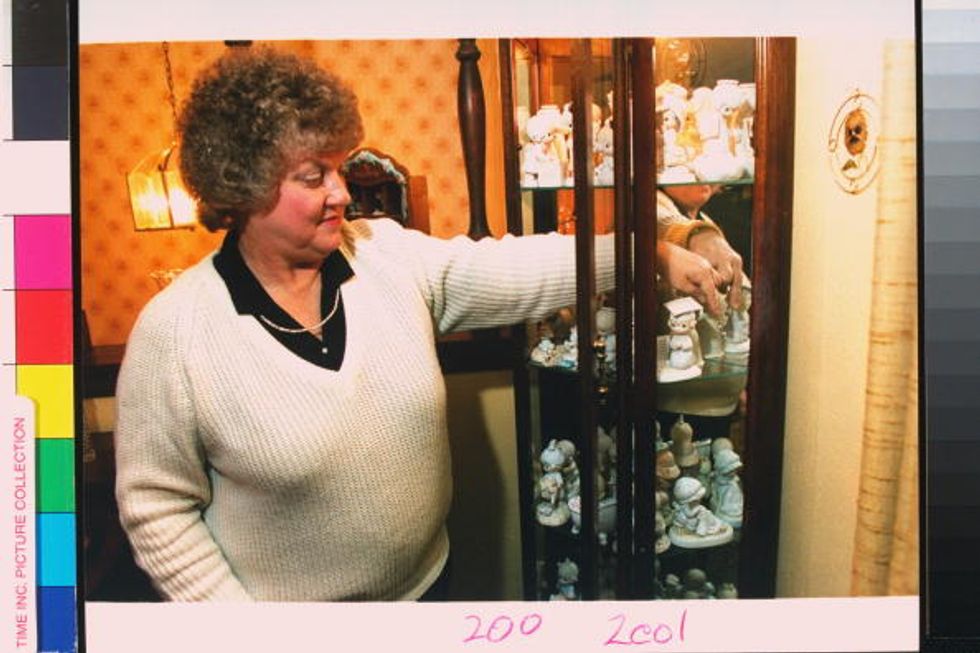 via: Getty
The first original series of figurines were introduced to the market in 1979, a product of artist Sam Butcher.
And those 'Original 21' are the real moneymakers.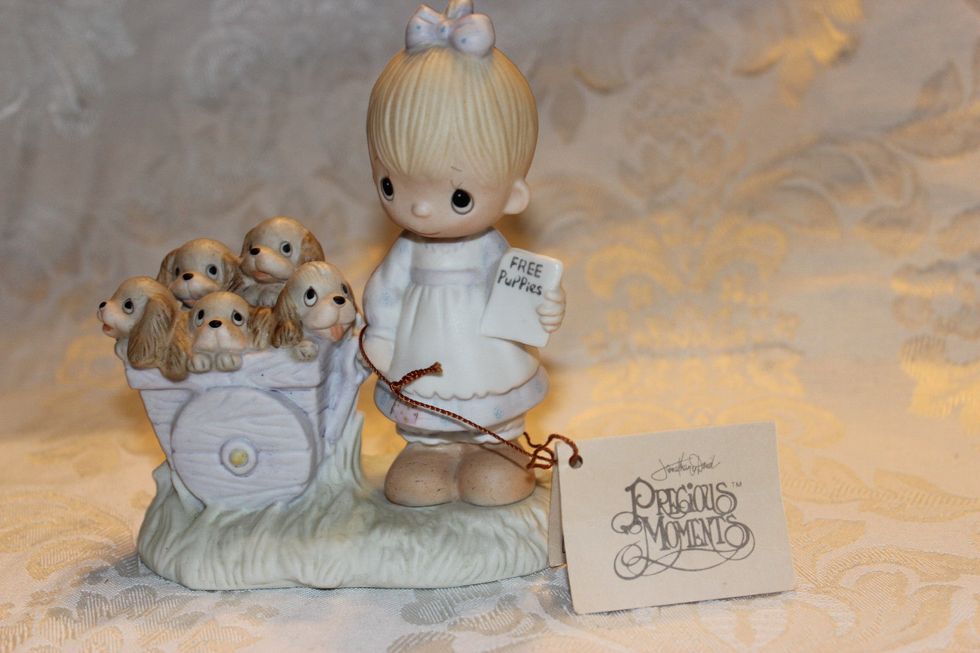 via: eBay
Does this one look familiar? It's one of the first 21 Precious Moments varieties released, called "God Loveth a Cheerful Giver." Right now, this one is for sale on eBay for $195. And another one is being sold for $225!
Pretty good resale value, TBH.
Especially when you consider its original price: "God Loveth a Cheerful Giver" first sold for a total of $15!
And those people may be selling themselves short.
Antique collector and Woolvey Fine Antiques & Collectibles spokesman Paul Burton
told
TODAY
that the "God Loveth a Cheerful Giver" figurine "has had valuations placed on it in excess of $2,000.00."
And there are other valuable figurines.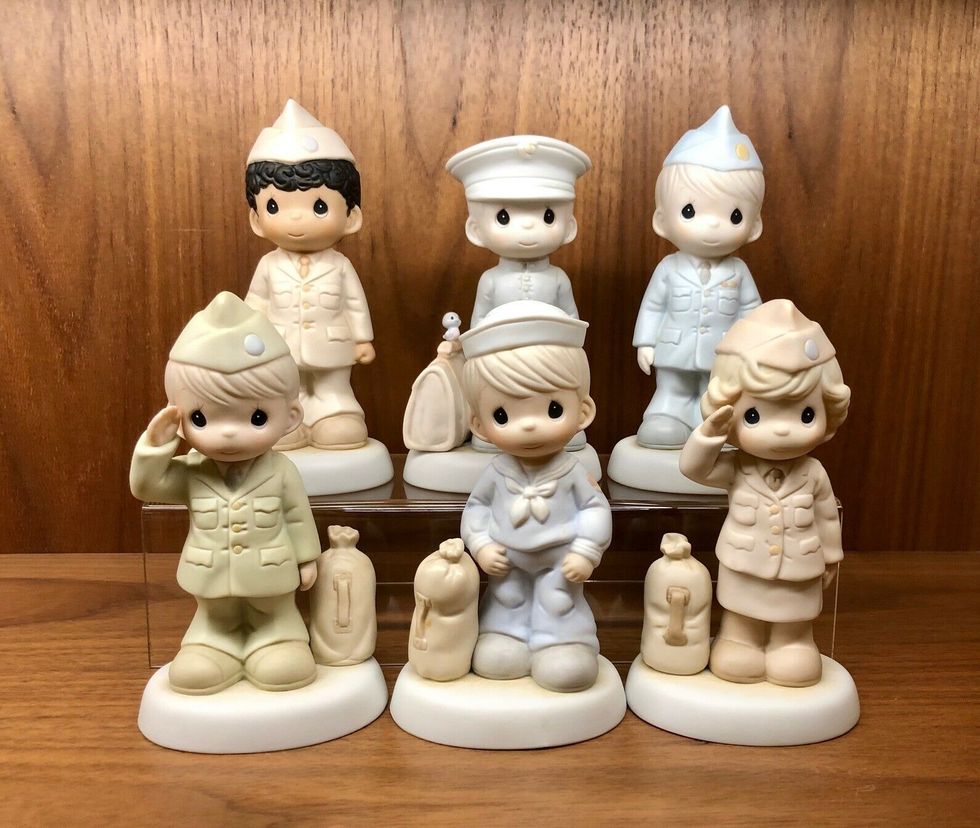 via: eBay
Like this series, called "Bless Those Who Serve Their Country." It's a set of six different Precious Moments, together priced at $200 on eBay.
Here's another: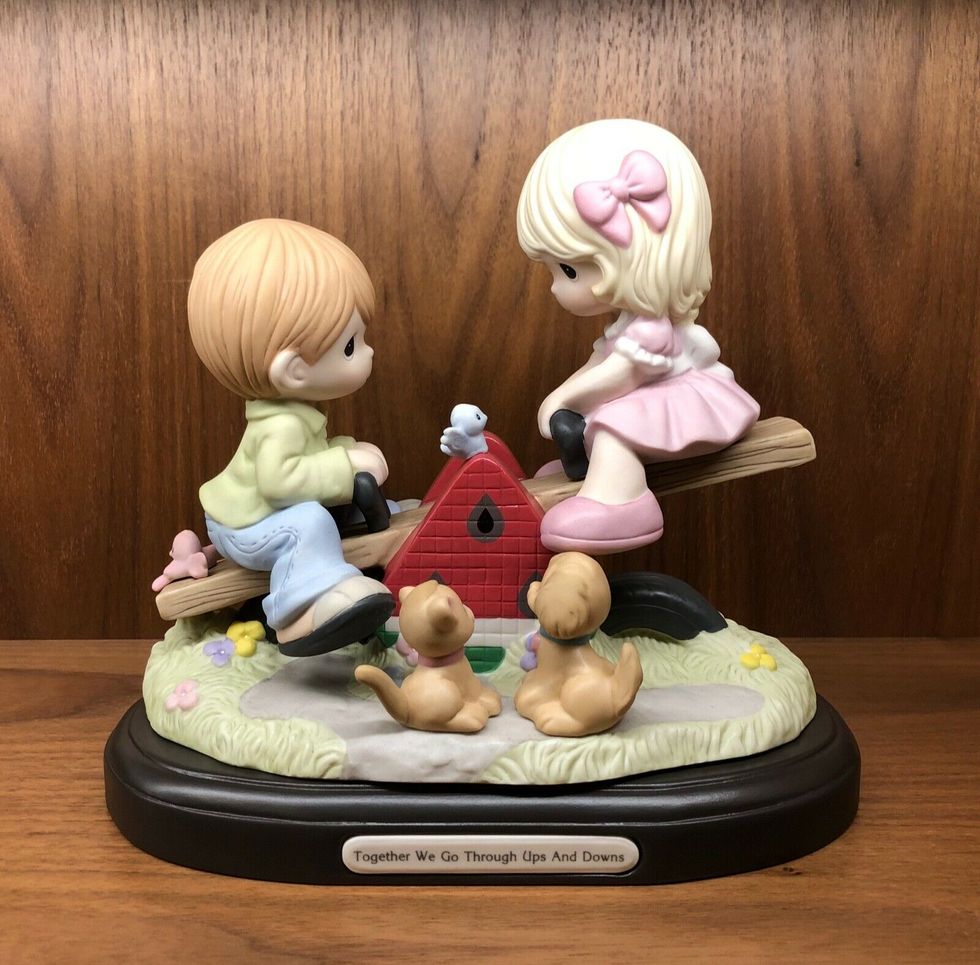 via: eBay
This one is called "Together We Go Through Ups and Downs," and it's for sale on eBay for $280.
Any of these looking familiar?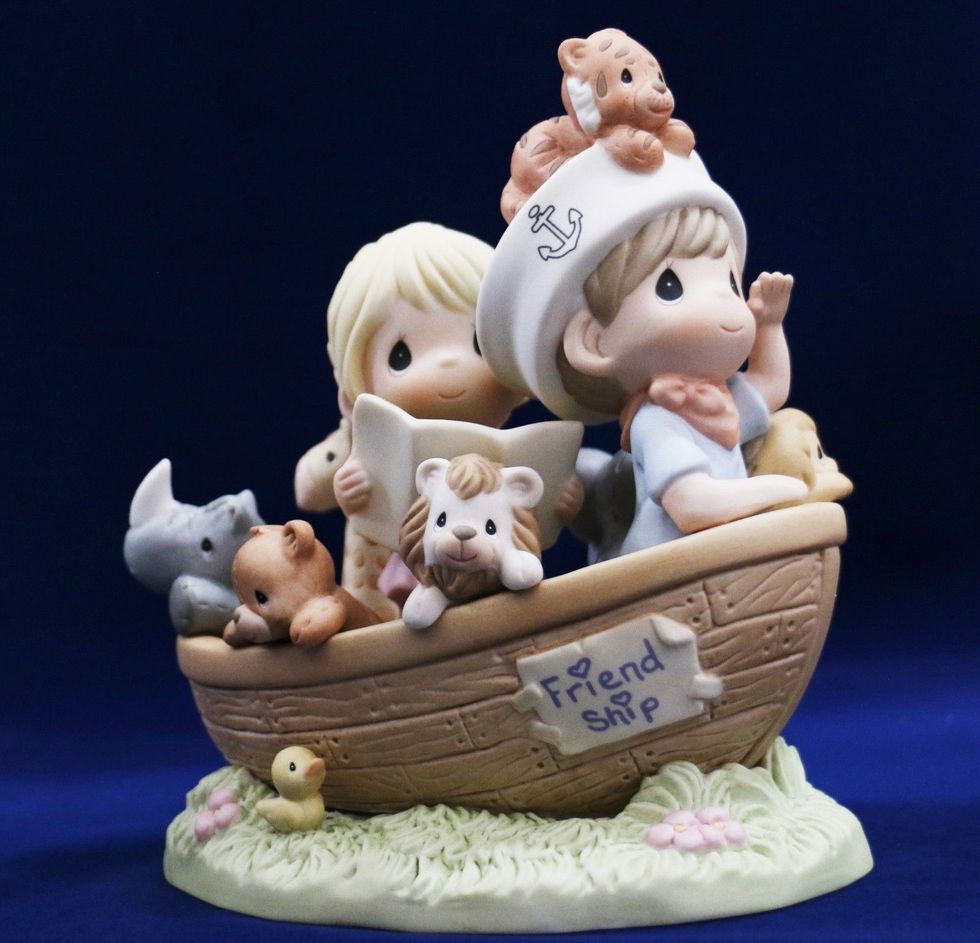 via: eBay
Here's "There Is Always Room For More." It's currently on sale for a whopping $389.
There's a few with a sailing theme.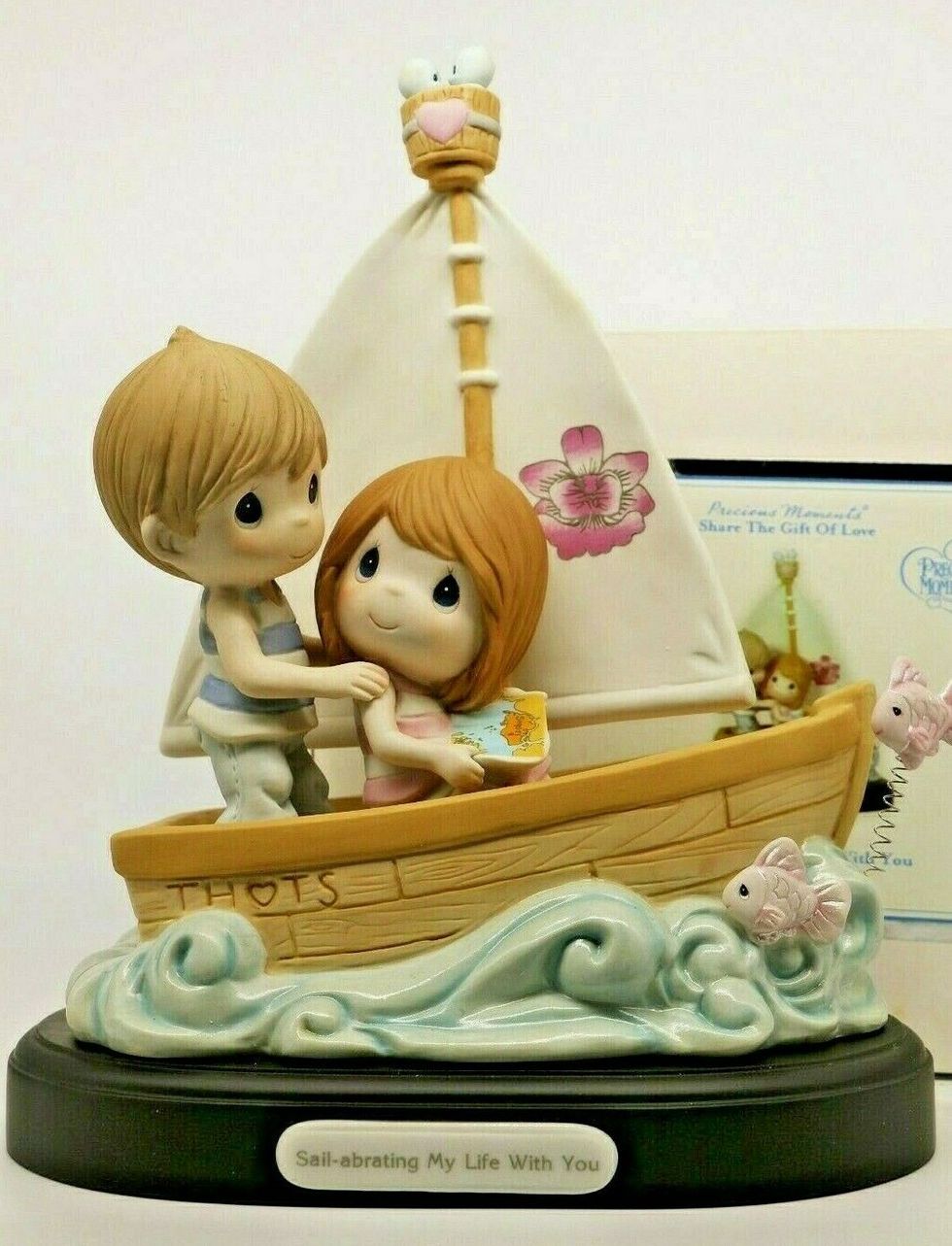 via: eBay
Like this: "Sail-abrating My Life With You" is another high-priced figurine at $298.
Basically, keep an eye out for old memorabilia.
Because pretty much any of the original figurines could fetch a good price on the market.
And here's one step better.
If you've got access to the entire collection of the 'Original 21,' that's even luckier. You could be able to sell the collection for thousands!
Dig around in the attic.
Or, maybe more realistically, your mother/grandmother's attic. And make sure whatever you find is in good condition!
Here's how you wanna get it ready for sale:
Make sure there isn't any chipping or other damage. You could probably still sell if there is, but it's gotta be pristine if you want the big bucks.
Dust it off.
Wash the figurines in mild soapy water and dry them off very thoroughly. Then, see how much you can sell them for!
And while we're at it, let's not stop with Precious Moments.
Because let's be honest, there's plenty of '80s and '90s memorabilia that would sell for a lot of money today.
Here's a strange example: Furby.
Yep, that's right. The fluffy, round-eyed, definitely creepy-looking Furby electronic pet can sell for a pretty nice amount of money today!
Original Furbies are rare.
That's why a regular ol' Furby from 1998 can sell for $300 on eBay. And when you start dealing in rare editions, that's even better! Recently, a rare black-and-pink Furby sold on eBay for $1,000.
Any Potterheads here?
Fans of the Harry Potter series are widespread and legion. But not all of us have first edition copies of the Harry Potter books! A first edition Harry Potter and the Sorcerer's Stone sold for $650 on eBay.
And off eBay, it sold even better.
Another first edition of the book sold for an incredible $81,250 back in 2017! How crazy is that?!
Some Monopoly fans can get their hands on real money.
Because an early or collector's edition of Monopoly can sell for hundreds or even thousands of dollars.
Yu-Gi-Oh! had plenty of fans in the '90s.
And it still does. But if you collected cards way back when, you may want to take another look at your collection. A First Edition  Blue Eyes White Dragon card once sold for $13,000!
Remember the heyday of Hot Wheels?
Well, actually, Hot Wheels' heyday may never have ended; according to Mattel, two Hot Wheels cars are sold every second of every day.
Which means they're still pretty common.
So most aren't worth tons...but rare and collector's editions are another story. The most valuable Hot Wheels car is said to be the pink 1969 "Beach Bomb" VW Bus--worth $100,000!
Stamp-hoarders are in luck.
Because certain ultra-rare stamps from the '90s are now really valuable! One 1997 sheet of Bugs Bunny stamps sold for $90.
But that's nothing.
One set of 1992 Junior Duck Stamps sold for $995! They can't even be used for mailing purposes anymore, they're just...rare stamps.
VHS tapes are coveted.
Why? Eh, who knows, I don't think they make VCRs anymore. But certain VHS tapes are now worth way more than you originally paid for them.
One, in particular, is a guaranteed payday.
And that VHS is Beauty and the Beast. If you check out eBay listings for the Disney classic, you'll see that a Black Diamond edition of the film is listed for sale at $12,000!
That's not an insane asking price, either.
Just a few months ago in January 2019, that same edition of the film sold on eBay for $10,000! So people do buy them.
Here's another strange yet pricey relic: super soakers.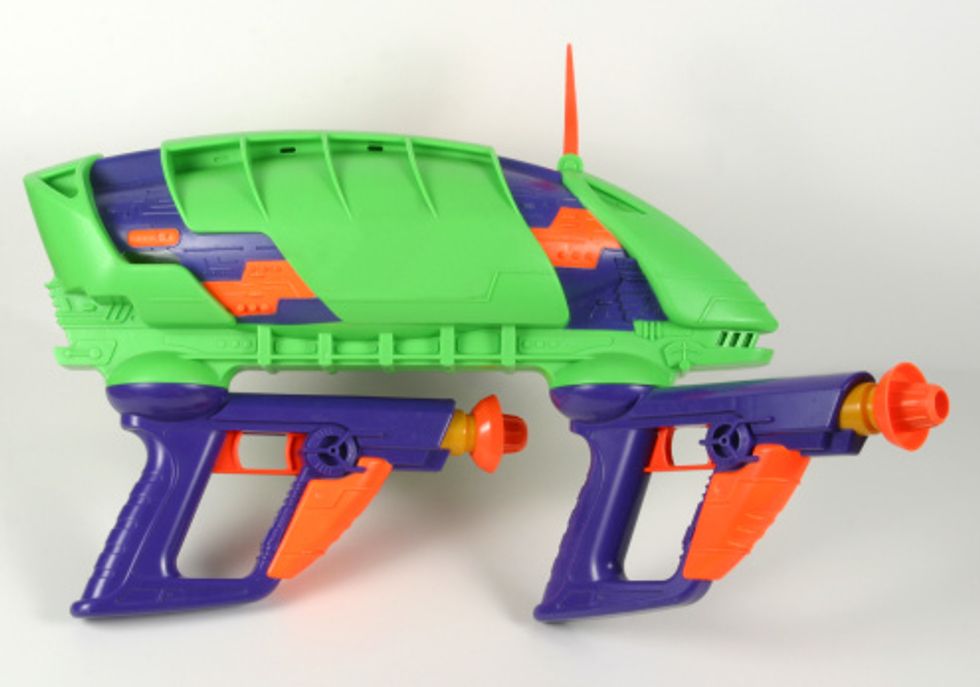 via: Getty
A vintage Super Soaker Monster XL, for example, is one of the largest water guns ever sold. And it did sell--for $500 inn 2016!
So check your water gun stash, I guess.
There are plenty of vintage Super Soaker gems. A used Super Soaker CPS (known as the most powerful water gun ever) sold for $300.
All in all: maybe holding on to your old keepsakes is a good idea.
Start rooting through your basement, your attic--or your parents'. Because you really never know what you'll find, and what other people will pay for it! And share this story with your friends, because you never know who's just sitting on a goldmine without a clue!