Yesterday, Prince William broke his silence and paid a touching tribute to his late grandfather, Prince Philip, with a statement.
But despite reading as a moving statement, many think it was also used as a swipe at his brother, Harry. Scroll on to hear what William had to say…
Now, it was announced on the morning of April 9th that Prince Philip, the Duke of Edinburgh, had sadly died.
He was ninety-nine-years-old.

It was no secret that the royal had been struggling with his health for quite some time…
And had undergone many surgeries over the years.

He had previously dealt with complications such as a blocked coronary artery and a bladder infection just days before his ninety-second birthday…
Resulting in the Duke undergoing exploratory abdominal surgery, which he swiftly recovered from.

And in 2015, he retired from public engagements entirely after becoming the longest-standing royal consort in British history.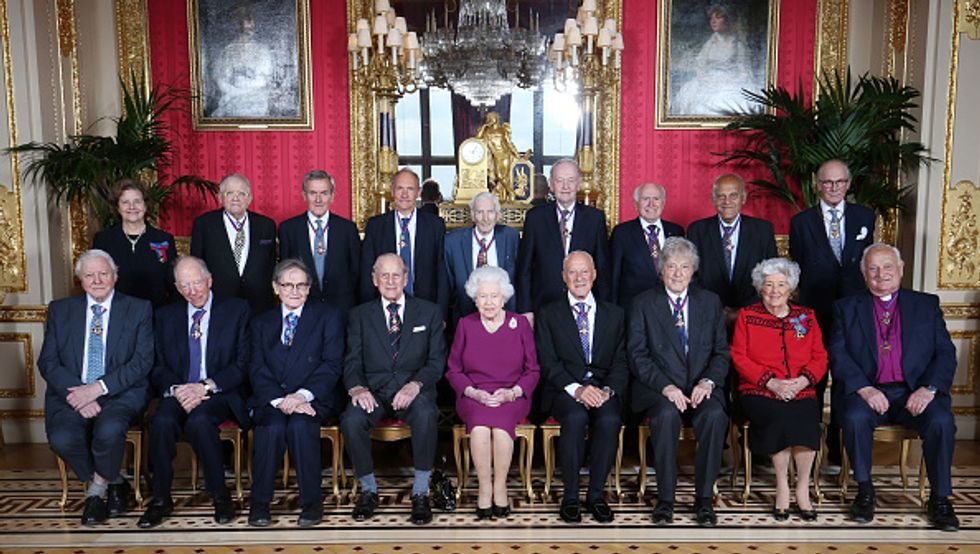 But soon after, he fell victim to another health issue which involved hip replacement surgery.
Since then, he had been on a tragically rocky path.

However, things truly took a turn for the worst for the royal this year.
On the evening of February 16th, Prince Philip was rushed to hospital after feeling "unwell."

The Sun reported that he would be spending "a few days" there.
But it was also reported that he was in "good spirits" after being taken to the King Edward VII Hospital in London.

The Duke made a brief recovery…
But from there, things were quick to worsen.

His health deteriorated rapidly…
And last week, we received the news we had all been dreading.

Buckingham Palace announced on Friday, April 9th, that Prince Phillip had tragically passed away at the age of ninety-nine.
He will be greatly missed by all those who know and love the royal family.

Since the tragic news broke, tributes from fans, celebrities, and politicians alike were quick to flood in.
In their own statement, the royal family wrote:
"It is with deep sorrow that Her Majesty The Queen has announced the death of her beloved husband, His Royal Highness The Prince Philip, Duke of Edinburgh. His Royal Highness passed away peacefully this morning at Windsor Castle. The Royal Family join with people around the world in mourning his loss. Further announcements will be made in due course."

Though, of course, all eyes have been on one member of the family in particular.
As you will all be aware, Prince Harry is currently residing in California with his wife, Meghan Markle, and their son, Archie, so, therefore, will have dealt with the loss thousands of miles away from his family.

Almost immediately after Prince Phillip's death was announced, Harry quickly made plans for his return to the U.K.
He arrived in Heathrow on a British Airways flight at around 1.15 pm on Sunday, The Sun reported. He was reportedly met by security off the plane before being driven away in a black Range Rover.
Meghan hasn't joined him, however, due to medical advice on flying while in her third trimester.

Harry is set to attend Prince Philip's funeral, which will be taking place on Saturday, April 17th in St George's Chapel, Windsor Castle…
But now, all eyes have turned upon the future King of England.

Yesterday, Prince William finally broke his silence following his grandfather's death…
He penned the most touching message in an Instagram post.

But after reading the statement, many people also think it was a swipe at Harry…
You can read his statement below:

"My grandfather's century of life was defined by service – to his country and Commonwealth, to his wife and Queen, and to our family."
Sharing an adorable photo of his son and Prince Philip, William wrote:
"I feel lucky to have not just had his example to guide me, but his enduring presence well into my own adult life – both through good times and the hardest days. I will always be grateful that my wife had so many years to get to know my grandfather and for the kindness he showed her."

He continued:
"I will never take for granted the special memories my children will always have of their great-grandpa coming to collect them in his carriage and seeing for themselves his infectious sense of adventure as well as his mischievous sense of humor!"

William finished the emotional statement by writing:
"My grandfather was an extraordinary man and part of an extraordinary generation. Catherine and I will continue to do what he would have wanted and will support The Queen in the years ahead. I will miss my Grandpa, but I know he would want us to get on with the job."

You can read the full statement here:
Rest in Peace, Prince Philip.