Vegans are well known for their bold attitudes towards their lifestyle, and it's safe to say that they're pretty damn passionate about it. They often protest for the rights of animals and for healthier and more sustainable lifestyles. Seems fair enough, right?
But what about the passionate meat-eaters out there? Well, a lot of them are doing the same thing, only, well... grosser.
Keep scrolling to learn about the recent acts of 2 men who took their meat-eating lifestyle way too far and to watch a video of them doing it... it's not for that faint of heart.
Vegan protests are becoming more and more popular...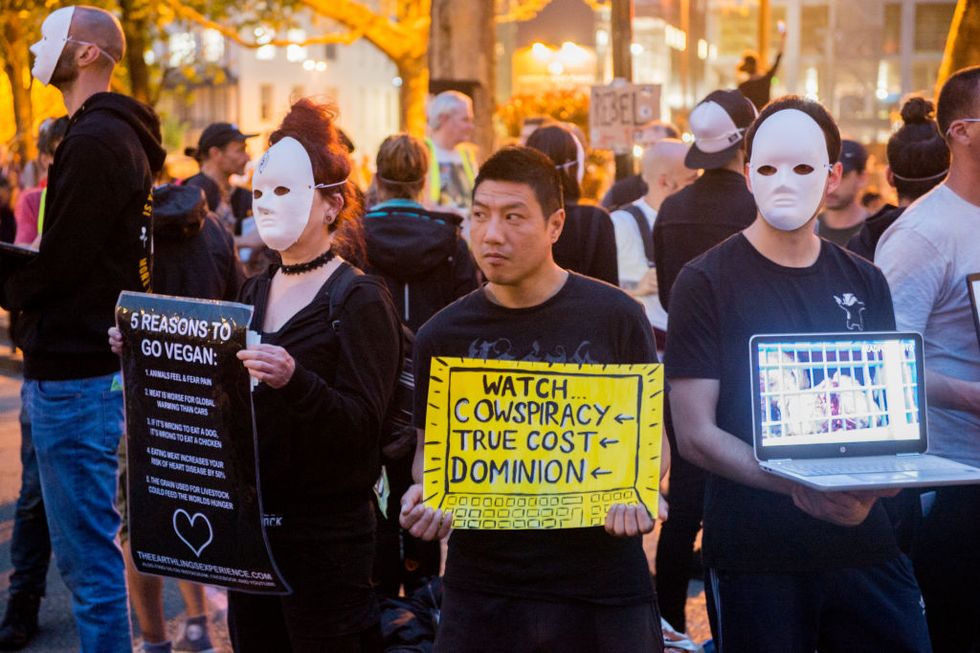 Veganism has never been bigger, and people are
proud
to stand and say that they are vegan.
Veganism is often promoted as a healthy way of living.
@Noisy_Killjoy__ The world's leading experts and organizations in the field of nutrition, including even the Academ… https://t.co/mH4g6cDfgf

— Nic (@Nic)1563313227.0
All animal products are cut from the diet of a vegan, whether that's meat, eggs, or any form of dairy product. Vegans obtain their nutrients from products such as fresh fruit and vegetables, soy, and dairy-replacement products.
The protests can get a little extreme...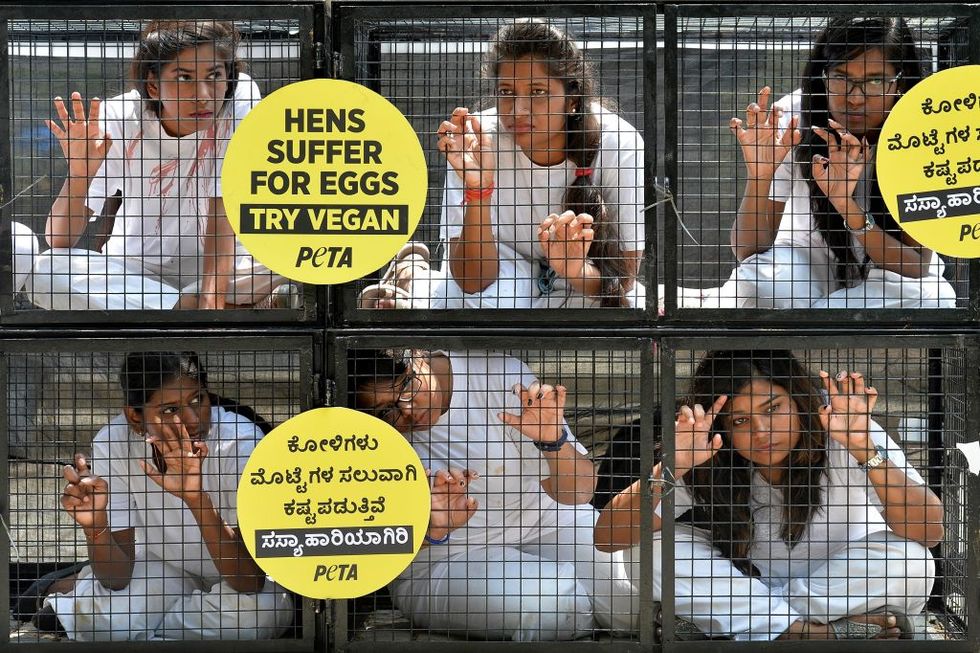 Animal organizations, PETA in particular, are known for their extreme and controversial methods when vocalizing their beliefs. Organizations such as these promote veganism in a desperate bid to save animals and to stop the harvesting of livestock worldwide.
Protesting in the name of animals.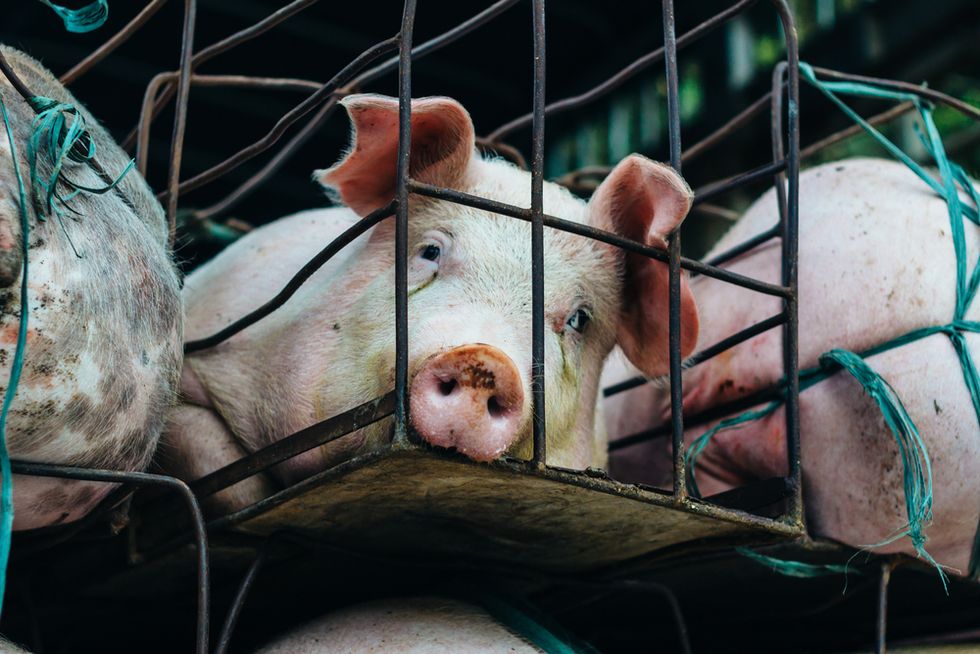 It's no secret that millions of animals suffer years of agony and fear all at the hands of humans. Whether you're a vegan, vegetarian, or even a meat-eater, it's undeniable that animals go through absolute hell just to be served on our dinner plates.
But some people simply don't see it this way...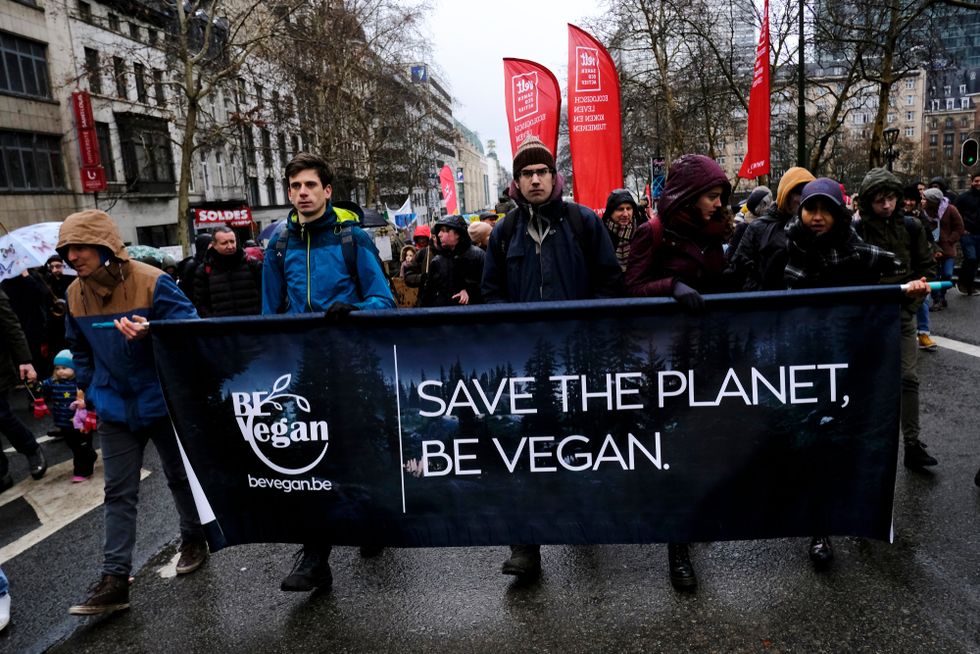 Many meat-eaters out there don't appreciate animal rights activists being so vocal and, often, a little accusatory when it comes to their views. Some continue to eat meat whilst supporting their favorite animal charities while others completely discard the thought of listening to those that campaign for animal rights.
Many meat-eaters seem to be offended by the vegan lifestyle...
Some vegans are far too preachy, chill let people do what they want tbh you can't change everyone's opinion

— ellie smith (@ellie smith)1468008359.0
It may be the persistent protesting or even a
little bit
of guilt that causes this, but some carnivores just can't seem to stand to hear about the lifestyle of vegans.
Forget raw vegans...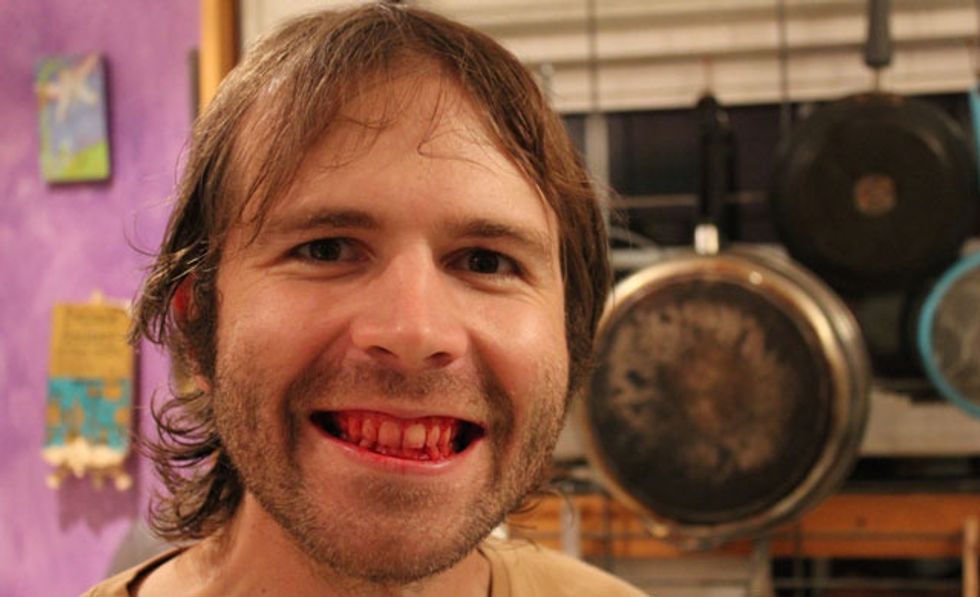 There are now
raw meat-eaters
out there. In an interview with
Vice,
Derek Nance from Kentucky opened up about his diet, which consists of nothing but raw meat. He took up this diet after having a mystery illness that caused him to suffer from non-stop sickness. He claims that eating nothing but raw (and sometimes rotting) meat and the vital organs of animals has helped with the sickness and that he feels better than ever.
Pretty gruesome, if you ask me...
Derek Nance isn't the only one who likes to indulge in a little raw meat every now and then...
how do u just look at raw meat and think "that's fine"

— i grew some beans (@i grew some beans)1563943353.0
Many carnivores around the world have taken to eating raw meat - red meat in particular - but some have gone
too far
to prove a point to their vegan rivals.
2 pro-meat protestors recently caused a stir in London...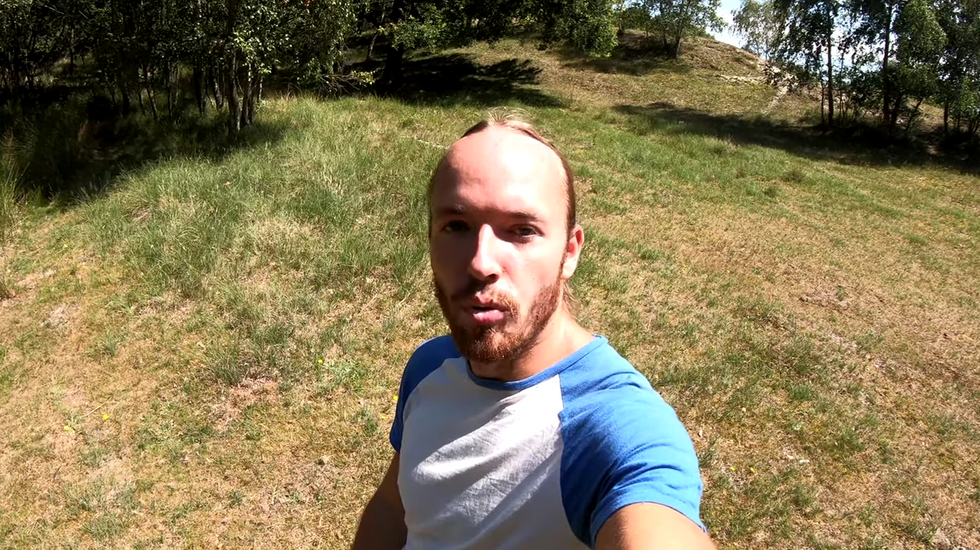 Twenty-two-year-old Deonisy Khlebnikov and twenty-nine-year-old Gatis Lagzdins, who are both from Latvia, turned up to the Soho Vegan Market in London, U.K., earlier this year. They were armed with their props for the day -
dead squirrels.
These guys are no strangers to controversy...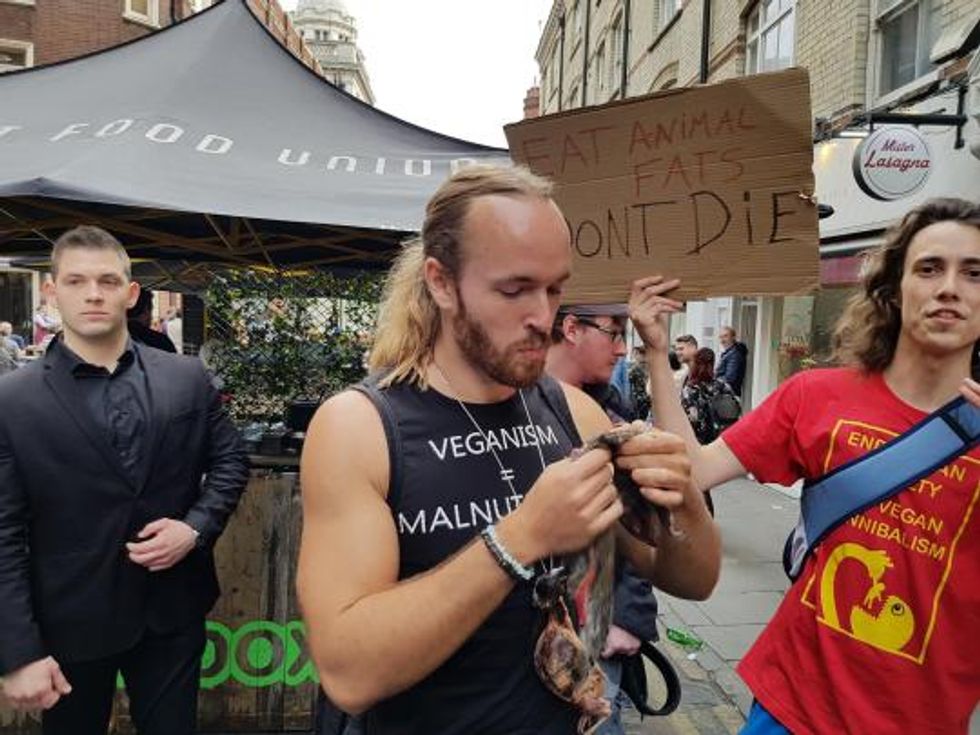 Gatis, who is popular for his pro-meat Youtube channel,
Sv3rige,
travels around the world with Deonisy to promote their carnivorous lifestyle, but they do it in an unorthodox and extreme manner that causes offense to many.
The carnivorous duo have gone viral numerous times...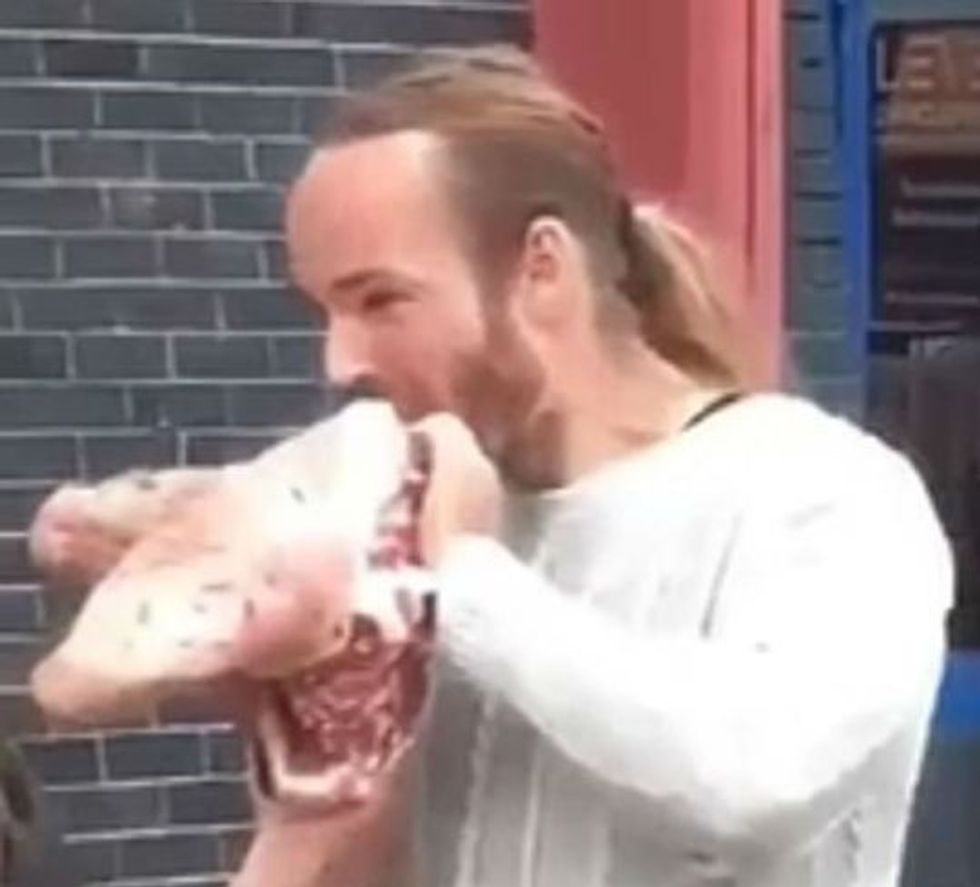 Their favorite pastime is to attend vegan events and announce their beliefs by standing in public and eating raw meat. Gatis' most controversial move was when he ate chunks of an uncooked pig's head at VegFest in Brighton earlier this year which, apparently, was a protest against people who
don't
eat animals.
The squirrels still had their fur intact...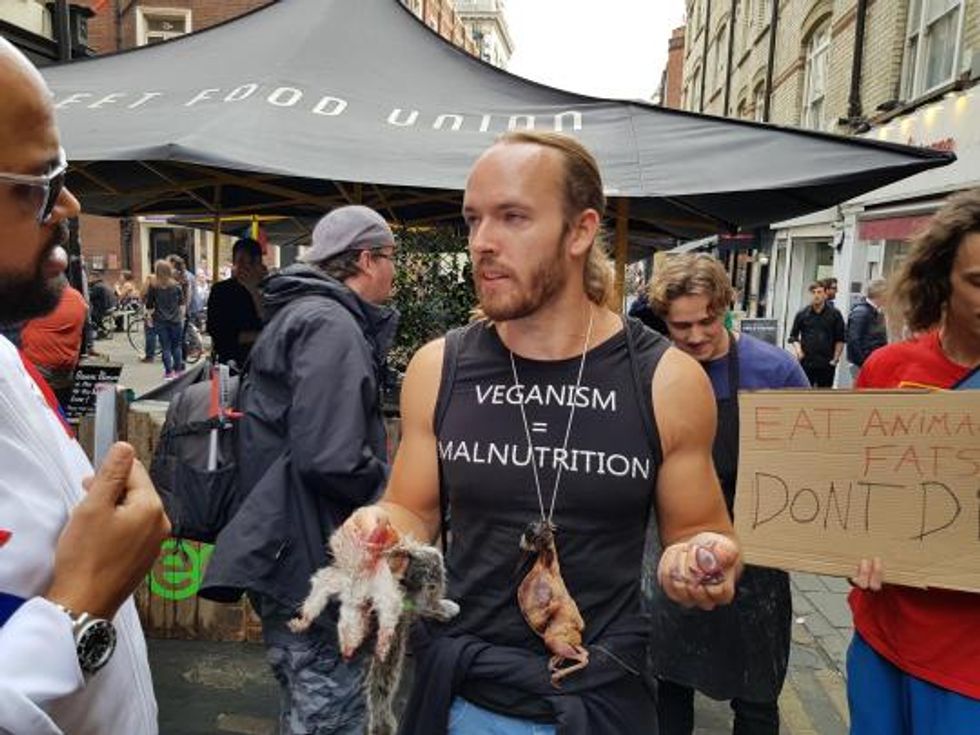 The squirrels that Gatis was recently seen eating were still fully intact, with their fur, claws, teeth... and
everything else
still, well...
there
. Gatis was also seen wearing a homemade necklace that was holding a dead woodcock, which made matters
even worse.
We don't know how the squirrels died...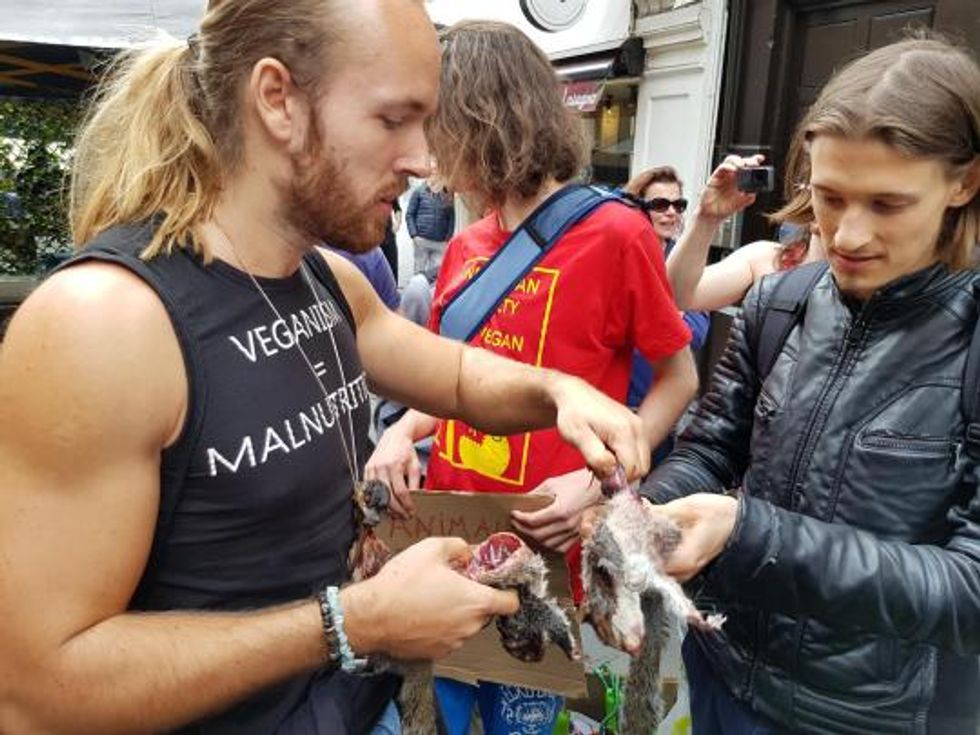 But it naturally caused a lot of upset among the public in the area. The pair were asked by onlookers to stop what they were doing, but they continued anyway - even in front of young children who were clearly distressed at the sight.
One of the protesters was arrested at the scene...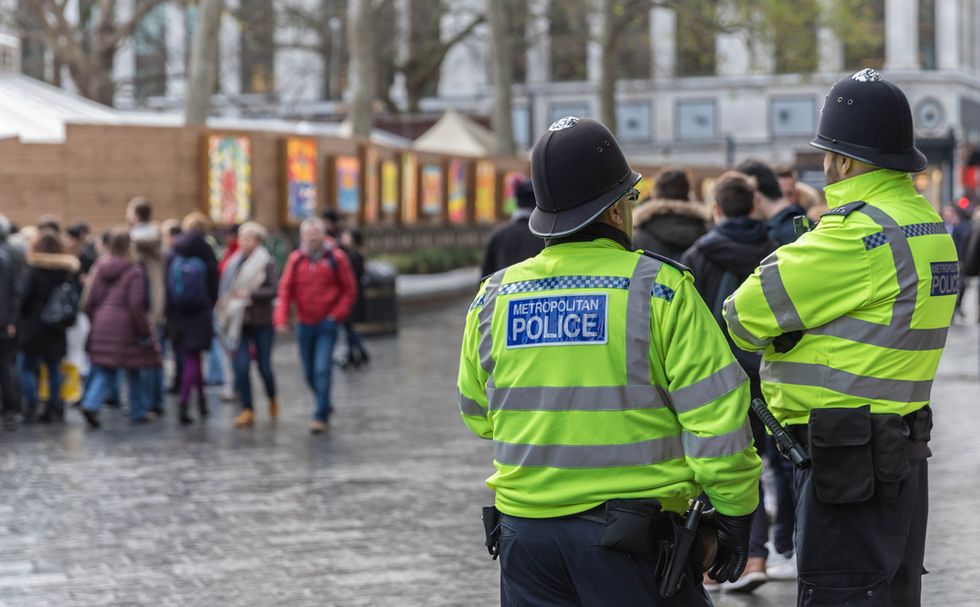 When they refused to stop after continuously being asked to do so, the local authorities became involved and they slapped the pair with a hefty fine of £600 ($750).
A trial was held over their behavior...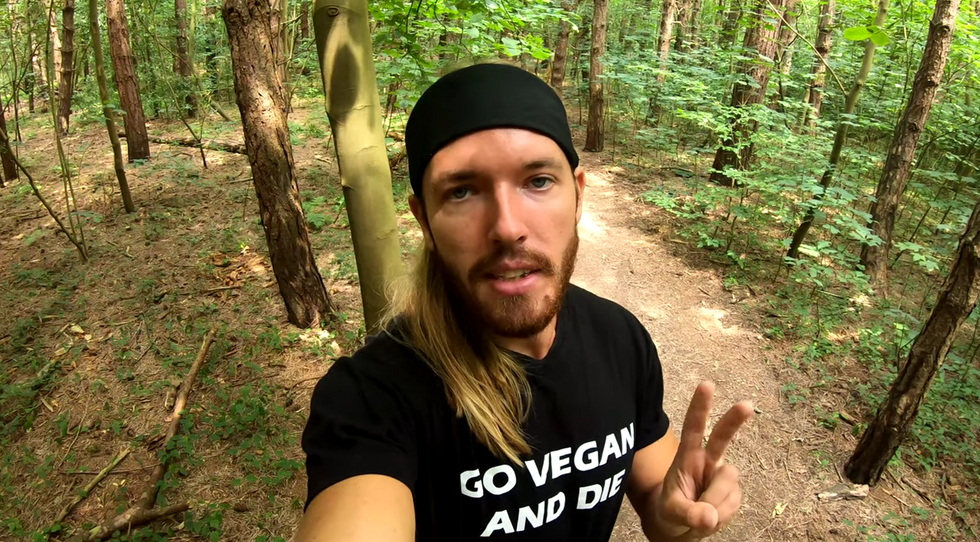 The
BBC
reported that a trial took place at the City of London Magistrate's Court in June, where the pair actually
denied
using disorderly behavior likely to cause harassment, alarm, or distress. However, on the 22nd of June, the pair were indeed found guilty of a public order offense.
"They had planned to cause distress to the public..."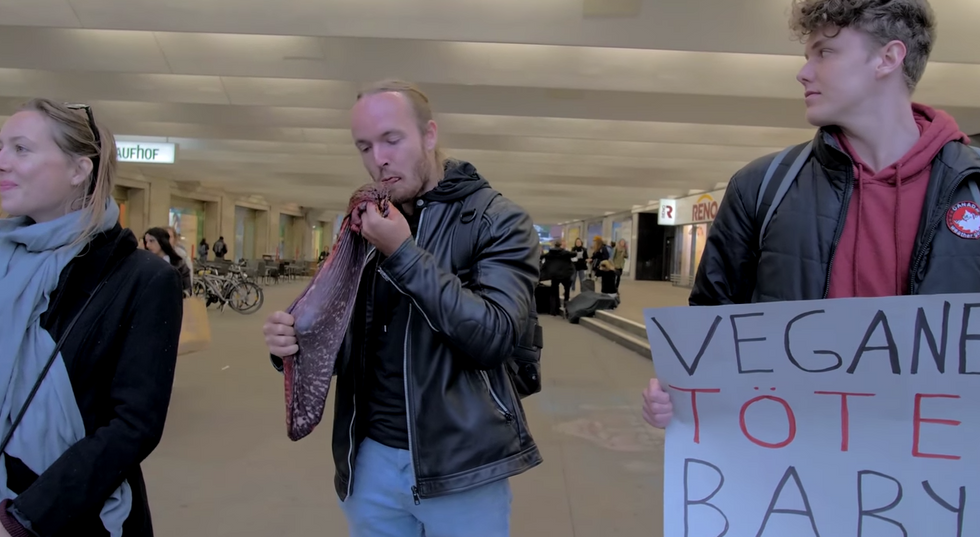 Senior CPS prosecutor, Natalie Clines, issued this statement: "Deonisy Khlebnikov and Gatis Lagzdins claimed they were against veganism and were raising awareness about the dangers of not eating meat when they publicly consumed raw squirrels. "But by choosing to do this outside a vegan food stall and continuing with their disgusting and unnecessary behavior despite requests to stop, including from a parent whose child was upset by their actions, the prosecution was able to demonstrate that they had planned and intended to cause distress to the public."
We doubt that these two will stop with their antics, despite the fines that they were landed with.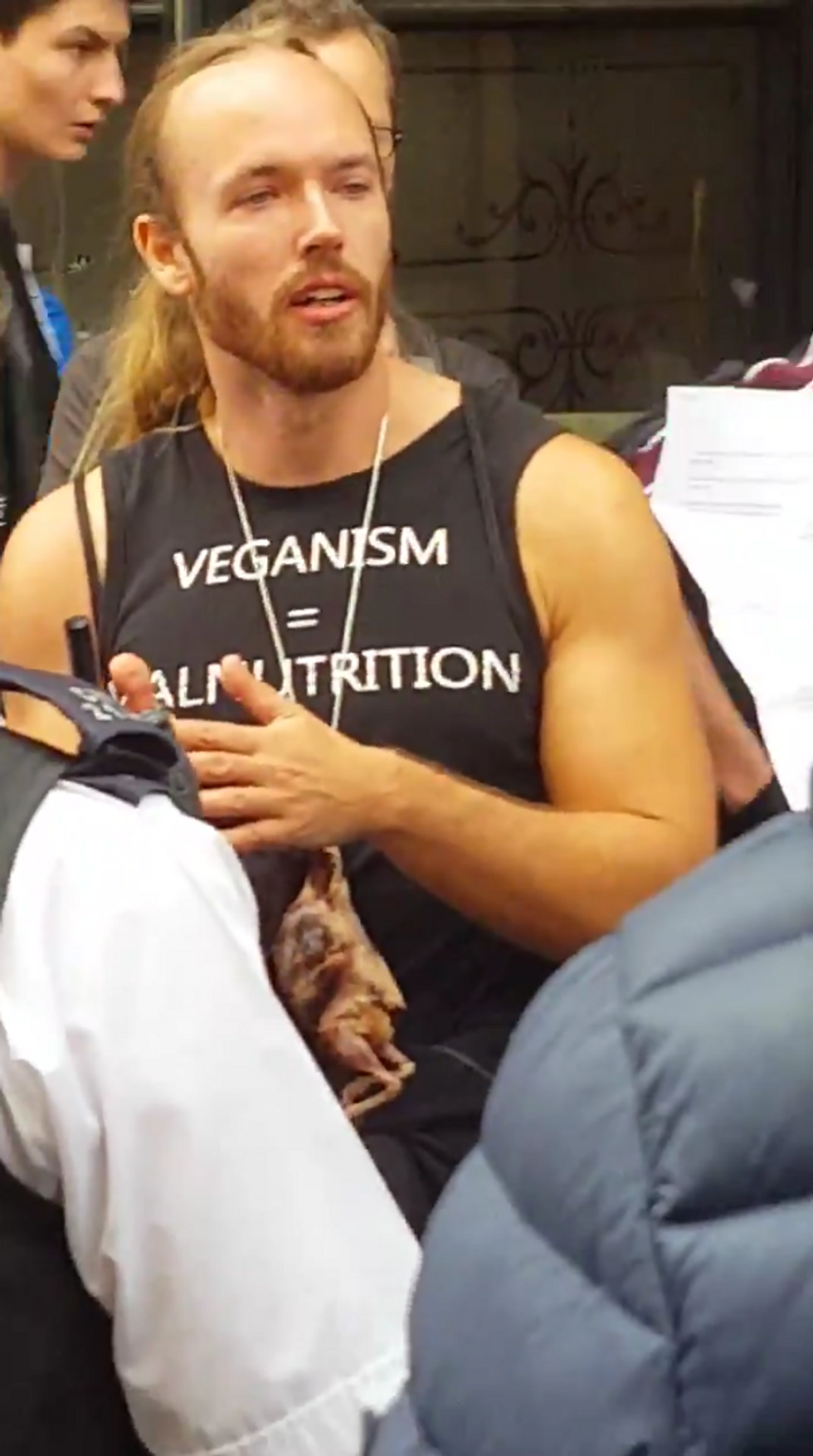 Deonisy was charged £200 (around $250) plus costs and a surcharge, and Gatis was fined £400 (around $500).
Gatis is convinced that veganism is a cause of death...
In a lot of his previous Youtube videos, Gatis makes claims that Vitamin D is an animal hormone that cannot be found in plants, and, according to him, the richest sources come from the brains of animals. However,
PETA
have had their say, claiming that Vitamin D can be found in sources such as mushrooms, fortified soy, almond milk, tofu, and sunlight.
A persons' lifestyle is their choice...
bloke ate a squirrel and got arrested for it lmao https://t.co/jog3Wz2e10

— Diora (@Diora)1553978027.0
And it's important to respect the decision that a person makes when it comes to maintaining a healthy and sustainable lifestyle. However, it is
not okay
to promote a lifestyle by forcing it into people's faces. Vegan or not, keep your lifestyle choices
to yourself.
Does anyone remember that funny, yet slightly disturbing, video of Jesse Watters eating a steak while having a debate with a vegan? Well, it's made a comeback in 2019 and we're here to give you the lowdown on exactly how this one particular video sparked yet another global debate between meat-eaters and vegans. Keep reading for some of the internet's very best reactions to the ridiculous video.