Quaden Bayles has been catapulted to viral fame after a heartbreaking video of him saying he wanted to die as a result of constant bullying was posted to Facebook.
A staggering amount of money has been raised for the little boy, mainly from a fundraiser that wanted to take the youngster and his family to Disneyland.
But now, the Bayles family have spoken out and have declined the once-in-a-lifetime trip and all the money raised - and now they've revealed the reason why.
Keep scrolling to see what the Bayles family has said.
One mother has taken a stand against bullies.
Yarraka Bayles, from Brisbane, Australia, recently posted a video where she showed the aftermath of a bullying incident that took place at her son's school.
She shared the post warning other people against the dangers of bullying.
In the 6-minute clip, you can see Quaden, her 9-year-old son who has dwarfism, crying and talking about his school experiences, saying he's considered "the dumbest kid in class."
At one point, he even tells his mother that he wants to kill himself.
In the distressing video he says: "Give me a rope, I want to kill myself" and 'I just want to stab myself in the heart... I want someone to kill me." Apparently, other children have been calling him "midget" and tapping his head and pointing out his differences.
His heartbroken mom says this:
"We try to be as strong as positive as possible and only share the highlights... but this is how bullying affects a 9-year-old kid."
She continues:
"I just picked my son up from school, witnessed a bullying episode, rang the principal and I want people to know this is the effect bullying has. This is what bullying does. So can you please educate your children, your families, your friends because all it takes is one more instance... and you wonder why kids are killing themselves."
She also pleaded for help as her voice quivered.
"So is there any advice or support or anything that other parents have done? I've got some good advice but I need more, I want people to know how much it is hurting us as a family."
She mentioned that this isn't the first time Quaden has talked about suicide.
His distraught mom recalled that the first time he tried to kill himself was when he was only
6-years-old.
Children should not be thinking about such a scary concept at such a young age.
She tried to explain to him that his life is valuable.
"I was so shocked. I honestly didn't think he would even know what or how at six years old. I've explained to him that once you go, there's no coming back, you're gone forever, but he still kept trying."
Quaden has been through many life-changing events.
He was deeply affected by the death of his grandfather and his little brother, who was stillborn. His mother revealed that he thinks he would be better off with them in heaven.
This heartbreaking story has really raised some important questions.
The video has since been viewed over eighteen million times, and the surge of support has been overwhelming for the family.
However, this does not take away Quaden's pain.
His mother is out for answers. As she continues being an activist for these kinds of issues, she plans on raising more awareness for other people, especially children who have dwarfism.
The response to her post has been huge.
And many celebrities and sports stars alike have been amongst those offering their support.
The Indigenous All Stars NRL team reached out to the family...
And incredibly, invited Quaden to walk them onto the pitch at their game this Saturday.
And that isn't all...
Comedian, Brad Williams, who suffers from dwarfism himself, got wind of the heartbreaking story and decided to do something about it.
The issue is very close to home for Brad...
And, clearly moved by Quaden's anguish, the comedian decided to set up a Go Fund Me page for the youngster.
He wants to give Quaden an unforgettable experience...
It's the least he deserves. Writing on the
Go Fund Me page
, Williams explained: "I'm setting up this GoFundMe to let Quaden know that bullying will not be tolerated and that he is a wonderful human being who deserves joy."
He wants to send him to Disney Land.
"I want to fly Quaden and his mother to America, get them a nice hotel, and bring them to Disneyland... Let's show Quaden and others that there is good in the world and they are worthy of it."
He wants to organize the full experience for Quaden and his mom.
"Funds raised will be spent on two airplane tickets for Quaden and his mother from Australia to Los Angeles. As well as providing a hotel, food, and tickets to Disneyland Park in Anaheim for multiple days."
As for any excess funds?
They will be donated directly to anti-bullying and anti-abuse charities.
And his kind gesture isn't only for Quaden...
It is standing as a reminder to all other children who are different that there is good in the world. "This isn't just for Quaden, this is for anyone who has been bullied in their lives and told they weren't good enough."
The petition has surpassed its original goal of $10,000...
And is close to reaching a staggering $500,000. At the time of writing, the number stands at $473, 967 from over 8,000 donors.
The generosity of these donors has seemingly given Quaden a new lease of life.
And the youngster wanted to give some helpful advice to anyone else who might be sharing the same experiences as he did when the video was taken.
This is what he said:
"If you get bullied, just stand up for yourself and don't listen to what they say. The parents should make their kids be nice to people with disabilities."
And after such heartwarming advice, it's nice to know that the GoFundMe is going above and beyond.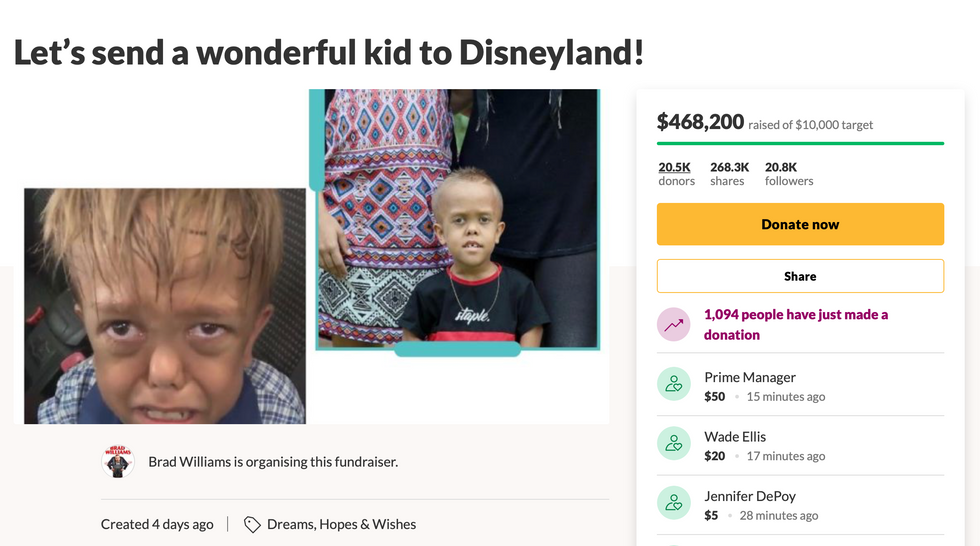 Since the campaign has now accumulated over half a million dollars, which is $452,000 more than intended, everyone's wondering how the excess is going to be spent.
As stated in the GoFundMe description, the money has to be spent according to the website's guidelines.
The goal here is to give Quaden the trip of a lifetime and to spend every dollar donated in a responsible way. My h… https://t.co/erGFzm8rAw

— Brad Williams (@Brad Williams)1582303893.0
This means that $10,000
must
be spent on the family and getting them to Disney World, while the rest will be given to various anti-bullying charities.
News.com.au reported this:
The love you have shown is unbelievable. Thank you! Money donated will not be wasted! We have a team of people maki… https://t.co/KOIicu5y0o

— Brad Williams (@Brad Williams)1582311842.0
They said the money raised will support both Australian and US-based charities in order to make sure we can put a stop to incidents like this from happening again.
But now, the Bayles' have spoken out about what they're going to do with the money...
reject all the money raised.
That's a lot of money to say no to...
This means no Disney Land trip for Quaden...
It was his aunt who revealed the family's intentions with the money.
They want all the donations to go to these organizations.
"We want the money to go to community organizations that really need it. They know what the money should be spent on."
They're thinking of their community.
You can find the original video of Quaden here...
This is the hardest video I've watched. A 9 year old boy wanting to kill himself due to bullying at school. What is… https://t.co/b99OkU52ye

— Rob Shehadie (@Rob Shehadie)1582151912.0
Please watch this video with caution - It's an incredibly distressing watch.