If you're a Friends fan, you'll likely be familiar with what a bizarrely large part fashion brand, Ralph Lauren, played in the plot. The character arc of Rachel Green from spoilt daddy's girl to impressive career woman is one of the most extreme of the series, and, without Ralph, it may never have happened.
Now, to celebrate the '90s fashion icon, Ralph Lauren has decided to give something back. Their Rachel Green inspired collection has dropped today, and it's everything you're dreaming of. Even better? New York-based fans can go and enjoy the collection in a fully immersive display at Bloomingdales. Want all the deets? Read on.
Friends is one of the most legendary sitcoms of all time.
It aired between 1994 and 2004, meaning, this year, it hits its the twenty-fifth anniversary. Where did all the time go?
One of the most beloved characters was Rachel Green.
Played to perfection by Jennifer Aniston, some point to Rachel's character arc as one of the most impressive and heartwarming aspects of the show.
Another reason that fans loved Rachel?
It would have to be her incredible fashion sense (not pictured above). From her early days as a waitress right up to her enviable workwear wardrobe, Rachel Green is a certified style icon.
Rachel starts the show as a spoilt child.
But she eventually moves up through the ranks in her fashion career, and, after starting at Bloomingdales, eventually gets the buyer job of her dreams at Ralph Lauren.
Rachel works at Ralph Lauren for five of the show's ten-year run.
And Ralph himself even ended up making a cameo appearance in a storyline in the show's sixth season in 1999.
Rachel's style icon status was already confirmed.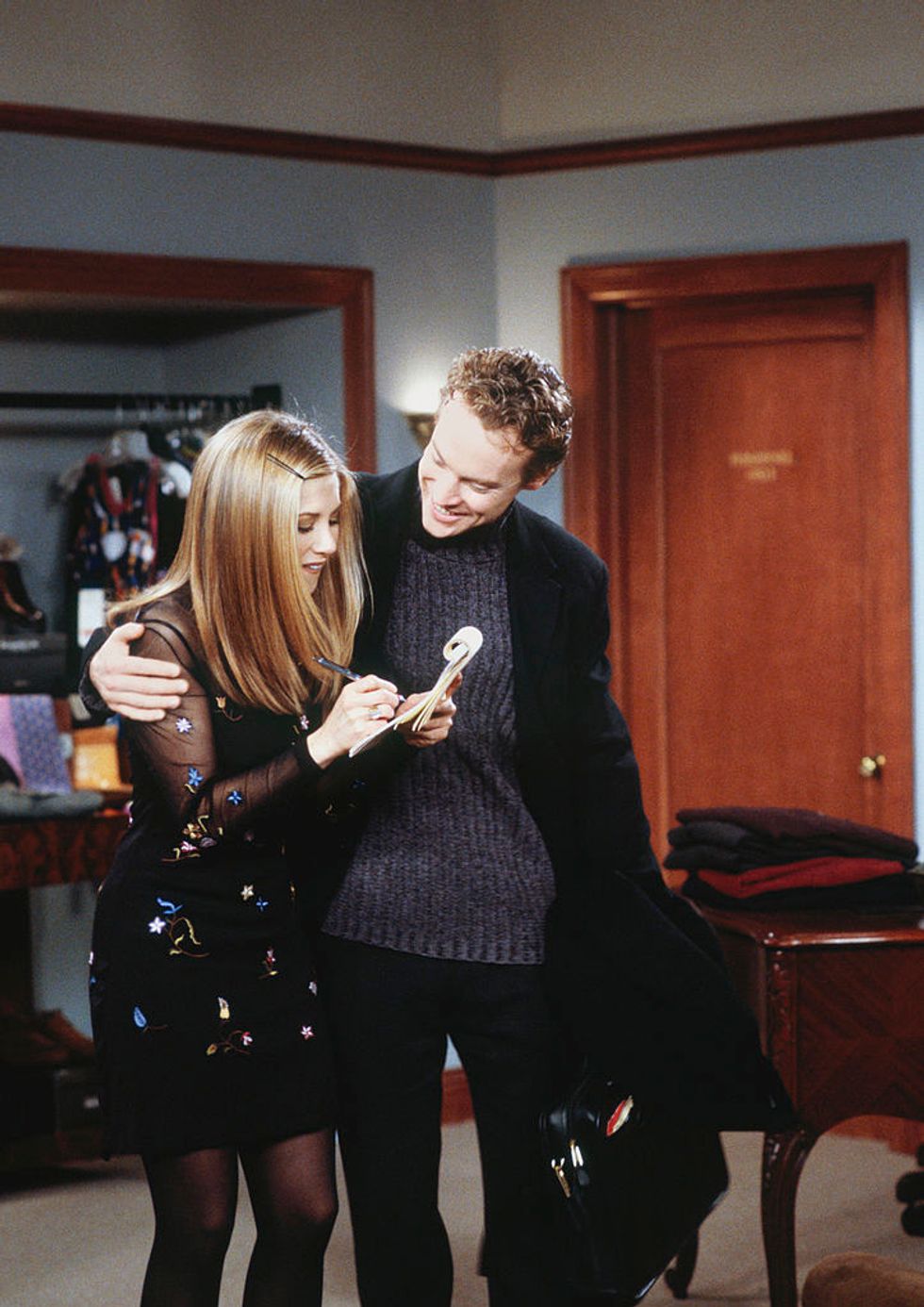 But it was when she started working in fashion that her look truly blossomed.
And, during her time at Ralph Lauren...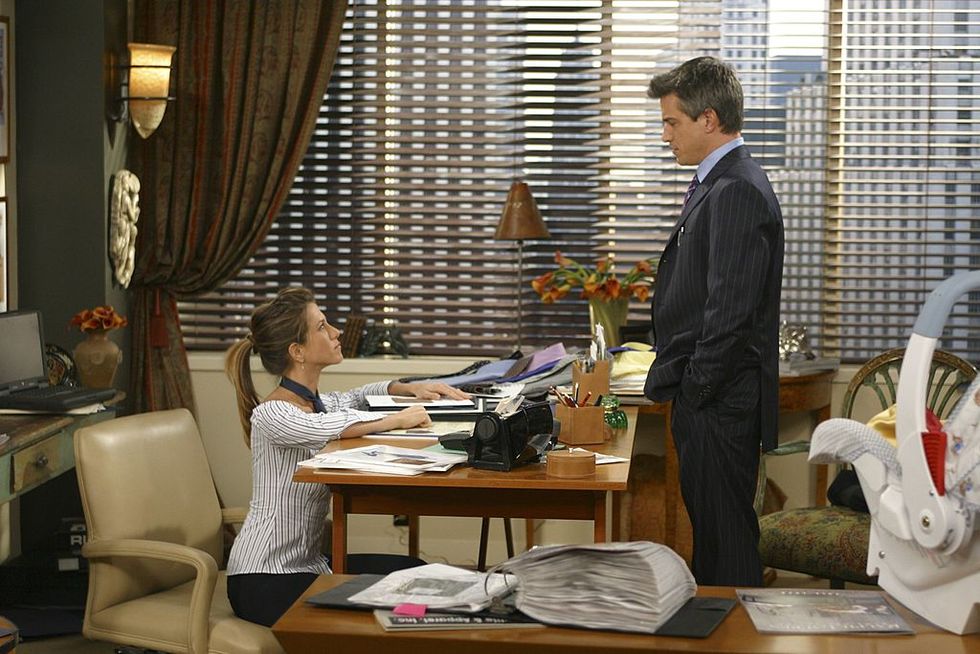 Rachel Green served some serious workwear looks. Her combo of '90s nostalgia with simple designs and fun, girly touches is hard to beat.
She's really workwear goals.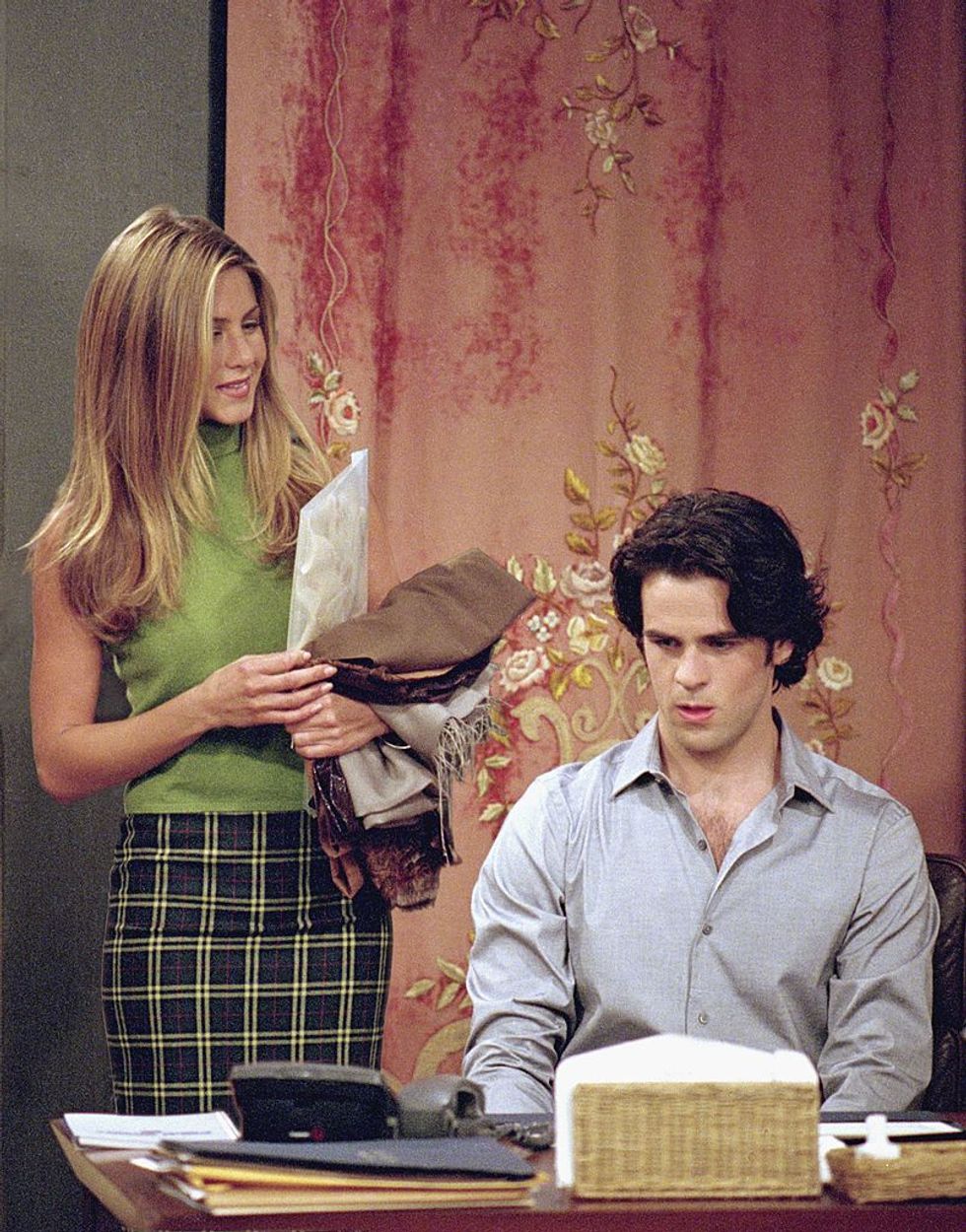 Across the series, Rachel fans got to enjoy tons of excellent formal inspiration.
For a generation, Rachel Green was the ultimate career girl.
But dressing like Rachel was always something of a pipe dream. Until now.
Because, today, we've had some very exciting news.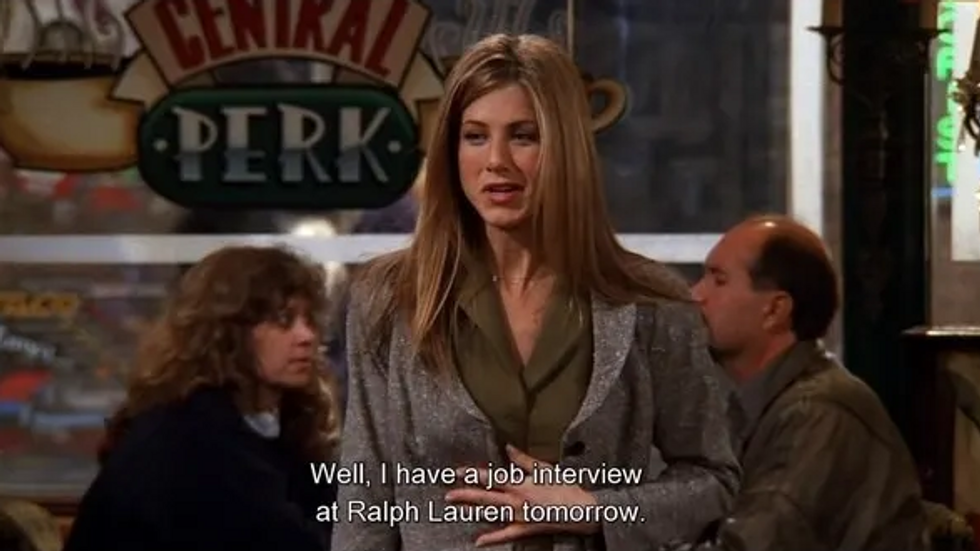 A newly launched Rachel Green inspired workwear collection is hitting shelves. And the brand bringing the people what they want? Well, it's Ralph Lauren -
who else. 
And as you'd probably expect, the collection looks incredible.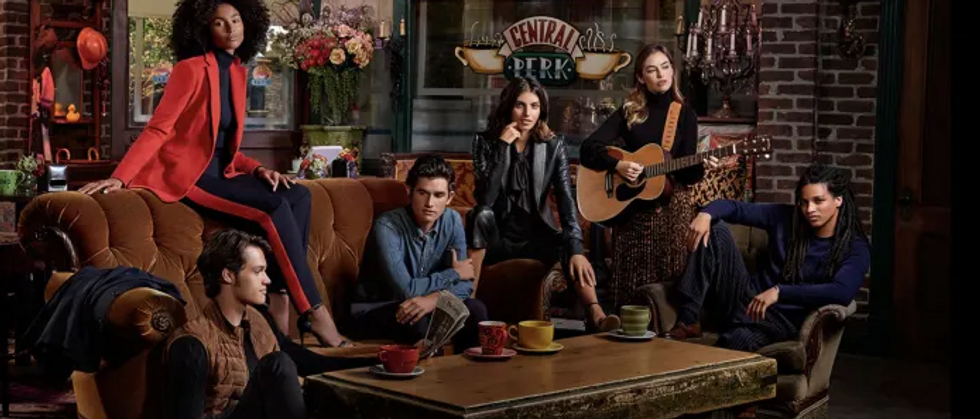 Not least because of the promo shots that Ralph Lauren have put together, which are inspired by classic
Friends 
pics from back in the day.
It's what '90s dreams are made of.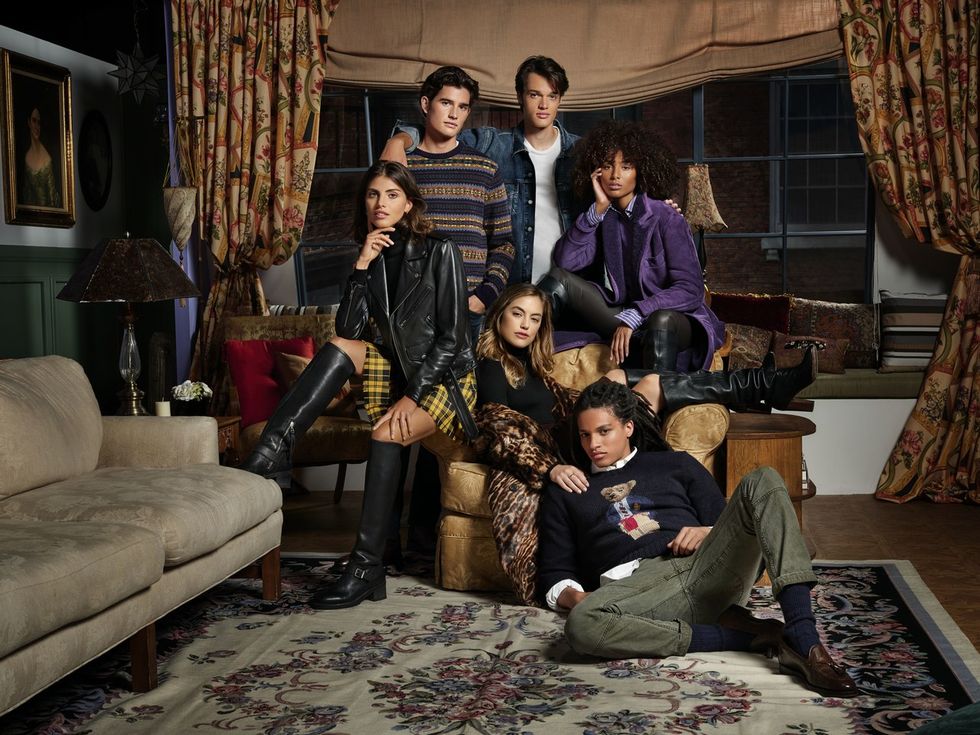 And to make the launch even more exciting? The collection will be displayed at Bloomingdales alongside the iconic Central Perk orange sofa, for the perfect photo opportunity.
So fans can truly feel like Rachel Green.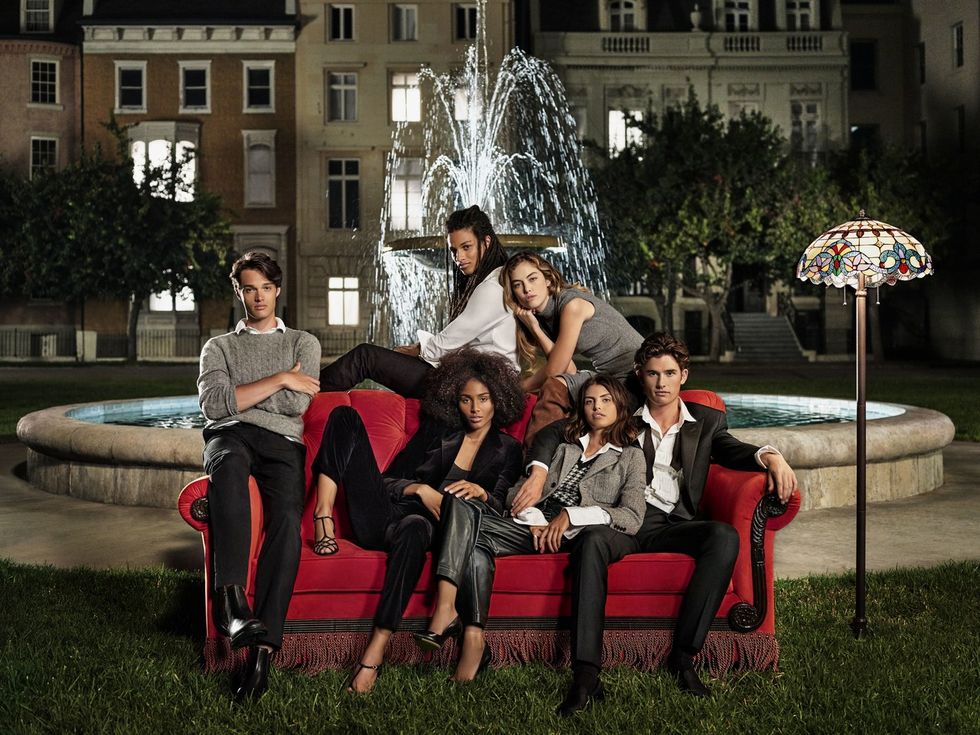 Even better? True fans will remember that Bloomingdales is where Rachel got her first big break. Full circle baby!
And the collection itself doesn't disappoint, either.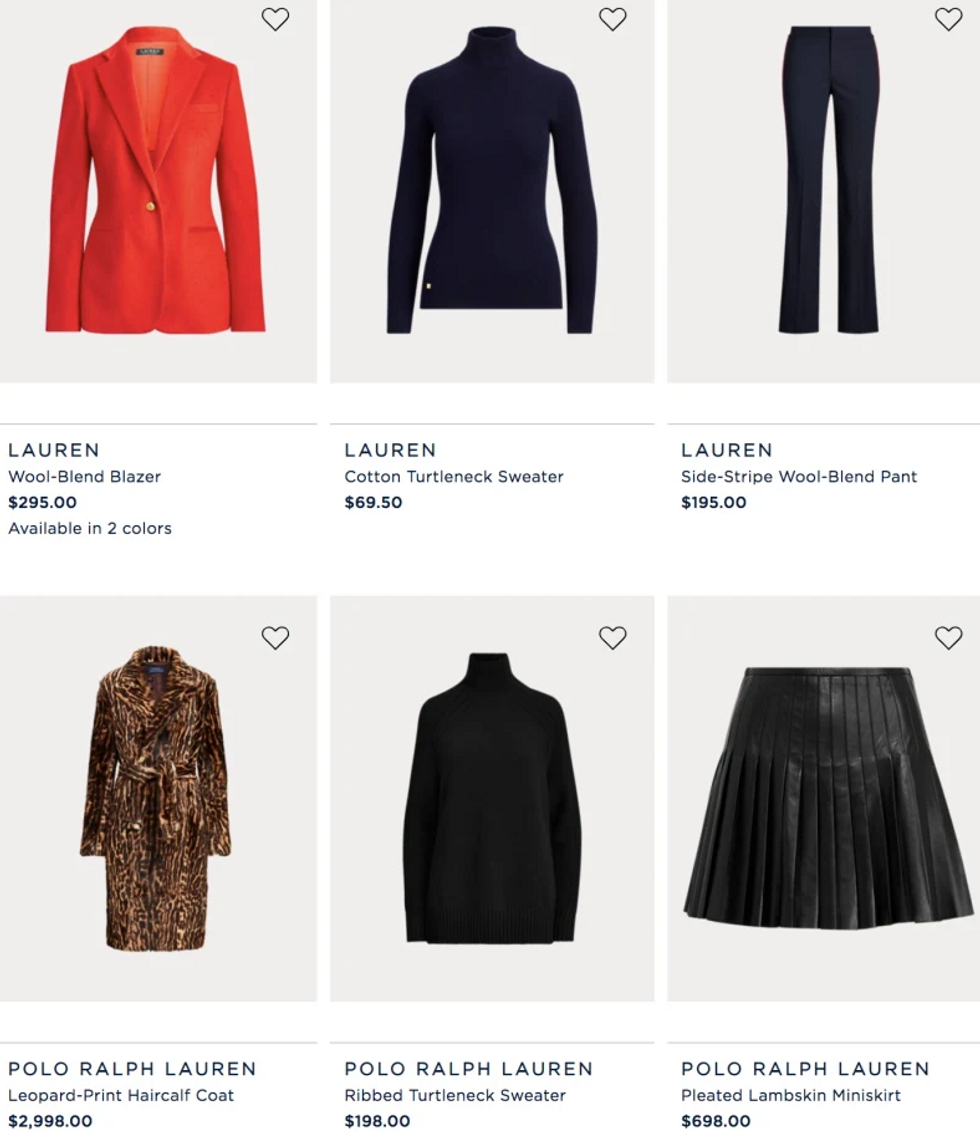 It's 100% Rachel Green, with preppy polo necks, fitted blazers, pleated miniskirts, and perfectly chosen pops of color.
*Adds everything to cart*
Seriously, Ralph Lauren has knocked it out of the park here. It can be so tricky to find workwear that actually feels fun and fashionable, and they've managed it.
People have reacted just as you'd expect.
RALPH LAUREN IS COMING OUT WITH A FRIENDS COLLECTION SOMEONE HELP ME BREATHE

— mon (@mon)1568818614.0
The world has basically gone into full-blown hysteria over the incredible collection.
Because not only is the collection truly stunning...
Best glo up ever #RachelGreen https://t.co/rGGyZqVDMn

— María Fe 🍁 (@María Fe 🍁)1568857908.0
But it holds a certain type of sentimental value for those who watched and were inspired by Rachel's journey.
And when you look at these side by sides ...
can you believe in s5-10 of friends, rachel green was an executive at ralph lauren and now there's a whole line ded… https://t.co/eKLeLz5FXw

— nicole (@nicole)1568853843.0
It's hard not to feel a little bit emotional about what essentially amounts to a fictional character. Is everyone feeling ok??
Either way, people are thrilled.
@TIME https://t.co/TJvR67pxcU

— Alicia Castro (@Alicia Castro)1568870282.0
Not only was this collection an ingenious idea - but it has been executed beautifully.
And, of course, the Friends jokes came out.
@TIME Could we BE more excited?!

— Cody R. Price (@Cody R. Price)1568839559.0
Any excuse, hey guys?
Some made this joke.
@twisted_panic @BuzzFeed @FriendsTV My very first thought!

— Vanessa (@Vanessa)1568855397.0
Seriously, Ralph Lauren have missed a trick by not giving these products jokier names.
Others made this point.
@hailey_heath24 @BuzzFeed @FriendsTV You after buying the entire collection https://t.co/BG283WUtmn

— Richard / HOLIDAY SZN (@Richard / HOLIDAY SZN)1568855084.0
Hey, if we could afford the whole collection, we'd have a hard time 
not 
wearing it all at once.
But there is a downside.
@balenciogre I can only afford what Rachel Green the waitress could afford on her salary. Meaning... https://t.co/MujIdCKmpz

— Nadiæ 🤷🏻‍♀️ (@Nadiæ 🤷🏻‍♀️)1568887771.0
The collection comes with typical Ralph Lauren prices. Not extortionate - but certainly not bargainous, either.
But even if you can't technically afford anything ...
At least the collection can serve as some serious (and much-needed) workwear inspo!
Either way, the collection looks set to be a massive success.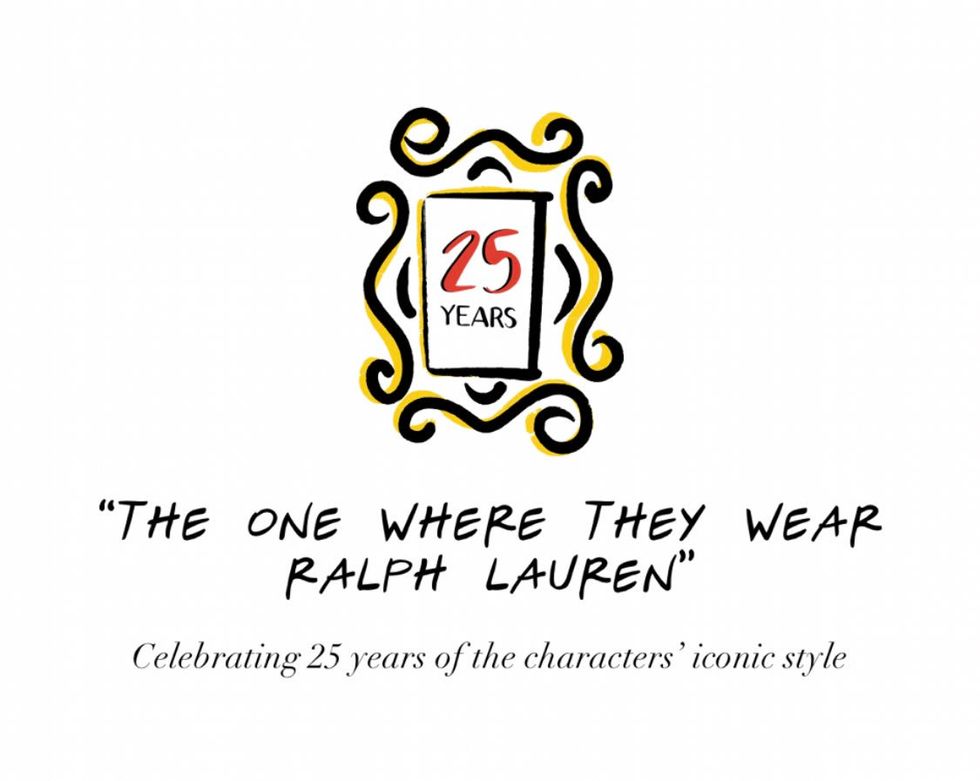 And even though we're jealous that we can't hit up the NYC location, the magic of the internet makes making a purchase scarily tempting. Interested in making more 
Friends 
related purchases? Keep scrolling to learn all about the Card Against Humanity expansion pack every fan needs.