It's a sad day in the paranormal community. One of the leading voices in everything Paranormal passed away Friday. Not only was Lorraine Warren a best selling author and self-claimed clairvoyant, but she was also the inspiration for the wildly popular Conjuring film series. Her work inspired countless film and television adaptations, as well as a whole generation of people looking to start investigating the paranormal.
She and her husband Ed Warren's lives and writing also inspired the Amityville Horror franchise. Her passing has sent a wave of sadness through the paranormal community, and the film community. Horror fans everywhere are mourning the loss of one of the genre's most influential figures.
Tributes to her and her husband's work have echoed around the internet as news of her passing spread. If you're unaware of Lorraine Warren or her husband's work, we'll share with you some of the highlights of their hugely impactful careers.
For those unfamiliar, Ed and Lorraine Warren's careers were groundbreaking.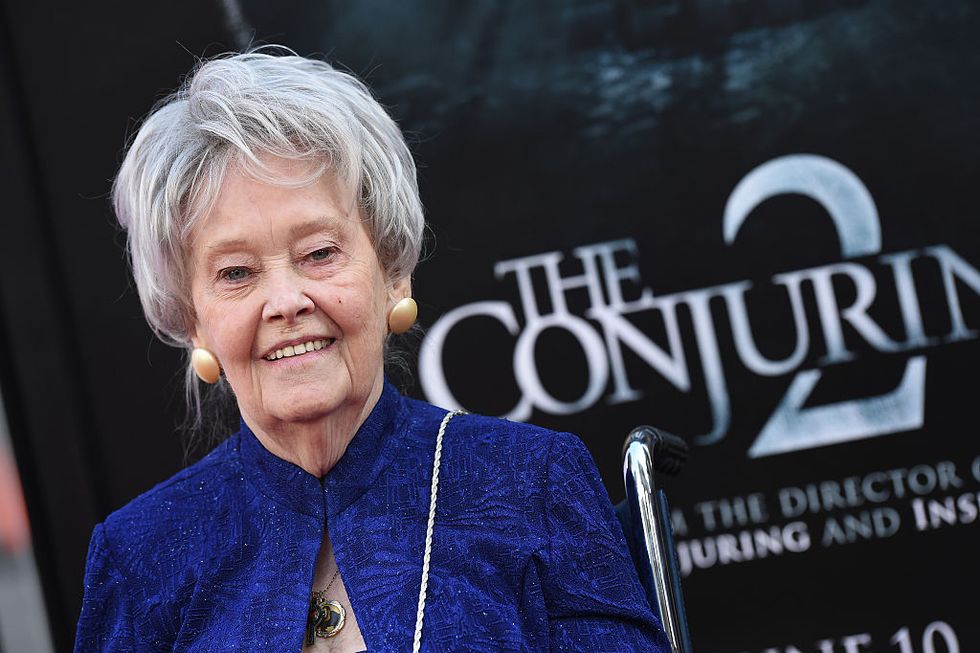 While the authenticity of their claims is certainly questionable, it's unquestionable that they created a network of highly passionate fans and inspired countless people interested in the paranormal.
Lorraine's husband Ed was a WWII Vet.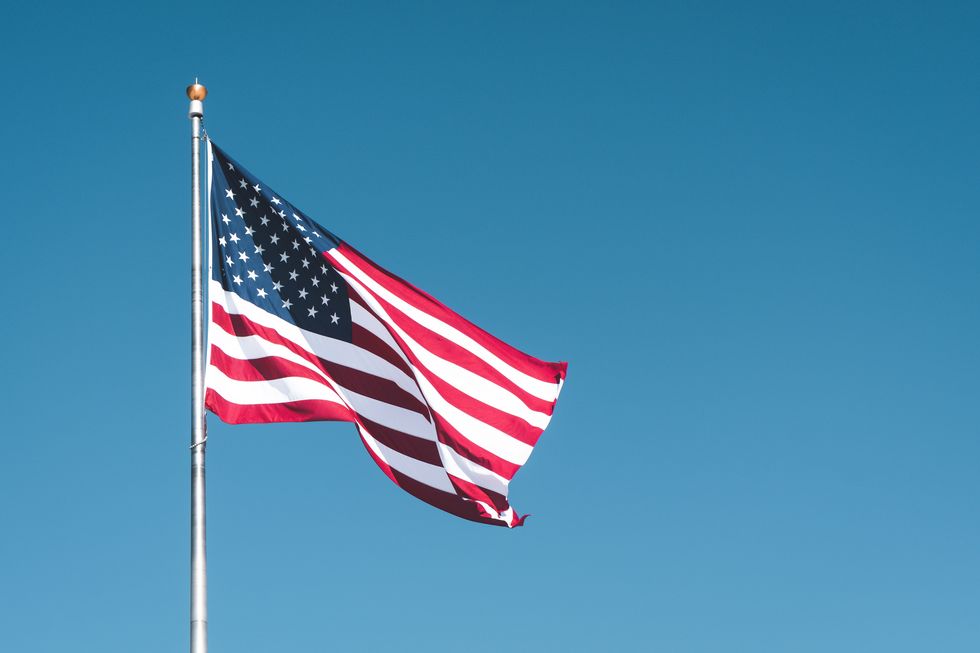 After the war, he became a police officer, and then a self-taught "demonologist".
Lorraine was also a clairvoyant.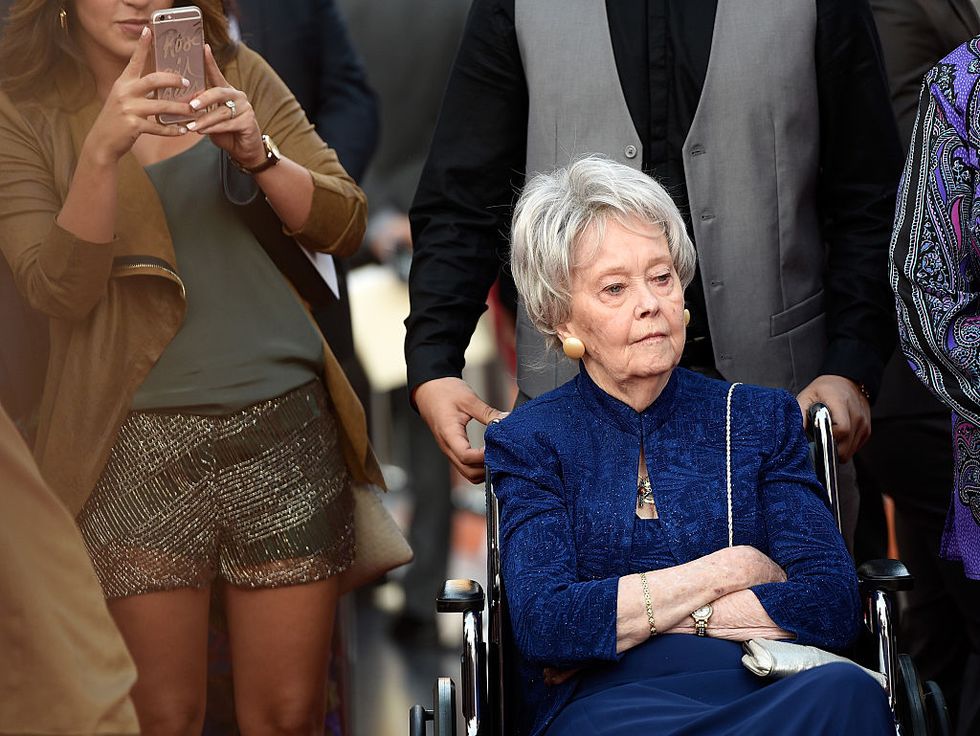 She believed that she could speak to the dead and act as a medium between the living and the dead.
The Warrens founded the New England Society for Psychic Research.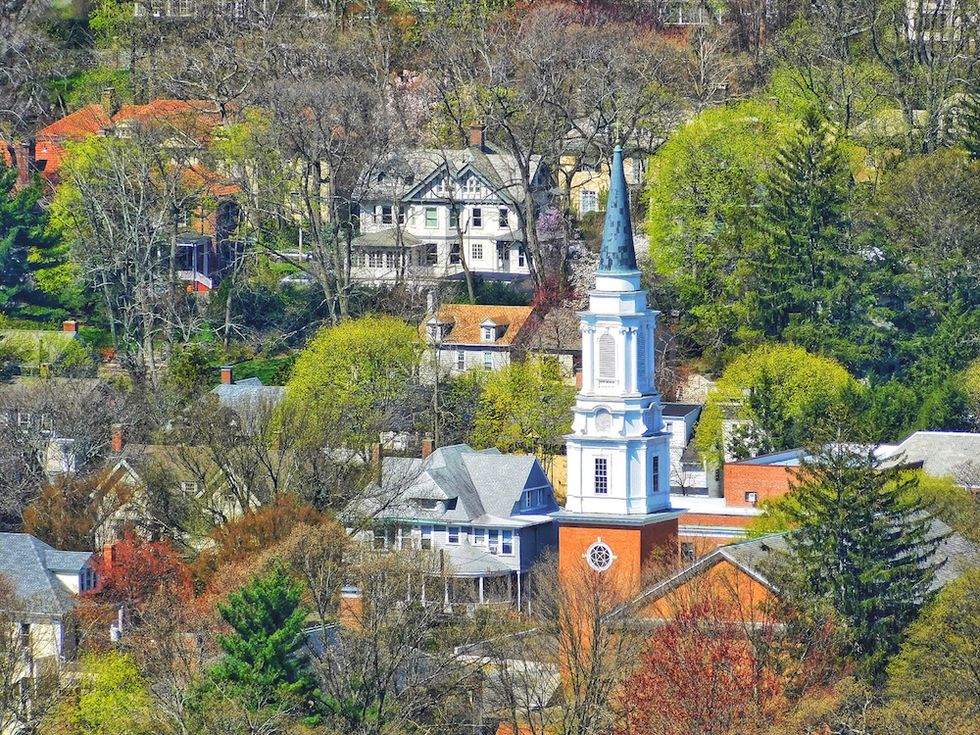 It is the oldest ghost hunting group in New England. And hey, if you're going to do some spooky stuff, what better a place than New England?
While they claim to have taken over 10,000 cases in their careers, the Warrens are really famous for one case in particular.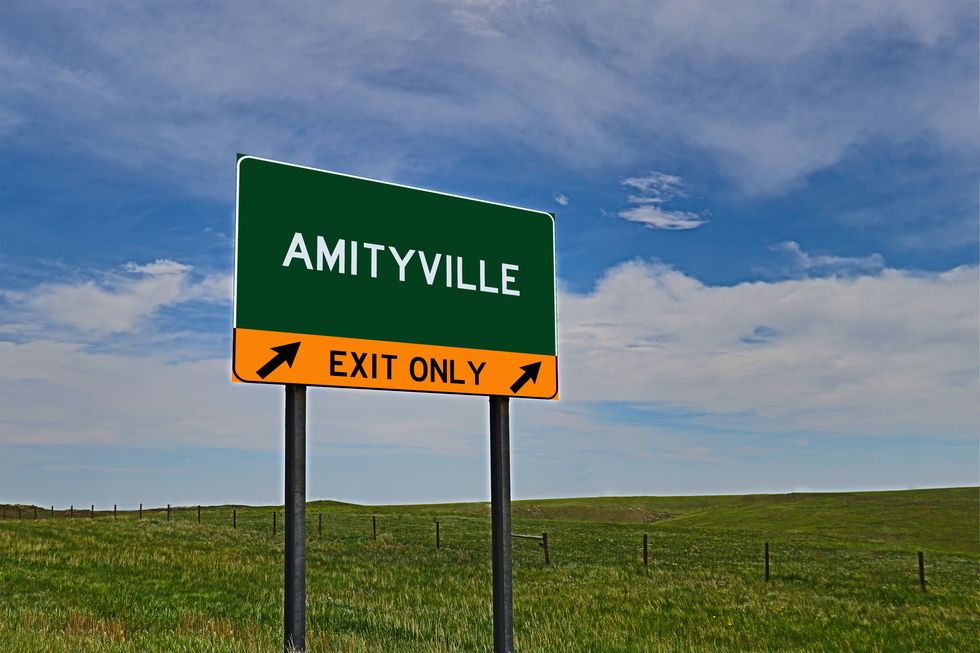 It's the case that started their careers and made them what they were.
That case -- the super controversial Amityville haunting.
Controversial as it was, their work eventually spawned numerous books and a successful career for the Warrens.
The case happened like this: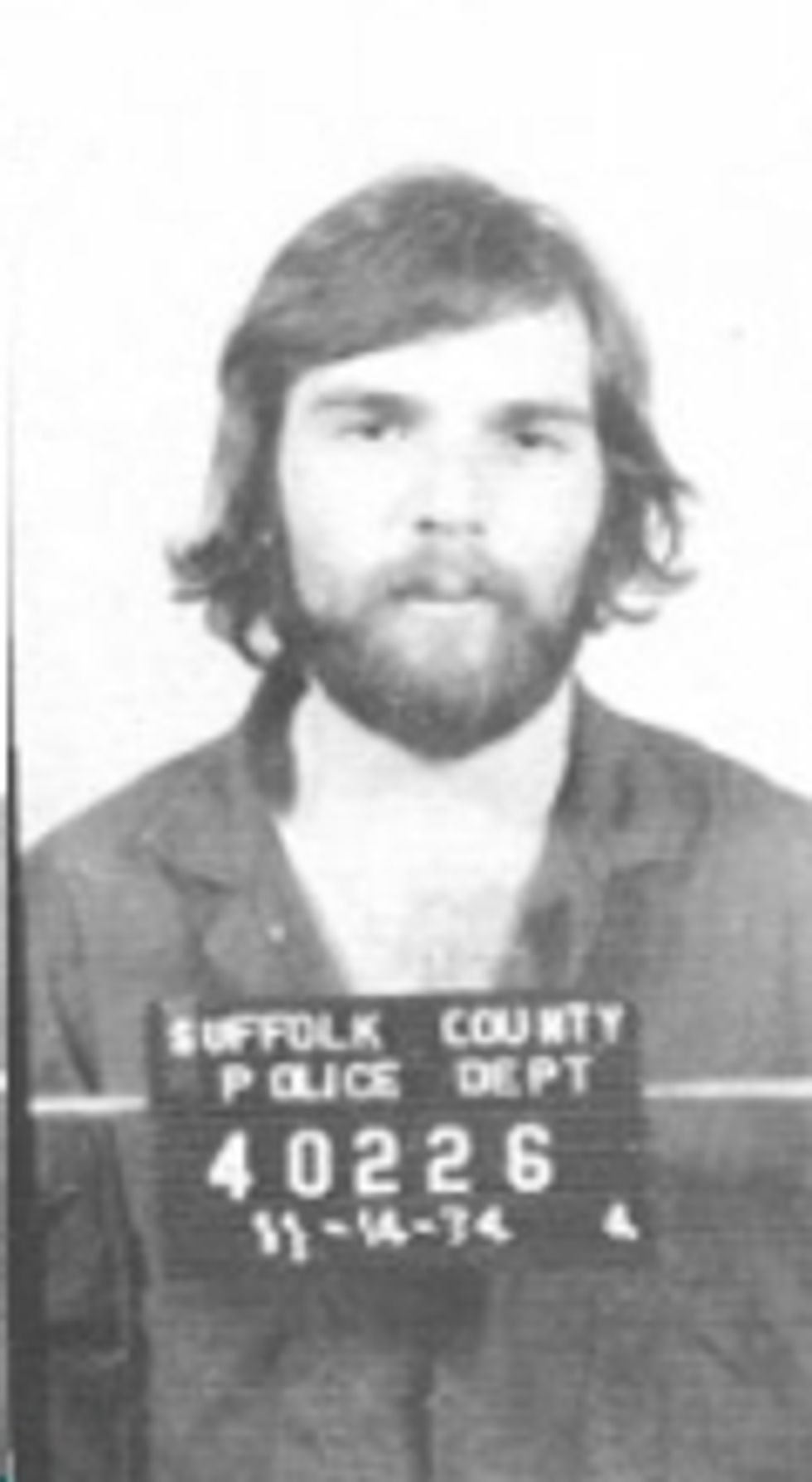 On November 13, 1974, Ronald DeFeo Jr. shot and killed six members of his family at their house in Long Island. He was convicted of murder and sent to prison. He was only 23 when it happened.
The crazy thing is what happens next.
A little more than a year later, the Lutz family and their three children moved in but evacuated in less than a month claiming the place was haunted.
Sound familiar?
Well, that's because it's the basis of like every haunted house movie ever. That's all because of the work the Warrens did. They basically created a film genre.
They snapped this photo inside the house.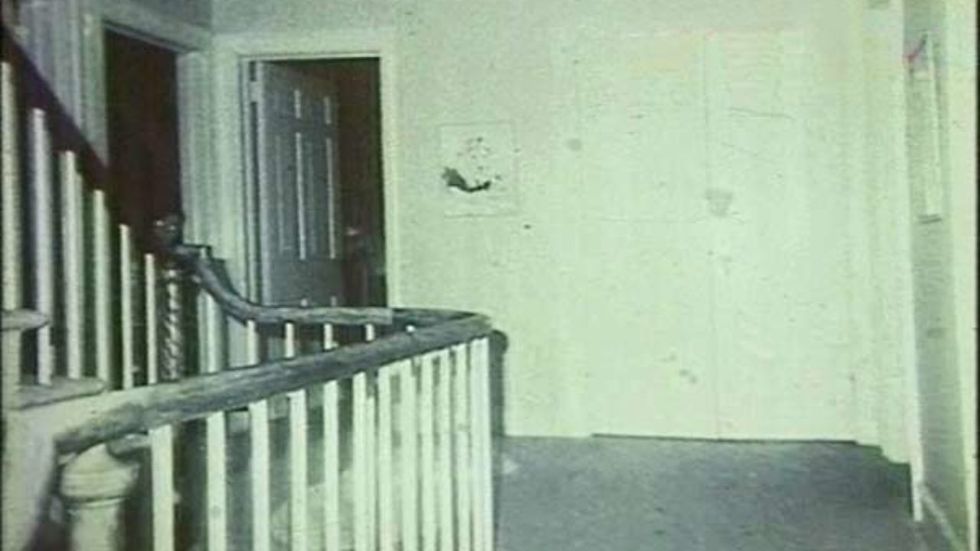 So people were like okay yeah nope not doing that, not going in there.
That photo eventually spawned an entire film franchise.
There are 23 movies based on the Amityville horror, and like only 3 of them are good.
But that's not the point. The point is -- the Warren's work was groundbreaking.
And this was just the case they were most famous for. The claimed to have connected thousands of families with lost loved ones over time.
Most recently, the Warren's work has given birth to a new film series.
Just as the horror genre was slowing down, James Wan, creator of the Saw franchise (and director of Fast and Furious 7 and Aquaman) changed things.
With the help of the Warrens, he breathed new life into the genre. 
Five films and a movie studio called Blumhouse later, the horror genre is back.
Blumhouse is also the studio that created movies like Get Out, Us, Whiplash, and the Paranormal Activity series.
Talk about influential. These movies wouldn't exist without the groundwork that the Warrens laid.
The Conjuring series itself was a huge accomplishment for the Warrens.
Before that series, they were quietly doing their own research on the East Coast, but the Conjuring series turned them into movie characters.
They got to see their work front and center on the big screen.
Their work then inspired hundreds of people to follow in their footsteps.
The Conjuring films have now grossed over 426 million dollars at the US box office.
The first film is also the
7th highest grossing
R-Rated horror movie of all time.
That might not sound like such an accomplishment...
...but it follows some absolutel blockbuster films in IT, The Exorcist, Get Out, Us, Halloween, and The Blair Witch Project.
Movies about the Warrens are still being made to this day.
Additional Annabelle, Conjuring, and Nun films are all set for release either this year or next year.
Vera Farmiga, who plays Lorraine in the Conjuring films tweeted this touching tribute.
My dear friend Lorraine Warren has passed. From a deep feeling of sorrow, a deep feeling of gratitude emerges. I wa… https://t.co/0a0qiLgS8m

— Vera Farmiga (@Vera Farmiga)1555687127.0
Such a wonderful tribute to a wonderful woman.
She continued...
...compassion, and took a shield of faith. Righteousness was her breastplate, and she has touched my life so. Love… https://t.co/MBSpNNw6nz

— Vera Farmiga (@Vera Farmiga)1555687155.0
Vera wasn't the only person online with kind words for Lorraine.
Lorraine and Vera became close friends.
@VeraFarmiga my deepest sorry for your loss , V. She will be living always in a little piece of your heart and her… https://t.co/fKhh5nur3J

— val (@val)1555691033.0
Lorraine's spirit seemed infectious on set and she became close with many members of the cast and crew.
Her words were inspirational.
@VeraFarmiga i cried again reading your words. she was an angel, rest in peace with Ed wherever they are. ❤️

— bella (@bella)1555687646.0
She can now be reunited with her husband.
Fans are also shocked.
Me finding out that the real Lorraine Warren has passed away today: a thread. https://t.co/HyFnyvDufM

— 🌻🌈 (@🌻🌈)1555680139.0
But Lorraine's memory will live on in her films.
Here is a wonderful video of her behind the scenes on The Conjuring.
The memory that remained is this sweet woman who did so much for everyone around her. We are very grateful for ever… https://t.co/0gFU1kIDO4

— best of the conjuring (@best of the conjuring)1555691500.0
She brought so much joy to her work.
And continued to be friends with the cast until the end.
rest in peace beautiful angel #LorraineWarren this is one of my favorite moments of her with vera❣️ https://t.co/5m1p71K0Cl

— agus (@agus)1555688122.0
After all the things she saw in her life, she was still full of energy.
The tributes continued.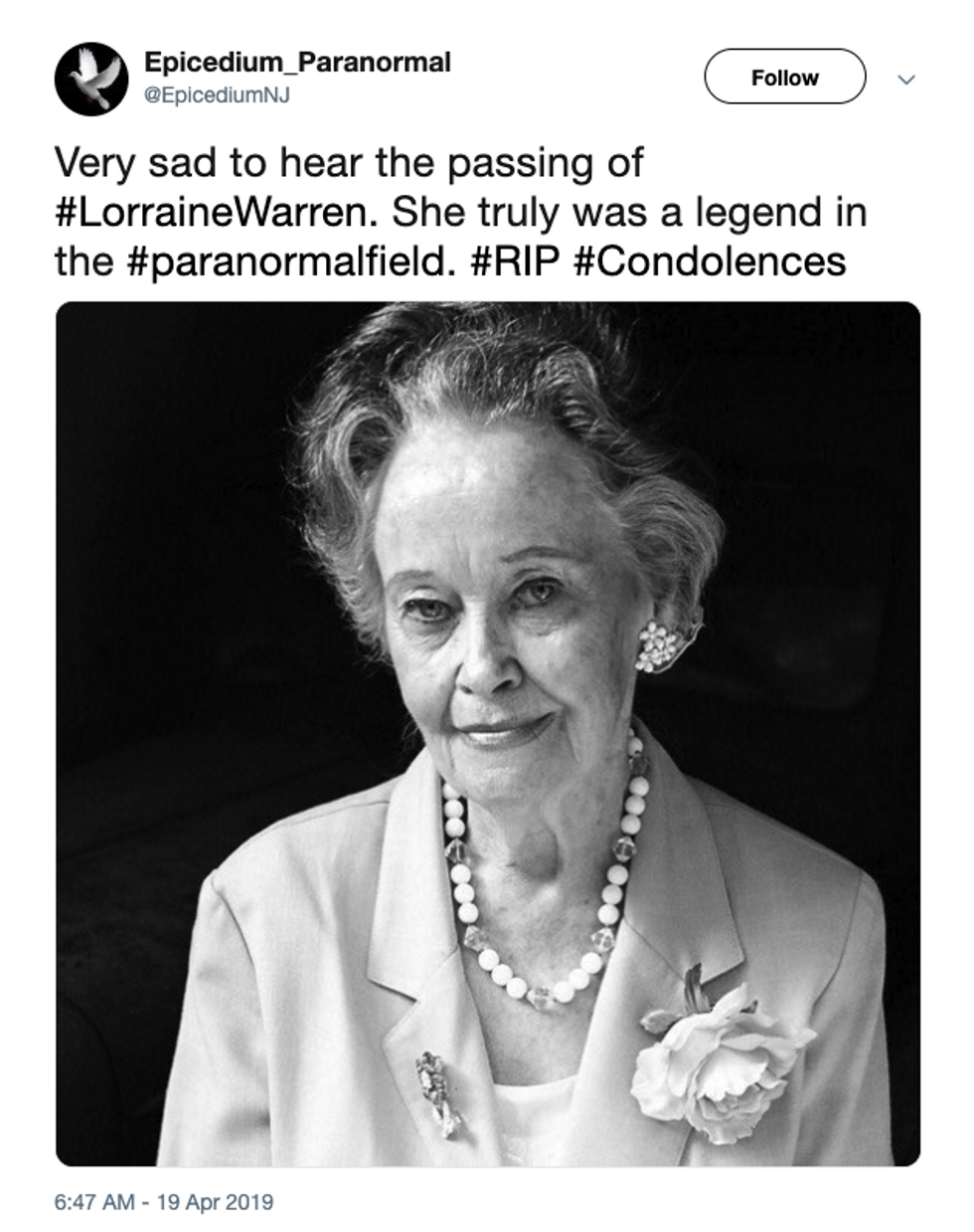 Her work shaped two entire industries for decades.
It doesn't matter whether you believed or not.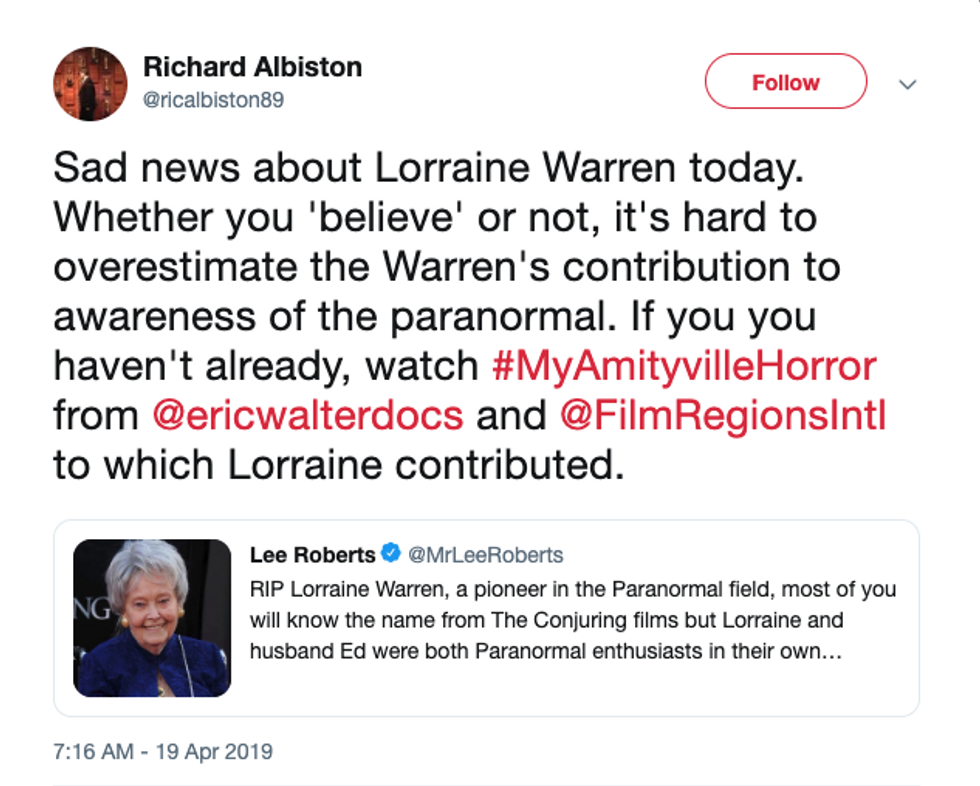 It's hard to understate how groundbreaking her work truly was.
Fans are also upset.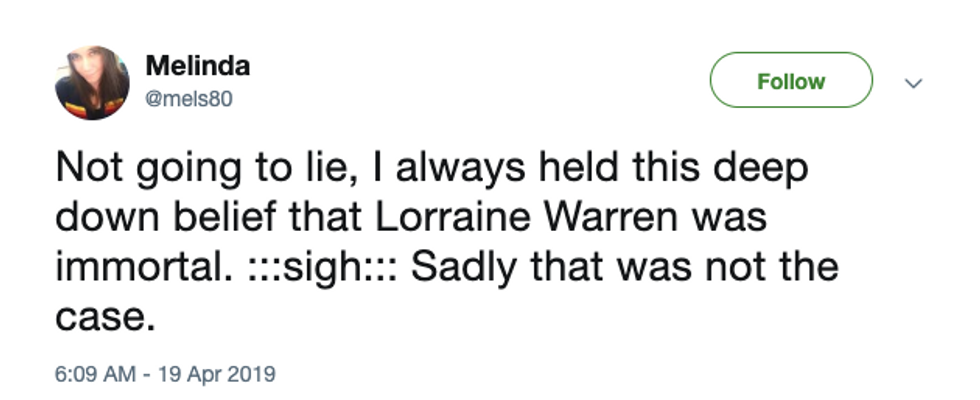 If only life could be so simple...