Nobody is turning to gossip magazines for hard-hitting journalism, but there's a huge difference between a puff piece about the Clooney twins and completely fabricated malicious lies. Nobody knows that better than Rebel Wilson. In 2015, several popular magazines published a series of defamatory articles about the Pitch Perfect star. What they didn't plan on was Rebel fighting back.
She's not named "Rebel" for nothing!
We all know that gossip magazines aren't a great source for high-brow, hard-hitting news.
That person is Rebel Wilson.
Bauer Media Group
. Bauer owns several magazine titles around the globe, including Woman's Day, Take a Break, and Empire. In May of 2015, they decided to run a story on Rebel Wilson.
That article was the first of a series of stories about Rebel. It was also filled with lies.
The first article was published in Woman's Day magazine. It claimed that Rebel had been lying to everyone about her real name, age, and upbringing. The story was quickly picked up by several other publications, including The Sydney Morning Herald, People Magazine, and The Huffington Post.
Rebel's first response was to make light of all the lies the article claimed to "reveal."
As long as people are spreading lies about you, why not add to the chaos a bit? But before long, Rebel started realizing that the articles were having a terrible impact. People took them at face value and believed that she was some kind of serial liar. She claimed that her reputation and career began to suffer as a result of the lies published by the magazines. She was dumped from her roles in both Kung Fu Panda 3 and Trolls right after the articles were published.
In May 2016, Rebel filed a lawsuit against Bauer Media.
Rebel won the case — and $4.5 million AUD.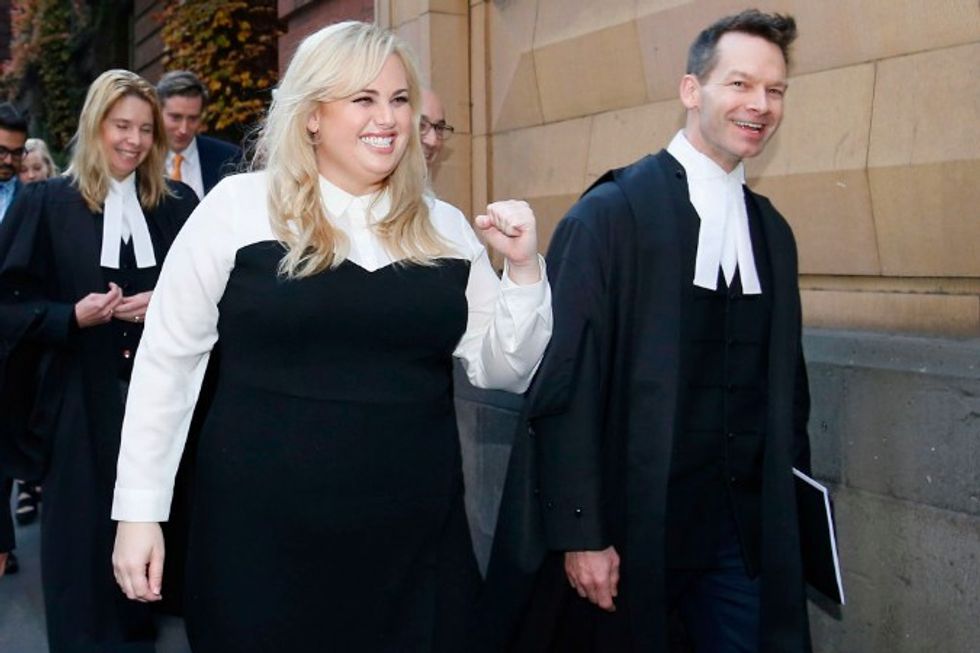 via: Getty
(That's about $3.6 million USD — a pretty hefty chunk of change!) The jury had deliberated over the case for two full days before finally ruling in Rebel's favor. The settlement is the largest defamation payout in Australian history.
Rebel took to Twitter to share her thoughts about the case.
The 37-year-old Pitch Perfect star (who actually has a law degree), was understandably thrilled with the result. However, she made it clear that the case wasn't about the money. Rather, she was happy that the "stain" had been cleared from her name. As she told reporters waiting outside the courthouse: "The reason I'm here is not for damages, it's to clear my name."
In fact, Rebel isn't even planning on keeping all the money for herself.
She tweeted that she'd be using some of the money to support Australian charities and Australian film industry. What a class act.
Rebel also hopes that the settlement will finally mean she can get back to making the movies that she loves.
After suffering the loss of several roles due to the defamatory articles, she's ready to get back into the biz. And we're ready to watch her!
Rebel's fans are almost as thrilled by the results as Rebel is.
Isn't it great when good things happen to good people? The best part of the case is that Bauer Media made a huge mistake by not taking Rebel seriously at first. Things could have gone so much better for them if only they'd done one thing differently... (Aside from not publishing the garbage article in the first place, of course.)
Before the case even went to trial, Rebel had actually offered to settle for a much smaller sum.
If Bauer had agreed to settle, it would have ended up costing them $200,000 — way less than the $4.5 million they now have to cough up. You'd think they'd have learned their lesson. Unfortunately for them...
...They totally didn't. Not long after Rebel filed her defamation lawsuit, Australian TV presenter Johanna Griggs called Woman's Day out for writing lies about her, too.
Maybe someone else will be cracking the whip against fake news.