All too often, the internet can feel like a bit of a barren, heartless wasteland - and nowhere has more of a reputation for this than Reddit. The self-described "front page of the internet" can allow for some of the most skillful trolling that exists online. If you want to see some true internet savagery, Reddit is an invaluable source.
One Reddit thread which is known for being particularly brutal is the r/RoastMe sub. Here, users submit a photo of themselves, and the thread insults, critiques, and humiliates to their hearts' contents. Honestly, submitting to this thread is not for the faint of heart.
But one recent r/RoastMe sub proved that even in what seems like the darkest corner of the internet, people can still be incredibly kind. A teen submitted a picture asking for a roasting - but what he got instead was quite the surprise.
For internet-lovers, Reddit is a popular destination.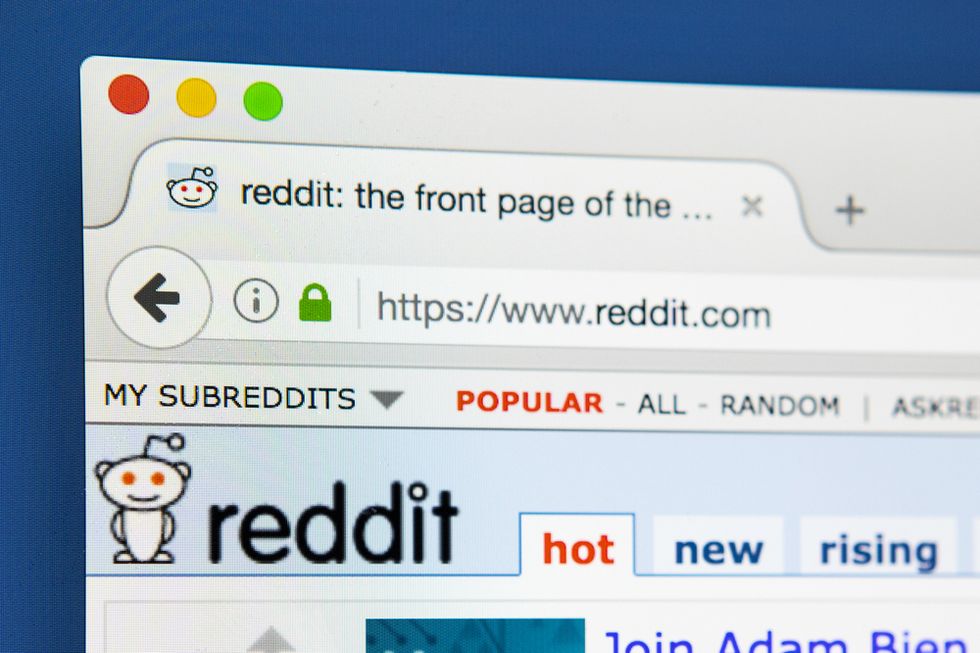 via: Shutterstock
The self-declared "front page of the internet" is a collection of the weirdest and most random internet content, with everything organised into threads for your convenience.
It's sort of like organised chaos.
Whether you're looking for skincare ingredient analysis, conspiracy theories, reality TV spoilers or images of cats, Reddit will have you covered - and then some.
Popular posts receive upvotes.
This helps the content become tailored to be as helpful as possible - answers and information that other people liked is easier to find.
For those who love internet-culture, Reddit is invaluable.
Because of its abundance of threads, you can literally find anything you want there. It's also user generated, which means it feels more genuine and applicable.
Although for those not fluent in internet speak, Reddit can feel a little daunting.
Those who love and use Reddit frequently basically have a language of their own, and outsiders can find the whole thing incredibly weird and confusing.
Reddit is also credited with being one of the first places memes existed.
Back when memes looked like this. Ah, the good old days!
The abundance of Reddit threads mean there's something for everyone out there.
Reddit is absolutely the premier internet destination for those who just want to waste some time.
Although Reddit's user generated aspect has some downsides, too.
Because there isn't as much policing from moderators, many see Reddit as a sort of "wild west" of the internet. Some of the stuff you find there is pretty horrendous.
One particularly brutal thread?
It's called r/RoastMe. Users submit a picture of themselves, holding the r/RoastMe sign, and users bring out their harshest critiques and most savage jokes.
It can be pretty funny, but equally, incredibly brutal.
Even reading it isn't for the faint of heart - so it seriously takes some cahunas to actually submit an image of yourself for the roasting treatment.
It should go without saying, but many of the roasts are very NSFW.
Those with sensitive eyes (or constitutions), we recommend you look away now. Everyone else, here's a taster of the usual r/RoastMe fare.
Many of the jokes are more sexually explicit.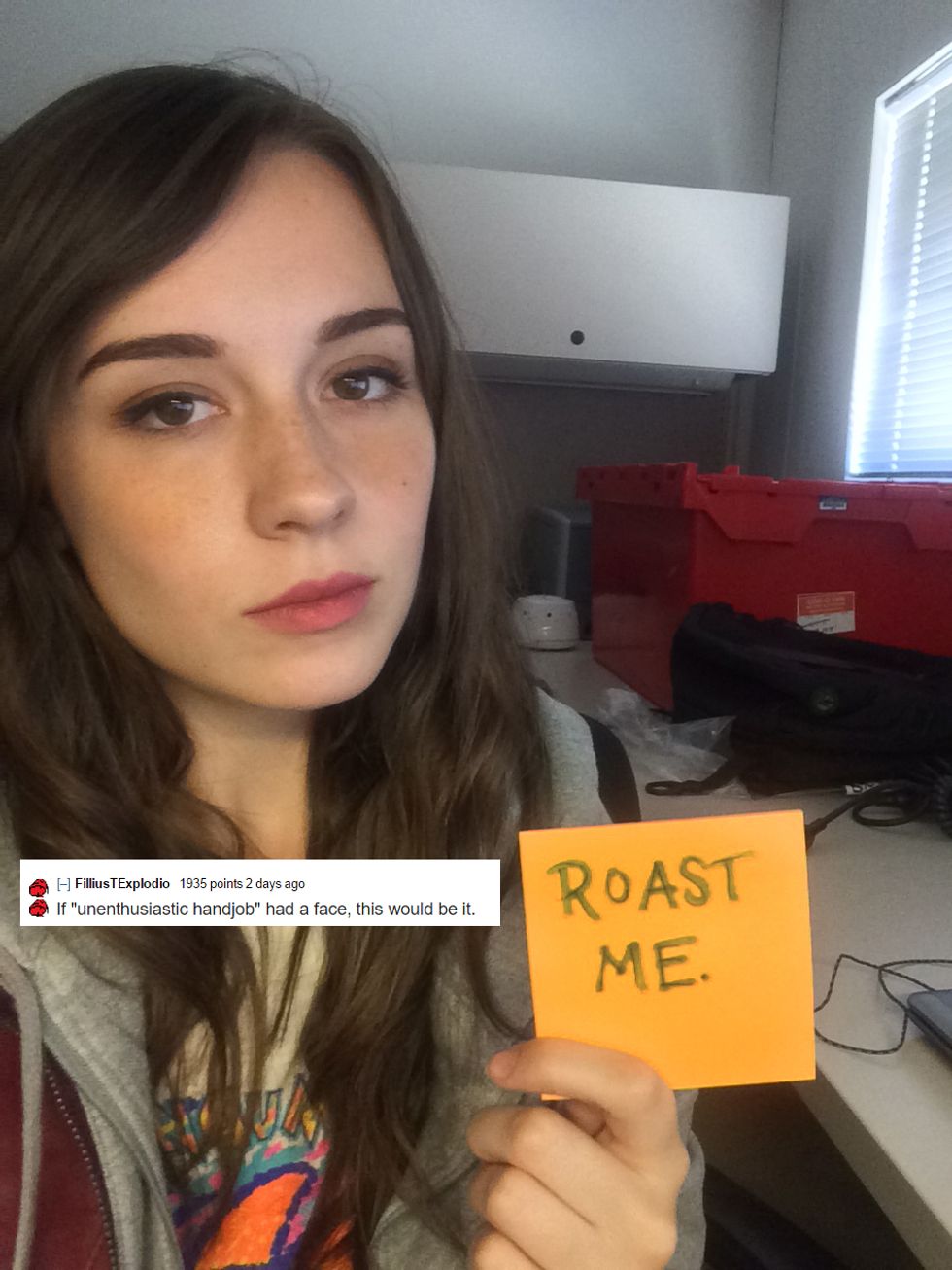 via: Imgur
For example, this roast of an admittedly bored and annoyed expressioned girl.
Others tend toward the more explicitly insulting.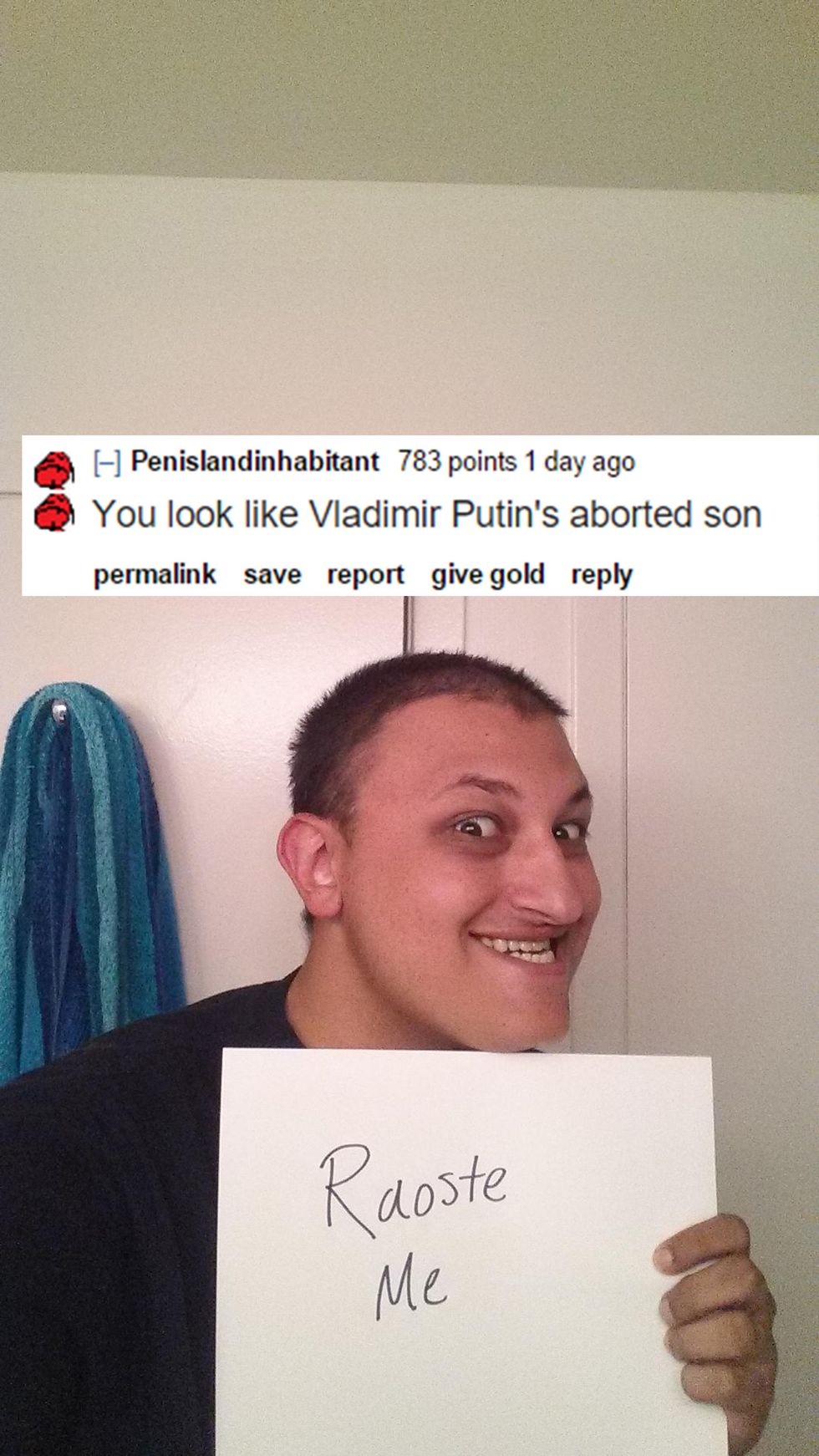 via: Imgur
For instance, this particularly cruel comment. Can we say "ouch"?
As you may expect, the majority of insults are appearance-based.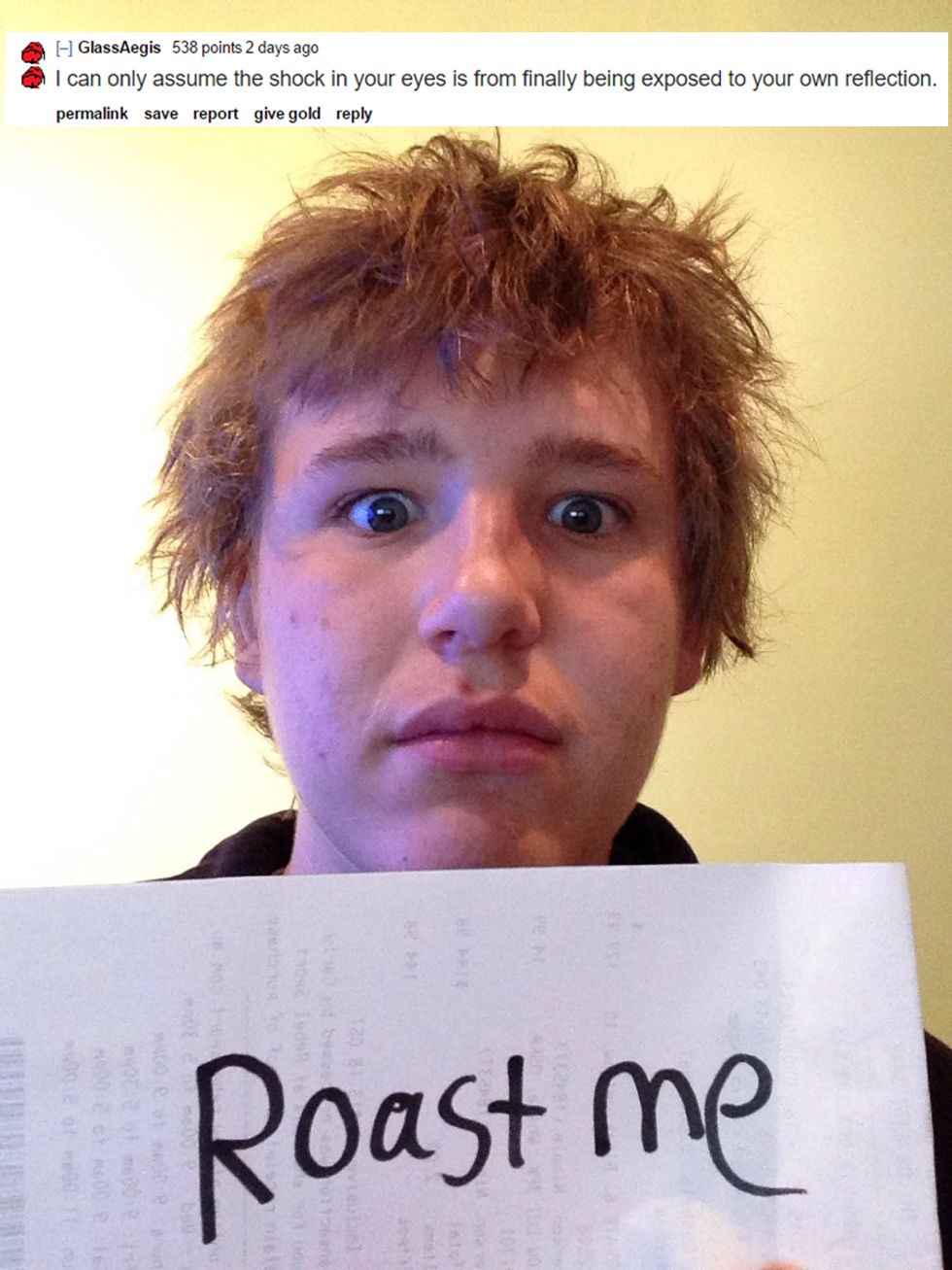 via: Imgur
When you have to submit a photo, rather than a list of facts about yourself, it's to be expected that the insults will be predominantly superficial.
Put simply, r/RoastMe isn't for the faint of heart.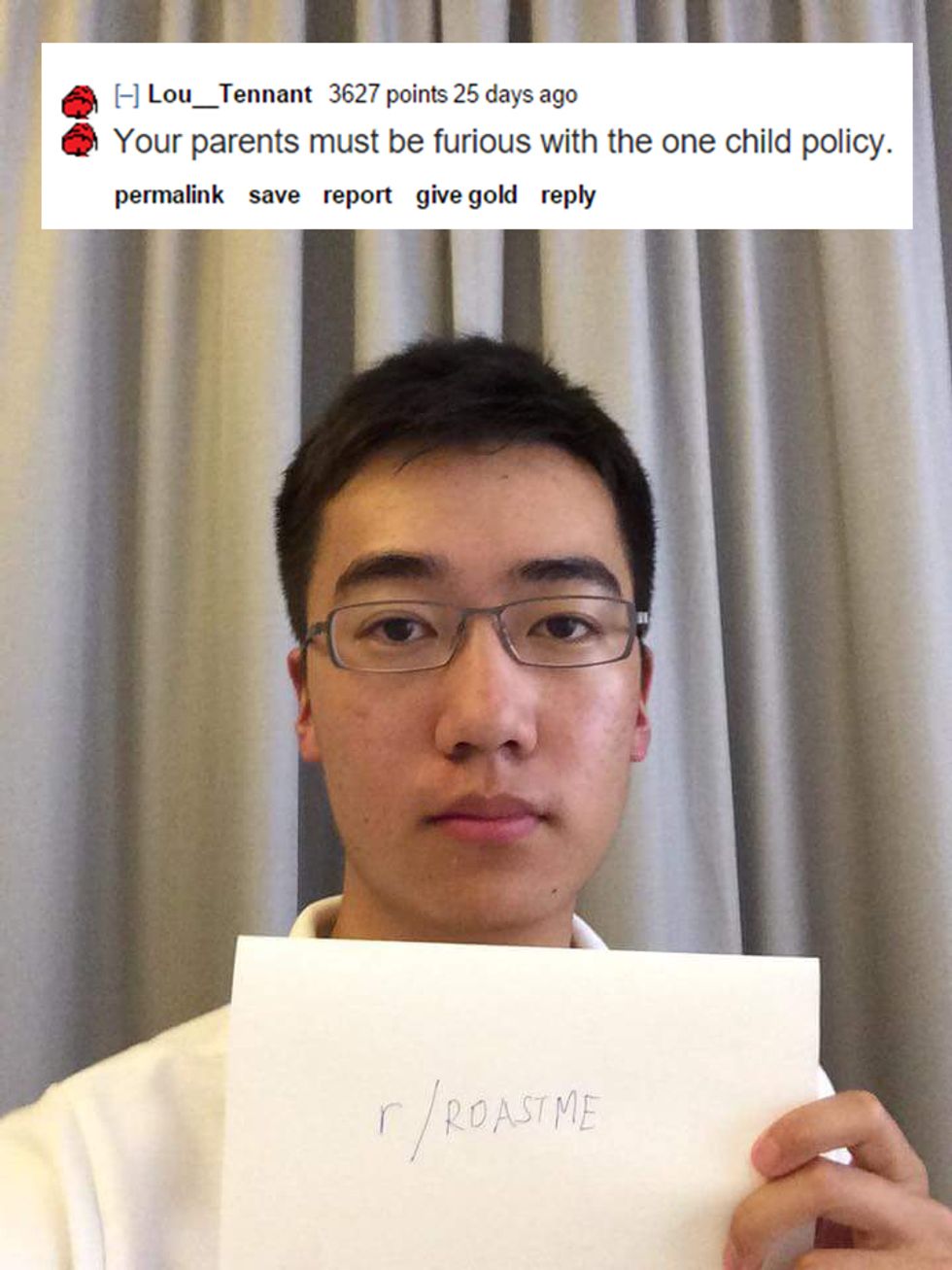 via: Imgur
Although the fact that users are required to hold up a sign to 
prove 
it's them requesting the roasting treatment makes it a little better, we guess.
For more of these brutal roasts, you can check out the subreddit yourself.
Although you have been warned - unbelievably, we picked a selection of the tamer roasts to include here. It can get far, far worse.
It's good to be able to laugh at yourself.
But for us, sometimes the r/RoastMe threads take things a little too far. Of course, it's important to remember that taking things too far is exactly what Reddit is there for.
Based on all this info, you probably wouldn't expect r/RoastMe to be the site of a heartwarming story.
But that's exactly what happened. Who would have thought that in the darkest corner of the internet, humanity can still offer us a pleasant surprise?
It's enough to make you believe in the goodness of people again.
But before we start celebrating, lets get back to the start of our story.
As you've probably gathered, it started with an r/RoastMe submission.
A Russian teen submitted his image to Reddit in the usual way - holding the Roast Me sign and braced for some horrendous comments.
But what happened next was surprising.
Especially when considering the venue of this submission. Because Redditors didn't want to roast this teen, and instead did something quite shocking.
They offered words of extreme kindness and comfort.
One particularly cute Redditor offered to wrap up the troubled teen and look after them until they felt better.
All together now ... "awwww!"
In the unlikeliest of places, we've found restored faith in humanity on the internet. Who would have thought?
In fact, people started sharing stories of their own.
It seems many in the Reddit community had been affected by the horrendous illness that is depression. It's incredible how brave these shared stories were.
The thread quickly became one of the most heartwarming destinations online.
People were offering messages or support, stories of their own battles, and just generally being all round great human beings. Bear in mind, this is all taking place on an r/RoastMe thread - which makes it all the more amazing.
Others offered to be there for the teen.
Many shared messages like this, detailing the effects on their own struggles with mental health, and offering to lend an ear whenever needed.
Other supportive comments played on the traditional roast format.
But even these posts offered a heartwarming twist on the traditional brutal formula. The overriding message was clear, and it was one of hope.
Our hearts are full!
Nothing is better than strangers helping out strangers just out of the goodness of their hearts. And when this takes place on an internet forum renowned to cruelty and harshness, it's even better in our eyes.
Even Redditors were surprised.
The thread moderator pointed out how the whole thread went against the point of the r/RoastMe tradition. But they also said they didn't mind at all.
Good job, internet.
There's nothing like having you faith in humanity restored - especially when that faith comes from a thread which usually celebrates the worst of humanity. As for the OP, we're sending our most wholesome thoughts to you.