If there's one group of people you don't want to upset, it's "mommy bloggers."
Reese Witherspoon recently spoke at WSJ Magazine's 2017 Innovator Awards and addressed the importance of representing women on screen in Hollywood and providing more and more women with the opportunity to share their unique and powerful voices. Pretty great stuff, don't you think? Well, Witherspoon made one grave error when she decided to make a throwaway joke disparaging 'mommy bloggers,' and the Internet immediately chastised her for it.
Witherspoon received the Entertainment Innovator of the Year Award for her extraordinary work in film and production — she owns her own production company Hello Sunshine, which is committed to telling female-driven stories.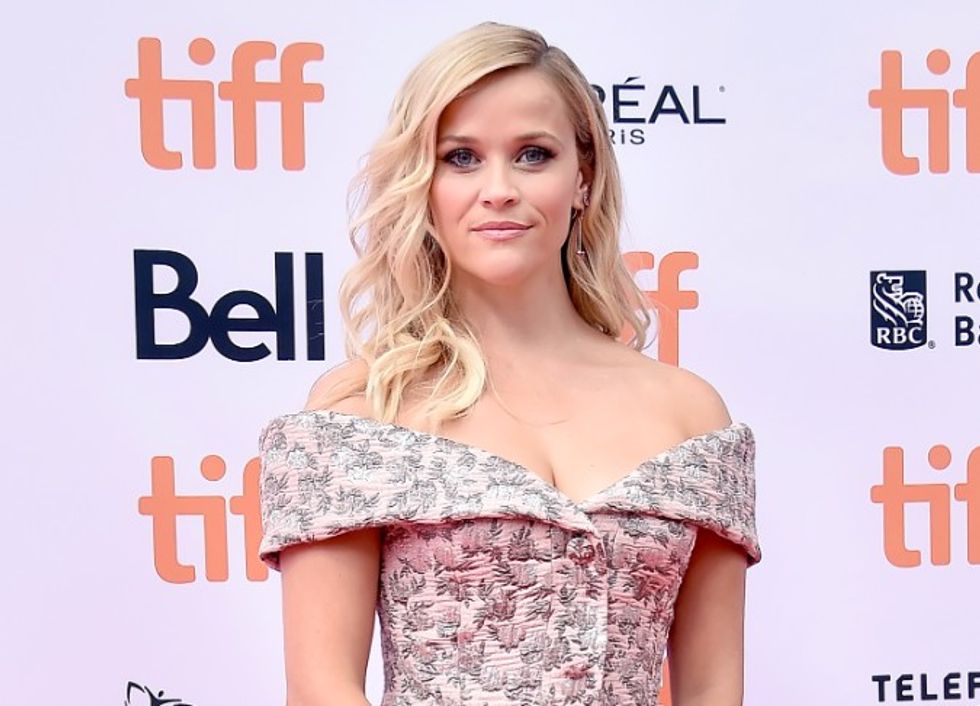 via: Getty Images
During her acceptance speech, Witherspoon addressed issues like sexual harassment and assault in Hollywood "to shine a light on the dire need for more opportunities for women and people of color,"
according to Redbook
. Witherspoon said, "I don't really believe that we've been seeing the full spectrum of the female experience, and that is simply because women's stories are not prioritized. I also just think we need to think about women differently, because women are the largest captured consumer audience in the world." She added that women want "real substance and thought-provoking entertainment," and then came the fatal moment, when she quipped, "And I'm not talking about mommy blogs and 14 ways to cook a turkey." Reese! What are you doing, Reese?!
That entire group of female content creators Witherspoon managed to alienate in one fell swoop immediately criticized her comments on Twitter and on their own blogs.
Can't we want both? "Reese Witherspoon: Women want quality content, not "mommy blogs" and 14 ways to cook a turkey" https://t.co/fKL5egdGKn

— Heather Brooker (@Heather Brooker)1509829235.0
Meredith Gordon of Bad Sandy wrote "
An Open Letter to Reese Witherspoon From a Little Old Mommy Blogger,
" in which she said, "I take umbrage at your words not only because I make my living as a blogger, but also because your comment shows a tremendous lack of respect for a group of women who have found a way to be both mothers and writers — and sometimes even support you and your work in the process."
While it may have been meant as a joke, Witherspoon really did dismiss an entire genre of content created by women during a speech about supporting content created by women. Not a great look.
I love you @RWitherspoon but am sad you'd make a sweeping generalization about a group of women, no less. #mommyblogs

— Kristen Mei Chase (@Kristen Mei Chase)1509829671.0
Jill Robbins of Ripped Jean and Bifocals also wrote an open letter in response to Witherspoon's comments entitled, "
Dear Reese Witherspoon — This 'Mommy Blogger' Is Giving You Virtual Side Eye
." In it, she said, "You're taking down a segment of the population in order to uplift another. I'm not sure that's 'Innovator of the Year' behavior. Just my thoughts as a 'mommy blogger.'"
Witherspoon hasn't responded to her critics yet, but we imagine she's not feeling great right now.
Because of ingrained misogyny, because of the limited number of spaces in which women have been allowed to exist until now, women have been conditioned to see each other as competition — as threats. It's going to take some work, and even celebrated feminist content creators like Reese Witherspoon are going to slip up every now and then. The criticism of her remarks is warranted — but ultimately, women have to band together and lift each other up.