The holiday season is upon us - and with it, an abundance of tasty treats. Sure, being with family and receiving gifts is great, but the best part of Christmas is surely the food, right? Alongside the incredible Christmas dinner, though, there are the incredible festive launches of all your favorite snacks.
But we think we may have tracked down the most tempting yet. Reese's Holiday Lights are everything holiday candy dreams are made of.
There's no avoiding it ...
The run-up to the holiday season has officially begun. Christmas is basically just around the corner, folks!
There's a lot to be excited for.
Alongside the quality time with loved ones, fun decorations, and, of course, gifts, there's another excellent aspect of the holidays - the food.
But aside from that one big Christmas meal ...
There are a whole host of other irresistible festive treats.
And there's one treat that always reminds us of the holidays.
Chocolate, of course. Christmas candy bars have to be some of the best on the market - not least because you can't get them year-round.
And one brand, in particular, seems to knock it out of the park.
When it comes to limited-edition holiday launches, Reese's always comes through with something amazing. And this year is no exception.
Reese's are the primary brand for one thing.
If you want a peanut butter and chocolate treat, look no further.
And their festive launch is incredibly cute.
How do you make Reese's candy holiday-themed? Well, by modeling it after your Christmas lights, of course.
The shape allows for a perfect ratio.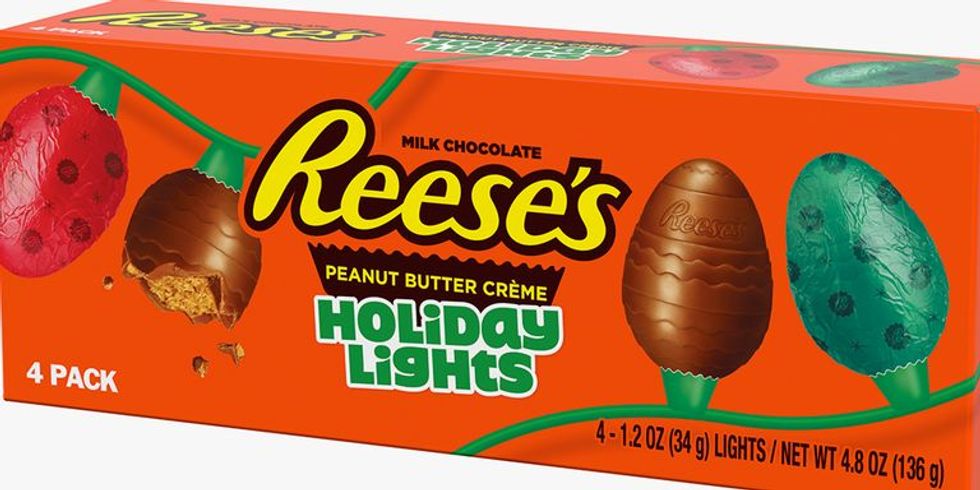 via: Hershey's
The peanut butter chunk in the middle is perfectly balanced with the chocolatey outer shell.
The treats are set to launch this week.
Look out for these next time you're doing you are grocery shopping!
And even better than this launch?
We now know to look out for all the other limited edition candy launches. Time to get excited! And for another excellent Christmas launch, read on.