It's election day in Alabama in 2017, and a pedophile just rode on a horse named "Sassy" to the polls to cast his vote for himself. It's not a sentence we ever thought we'd write, but then again, 2017 has been an entire year of beyond bonkers firsts.
There are still several hours until the polls close in the election for Alabama's next senator, and until he is hopefully no longer relevant, Twitter is going to mercilessly mock Roy Moore and his backward, pedophilic ways.
It's all we can do at this point to remain sane. So here, below, is the saga of Roy and his pony, Sassy.
This is Roy Moore atop Sassy the horse.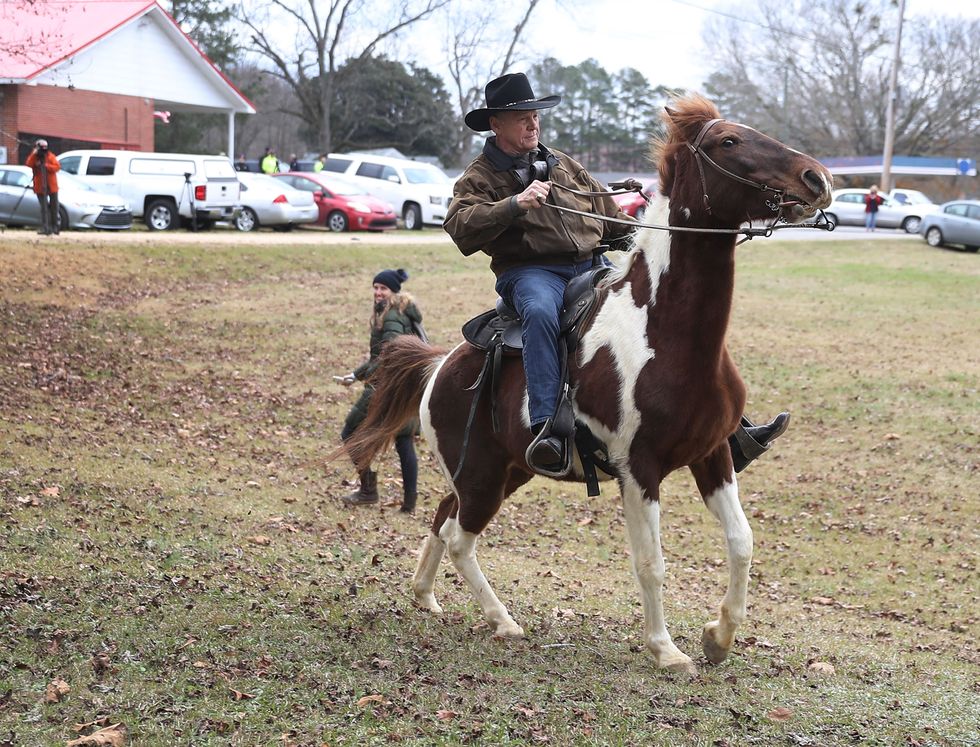 via: Getty Images
Today, Moore rode Sassy to his polling place in Gallant, Alabama in order to cast his vote in the race for the Alabama U.S. Senate seat. In a race that was already absurd — because Roy Moore is a child molester and is still in the running — Roy Moore has managed to make it even more ridiculous in the last few hours before
we find out if America is a giant Dumpster fire or just a regular-sized Dumpster fire
.
Roy Moore showed up on Sassy around 11:30 a.m. at the Gallant Fire Department to cast his vote in the special election.
Alabama GOP candidate Roy Moore rides in on horseback to vote in #ALSen special election. https://t.co/DYWbTatXFQ https://t.co/NMse0DsWjZ

— ABC News Politics (@ABC News Politics)1513097869.0
This isn't the first election to which he arrived mounted on his noble steed. "I think it's a good thing to do," 
Moore told CNN
 in September. He also rode Sassy to the polls then, in his runoff election against Luther Strange. "I won the last time I rode a horse."
The chyron on this news coverage of the event really says it all.
"Ride sassy ride": Roy Moore arrives on HORSEBACK to vote in Alabama Senate race https://t.co/ANbQM34dIj

— IJR (@IJR)1513097350.0
"Roy Moore will be the gift that keeps on giving." Yeah, except the gifts we're receiving from Roy Moore, from his homophobia to his pedophilia to his racism to his stunt horseback rides, are disgusting, backward and in all other ways absurd.
Sassy herself didn't seem too thrilled to be paraded around in a gimmick.
It seriously looks like she's trying to get Moore off her back and run away forever. Girl, we're with you. Buck him off your back just like America is hopefully about to do! You deserve so much more than Roy Moore.
Of course, not to be outdone, Kayla Moore left the polls on horseback.
And then she kept riding forever, into the sunset, until she disappeared. Or at least that's what we would have done if we were her. Obviously, a homophobic pedophile cannot ride to his polling place on a horse named Sassy without Twitter having a lot to say about it...
For example, many just simply couldn't believe that this was real life.
Roy Moore arrives on horseback to vote? We're living in the Theatre of the Absurd.

— Valerie, the Ohio misanthrope 💜🐢🦍🦏🦇🦉🌳 (@Valerie, the Ohio misanthrope 💜🐢🦍🦏🦇🦉🌳)1513097854.0
But this is the world we live in. This is our reality, no matter how absurd it is.
The jokes were swift and inappropriate and hilarious.
Roy Moore riding a horse to vote, because if there's anything teen girls love, it's ponies!!

— eve peyser (@eve peyser)1513096984.0
It's too easy to make fun of this guy. But that doesn't mean we shouldn't. We definitely should continue to mock Roy Moore mercilessly until he is forced out of public life forever. He's a monster who deserves every bad thing coming to him.
And the hit just kept on coming!
Roy Moore rode his horse, Sassy, to the polling station today. In an ironic twist, she is also a 14-year-old girl.… https://t.co/KpzBG9ij8y

— Leanne (@Leanne)1513099269.0
The real victim here is Sassy. She's a gorgeous wonderful horse who deserves none of this backlash. One can only hope that the people of Alabama, for their state, for their country, and for Sassy the horse, stand up for what's right and vote for Doug Jones at the polls today.
Not only is Roy Moore a bad person, but he's also bad at being a bad person.
Dear Alabama - he rides a horse named Sassy. He's not just a bad homophobe, he's bad at being a homophobe.

— John Fugelsang (@John Fugelsang)1513112463.0
And no, that doesn't make him a good person. That makes him an 
extra bad person
. Again, Sassy, we're sorry you're caught up in this mess. Someone needs to start a GoFundMe to send Sassy to a luxury horse spa or something.
2017 is almost over, so Roy Moore riding Sassy to the polls begs the question:
Is Roy Moore riding to the polls on horseback the dumbest thing I will see this year?

— Jon Wurster (@Jon Wurster)1513096933.0
This year has had so many dumb things happen in it that it's really hard to tell if this is the dumbest. But one thing is certain: If Roy Moore wins the election tonight, 
that
will be much dumber than him riding a horse to the polls. In fact, that will be so dumb it's tragic.