Some of the characters in Sacha Baron Cohen's latest movie felt betrayed by the filmmakers for lying about their role in the new film.
But now, the crowd favorite, babysitter Jeanise Jones has just received something incredible to make up for it...
Borat is back.
And he's been getting some serious stick off the people featured in his new movie.
The British comedian targeted President Trump and his team directly in his new movie, Borat 2...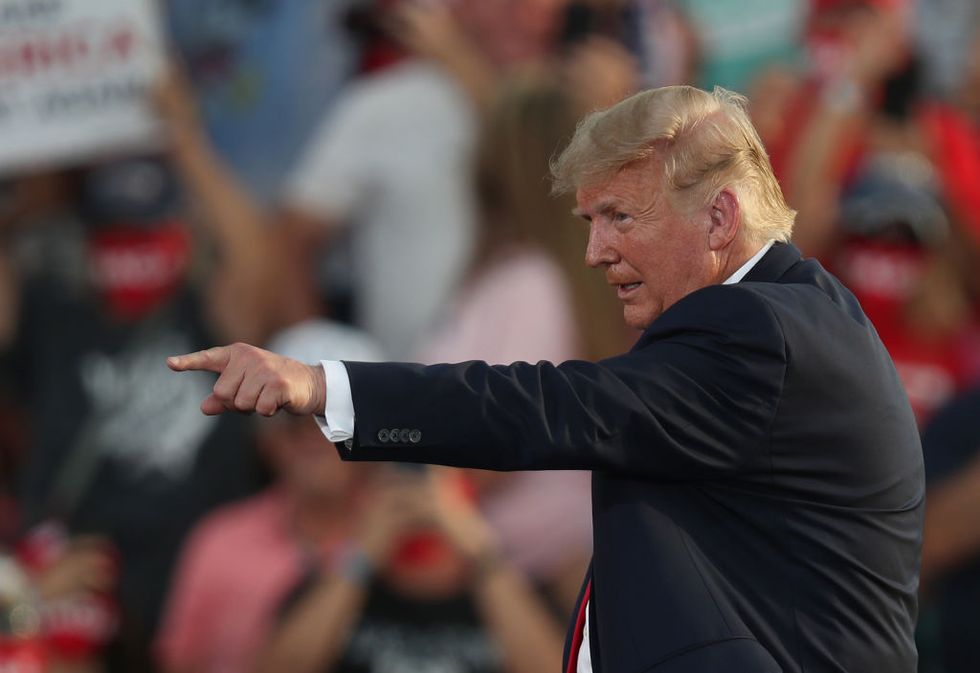 And he even managed to catch Trump's attorney, Rudy Giuliani, in a
very
compromising position.
Now, we're confident in saying that there's one thing that we all know Sacha Baron Cohen for...
And that's his Kazakhstan-reigning character, Borat.
It all started with the documentary mock-up, Borat: Cultural Learnings of America for Make Benefit Glorious Nation of Kazakhstan.
Baron Cohen dressed up as a local from Kazakhstan and proceeded to fool us folk over here in America into believing people from this country were completely backward.
Borat was supposedly the "sixth most famous man in Kazakhstan"...
And while in the States, he repeatedly insulted the people of Central Asia and made countless jokes about their "culture" which, in the movie, involved incest and the constant degrading of women.
But while it was all very funny...
The people of Kazakhstan didn't see it in this way and they were insulted at Baron Cohen's mockery of their country. This ultimately lead to the actor being banned for life from ever entering the country again.
This didn't stop the movie from being an ultimate success, however...
And Borat soon became a household name all around the world.
But since 2006, the world has sadly been Borat free.
Sure, he's popped up here and there - but we've had no substantial content from the character.
Well, even though 2020 has been a terrible year, it has brought us some great Borat news...
Because a second
Borat
movie was born!
Borat: Subsequent Moviefilm dropped on Amazon Prime on October 23rd.
The movie revolves around Borat dealing with his newfound fame following the first movie in 2006.
But there's one resounding theme...
And that's American politics.
Trump has a big role in the new movie...
Without being aware of it, of course.
For example, the comedian decided to attend a Mike Pence rally...
All while dressed in a fat suit as Donald Trump with a woman thrown over his shoulder. You
really
can't make this stuff up.
"Michael Penice!" Baron Cohen could be seen shouting through a startled crowd.
"I've brought the girl for you," he continued, as the crowd watched on in shock.
It was quite hilarious, we must say.
But there's a couple of people in the film that feel they were misled by Cohen.
An "Instagram influencer" has accused Cohen of "misleading" her...
She is seen giving Borat's daughter advice on how to appear more attractive to older men...
She revealed that Baron Cohen "got" her, saying: "But [it's] kinda sad how he elicits 'reality.'"
@SachaBaronCohen @SachaBaronCohen I literally run PR for the largest Sugar Dating site in the world and have worked… https://t.co/48bW9r0DB1

— Kimberly De La Cruz (@Kimberly De La Cruz)1603574265.0
Chanel isn't the only one to feel this way, Jeanise Jones, the beloved babysitter from the movie, said she felt "betrayed" after watching the film.
Since the film's release, Cohen has donated $100,000 to Jeanise Jones' community.
At Jones' request, the funds will be split by the Ebenezer Baptist Church, being used for essentials like food and shelter for those less fortunate.
Jones benefited from a GoFundMe set up by Pastor Derrick Scobey, after playing the role of babysitter to Borat's daughter Tutar.
"I was blown away but not surprised because I was told about what type of heart this man has," Scobey said of Sacha Baron Cohen's donation. "Maybe it's a little risqué, some of the things in the movie, but he has a good heart." Scobey said the money will go to aid the community.
He continued...
Protect and honor Jeanise Jones. The true star of #Borat https://t.co/GWtxgud1aC

— ✨🎀 𝒻𝑒𝓂𝓂𝑒 𝒹𝒶𝒹𝒹𝓎 🎀 ✨ (@✨🎀 𝒻𝑒𝓂𝓂𝑒 𝒹𝒶𝒹𝒹𝓎 🎀 ✨)1603487627.0
"While all these people around the world are loving how she's the moral compass of the movie, she's sitting here serving people in the dark and in the cold. This is who we are. This is what we do for our community, and we love our community."
Jones has received endless support since the film, after saying she felt "betrayed" by the filmmaking team.
Jeanise Jones gives me hope.

— likethelotus (@likethelotus)1603427903.0
She was lead to believe she was taking part in a documentary about a teenage girl being groomed to marry a rich old man.
She later admitted she spent a lot of time after filming worrying about Tutar.
Jeanise Jones is the real MVP of #Borat2  ✌️ https://t.co/JpJBbH62Ek

— cesar (@cesar)1603622327.0
"I'm feeling [Tutar is] from the Third World and that kind of stuff does happen where they sell women. I'm thinking this is for real so I felt kind of betrayed by it…We were concerned. We were up there praying for her and asking God to help her and we were doing what we thought was the Christian thing to do."
Jones was given the part due to her being part of the Ebenezer Baptist Church, which the filmmakers used to cast through.
Is it too late to #vote for #JeaniseJones ???

— Claudia Fernandez (@Claudia Fernandez)1603480434.0
The GoFundMe page set up by the pastor for Jones has reached over $144,000 in donations! She deserves every penny. Keep scrolling for more on the controversial film...