The 2019 Golden Globe Awards took place last night, and they were a doozie! Viewers found plenty of grand wins and dramatic snubs to talk about. But one grand win stands out as particularly meaningful and attention-worthy. Sandra Oh, who was the Globe's co-host alongside Andy Samberg. Not only was the actress hosting the award ceremony, but the star of the BBC series Killing Eve also took home the Golden Globe for best actress.
Oh's win was both well-deserved and carried significant weight. And it came with a bonus round of sweetness, as Oh's parents were in attendance and watching their daughter's victory. During her acceptance speech, Sandra Oh switched over to Korean, saying a special thank-you to her parents. The moment will definitely tug on your heart-strings. Keep reading to see how it went down (and the Internet's explosion afterward)!
Sandra Oh is one of the Golden Globe's big winners!
Most of us first fell in love with Oh and her talent during her leading role on Grey's Anatomy. She played Cristina Yang on the medical drama from 2005 to 2014.
And she won awards for that role, too!
She scored a Golden Globe and two Screen Actors Guild Awards for her work on Grey's Anatomy. She was also nominated five times for a Primetime Emmy Award (under the category of Best Supporting Actress).
In 2018, she began starring on 'Killing Eve.'
The BBC's murder mystery series features Oh as Eve Polastri. And she's already gotten some major attention for the role!
The show first aired in April of 2018.
Oh's Eve Polastri is an MI5 officer, assigned to covertly track and apprehend a psychopathic assassin called Villanelle.
It is based on a novella series.
And in the show, agent Polastri and Villanelle enter into a dangerous game of cat and mouse, while becoming increasingly obsessed with each other.
It currently holds a 97% rating on Rotten Tomatoes.
Not to mention, of course, the award nominations it has received.
Sandra Oh got an Emmy nod for the show in 2018.
This time, she was nominated for Outstanding Lead Actress – making her the first actress of Asian descent to be nominated in that category.
Unfortunately, she didn't win the Emmy.
But after last night's Golden Globes, that's old news.
She also set a new record, as the first Asian woman to win two Golden Globe Awards!
Here's hoping she sets a precedent for more of her peers to be recognized as well.
The story of Oh getting the part of Polastri is pretty crazy.
Sandra Oh didn't even realize she was being courted for the lead role in Killing Eve when she read the script! Oh later said that years of being cast as the leads' best friends had "brainwashed" her.
But today, she's the leading lady!
After winning her second Golden Globe last night, Sandra Oh took the stage to make her acceptance speech. She began with an emotional "Oh daddy" before launching into the speech. Aww!
Oh went on to say a few thank-you's.
She thanked both executive producer, Phoebe Waller-Bridge, and author Luke Jennings, the one who inspired Codename Villanelle.
And then she thanked her parents.
"Mostly, there are two people here tonight that I am so grateful that they are here with me. I'd like to thank my mother, my father," said Oh, before speaking a few words in Korean.
Her words were short and sweet.
Adorably, Oh went on to tell her parents that she loved them in Korean.
And Oh's father returned the sentiment with a gesture.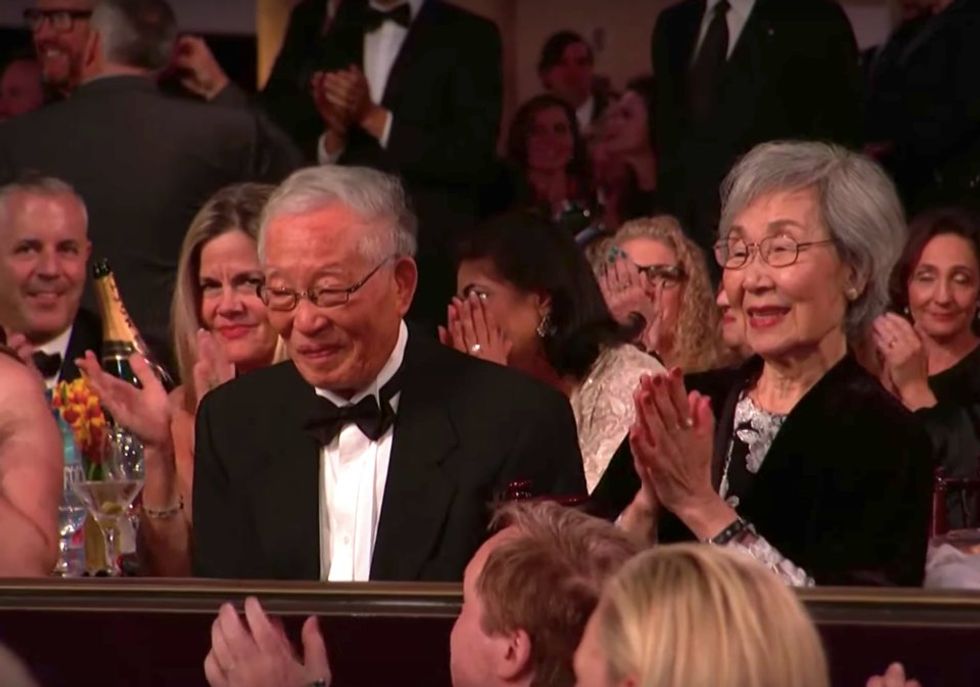 via: NBC
He bowed in return to her words, and the camera caught the lovely exchange!
Oh did the same.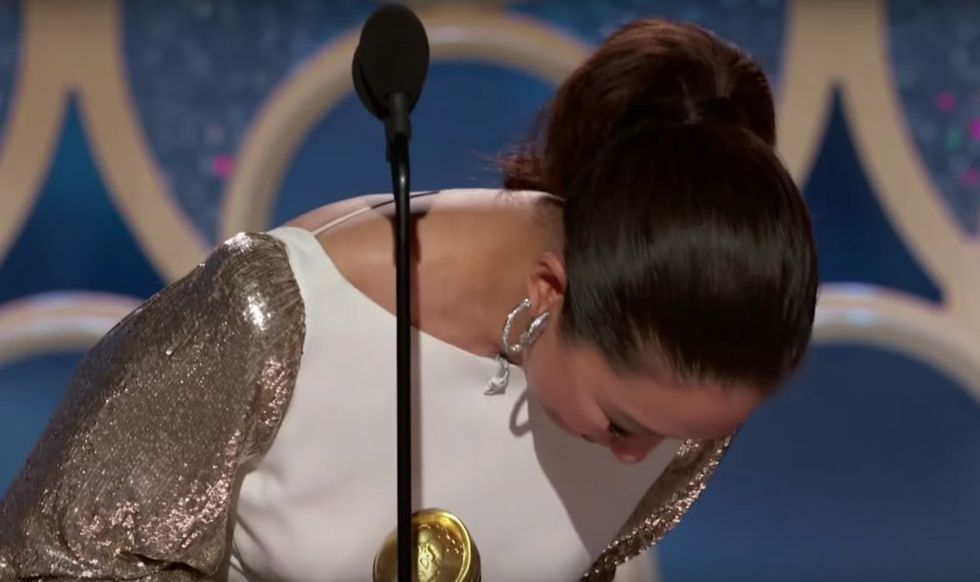 via: NBC
She returned her father's bow from the stage, completing the wonderful moment.
Viewers were loving the moment, too.
Sandra Oh and her parents are everything rn #GoldenGlobes https://t.co/EcrnkWLGe2

— Megan (@Megan)1546829058.0
Oh's parents also gave her a standing ovation, and fans were gushing over how happy the proud parents look!
Other viewers, especially of Asian descent, were particularly moved.
This moment between @IamSandraOh and her parents on the #GoldenGlobes made me and my parents sob!! 엄마 아빠 사랑해요… https://t.co/sGAtBt4OcQ

— 𝓱𝓸𝓵𝓵𝔂 𝓳𝓸𝓵𝓵𝔂 𝓱𝔂𝓮 𝓳𝓾𝓷 (@𝓱𝓸𝓵𝓵𝔂 𝓳𝓸𝓵𝓵𝔂 𝓱𝔂𝓮 𝓳𝓾𝓷)1546829057.0
It's great to see Oh and her parents so happy!
We all want our parents to look at us like that.
I still can't get over how happy Sandra Oh's parents were when she won a Golden Globe 😭 #GoldenGlobes

— ~Brittany~ (@~Brittany~)1546829021.0
Maybe not specifically with a 'you-just-won-a-Golden-Globe' look, but something with similar levels of pride and love.
The open display of mutual respect was much-discussed.
My heart is so full watching @IamSandraOh thank her parents in Korean and respectfully bow to them. And her dad's s… https://t.co/UzJI8mlSV2

— Jennifer Li (@Jennifer Li)1546829017.0
The most wholesome moment in the Globes, for sure!
Some even called it dad goals.
@Variety Sandra's father is so proud of her. Omg. Total cuteness. Dad goals. So happy for Sandra. Completely deserving

— Miss Courtney. (@Miss Courtney.)1546828887.0
Watch the full acceptance above! And yeah, we agree than Sandra Oh is totally deserving of the honor.
And one Twitter-user fully explained the bows.
@Variety He also bowed to her which is ,among other things, a show of respect. She in turn bowed more lowly to him… https://t.co/4PGfHT1aZc

— Sharon Kingsmill (@Sharon Kingsmill)1546829539.0
Agreed! They seem live a loving family.
Oh's first Golden Globe win was a big deal, too.
Her first Golden Globe was in 2006, for her role on Grey's Anatomy. It was definitely a moment of proving herself to her family for Oh, who spoke to Ellen DeGeneres about it in 2007.
Sandra Oh has a few siblings.
And she told Ellen just after her first Golden Globe win that she's the only sibling in the family without a master's degree.
Oh described her career choice as "tough."
"It was very, very tough," Oh
said on The Ellen DeGeneres Show
as she spoke of pursuing acting amidst her other, more practically-minded family members.
Her parents didn't always feel so comfortable with an acting career.
"You know, my parents at that time really looked down on the arts," Oh explained. "It was hard. It's like one step above, you know, prostitution."
They weren't sure of the value in acting.
"It's a different thing," Oh said. "They'd go, what is the social purpose of what you're doing? Because they really instilled in all of us, my sister, my brother, that whatever you have to do has to be good for society. What's the good of being on camera? What are you helping society with?"
Her parents both had pretty serious careers.
Oh's father, Oh Junsu, is a businessman. Her mother, Jeon Young-nam, is a biochemist.
Everything seems good now, though!
And Oh, as both a successful actress and record-setting in her award wins, is definitely helping to raise attention (and appreciation) for actors of Asian descent and their contributions to film.
Oh's parents have accompanied her to other awards shows.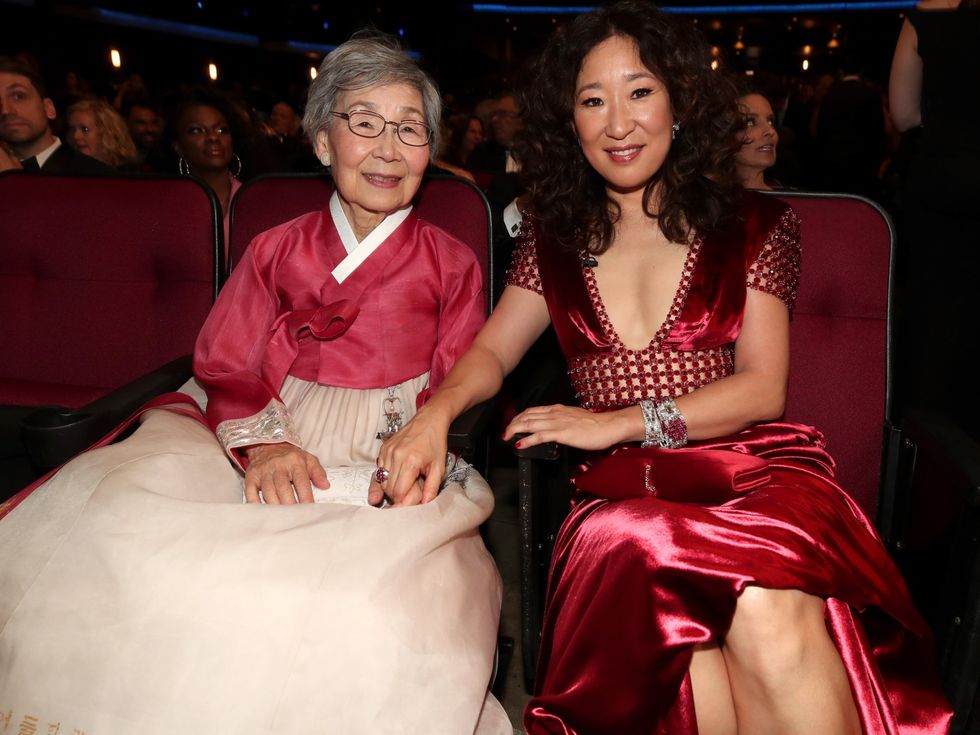 via: Getty Images
They also accompanied their daughter to the 2018 Emmys, where Oh got this adorable picture with her mother! How cute. Share the Golden Globe buzz with your friends!