We all know about the trend sweeping social media, where celebrities are getting soaped up online to promote the Safe Hands Challenge.
But now it looks like animals are following suit, these social media stars are creating videos that we never knew we needed right now.
Keep scrolling to watch the adorable footage...
We should all know by now that regular, thorough hand washing is important.
Although, I would have hoped you were doing that anyway.
Viral challenges once included eating Tide pods.
You know them as the Watchmen, but I'd like to introduce you to the WASHMEN. No mask required to join—just wash y… https://t.co/XMmOFgzeB6

— Andy Slavitt @ 🏡🇺🇸 (@Andy Slavitt @ 🏡🇺🇸)1585328685.0
And balancing brooms upright. Thankfully, internet challenges during this crazy time are slightly different.
And a lot safer.
Thanks to the insistence of the World Health Organization, WHO, it's all about handwashing.
Participants demonstrate proper handwashing techniques.
Celebrities everywhere have used this to teach us their techniques.
more.
Something more... fury?
And that's exactly what we got. Scroll down to watch the adorable videos...
They're going viral.
I feel confused, but well educated. People are sharing the videos of animals washing their hands... or front paws, in a bid to encourage others to do the same.
I mean, who would you rather take advice from?
No matter how isolated you are, always remember to WASH YOUR DAMN HANDS #AnimalCrossing #ACNH https://t.co/9yjFwIj80U

— 📸 Anni's Switch Pics 📸 (@📸 Anni's Switch Pics 📸)1585886437.0
Selena Gomez giving out her handwashing tips, or an Orangutan scrubbing in a bucket? You don't need to answer, we all know who it is. The adorable video is coming up soon...
We just can't get enough of these little guys.
A video uploaded by Indian Forest Service officer, Parveen Kaswan, has been widely shared.
Kaswan is known for sharing videos of the animals to promote important messages.
Keep washing your hands. At least for 25 seconds, demo will be shown by this small guy. Ashley Raine. #CoronaVirus https://t.co/mItPPSYIjH

— Parveen Kaswan, IFS (@Parveen Kaswan, IFS)1584699118.0
He used a clip of a raccoon to underline the seriousness of washing hands, with the caption: "keep washing your hands. At least for 25 seconds, demo will be shown by this small guy. Ashley Raine."
I'm unsure whether the raccoon was called Ashley Raine, but I sure hope she was.
@ParveenKaswan But where is his soap? 😍

— Nima (@Nima)1584699302.0
Health agencies have stressed the importance of hygiene recently, a video of a doctor washing her hands multiple times while removing layer after layer of her protective gear has also gone viral on social media.
Pet owners are even getting their little companions to join in.
Mood https://t.co/ry1xIONU89

— nihbrin (@nihbrin)1585045621.0
And I have to say, some of them are doing far better than the humans I've seen.
Not every animal is impressed.
Tried washing my dogs paws https://t.co/bjRCS1tuVA

— KBdaGod (@KBdaGod)1565836981.0
But every little helps.
Sometimes the advice can get a little confusing.
But as long as those toe beans are clean, does it really matter?
The advice is clearly sinking in.
Is it 20 seconds yet? ⏳ #WashYourHands #CatsOfTwitter #Caturday #catsofquarantine #SaturdayThoughts https://t.co/yqzZAawYMF

— Nikitas (@Nikitas)1585401184.0
And one primate, in particular, has gone viral for the technique she learnt from her keepers.
A clip of Sandra, the thirty-four-year-old orangutan has gone viral.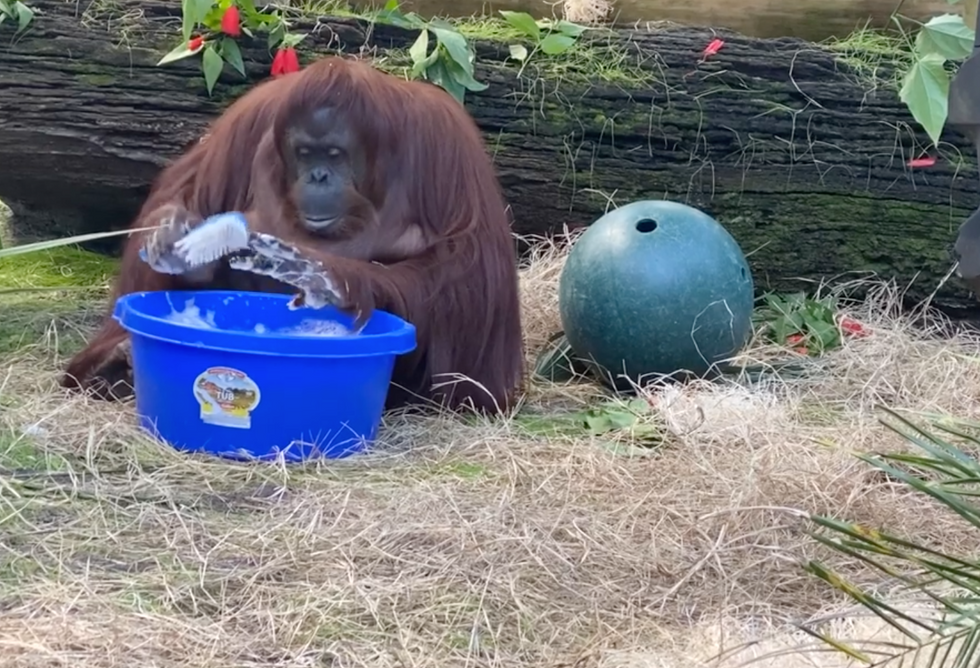 via: Facebook
The accompanying caption to the video shared on Facebook, said: "she started washing her hands because she saw all the zookeepers doing it repeatedly during the crisis"
Sandra lives at the Center for Great Apes.
On their Facebook page, they mentioned: "Sandra has daily pools of water and really likes to wash things — her toys, her surroundings, and her hands! Sandra loves to clean up!" We could all learn a thing or two from Sandra. Keep scrolling to see how this incredibly annoying song has actually been useful...