Sometimes, Sarah Huckabee Sanders just makes it too easy. Whether she's refusing to denounce slavery on national TV or getting into feuds over pecan pies, we can always rely on her to be terrible. Hey, at least she's consistent.
In her latest snafu, Sanders chided Congressman Ted Lieu for tweeting instead of doing his job. That's when Twitter stepped in to make sure she knew just how absurdly bonkers that statement was coming from the spokeswoman for President Donald Trump.
California Congressman Ted Lieu recently got into some hot water with the White House over an inaccurate tweet.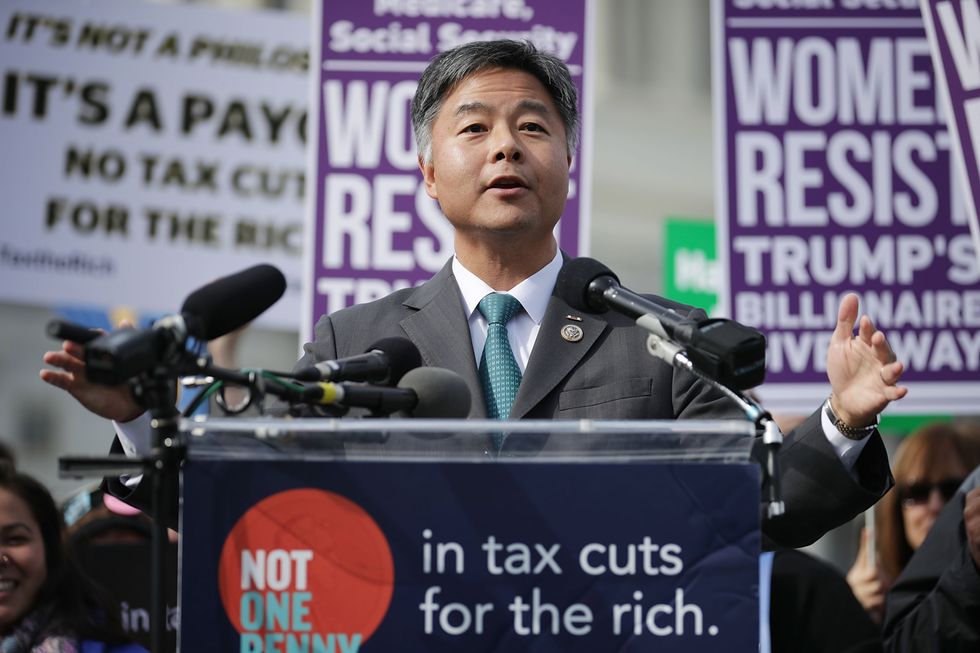 via: Getty Images
He quoted a now-deleted article which reported that Sarah Huckabee Sanders said that Democrats were "begging" to work on tax reform. Apparently, what she really said was that Democrats 
should
be begging to work on tax reform. But Lieu didn't know that, and tweeted at Sanders, saying, "You don't serve in Congress. I do. And I can say with absolute certainty that you are lying." As soon as the article was deleted, Lieu deleted his tweet.
But that wasn't before Sanders got ahold of it and tweeted her response:
Dear @tedlieu - I don't serve in Congress, but I can read. If you had read the story, not an incorrect tweet, you w… https://t.co/yEutkswMBp

— Kayleigh McEnany (@Kayleigh McEnany)1513717307.0
Sanders had the audacity to end her tweet to Lieu with the words, "You should spend less time tweeting, more time doing your job."
Hilarious, right?!
That's actually a really funny joke coming from Donald Trump's press secretary. You know, because Trump tweets literally all the time instead of doing his job of running the country? Gotta hand it to Sarah on this one– What? She wasn't joking? She tweeted this without a hint of irony? Say it isn't so! But it is. It is.
Apparently, Sanders has some fans out there who really truly thought she threw out a totally sick burn.
@PressSec @tedlieu Sarah, have you seen this? You're my hero! As a fellow mom, I don't know how you do it!! Much lo… https://t.co/8R176IzFcx

— 🇺🇸Kimble🇺🇸 (@🇺🇸Kimble🇺🇸)1513717532.0
We're sorry you had to see this. We know that you'll never be the same again. But we had a point to make. And that point was: Some people are stupid.
Obviously, most people smelled the irony in Sanders' tweet immediately.
@PressSec @tedlieu Can't see how that last sentence won't come back to haunt you, Madam Secretary.

— Huckabea Shanty (@Huckabea Shanty)1513718185.0
This Twitter user was kind enough to warn Sanders that her tweet — especially that last sentence — might come back to haunt her, much like the creation of the electoral college came back to haunt us in a big way in the 2016 presidential election. Many other Twitter users weren't so kind to the Secretary...
Most were crying laughing at the apparent irony of Sanders' tweet.
@PressSec @tedlieu THE IRONY!!!!!!!! 😂😂😂😂 https://t.co/Pq8GWD2OFU

— Julia Hobman (@Julia Hobman)1513718394.0
It's incredible that she didn't see it. That she couldn't predict the response. Trump's tweeting has been front-page news since he entered the presidential race! Why would you go after a congressman for tweeting too much when your boss is known for doing exactly that?
Some were way too polite in their responses to Sanders:
Just ask, Sarah. What's the harm? You have no problem criticizing Democrats for doing exactly the things that Donald Trump does (tweeting too much, sexually assaulting women), and yet you turn a blind eye to the president's actions.
It's beyond frustrating to experience the double standard day in and day out, and many people, like this Twitter user, have had just about enough of it.
@PressSec @tedlieu You lie just as your boss,you don't speak for American people you're just a Trump's puppet.Your… https://t.co/6ku68HBM98

— 🌹🌺Bloom🌺🌹 (@🌹🌺Bloom🌺🌹)1513718223.0
Sarah Huckabee Sanders' legacy will be one of lies. Of deceit. Of willful ignorance and perpetuating double standards. From her snarky comments to congressmen and her air of superiority whenever she talks, it's clear she's not aware of that. But her actions are incredibly damaging and damning for the American people.
Congressman Ted Lieu responded to Sanders' tweet at him as well:
Dear @PressSec: If the Hill tweet was incorrect, then my tweet based on it would also be incorrect. Unlike the Trum… https://t.co/AFxsHJX3AD

— Ted Lieu (@Ted Lieu)1513719805.0
In that one tweet, he managed to classily admit to an error, slam the Trump administration for not being able to do the same, and dare Sanders to give the same advice she gave to him to Donald Trump himself.
Ted Lieu clearly won this round, but Democrats and decent people are still fighting an uphill battle.
We have to laugh because if we aren't laughing, we'd be crying, right guys?! That's pretty much the mantra for 2018. Now go tweet this article out to your friends instead of doing your job.