Five women accused Louis C.K. of sexual misconduct, according to a piece published by the New York Times yesterday. Most of them said that the comedian invited them into his hotel room and then masturbated in front of them. Louis C.K. recently admitted that these claims are, in fact, true.
Sarah Silverman's sister revealed that he also masturbated in front of her, fully naked, about 20 times.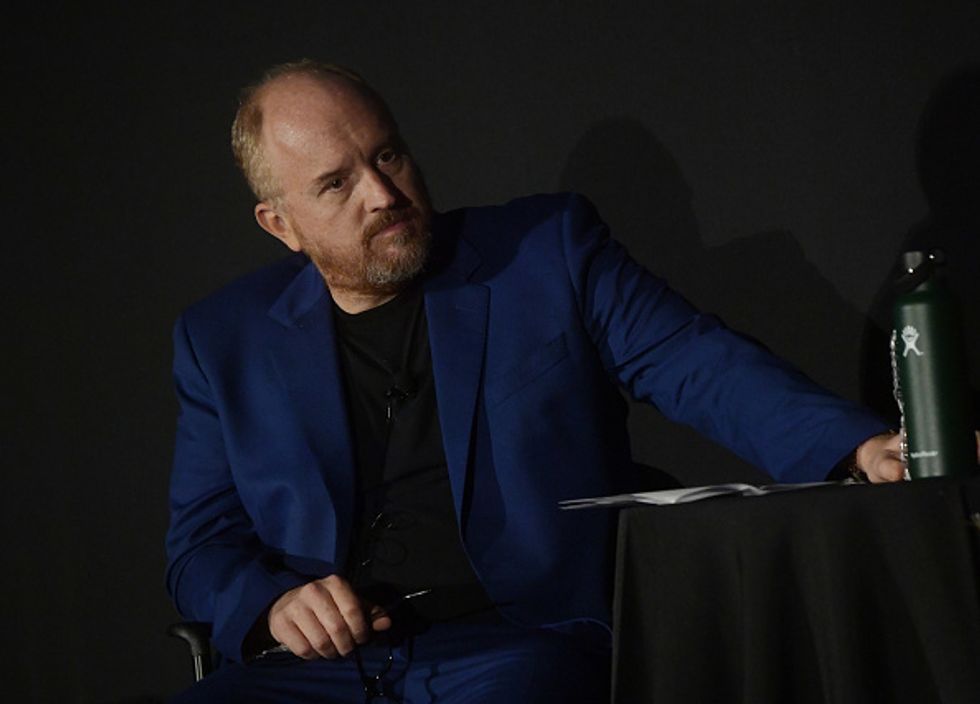 People are just starting to come forward with stories of sexual misconduct by perpetrators (mostly men, so far) who have power over their careers. In Louis C.K.'s statement, he said that he didn't realize how much power he had over the women he exposed himself to at the time of the assaults. They looked up to him, someone who was admired in the comedy community, and he abused that power. Why are women just coming forward now? Because society is only now starting to believe them. People continue to believe powerful men over the women they assaulted. Meanwhile, women have been dealing with unwanted sexual attention their entire lives.

She asked for people to share the first time that a man had masturbated in front of them without their consent. Then she added that the first time it had happened to her was when she was riding a train at age twelve. Laura Silverman's story surfaced during this thread on Twitter.

She wasn't able to get her bus home because a man decided that anyone who wanted to take the bus had to withstand the experience of watching him rub his genitals next to them without their consent.

They were on a road trip together before C.K. became famous. Every morning, he would masturbate, completely naked, on top of his bed. He said that she could sit in the hallway outside of the room if she wanted to, which she did many times. He insisted on touching himself lewdly every day even though he knew that she did not want him to do it.

She wanted to talk about the incidents in order to give more power to the women who came forward with similar stories. After someone told Laura that C.K.'s acts were criminal, the original poster made a good point. She said, "probably best to listen to Laura instead of mansplaining her experience to her". She detailed the gross encounters in her next tweet…

He apparently made it clear that he was going to do it, no matter what her feelings were on the matter. She added that they had dated briefly in the past and broken up before the trip started.

"It must be noted that we had been dating briefly beforehand – I had broken up w him at the start of the trip & we continued on anyway for some reason – youth, I guess. We'd been intimate previously. Just giving all the facts… I am NOT a victim but I fully believe those coming forward."

She didn't think her particular experience involved Louis C.K. abusing his power. But she did believe that it was gross and unwanted. Most importantly, she emphasized that she did believe the other women who came forward.