It was a scenario out of every parent's worst nightmare.
This Thursday, a 12-year-old girl was arrested in connection with a school shooting that left one boy critically injured and four others wounded.  And it was all an accident, according to reports.
California school shooting: Two students have been shot at Sal Castro Middle School, and a female student is in cus… https://t.co/CjiRN8LYRC

— Inside Edition (@Inside Edition)1517511300.0
Just before 9 a.m., police received a report of shots fired at Salvador Castro Middle School in the Westlake District of Los Angeles. Authorities rushed to shut down the campus of 365 students.
Today's school shooting in L.A. was reported at Belmont High School, but the campus also shares a property with Cas… https://t.co/QmtycgEw0X

— Los Angeles Times (@Los Angeles Times)1517506708.0
The shooter was a 12-year-old girl. She'd brought the gun to school in her backpack, but it went off after she set it on the ground, striking a 15-year-old boy in the head. He's in critical condition, but is expected to make a full recovery.
A 15-year-old boy shot is expected to survive after a 12-year-old girl accidentally discharged a gun in her Califor… https://t.co/e04QkOr45L

— AP West Region (@AP West Region)1517557176.0
The bullets also hit a 15-year-old girl in the wrist, and other victims included an 11-year-old boy, a 12-year-old girl and a 30-year-old woman, all of whom sustained "minor abrasion injuries", according to the
Mercury News.

As per
NPR,
the Associated Press reports:
"[Police] spokesman Josh Rubenstein says the 12-year-old girl arrested in Thursday's shooting was being booked on a charge of negligent discharge of a firearm on school grounds. "Twelve-year-old Jordan Valenzuela, a classmate, tells The Associated Press that he talked to her just after the shooting. "He says she was sobbing and kept repeating, 'I didn't mean it.' He says she told him that the gun was in her backpack and that it accidentally went off when she dropped the bag."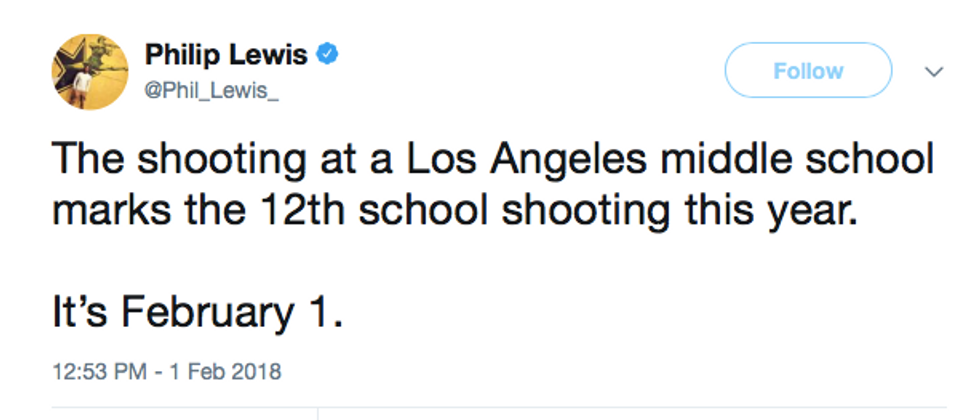 "As a parent, this is everyone's worst nightmare," Los Angeles Police Department Deputy Chief Robert Arcos said in a statement to the public.

Parents rushed to the school the moment they heard the news, many calling or texting their children. Most were relieved, but others had questions about the cultural shifts that had created such a dangerous environment.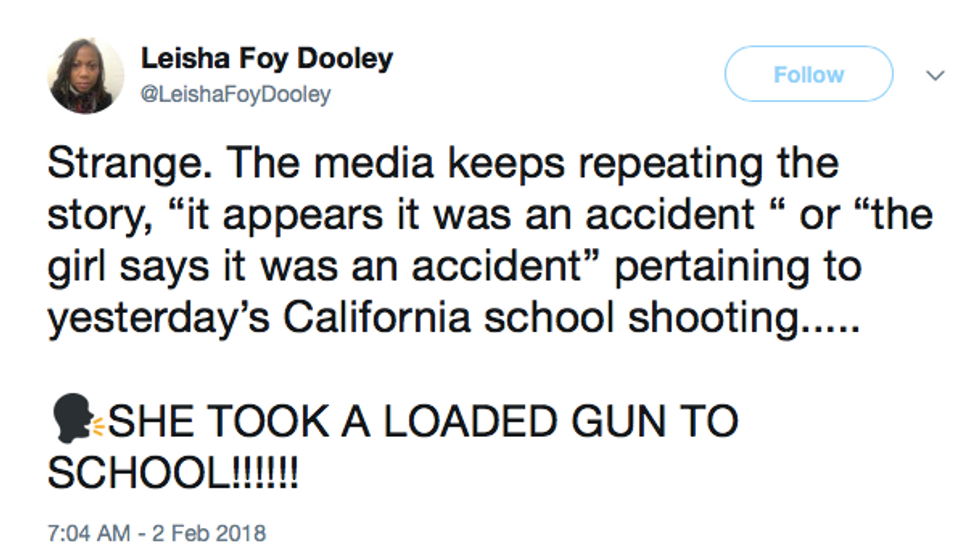 "I'm just scared for all the kids," Gloria Echeverria, a student's mother said. "School is supposed to be a safe place for them, and apparently it's not."

Others pointed to the fact that the school had no metal detectors. "It's a big investment but it has to be done," Ruth Senz, another parent, said.
@CBSNews A school shooting in downtown Los Angeles is the third in less than two weeks. Police believe a girl, beli… https://t.co/44Vi5KTI96

— CBS News (@CBS News)1517528622.0
Los Angeles mayor Eric Garrett had questions about how this could happen. "We need to find out how did that gun get into the school," he said. He wasn't alone.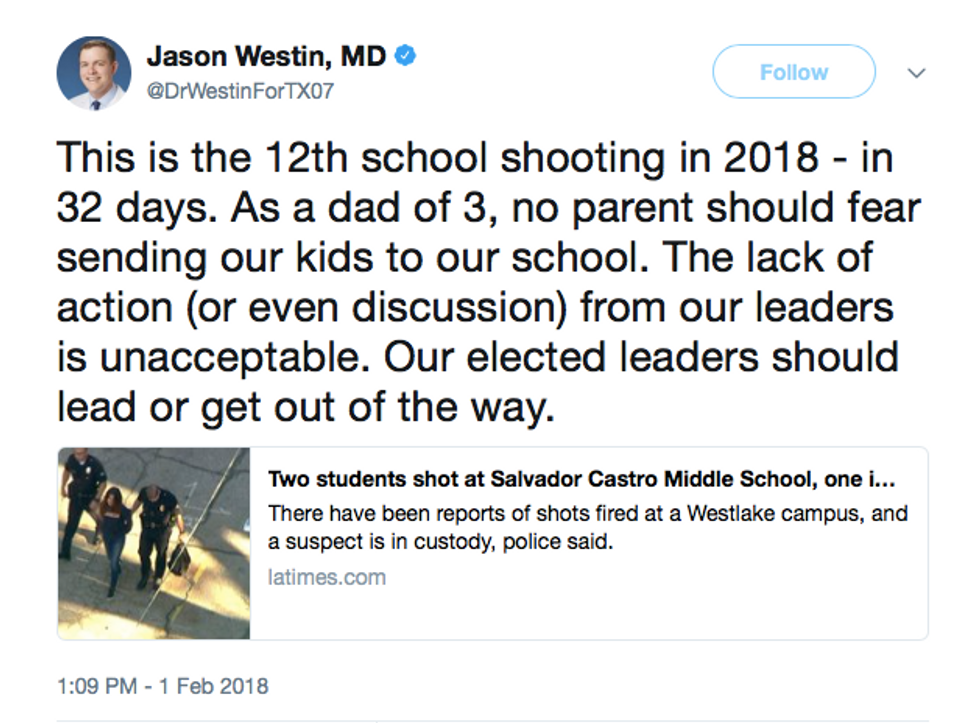 L.A. School Police Department Chief Steven K. Zipperman also had words about the tragedy.
We do not know yet … how a young person on this campus ended up having the ability to have access to a firearm and bring it onto a campus. Or for that matter, any young person having access to a weapon and bringing it anywhere. We have laws that mandate that parents who own guns, any adult who owns guns, any gun owner has an obligation to ensure that gun is locked inside a home. … The majority of the weapons that our young people get their hands on today is the result of a weapon they get at home or from a family members' home. … I assure you if we find out it came from an adult from a home, the proper prosecutorial procedures will occur.
Indeed.