For many of us, our prom is one of the most memorable nights of our youth. But for one teen from Nottingham, UK, the night will certainly be one that he never forgets - and for all the right reasons.
Xavier Parkins, a fifteen-year-old high school student, made the brave decision to fully express himself with his prom outfit decision. Instead of going for a conventional tux, though, Parkins went in quite another direction - with incredible results.
But that's not the only reason that this will be a night to remember for Parkins. While many of us may assume that his dress decision may have come at the derision of classmates, their responses were the total opposite, and our hearts are truly full.
Prom is essentially the pinnacle of the high school experience.
Usually, it's a night that one never forgets - whether that's for positive, or for negative, reasons.
It plays a huge part in pop culture.
And likely thanks to this, many now regard their own prom experience as an important emblem for their entire lives.
And there's one aspect that tends to really play on teens' minds.
And that's the all-important outfit. Choosing what to wear to prom is one of the most important aspects of the entire night!
And one teen from the UK made a particularly brave choice.
This is Xavier Parkins, a fifteen-year-old schoolboy from Nottingham, in the UK. He's just finished high school and is heading off to college in September.
And, when it came to his prom outfit, Xavier had a big decision to make.
And his decision was bigger than most teens dressing for prom, because, for Xavier, nothing was off limits.
But what did he eventually go for?
Well, it's collectively blown the internet's mind - and for all the right reasons.
A dress!
"One of my teachers was taking photos with people and he didn't know who I was. When he later found out it was me, it was amazing," he told the
Nottingham Post
.
Xavier's mom, Sharnee, was super supportive.
"I'm totally humbled, I can't imagine where you get the courage at the age of 15 to do that, it is so brave," she gushed.
And she wasn't the only one.
"His friends were really supportive. A few people weren't happy for him but that was outweighed by the positive feedback," Sharnee explained.
The positive reception wasn't lost on Xavier.
"It was quite scary at first, but when I walked in everyone said 'you look so good,'" he said.
And the support was also made official.
"Xav was hoping to get the Best Dressed award because it isn't gender-biased, but he did say he'd love to get Prom Queen," said Sharnee.
Xavier also expressed his desire for victory.
"I really wanted to win Prom Queen to cause a stir because it would be so unexpected," he said. And, excitingly, Xavier's dream came true - the teen was crowned prom queen thanks to a vote by his peers.
It wasn't just Xavier who was brave, though.
Sharnee explained that his supportive peers also showed a lot of courage, saying, "It was his peers who voted for him which is an accolade because it takes a lot of courage for them to come out and support it as well."
The look wasn't just about the dress.
Xavier worked with a dressmaker to design his pink gown, and reportedly spent six hours getting ready, including doing his makeup, hair, and nails.
The end result was totally stunning.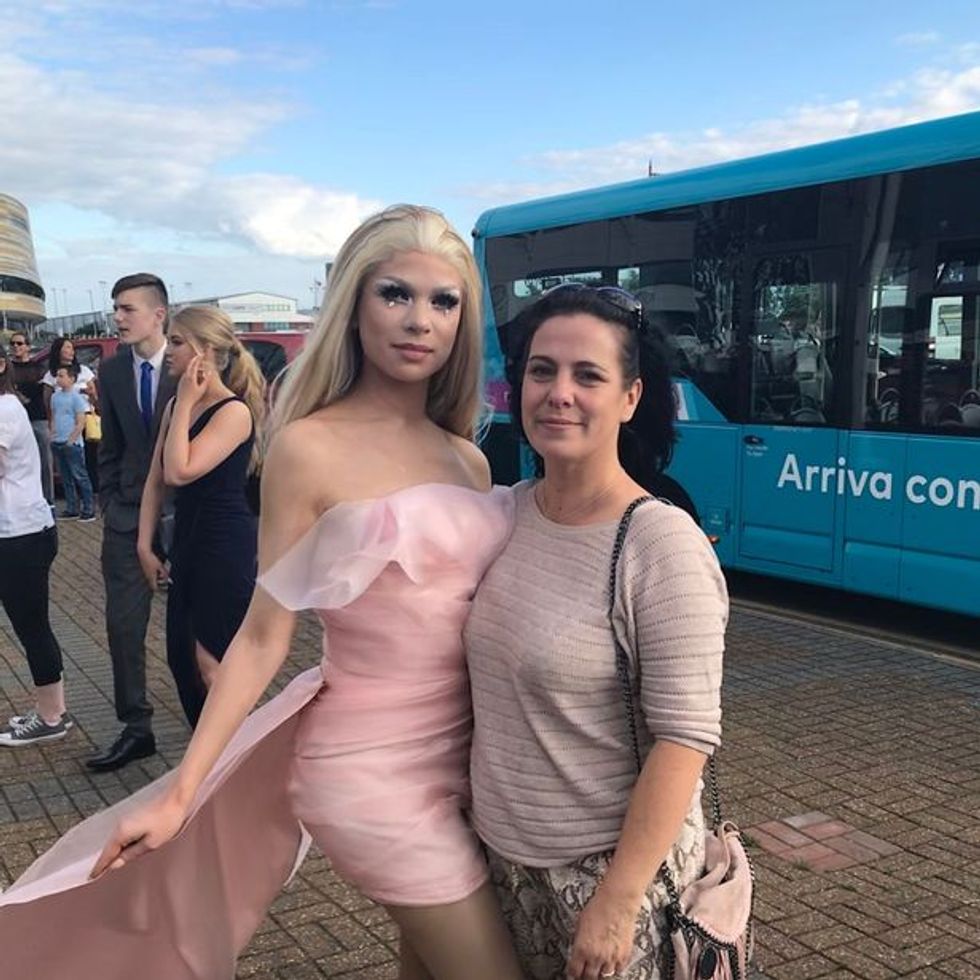 Here's Xavier on the big night, alongside proud mother, Sharnee. We have to say, he looks absolutely incredible.
Xavier's peers are clearly protective and supportive of him.
And, in a world wherein it can seem that teens are quick to judge those who are different, it's truly heartwarming to see a positive story like this one.
It seems like Xavier has two very big fans.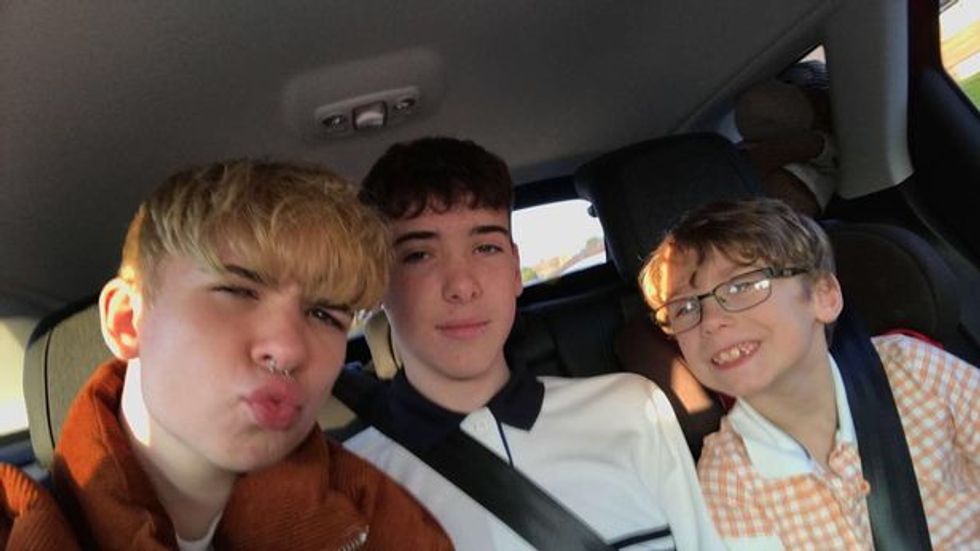 And they are his two brothers. Sharnee claims that the two are "so proud," and that Xavier's eldest brother texted him on the day of prom to say, "I love you."
Xavier's prom also came at a relevant time.
"With it being Pride month as well it's even more poignant, if it can help one person who is struggling with their sexuality," Sharnee said. A trustee for Derby Pride expanded on this, saying "Drag has always been a very important part of LGBT+ culture, both as a performance and as a way of exploring gender identity and self-expression. Encouraging and supporting young people to be themselves is very important and celebrating diversity leads to a more accepting society for all."
But Xavier had another concern.
He claimed that he'd long been afraid of dressing in drag in public and that this opportunity to overcome his fear was very welcome - and massively assuaged his worries!
No one's quite sure what Xavier plans to do next.
"He wants to be a Drag Queen but he's very academic too so he could do anything. He's got a very wise head on his shoulders," says Sharnee. Either way, we think that he's got a lot to look forward to!